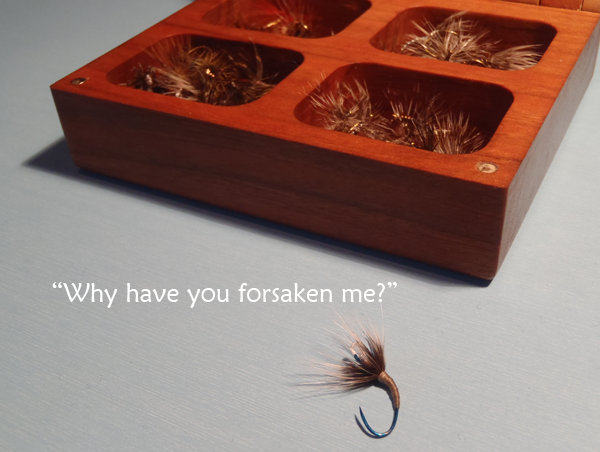 Ever since a I can remember I've been doing something that might be considered strange and have always wondered if I'm the only one, or if other anglers do it as well. Basically, I "cull" flies from my fly box. That is, when I take a fly out of my box to fish it, that's it. It stays out of the box. Forever. I'll continue to fish it until it's lost but I will never put it back in the box once it's hit the water. Is that strange?
I'm not sure why I do this. Perhaps it's partly because I think looking through one's fly box is akin to looking into their soul and I'm subconsciously afraid of what people might think if they peruse mine only to find a motley crüe of disheveled, beat up flies. I like handing my fly box over to curious onlookers knowing that every pattern in every compartment is just as it was when it came off the vise–with nice, crisp hackles perfectly splayed.
It might seem like a waste to do this but just because I don't return them to the box after fishing doesn't mean they're completely excommunicated. I have a foam patch in my chest pack where I keep used flies under quarantine. When I hit the water, those are the first flies I fish until they succumb to a tree, rock, or fish.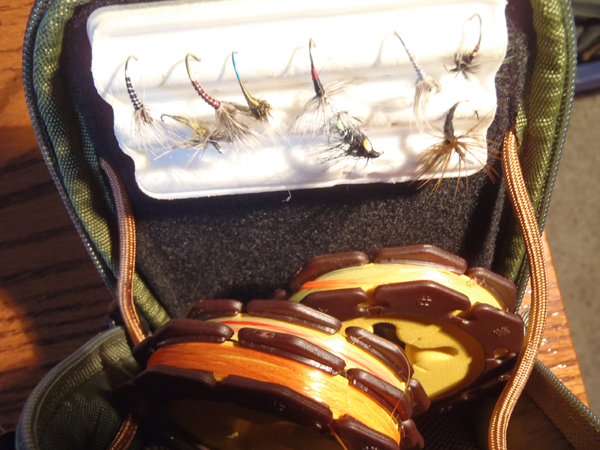 Some say that the more beat up a fly gets, the more fish it catches. I think this is true but only to a certain extent. For example, if half the hackle gets chewed off one side of a sakasa kebari and you're presenting it with a twitching motion to imitate a swimming insect, the lopsided hackle might cause the to not swim properly in the water. In other cases, material could be trailing behind the fly looking like it's snagged vegetation. For flies that are so beat up that I don't feel confidence in fishing them for trout anymore, I further quarantine them into a box reserved for less discriminating fish such as bluegill. And if they survive several battles with panfish, I'll likely recycle the hooks at some point.
So that's the lifecycle of a fly in my box. What about you? Do you do something similar or do you put fished flies right back in your box?