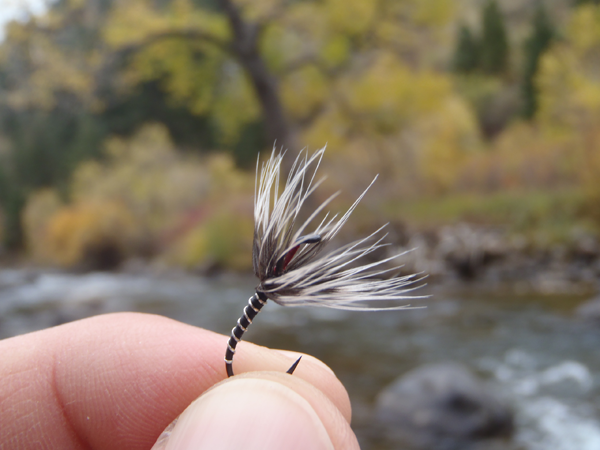 Don't be put off by the title. I'm not about to incite a heated debate about what is or isn't a "tenkara" fly and delve into an infinite loop of semantic minutia.  Instead, I thought I would simply list out the criteria I use when selecting patterns that I think work well for tenkara.  And to be clear, I mean fishing traditional tenkara techniques–not "tenkara as a tool" or some hybrid of western fly fishing and tenkara.  Basically, I mean fishing one fly but using different techniques to present it different ways without changing patterns.
Key Characteristics
Since I typically don't change flies when fishing (well, until they're lost anyway), it's important that I choose a pattern that meets a set of criteria.  Here are the things I look for in a fly pattern before I consider it good for tenkara.
1.  Impressionistic.  Rather than imitating a specific species of insect, I look for patterns that are more generic and could be mistaken for a wide variety of species.  This lets me fish a variety of situations (or hatches) without having to "match the hatch".  I look for something that just has a "buggy" look.  Think Serrault rather than Da Vinci.  If I squint my eyes and the pattern looks buggy, it passes.  That might sound pretty subjective but I think it's obvious to most people if a fly looks buggy or not (i.e. does it have segmentation, variegation, hackle that looks like legs and antennae, etc.).
2.  Movement.  One of my favorite presentations is to twitch the fly, giving it a swimming motion.  Flies that have softer hackles that pulse in the water are very effective for this technique.  So I tend to favor patterns that use softer hackles like hen, partridge, pheasant, etc.  After watching Ralph & Lisa Cutter's excellent DVD Bugs of the Underworld, I realized that aquatic insects move a lot more than we might think and have come to have a better appreciation of the importance of movement in fly design.
3.  Size.  If I could only fish one size for tenkara, it would be a #12.  This seems to be the magic number and I almost exclusively fish a #12 even when smaller or larger flies are hatching.  At the last Tenkara Summit, Dr. Ishigaki told a story about how when he pumped the stomachs of trout, the majority of insects were a size #12. I don't know if that's a universally true anecdote, but in my experience, #12 is the Goldilocks size.  Just big enough to be a tempting, substantial meal, yet not so big that it's off putting.
4.  Versatility.  If you aren't changing flies, you need a pattern that is versatile–a Swiss Army knife of a fly.  So I look for ones that can be fished a variety of ways–in the surface film, swung, dead drifted, pulsed, etc. Without having to use terminal tackle (like split shot or indicators). I want a fly that I can fish on the bottom on one cast, and then in the surface film on the next–instantly
Examples of flies that are good for Tenkara
Sakasa Kebari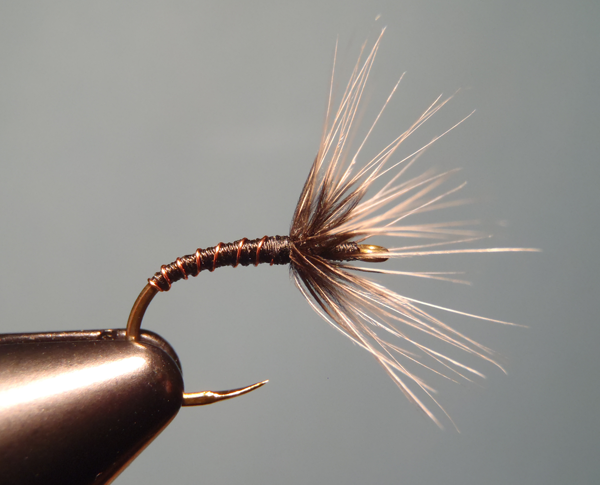 If you catch me on the stream at any given moment and pull my line out of the water, you'll probably find a sakasa kebari attached to the end of it.  With its reversed soft hackle, it provides a lot of movement in the water when animated and it's generic silhouette, it meets all of the criteria above  I fish it with complete confidence.  I suppose there's a reason it's one of the most popular Tenkara flies used in Japan.  Here's a recent video I shot of a sakasa kebari underwater showing how animated it becomes when twitched:
Soft Hackles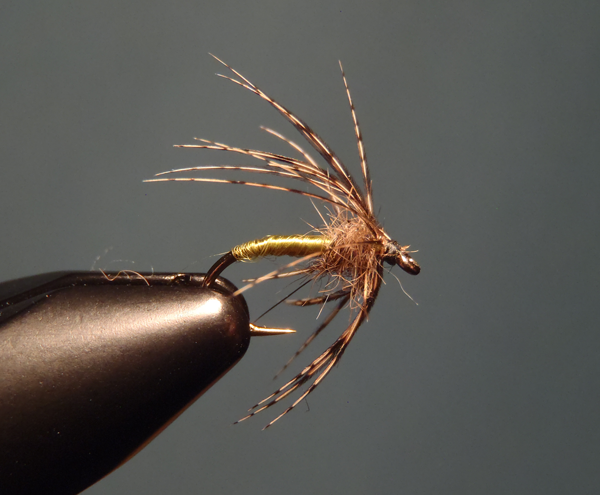 A close second for a good Tenkara fly is the sakasa kebari's western cousin: the soft hackle.  These flies are basically the same as a sakasa kebari, only with the hackle facing back rather than forward. Many western anglers fish these in a swing or Reisenring Lift to imitate emerging pupae during caddis hatches but they work equally as well as general attractors. And like sakasa kebari, they still look buggy when dead drifted or presented other ways.
Palmered Flies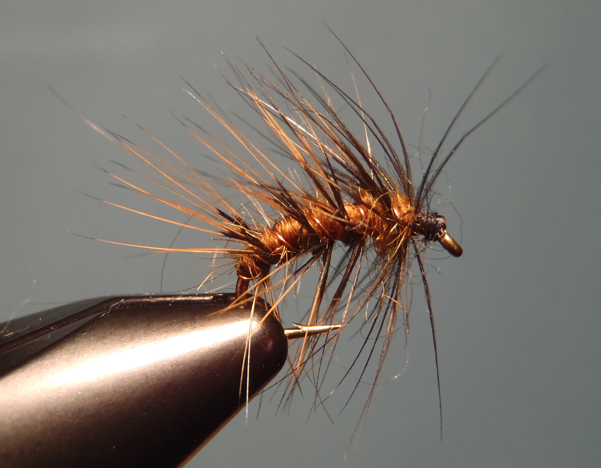 These flies have been around forever but seem to be more popular in Europe than the U.S.  they're similar to soft hackles only with the hackle wound though the entire length of the body rather than just at the front of the fly. More hackle means more movement so it's no surprise that palmered flies a so effective. Here is more info on palmered flies for tenkara.
What about dry flies?
You might have noticed that I haven't really mentioned anything about dry flies.  There's a reason for that (two, actually). In my opinion, dry flies are not good choices if you want to stick to the one fly Tenkara approach.  For one thing, they're designed to be fished at only one level in the water column: the surface. This fails to meet criterion #4 above. Being limited to fishing only the surface severely restricts the number of different presentations you can make and might force you to have to switch flies at a certain point. It's true that in a pinch, some dry flies could be fished subsurface, but it's not ideal and you probably wouldn't be able to achieve much depth (after all, they're designed to float).
Another reason dry flies aren't the best choice for a one fly approach is that up to 90% of a trout's diet is underwater (nymphs, pupae, emerges, larvae, isopods, etc). So limiting yourself to only 10% of a trout's menu probably isn't the best idea (well, unless you're up for a challenge).
To be fair though, I have had plenty of days where I fished nothing but a dry fly and caught lots of fish. But I believe I would have caught the same number of fish had I fished a sakasa kebari. On the other hand, there have been plenty of days where a dry fly turned up nothing, while fishing subsurface produced.  So for the one fly practitioner, I think the the choice is pretty clear: it's better to choose a pattern that will reliable produce in a variety of situations–not just one certain days.
Which patterns are best for Tenkara then?
You'll notice I haven't really pointed out any specific patterns that I think are best for Tenkara; rather, I've focused more on styles of flies. Like everyone, I do have my favorite patterns but I think the style is more important than the specific recipe.  If a fly meets the four criteria above, I'd consider it a good fly for Tenkara.
What is your "Swiss Army knife" fly for Tenkara and which characteristics do you look for?