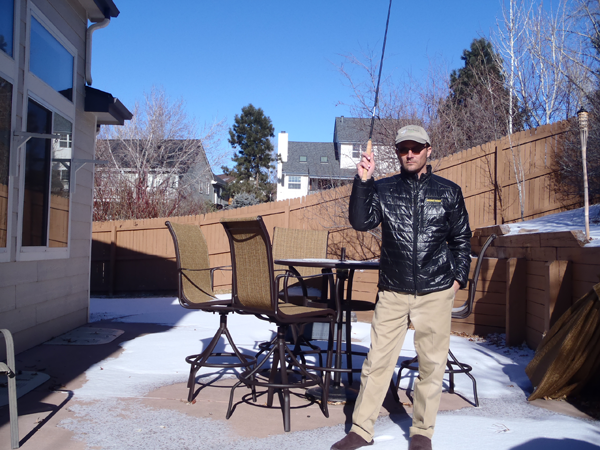 There's an interesting phenomenon I've observed on many social media fishing sites.  It basically goes something like this:  Someone posts an idea.  Maybe it's a new fly tying technique, a DIY project, a new way of rigging, etc.  Someone else responds to it saying that it's too complicated, or takes too much time, and they'd rather just go fishing instead.  Some go so far as to dismiss the whole idea and decree that the person who posted it should go fishing instead of developing their idea.  I've seen it over and over again and each time I do, I feel like pulling out the white glove and delivering a gentleman's slap in the face.
The reply is based on an assumption:  that anyone tinkering with gear, or experimenting with new techniques at home is trading valuable fishing time to do so.  Which, of course, is absurd.
I've witnessed this happen to others, but it's also happened to me several times.  I've even had people ask me why I waste so much time writing blog posts when I could be fishing.  Are you kidding me?  My answer is that I experiment with gear, tie flies, and write blog posts precisely because I can't fish.
I can't take off for the day when my daughter is sick, but I can tie flies.  I can't fish when all the streams are frozen over, but I can test cast prototype lines in my backyard or write a blog post.  These off-stream activities give me an opportunity to do something fishing related when fishing isn't possible.  And without them, I'd go insane.
If you're like me, these things keep you going between your fishing trips and actually enrich (not detract from) your participation in the sport.  Anyone who thinks we do these things in lieu of actually fishing is making a false assumption.  Who in their right mind would say, "I could go fishing today but instead I think I'll make some new lines and cast them in my backyard instead."  After all, you could test cast those lines on the water!
So the next time someone accuses you of sacrificing fishing time to develop your idea off stream, send them a link to this post.  Maybe then they'll realize that these activities are not symptoms of laziness, incurable gear addiction, or love of minutia, but actually a testament to our passion and commitment to the sport of fishing.