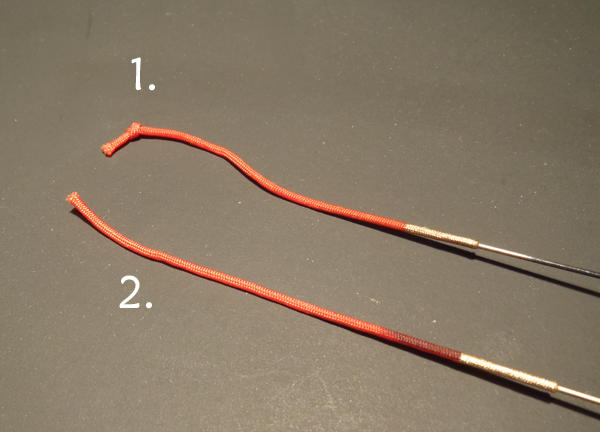 A reader recently asked me about the stopper knots on the ends of lilians (those red cords at the end of a tenkara rod where you attach the line). He said that some of the rods he purchased came with a knot and some didn't. The question was if a knot is really necessary. Since I think other people might have this question, I thought it was worthy of a post.
First, let's clarify one thing. Whether a rod you bought came with a knot (1.) or not (2.) is no indication of its intended use. It's arbitrary. Some manufacturers do and some don't (I assume either because they want to eliminate one more step in the manufacturing process or just because they want to let the customer decide if they want one or not). In fact, I've even purchased multiple rods from the same company and some had knots, some didn't.
Having said that, the answer to the question is yes…and no.
If you're using a girth hitch connection with a loop at the end of a line (the kind most traditional furled lines come with), then yes, you do need a knot. This connection relies on the cinched up loop butting up against the stopper knot. If you don't have a knot, the line will slide right off the lilian.
But if you're using a level line and the typical slip knot connection, you probably don't need a knot. That's because this connection doesn't rely on a stopper. The line is held on by wrapping the lilian around the loop before cinching it up and friction keeps it in place.
One caveat: if you're using a level line and don't cinch it up tightly, it could slip and a stopper knot could potentially prevent the lilian from slipping off the line. If you choose not to use a knot in your lilian, I would recommend making sure you cinch it tightly before fishing and/or using 3 wraps instead of 2 just to be safe. I've lost lines to laziness when using this connection and have learned my lesson.
Since there is no disadvantage to having a knot in the lilian, I do use them on my rods. In fact, it's the first thing I do when I get a new rod. That way, I can switch between furled and level lines easily (or more accurately, between lines that use a girth hitch connection and lines that use a slip knot connection).
Do you use a knot in your lilian? Why or why not?