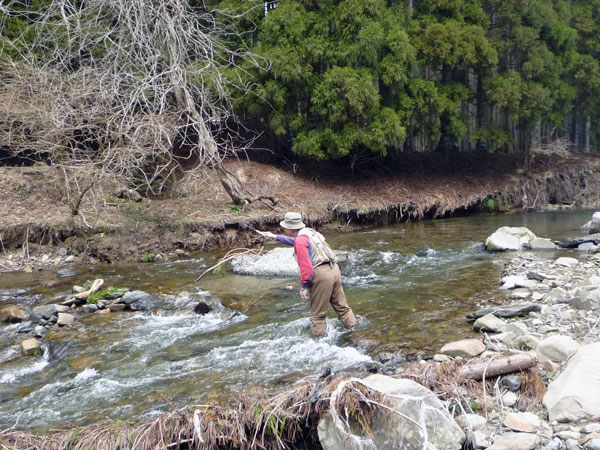 In my early reseach of tenkara, one of the first sites I came across was Trout and Seasons of the Mountain Village. The site has vast amounts of information on tenkara techniques, and streams and fish species in Japan. But I was particularly impressed with the vast collection of Japanese fly patterns there and to see how they varied by region. Yet I really didn't know much about the site's author, Yoshikazu Fujioka. But after recently digging through his site a little deeper, I have come to discover that Mr. Fujioka is a fascinating man.
Not only is he a master tenkara angler, but also an accomplished artist. You can see some of his fishing-inspired paintings here and he even has another site called Paper Trout where you can download free templates to cut out and make, well, paper trout!
In 1979, he and his friends founded the Tsuttenkai fishing club and they have met twice a year since. Mr. Fujioka has fished all over Japan and has a broad knowledge of tenkara so I was honored when he agreed to do the following interview.
Jason: Can you tell us a little about how you got into tenkara fishing and why it appealed to you so much?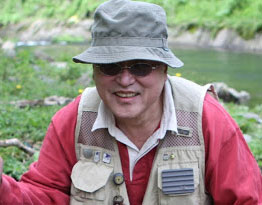 Yoshikazu-san: I began lure and fly fishing in 1975, while I began to draw pictures of streams and trout, etc. But I had not done tenkara fishing yet. In 1983 I began tenkara fishing.
When I visited theGamakatsu exhibit at theOsaka Fishing Show, I got a Gamakatsu tenkara rod. And after a while, at the time of the meeting of our fishing club, I wanted to do fishing at ease and changed the fly fishing rod into the tenkara rod, it is the beginning of my tenkara fishing.
The method of casting was theoretically the same as fly fishing, and I was able to enjoy it, without completely having sense of incongruity.
Since then, I am enjoying myself using tenkara fishing and fly fishing properly by the situation of stream or my feeling at that time.
Jason: You have a lot of detailed information about the different fly patterns used in the different regions of Japan on your website. Are there any generalizations you can make about the styles of flies used in different areas of the country? And if so, what do you think accounts for those differences?
Yoshikazu-san: The tenkara kebari could be classified into the following six patterns.
Jason: Do you know any interesting facts or stories from tenkara history that you could share with my readers?
Yoshikazu-san: I think that the history of kebari fishing in Japan has two streams, Mountain village's Kebari fishing (The present Tenkara fishing) and Urban Kebari fishing (Kabari fishing) and they have been handed down being affected.
After Meiji Era, each other was further affected including Western style fly fishing. The data after the Edo period about Urban Kebari fishing are left behind but there are almost no data before Meiji Era about Mountain village's Kebari fishing. Now, I am thinking Hokusai Katsushika's ukiyoe "Kabari-Nagashi" as important. Although it is the title called "Kabari-nagashi", but it differs from "Kabari-nagashi" of the present, and it is fishing method just like tenkara fishing. Refer to my web page.
So although the tenkara fishing and kabari fishing are distinguished now, I doubt whether they were distinguished in the Edo period. Its distinction is not the differences in the fishing method and may be only the differences of the fisherman, the fish, and the fishing area. It is known that there is actually kebari that is too large for fishing Hasu (Pale chub) etc. in kabari. So I am distinguishing two kebari fishing by the name Mountain village's Kebari fishing and Urban Kebari fishing.
Jason: I know that you sometimes fish with western fly gear, but when you fish with tenkara, do you use only one fly or do you switch patterns throughout the day?
Yoshikazu-san: I do both Western style fly fishing and tenkara fishing. But the fly patterns that I use, both Western style fly fishing and tenkara fishing are usually one. I do not usually change kebari pattern. I sometimes use wet type flies according to a situation.
Jason: In terms of gear, what types of rods and lines do you prefer and why?
Yoshikazu-san: Since I was recommended to use a level line by Dr. Ishigaki about 3 years ago, I am mainly using rods of Nisshin Lisense Tenkara 3.2m 7:3, Gamakatsu 3.2m 6:4 and Nisshin Prosquare Super Tenkara 3.6m 7:3 and Daiwa Toughron Level Line No.4 now.
Jason: I see on your site that you've made some DIY gear. Have you made any specifically for tenkara?
Yoshikazu-san: I am changing the grip of all my tenkara rods of mine into the straight shape like my fly fishing rods. Since the grip position is not restricted by doing so, I like it. And I am also making the bag and case of the rod. The rod case is putting in three rods which I always use. The rod case is a vinyl chloride pipe. The rod bag are using Japanese traditional cotton fabrics.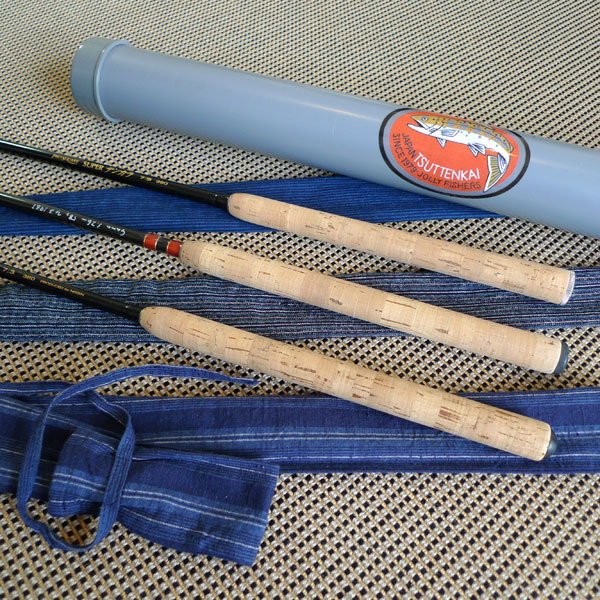 Jason: Do you have a favorite fly?
Yoshikazu-san: One of my favorite flies are the dry type kebari that has the indicator, and the second are the traditional pattern kebari that has the body by cotton of zenmai, wool yarn or silk thread and the hackle of pheasant or copper pheasant feathers and the hackle of flight feathers or tail feathers of sparrow. And the third are sakasa-kebari of the traditional pattern that has the hackle of pheasant or copper pheasant.
Jason: What about a favorite presentation?

Yoshikazu-san: I like dry kebari fishing that can be fished on the water surface. It is very thrilling and is pleasant. I think that Tenkara is the best for dry fly fishing in the small stream. Tenkara that does not put the line to the water surface does not make an unnatural motion of kebari, although it is not the fishing method of original tenkara. It is easy to drift kebari without drag.
Jason: Tell us a little more about the Tsuttenkai fishing club. What are your outings like?
Yoshikazu-san: The concept of our fishing club Tsuttenkai is to enjoying in nature through fishing of the mountain stream. Therefore, we do not adhere to the fishing methods. Tsuttenkai values a member's communication above all. We often go to the streams of Kyoto, Nara, Hyogo, and Shiga. And we go also to the streams of Gifu and Nagano. There is The ryokan Japanese style hotel that lends old private house in Shiga Prefecture. After we enjoy fishing, we surround the hearth and often have a pleasant talk till midnight there.

Jason: What do you see as the relationship between your art and your fishing?
Yoshikazu-san: I only have a feeling that fishing is not pleasure of fishing. Rather, I think that many pleasure is just around fishing. To tying the kebari, to collecting the information on the destination, to taking the photo, or to touching local culture and humanity etc. I am also enjoying collection of old Pflueger Medalist and Guinomi of various places that went to fishing. I found out pleasure to also draw a picture and, have continued it. So I drew many illustrations of animals and plants etc. for some museums.

Jason: If you could only fish one stream in Japan for the rest of your life, which one would it be and why?
Yoshikazu-san: It is Shokawa River and branch Oshirakawa River in Hirase of Gifu Prefecture. The reason is because Hirase is the only hot-springs area in Shokawa river system. Moreover, since Oshirakawa River is in Hakusan National Park, nature is being kept, and there are Shirakawago of world heritage and many interesting history of old times.
Supposing I mention one more area, it is Kitagawa River in Shiga Prefecture. It is a area where the Japan cedar was afforested, and there are some small villages along the stream. I like the mountain village which feels people's life. Here is the optimal stream in order to enjoy fishing only a few time.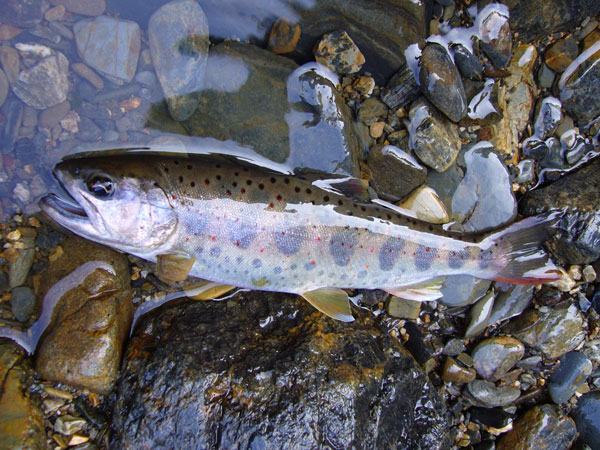 Jason: I've heard many Japanese tenkara anglers say that interest in tenkara is decreasing in Japan and as you say on your site, the fish keep getting "smaller and smaller" because of development. As you know, tenkara is becoming increasingly popular in the U.S. and West. What do you think the future of tenkara in Japan will be like?
Yoshikazu-san: From the first, tenkara fishing is the minority's fishing. It had the sign which becomes popular in the 1980s, but it is burning down now. I would like to ask conversely why tenkara is becoming increasingly popular in the U.S. and West.
Although this is my view, the history of fishing started in order to obtain food. Especially "kebari fishing" in the mountain village in Japan has been performed in order to obtain fish efficiently. (But I think "kabari fishing" that court nobles and a samurai performed at the Edo period had the element of game.) Although it is said that kebari fishing has developed as fishing of sports or game, there are not many views that regard fishing as a game even now. The influence on trout can consider the following thing etc. There is not the element of the game means that there is not a rule. Everyone became to be able to do fishing anywhere by development of the road network, etc. and its development gave the damage to the streams. If trout is not stocked, mountain stream fishing is not realized in many streams now. Of course there are the streams that are reproducing trout, because the regulations are followed.
Jason: Anything else you'd like to share?
Yoshikazu-san: There is the rule in fly fishing but there is not it in tenkara fishing. Young people are interested in flyfishing or lure fishing. I think that it is largely based on fashionability or the element of game. Those elements are not in tenkara fishing so much. I am thinking that in order for tenkara fishing to become popular, fashionability or the element of game become the key. I greatly welcome that tenkara fishing newly arranged in the U.S. or West is reimported.