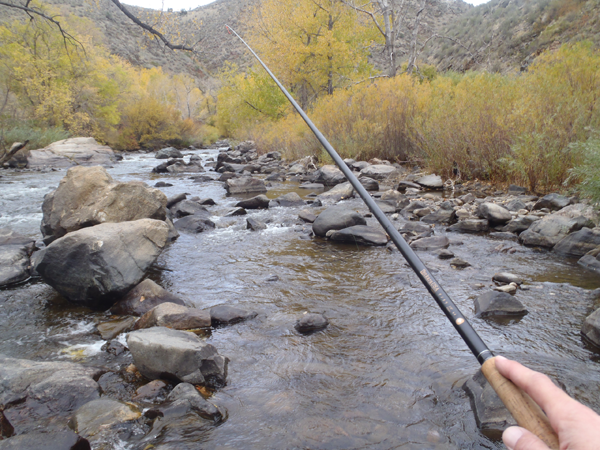 Anyone who fishes with me for the first time invariably makes the same comment:  I move.  A lot.  I pretty much take a few casts in a spot and if I don't hook up, I move on. Part of this is practical.  Like Dr. Ishigaki and many other tenkara anglers, I'm of the philosophy that there are fish all over the river.  It doesn't make much sense to stand in the same pool for twenty minutes beating the water to death and changing fly after fly to persuade one stubborn trout.  There are other trout who will be more amenable to whichever fly you happen to have on the end of your line elsewhere.  You could call it impatience, but to me, it's just a more sensible approach to catching more fish.  But, I also think there's more to it than that.
Streams, creeks, and rivers are dynamic environments.  Everything is moving–the water, the fish, the insects, the branches along the banks.  To stand still and let the water rush by me just seems at odds with my surroundings.  I feel like I'm defying the ecosystem.  I feel more in tune with the river if I'm moving right along with it.  It feels more natural to be part of its cadence.
I also suppose there's a part of me that is an explorer.  I want to see every inch of the river possible before I head home for the day.  If you spend most of your time standing still, you might miss that moose around the bend or never discover that perfect waterfall pool just downstream.  I've discovered some amazing things that I would have missed if I didn't have riparian wanderlust.
There aren't many things that are practical and poetic at the same time, but I think actively fishing a stream is one of them.