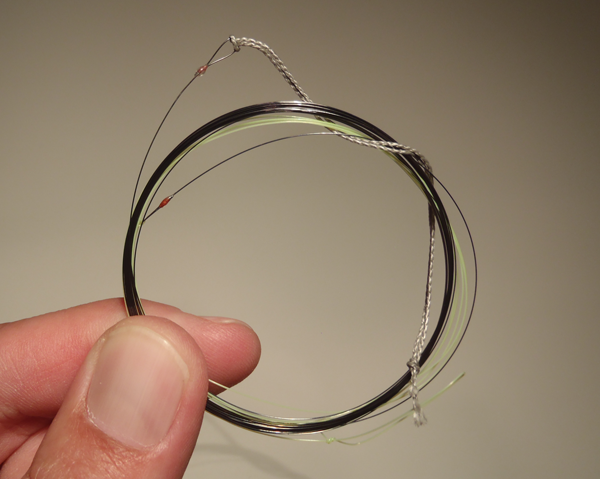 That's right.  Titanium.  As in the metal.  Believe it or not, some tenkara anglers in Japan use lines made of thin titanium wire instead of fluorocarbon or nylon.  This might seem strange, but titanium lines have some interesting properties that give them some distinct advantages.  I recently got to try out a titanium line that will soon be offered by Tenkara Times and here are my impressions. 
Let's start with a basic description of the line.  The main line is a very thin, dark grey titanium wire with a small loop at each end.  On one end, there is a looped cord to attach the line to the rod using a girth hitch connection (the same connection you find on most furled tenkara lines).  At the other end, there is about two feet of high visibility yellow fluorocarbon line with a surgeon's loop knot to attach the tippet.
Having never cast a titanium line before, I wasn't sure what to expect.  But in every discussion I've ever seen about them, two comments are invariably made:  they're great in the wind and they're impossible to see.
Luckily, the day I tried the line happened to be pretty windy so it was a good challenge for the first claim. The line indeed sliced through the wind better than any fluorocarbon line I've ever tried.  Getting the line to straighten out was almost effortless.  I can't describe it well but the line just feels different.  You don't really feel the line turnover the same was you do with a fluorocarbon line (and there is no "whirring" sound). Instead, it just kind of turns over quietly and smoothly without you even noticing it.  It's definitely a different feel.  The line I got was 12 ft. and I would have loved to have tried a longer line to see if it still performs as well in the wind.
On the second claim, I can confirm that the line is definitely hard to see.  Part of this might be the grey color which blends in with most riparian backgrounds, but I think the bigger reason is that the line is so thin.  My first thought was that maybe a brightly colored coating could be applied to the line to make it more visible, but then I thought that it probably wouldn't make much of a difference because of the super thin diameter. Fortunately, the line comes with a high-vis tip making it easy to detect strikes.  If you think about it, you probably don't need to see the entire line–the most important part to watch is the part closest to the fish.  So, in my mind, the high-vis tip redeems the invisibility of the titanium main line.  Without that tip, it would be very difficult to fish this or any titanium line.
For those of you unfamiliar with the properties of titanium, the thinner it gets, the springier it gets. In fact, I believe it's a combination of the thinness and springiness that makes it perform so well in the wind.  The thinness produces less resistance, while the springiness propels it forward more than a supple line like fluorocarbon.
But this property also gave me a concern.  What would happen when taking the line off the spool?  Would it spring out all over the place into a big mess?  Maybe take out an eye?
As I cautiously unravelled the line for the first time, I was relieved to find that it wasn't as much of a danger as I thought.  Springy?  Yes.  But not to the extent I imagined.  I just kept a little tension on it as I pulled it off the spool and it was fine.  Just out of curiosity though, I did try just letting it go to see what would happen. Interestingly enough, the line sprang off the spool but didn't tangle at all!  I was actually contemplating if this might actually be a faster way to get the line off the spool than unwinding it.  It's impossible to tangle this line so why not?
Overall, I was highly impressed with this line.  While it casts as easily as any line I've tried, I probably won't use it as my all around line because I'm pretty attached with my fluorocarbon level lines.  Instead, I will keep in in my chest pack for those windy days that would have otherwise just frustrated me or made me bail on the trip.  If you fish in windy conditions, you should definitely try a titanium line.  It's completely changed my attitude towards wind.