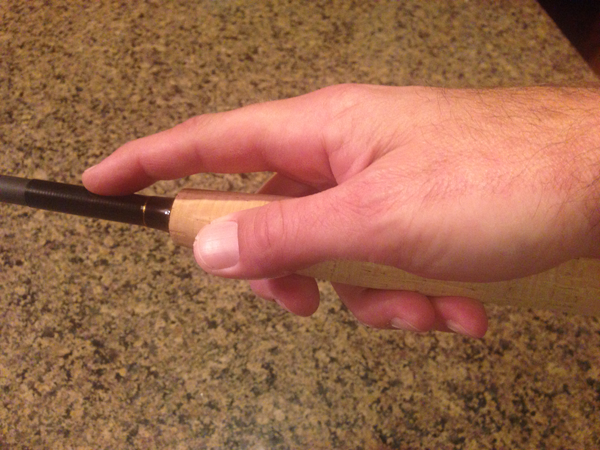 There's a healthy online debate on fixed-line rods that have a cork grip vs. no grip (essentially, a flared extension of the blank).  I prefer cork grips because they're just more comfortable to me. Contrary to popular belief, it has nothing to do with weight for me. Rods without grips are just too thin and my hand seems to cramp up after a while (probably a sign of carpal tunnel syndrome more than anything else). Yet many people find gripless rods very comfortable.
I like the fact that cork grips are never slippery when wet, always feel warm & cozy, and have ergonomic bulges and tapers as opposed to the more angular, cold, and robotic graphite handles. But that's just me.
Having said that, there is one advantage that corkless rods have: they transmit strikes better by eliminating the middle man (i.e. the cork insulator).
While the type of fishing I normally do allows for visual strike detection more often than not (either by fly or by line) I know there are some situations where this is just not possible and the only way to know when to set the hook is by feel.  Sometimes, you just can't see the fly or the line. So…if you like cork grips but want even the most subtle strikes telegraphed to you, adjust your grip!
It's easy. Simply hold the rod in a typical tenkara style but choke up on the handle a little so that your index finger is resting on the blank rather than the cork (see the picture above). Now, you've got your finger on the pulse of what's happening with your line, fly, and (hopefully) fish.