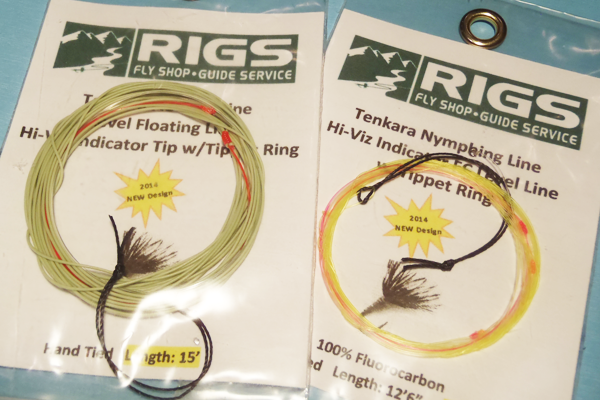 When RIGS fly shop introduced their floating tenkara line and tenkara nymph line last year, they answered the prayers of many tenkara anglers who fish outside the "tenkara box" that were craving specialty lines.  The floating line made from an actual PVC running line (same stuff your regular fly lines are made of) was a godsend for those who like to fish dry flies, while the hand-tied, tapered fluorocarbon nymph line was specifically crafted for those who wanted to turn over weighted flies and bead heads. Based on customer feedback, the company has made some updates to these innovative lines for 2014.
For all intents and purposes, both lines cast and fish exactly the same as last year's models. So if you haven't already, follow the links above to see my individual reviews of them and know that their performance is identical. In this post, I'm only outlining what has changed in their construction.
The Floating Line
The 2014 model has a shorter 6″ section of hi-vis orange line followed up with a 1.5 ft. section of clear monofilament down to the tippet ring. This gives you a little more stealth when trying to present dry flies (which the line does excellently). But the intermediate hi-vis section still offers some visibility when needed (i.e. if there's glare on the water, etc.).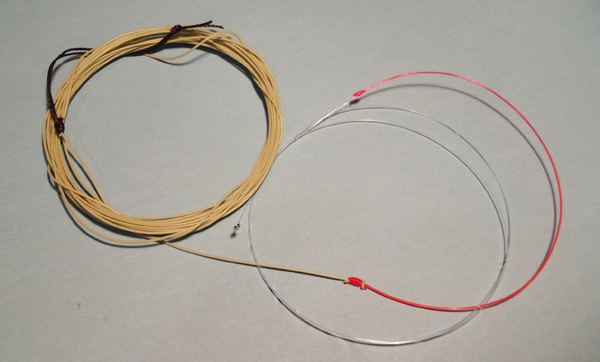 The Nymph Line
The new nymph line is identical to last year's model but replaces the previous main fluorocarbon line with a lower memory line (looks to me like Yamatoyo line?) that also has a little better visibility (which is always a good thing when you're nymphing). RIGS maintains the #4.5 main line diameter for turning over heavier flies.

At any rate, these two lines excel at filling niches within tenkara that more general level or furled lines just can't do as well. I'm glad to see RIGS continue to innovate and address the special needs of anglers who continue to push the boundaries of what tenkara can do.
To learn more or purchase one of these lines, visit the RIGS website.
Like this article? You might also like these ...