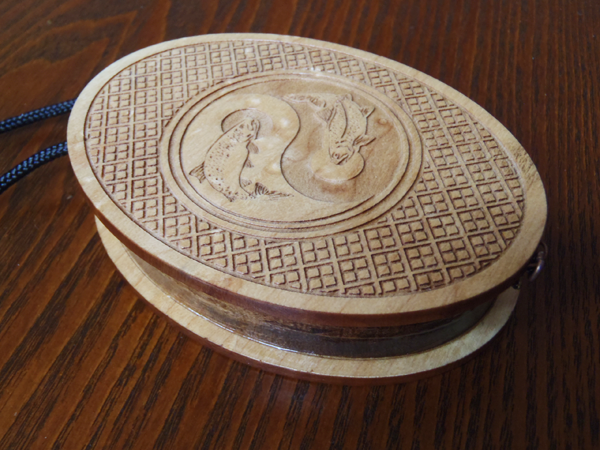 When I was 15, I got my first fly box. I can't recall exactly what it was, but I remember it being just a cheap plastic box from K-mart (probably a Plano). Back then, I was too preoccupied with learning how to cast and the basics of fly fishing to be concerned with what kind of fly box I had (it was just a place to store flies). Years later, when I got my first job in a fly shop, I got to hold a Wheatley fly box in my hands for the first time.
I pulled it out of the display case and was captivated by how I could literally feel the quality craftsmanship in my hand. I was mesmerized-opening and closing the spring-loaded doors a hundred times and observing the close tolerances of the lid. I think it was at that point that I became a fly box snob.
Since then, I've accumulated several Wheatleys in which I keep trout, salmon, and steelhead flies. But when I got into tenkara, suddenly I became more drawn to wooden fly boxes. I think it happened the first time I saw Dr. Ishigaki's famous fly box. It occurred to me that early tenkara anglers probably carried their flies in wooden boxes since most of their other tackle seems to be made of wood (line holders, nets, fish baskets, etc.). So whether out of a sense of tradition or just pure aesthetics, I had fallen in love with wooden fly boxes.
I recently stumbled upon a very interesting wood box from Zen Flyfishing Gear that I wanted to share because it's different than anything else I've seen. And while it's certainly not a tenkara-specific box, I do think it is perfect for tenkara.
First off, the "box" is actually oval. Right away, that distinguishes it from the ubiquitous square or rectangular fly boxes. At first, I thought this was merely an aesthetic gimmick, but after handling it for a while, I realized that the shape is actually much more ergonomic than square boxes. The curves fit your hand like a glove making it much easier to hold on to.
The lid of the box is engraved with a yin yang with two trout and is textured (see first photo). On the back, There is a picture of a sakasa kebari with the company's name, the word "tenkara" written in katakana, and the phrase "Finding Balance on the Water".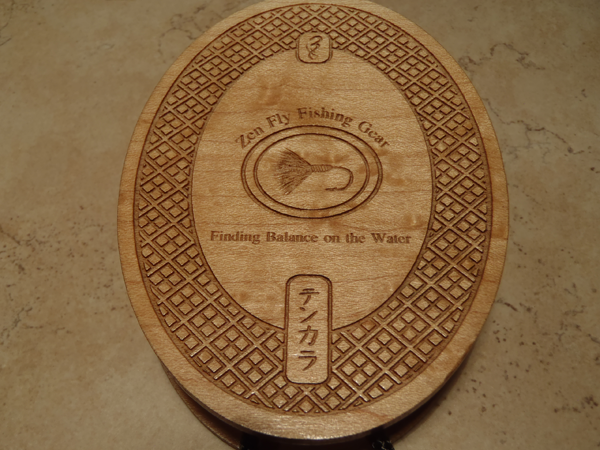 The box is two-toned, with the main body of the box a darker color than the lid and back. All around, this is just a gorgeous piece.
On the inside, there is slotted foam in the main compartment, and flat foam in the lid.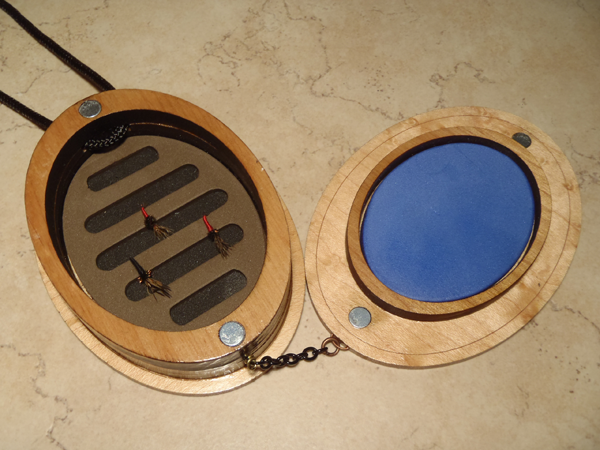 The lid is held on by two very powerful magnets and is connected to the body by a small chain to prevent loss.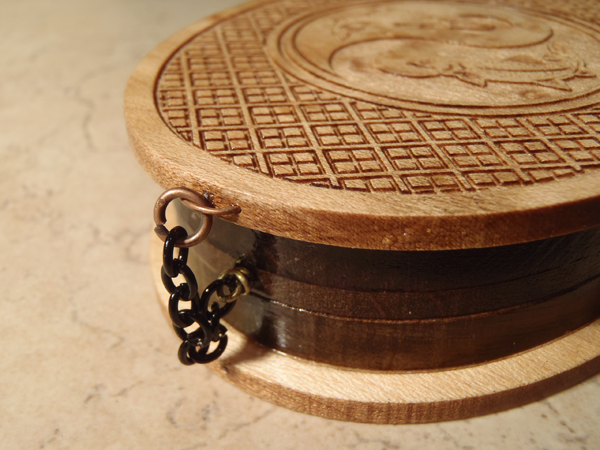 It comes with an attached lanyard (easily removable if you don't want to use it) and this is where I think it starts to get really interesting for tenkara anglers. A few days ago, I wrote about a wooden line spool from this same company. What I didn't know at the time was that the line spool and box were designed to be used together to form a minimalist kit. You simply thread the spool through the lanyard on the box and hang it around your neck.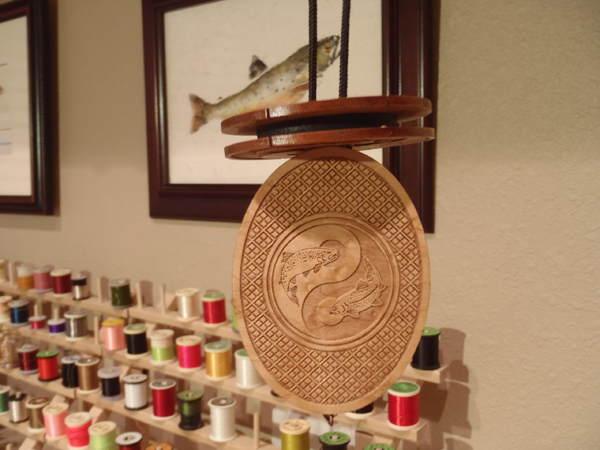 I thought this was pretty clever and after thinking about it a little more, can see how this might work for tenkara anglers who really want to ultra-minimal. If you attached a spool of tippet to the manyard the same way, then attached line clippers and hemostats to the lanyard (or just kept them in your pocket), you'd pretty much have everything you need for a day of fishing. I'll be keeping my chest pack but I can definitely see this setup appealing to a lot of those who want to pare down to only what is absolutely necessary.
I really love this box and am excited to see companies coming out with some really unique gear that more poetically tells the story of our sport.
To get specs and pricing for this box, visit the Zen Flyfishing Gear website.