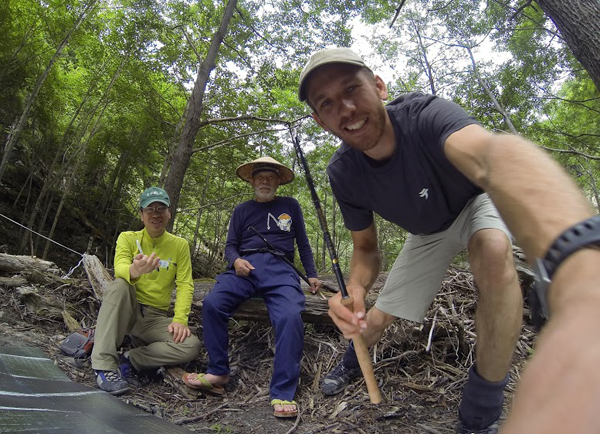 I know a little about fly rod design from working in the industry for a few years. But the other day, it occurred to me that I know absolutely nothing about what goes into designing and building a tenkara rod. So out of curiosity, I turned to Tenkara USA founder Daniel Galhardo to get a few questions answered about how tenkara rods are made and what specific challenges they pose from a design perspective.
What is the first step in the design process for creating a new tenkara rod? Does it begin with a formula? An existing taper that you want to improve? A more abstract concept?
Daniel: When I first started Tenkara USA with the intent of introducing tenkara outside of Japan, I knew the rods would have to be built well and be strong if tenkara would have any chance of being successfully being introduced here. I had a fair amount of experience with telescopic rods and I knew fly rods very well. But, I was not by any means a rod designer. It took a lot of work to find the right partners and initially I was entirely developing rods based on basic concepts and lots and lots of prototyping and sample testing. I went through more than 40 prototypes before I had my first lineup of 3 rods.
With more experience and dozens of rod iterations under my belt I feel the design process for creating or improving tenkara rods has gotten better. I typically start with concepts and work a lot through prototyping and testing of rods. I know what I want and what I like in a tenkara rod and work toward that. I work with some very bright engineers who can bring some ideas to life.
I take great pride in creating authentic products from scratch and that we proudly know are exclusive of Tenkara USA. Sometimes, even after a lot of testing, our rods may not be perfect and there are things we work on improving on each of our rods. I feel comfortable taking some risks to create new things, for example, when we first released the Amago we made a very unique handle for it, with a bulge on the bottom for helping with fighting larger fish. This was based on some new concepts and some testing. That handle  was not so well accepted, it made the rod feel heavier than it should have been. We changed it, but learned a huge amount about design in the process.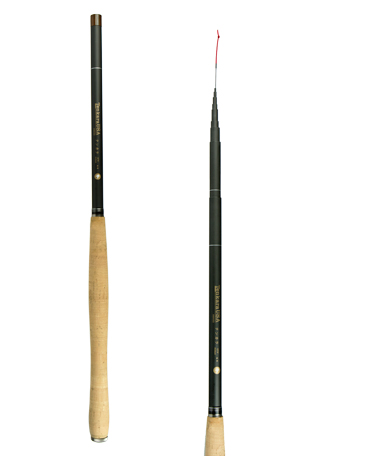 I have a hard time thinking of releasing a new rod just for sake of releasing a new rod. I personally don't like the idea of adding more options to a world that already has zillions of them. So, typically I choose to focus on improving rods more than creating new ones. Yet, I also do enjoy bringing something new to the table. We typically work year-round on three design processes:
1) Improve rods we have already created. Our rods will go through several iterations, some are very visible and we may announce (e.g. the Iwana II, for which we changed the handle length and shape after tweaking it on three other occasions before), others we just incorporate into new production batches. We have several Japanese influences at Tenkara USA; one of them is the concept of kaizen, which is the continuous improvement both in product and in processes. There is a lot of pressure from the market for the release of new products. Manufacturers can easily get caught on an never-ending cycle of introducing new products that have no reason for being. I understand this helps create buzz, but, I still much prefer to look hard into improving products that we create.
2) Design a new rod that fill a clear niche or demand. When our existing products don't fill a niche or a request we see very frequently, then we look harder at creating a new rod with new specs. For example, early on we started seeing a lot of requests for a rod that could withstand large fish, so we created the Amago, whose main mandate was to have more backbone to handle the larger fish frequently being caught in the USA.
3) Try creating something completely new. This is probably the hardest and certainly the least visible. It takes time to come to fruition and often doesn't see the light of the day. But, we are frequently dreaming and playing with new concepts for rods and other products. I feel the Sato and Rhodo rods are a result of this line of work. While we didn't invent the idea of an adjustable tenkara rod that can be fished at 3 lengths, we have created a new and better way for that to work. And, while tenkara rods and other telescopic rods have been around for decades, and anglers have been losing their plug for just as long, we were the first to create and patent a solution to keep the rod plug with the rod and decrease the chances of it being lost.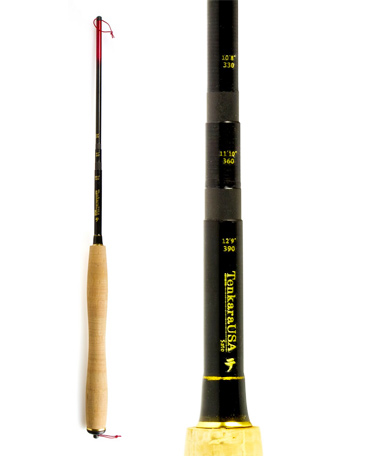 We have a healthy pipeline of rod design projects. But, we also have no rush to bring those to market. We prefer for the experience of tenkara to be the focus and for our designs to be seamlessly integrated into that simple experience.
What happens after that? Walk us through the rest of the process from factory floor to shopping cart.
Daniel: A lot happens after conceptualization. First we go through CAD designs and some virtual simulations (bend profiles, weights, balance points, etc) with the engineers at our factories. Then we fairly quickly move on the to the first prototype, just a rough blank to see if the design translates into a physical product. Depending on the rod there could be anywhere from 3 (minimum number of prototypes I have gone through) to 14 prototypes (maximum I have gone through). Then, moulds and mandrels are made. Materials are ordered. And manufacturing begins.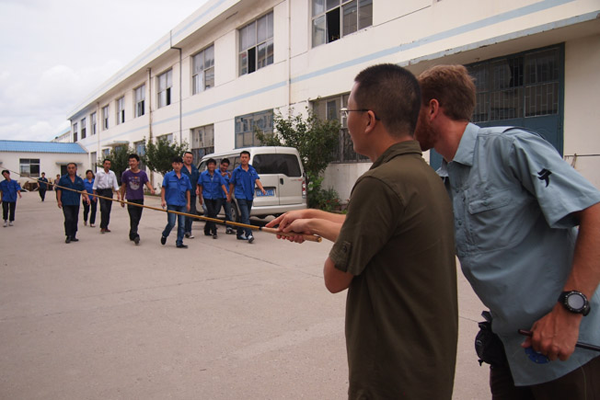 How are tenkara rods built?  Are segments for the blank built on mandrels similar to conventional fly rods and then assembled together by hand? How are the tolerances calculated to insure they'll fit together and cast well?
Daniel: The basic steps of manufacturing a tenkara rod are similar to those of making conventional fly rods. Carbon fiber sheets are cut into "flags", then rolled onto a mandrel, which is then processed (baked, cleaned, painted, etc). However, several adjustments have to be taken into account since tenkara rods are substantially different from western fly rods. The blanks are typically thinner, so carbon has to be wrapped differently.  There is a super tight level of tolerance between each segment. And, each segment is made separately (a typical tenkara rod has 9 segments), so that adds to the challenge of ensuring proper fit and finish of each segment and that they all come together well. Each of these adds a level of complexity in manufacturing.
I know you're pretty serious about testing prototypes and that you recently hired a gear designer. Do you handle most of the testing yourself or do you share it with your designer or a network of tenkara anglers.
Daniel: I'm trying to learn to delegate and trust the opinions of others. For the last 5 years I have done most, almost all, of the testing of prototyping myself.  I usually bring our new designs to teachers of mine in Japan who have decades of experience designing and fishing with tenkara rods. Dr. Ishigaki, who advises a major manufacturer in Japan, is my main advisor and mentor on tenkara rod design. As people here have been getting more experience with tenkara rods I'm starting to solicit their feedback too, typically as I get closer to a final iteration. Luke, whom I brought in as a product designer, has so far been focused on other products that go with tenkara rather than rod design.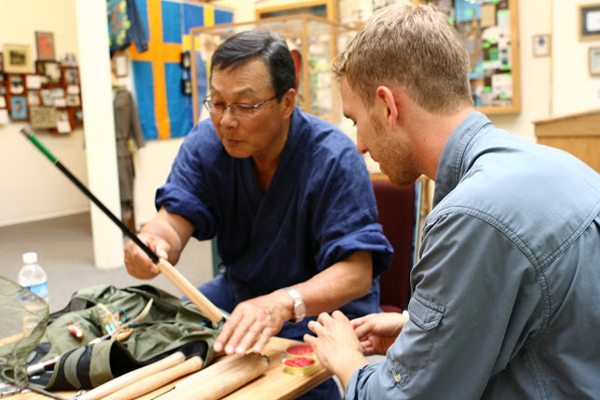 I've always felt the lilians on most tenkara rods are a little short, making it difficult to tie a stopper knot or wrap in a slip-knot loop for a level line. Is there a reason for this? Would a longer lilian add too much weight to the tip and alter the action of the rod or create hinging? It seems to me like an extra inch would facilitate attaching the line.
Daniel: We have started adding longer lillian on our rods to make it easier for people to tie the line onto it without causing breakages. Most breakages of a tenkara rod are causing when people are tying or untying the line, so I wanted to reduce that. And, customers wanted a longer lillian to tie their knots more easily. A lillian that is too long could create a hinging effect depending on the type of line that is used, but it is not a major thing in my opinion. Most rods in Japan have pretty short lillian, but I don't think that's a necessary design element.
You mentioned above that you've designed a fair number of prototypes that you've never released because you weren't 100% happy with them. But obviously, you've released a number of rods. When making the decision to put your stamp of approval on a rod, you must undergo some decision-making process. So, I'm wondering if there are any specific design challenges you've faced and overcome that you're particularly proud of.
Daniel: The main question I ask myself is, "does this rod have a reason for being?". That means, does it fill a niche other rods are not filling? And, does it have little overlap with other rods in our lineup?
The most recent example, actually two, that I'm very proud of are the Sato and Rhodo tenkara rods. They have been in the works for 2 years, a seemingly very long time-frame for what looks like a simple product, yet I feel those two years were necessary. Luckily our sales have always been strong and people have focused on the experience of tenkara more than on new products, so we had the luxury of allowing ourselves to take that long on working with them. Their release was actually delayed for 7 months (we were originally aiming for April 2013) as we kept coming up with better ways to do things. Almost at the last minute in April, when I thought I had the final production-ready iteration, we had a bit of a minor break-through in the zoom component of the rod. We made it better by using different materials to hold the thinner piece in place and designed a more durable outer component to hold the outer segment in place (2 segments can be held at the lower end of the rod in a triple-zoom tenkara rod). In the meantime the "keep your plug"™ system we had been working came to fruition and we were able to incorporate it into the rod. These forced us to go back to the drawing board and make some adjustments and start a new series of prototyping, but resulted in a much better rod. We actually felt it was necessary to file for two patents to protect these elements; these were our first patent registrations and I'm proud of reaching that milestone.
What advances in tenkara rod design technology do you think we'll see in the future? Will it be more in better, lighter materials? More hardware-related features like your Keep Your Plug design? How far do you think we can push the limits of technology?
Daniel: The way I see it, there is a constant push and pull at work in creating the future. There is the push from the market to give them complex products, and a pull to keep them simple. There is a push for lighter rods, or beefier rods, or longer rods, and the pull of the reality of using current manufacturing processes and materials. This is what keeps the wheels of innovation moving. Although it may not seem like it, we are constantly taking notes on suggestions and demands from users, and are constantly working on testing concepts around these suggestions and juggling them with our vision of keeping fly-fishing simple. We're trying to work on the future of tenkara, I firmly believe that's the only way to ensure the longevity of Tenkara USA and also help us create opportunities for people passionate about tenkara. I believe there is always tremendous room for innovation in materials, hardware, and concepts most people haven't even dreamed up yet; and I, for one, will not be one to say that "everything that can be invented has been invented". The future of tenkara will certainly be very interesting, yet I hope it is pulled a little so that tenkara remains the beacon of simplicity in our lives.