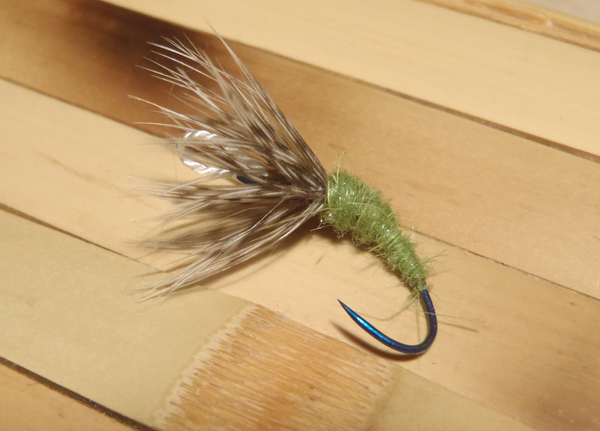 I've been meaning to share this fly for some time but for whatever reason, haven't gotten around to it until now. It's one of my most productive flies and although tenkara flies typically don't intentionally match the hatch, I call it the "Clear Creek Kebari" because it's a top producer on my home river of Clear Creek here in Colorado.
Honestly, I had little confidence in this fly until I had a few stellar days on Clear Creek, which is brimming with caddis. I'm not exactly sure why the fish find it so so appealing. The color scheme doesn't really make sense to me theoretically. It could be that the caddis green body is a trigger. Or the blue hook. Or the pulsing reverse hackle. Or the combination of those qualities. But it sure does work and ranks among my top confidence flies.
I find that the best way to fish it is with a downstream twitching presentation as shown here:
Clear Creek Kebari – Recipe
Here's the recipe. This pattern is tied on an eyeless tenkara hook so you'll need some silk bead cord to form an eye.
Hook:  Gamakatsu Amago Blue Hook, Size 7.5 (available here)
Eye:  #2 Silk Bead Cord, White
Thread:  Uni 8/0, Olive Dun
Hackle:  Whiting Brahma Hen, Silver Badger
Body:  Antron/Hare Blend Dubbing, Caddis Green
I tie it with a pretty full body and pronounced hump right behind the hackle but of course, you can tie it any way you want. But beware: if you fish it, hang on tight. Trout hit this fly pretty hard!