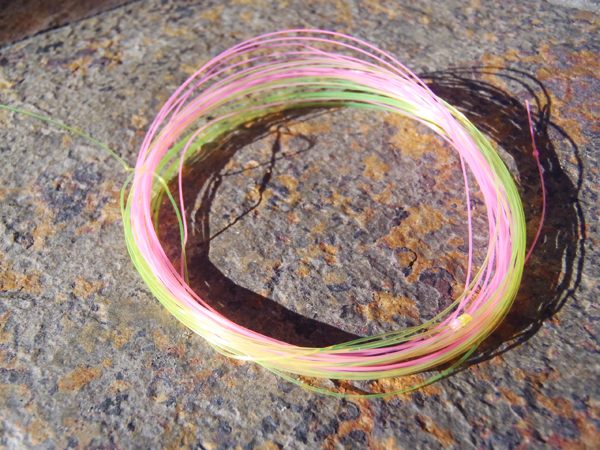 Tenkara level lines are so thin that, by nature, they're hard to see. To combat this, manufacturers dye their lines in bright colors to make them more visible. But conditions can change throughout the day (and even from spot to spot) so rarely is one color trackable in every situation.
It could suddenly become overcast, rendering a particular color invisible, or you could move to a spot with a lot of glare on the water or different substrate that makes that line you've been using all day disappear. I've found that I can usually get away with just two colors and switch between them when needed. But I also hate stopping to switch lines. Even though switching lines is much faster in tenakra than in conventional fly fishing, I'd still rather spend that time fishing.
So, it finally occurred to me: why not just make one line that is two colors?  Here's how it works.
Pick your two favorite colors–the two you find yourself switching between the most to get the best visibility. This will be different for everyone but I like orange and pink or yellow and pink. Take the overall length of your line and divide it in half. Cut equal lengths of both colors (in the same diameter of course) and tie them together.
So, if you want an 18 ft. line, cut 9 feet of one color, 9 feet of a different color, and tie them together with a blood knot.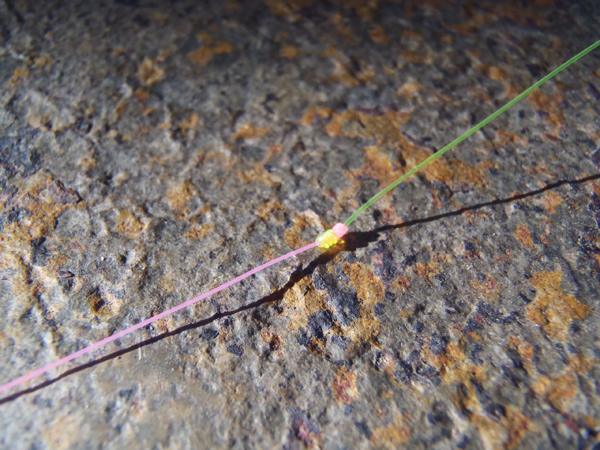 Now, when you're on the stream, you can switch colors without changing lines. Simply detach the tippet and fly from the end of the line, detach the line from the lilian, and flip the line around so the other color is at the business end. If you're using a slip knot for the tippet, you should be able to just loosen it and reattach it to the line without having to clip anything or tie any new knots.
The process is fast and doesn't involve winding or unwinding of line spools. Plus, I don't have to carry separate lines just to change color.
I'm calling it the Hi-vis Bi-vis Line (HVBV). I may not be the first person to have thought of this (at least, I haven't seen it posted anywhere), but it works and if you've found a couple of colors that you consider your go-to colors, it might be worth a try.