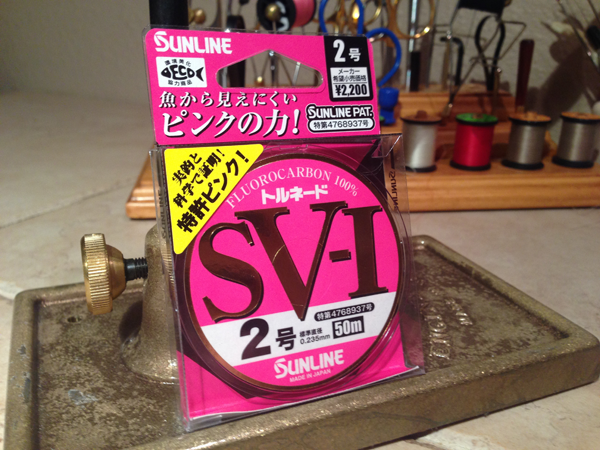 I recently got a spool of Sunline Tornado fluorocarbon line from The Tenkara Times in size #2 (o.235mm). When I first started fishing tenkara, I preferred a #4 line. Then, as my casting got better, I started using lighter lines such as a #3. I liked the way a lighter line was easier to keep off the water and make more delicate presentations. Over the last few months though, I've been using #2.5 lines from Tenkara USA and really like them. So I was excited to try an even lighter line from another Japanese manufacturer.
Those of you who have been around the tenkara block might recall that Sunline was revealed as the manufacturer of the storied Tenkara Bum "orange lines". So I was already very familiar with the characteristics of this line. I just hadn't tried it in such a light weight.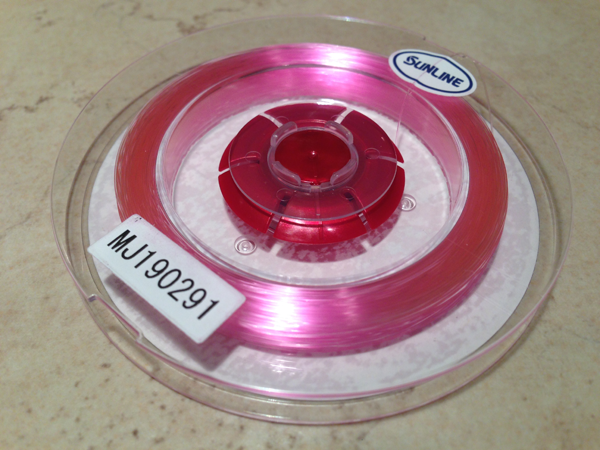 This particular line is dyed pink with seemingly the same memory and properties as the orange line and casts just as smoothly. I'm not sure if it's the same formula as the orange lines but it feels like it might be. Yet, because it's so thin and isn't opaque like the Tenkara USA lines, it is not as hi-vis.
That's not to say that you can't see it. It's just that it isn't as visible as the Tenkara USA lines in all the same situations (and vice versa). But that is the nature of transparent vs. opaque lines and different diameter lines or colors in general. You can see some lines in certain situations, but others perform better in other situations. And to complicate it further, everyone's eyes are different so you just have to try a variety of lines before you find the one that works best for you. I know some golfers that can see an orange ball 100 yards away but are blind to white ones. Everyone has different perceptions in different conditions and this is why I experiment with a variety of level lines.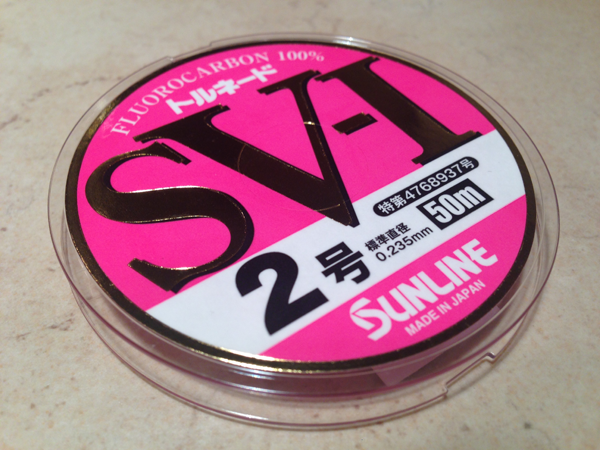 At any rate, I was a little skeptical that I would like an even lighter line (after all, a #2.5 was pushing it already). But I can cast this line as well as I can cast a #2.5. This is probably because the difference in diameter isn't that much and since I like to fish longer lines, the added mass from length makes up for the diminutive  diameter.
To me, this isn't an all around line. It's a specialty line where the most delicate presentations are required to avoid spooking wary trout and where the conditions are such that a thin line is visible (i.e. not a lot of glare, slow-moving water, etc.). It's also not the ideal line in high winds. But, it has its place and I'm keeping it in my arsenal because I love the way it casts and definitely see applications for it when the conditions are right. You don't go golfing with just one club and I don't go fishing with just one line.
Aside: why the heck do I keep making golf analogies? I don't even golf!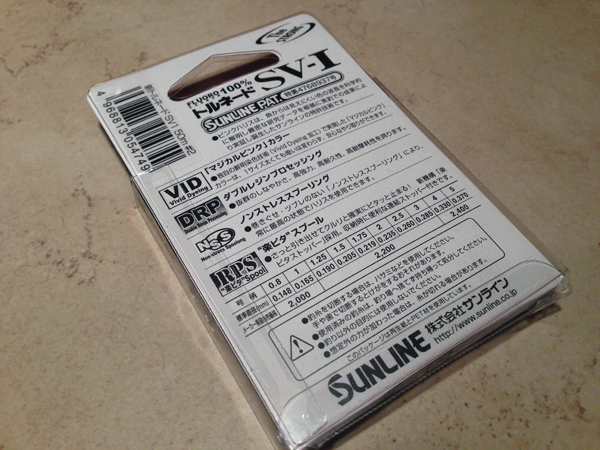 If you're interested in trying lighter lines, I highly recommend giving the Sunline Tornado line a try. It's a premium line used by many experts in Japan and I'm very happy with its performance.
The Tornado line is available here in 50m (164 ft.) spools which is probably enough to make more light lines than you'll ever need given the inherent durability of fluorocarbon. And if your'e worried about visibility, you can always add an Amnesia sighter pretty easily.