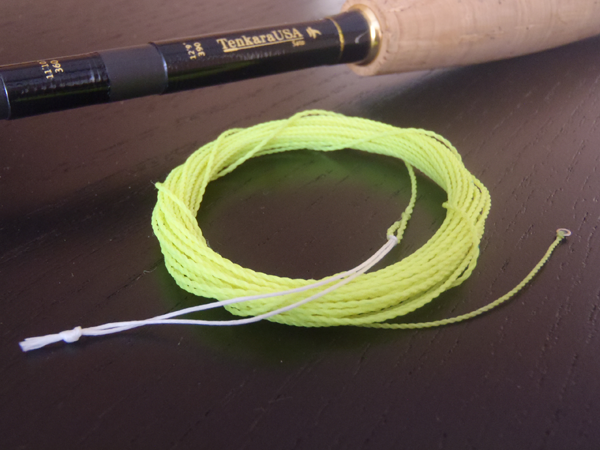 I've been testing some furled tenkara lines from Zen Outfitters. I'm really a level-line guy, but these seemed interesting to me so I thought they were worth a look.
The first thing you should know about their lines is that they're made of UNI thread (the same thread used to tie flies). This makes for a line that is much thinner and denser than other materials commonly used in furled lines such as nylon monofilament. Because of this, they generate higher line speed with a very powerful turnover. Given their relative bulk, furled lines usually get a bad rap when it comes to casting in the wind. But with their slimmer diameter and extra mass, the Zen Outfitter lines slice through the wind with ease. In fact, they cast better in the wind than most other furled line I've tried so far.
The second thing I found interesting was that the lines are coated with a proprietary coating to make them float. Dry fly and stillwater anglers will really like this. I'm not sure what the coating is but if you run your hand along the line, it feels "waxy". I was curious if that meant the coating would eventually wear off, but according to the company's website, the coating is guaranteed for life so that allayed any concerns I had.
As with all furled lines, it's not as easy to keep all the line off the water like it is with a fluorocarbon level line. That's just the nature of the beast. But I suppose those who prefer furled lines to level lines have already accepted this, or maybe it doesn't matter to them (it certainly wouldn't matter for stillwater fishing, for example). If you do need to keep the line off the water, I still recommend a fluorocarbon level line since that's one of their winning qualities.
I should point out that on the Zen Outfitters website, they currently only offer their tenkara lines in 10 1/2 feet and 13 feet. But being someone who prefers loner lines, I convinced the owner, Jaime, to make me an 18 foot line. If you want a different length, you could probably convince Jaime to do a custom job for you. He's a really good guy and really committed to making good tenkara lines.
Zen Outfitters lines are equipped with what looks like a 12 lb. dacron loop at the butt end to connect to the rod with a girth hitch connection, and a tippet ring on tip end.
Overall, I really like this line. It's high quality, floats, and turns over great. I think it would be a line that beginners would find especially easy to cast and experts will appreciate when it's windy or any other time you need a little more horsepower.
Each line is made to order and is available in a variety of colors. To learn more or order one, visit the Zen Outfitters tenkara line page.