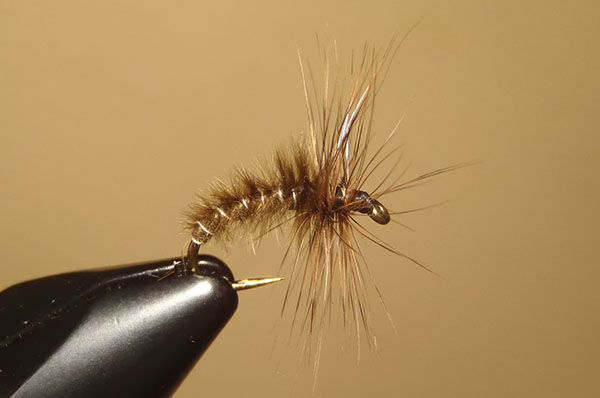 The more I fish tenkara the more I'm starting to think about flies in terms of "paradigms" rather than "recipes". Instead of specific patterns like an Oki Kebari or Takayama Kebari, I'm starting to think more in terms of the general characteristics a fly has such as movement, silhouette, attention point, and size.
One of the things that really sold me on tenkara early on was the versatility and lifelike movement of the reverse hackle sakasa kebari. After observing the opening and closing of the hackle underwater, I realized why these flies were so effective. But many insects also have gills, tails, and other appendages that move too. So instead of making only the hackle of the fly come alive while leaving a static thread body, why not animate the entire fly? That's where maribou comes in.
We know that the movement of the hackle in a sakasa kebari is extremely attractive to trout so it would stand to reason that if the body had more of a wriggle-factor too, it would be even more enticing. Maribou is very pliable and moves easily in even the slightest currents, further convincing the trout that your fly is alive.
So in this paradigm, I'm essentially wrapping maribou for the body of the fly and counter wrapping it with wire. The fibers that peek out between the wire wraps not only add segmentation, but also pulsate (even when dead drifted). But aside from the segmentation effect and added movement, the wire is necessary since maribou isn't very durable. If you don't use it, a maribou-bodied fly might only last one or two fish so I recommend using a counter wrap.
Maribou is also a good body material choice since it absorbs water and will help the fly sink.
Again, this is a paradigm, not a recipe. There are endless color and material combinations you could experiment with. But just for example, here is the recipe for the fly as shown in the picture above.
Hook: Tiemco 2457
Thread: Uni 6/0, black
Body: Sculpin olive maribou, twisted into a rope and wrapped
Rib: Small, silver wire
Hackle: Brown grizzly
This design is quick and easy to tie but very buggy and effective. And with a little imagination, you can easily spend hours at the vise having fun coming up with different variations that will no doubt lead to countless hours of fun catching fish with them on the stream.