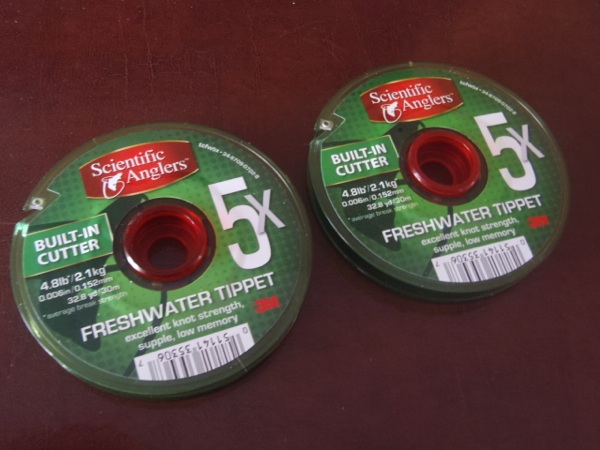 I've been using Rio Powerflex tippet for years and have been pretty happy with it. So, I didn't really feel the need to shop around for a new tippet. But then I saw the freshwater tippet from Scientific Anglers and was intrigued–not by the tippet material itself, but by the spools they came with.
The first thing that perked my ears up was the built in line cutter. In the rim of the spool, there's a small razor blade. You slide the tippet into a groove and pull it back so the blade cuts the tippet. This is a really handy feature I wish all spools came with.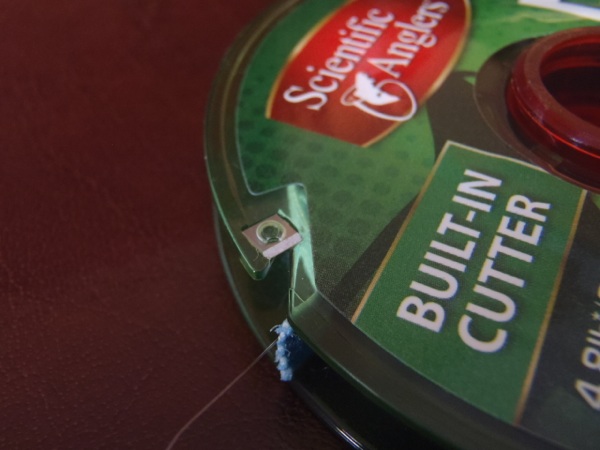 The other interesting thing is that the center hub rotates. This allows the spool to turn freely which makes a big difference if you've got two or more spools snapped together (I usually carry 2 spools of 5X for tenkara).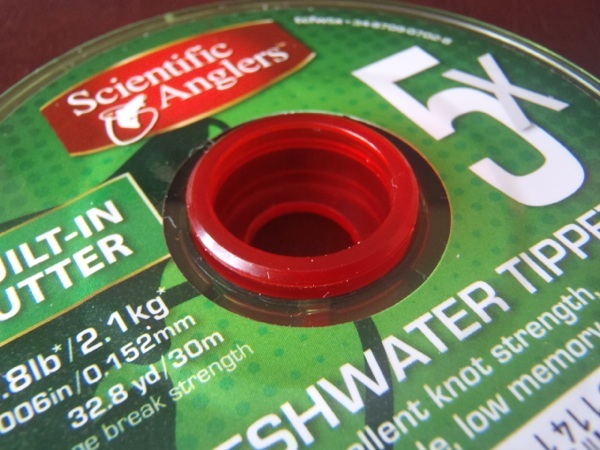 As for the tippet itself, it's the exact same diameter as the Rio Powerflex (0.006in/0.152mm in 5X), yet is not quite as strong. The Rio is 5 lb. test, whereas the Scientific Anglers is 4.8 lb. test. That's a difference I can live with since most of the fish I catch aren't anywhere near 5 lbs. And price-wise, they're the same (about $5) although you get a couple of extra yards on a spool of the Scientific Anglers tippet. 
In terms of abrasion resistance and suppleness, the two lines seem about the same (though I haven't done a scientific analysis).
These, might not seem like remarkable features, but they have special significance for me. A while back, I wrote about how I customized my Fishpond chest pack. One of the customizations was a tippet dispenser. The free rotating hub works much better with this system, and the built in line cutter allows me to cut off a length of tippet without even using my nippers. It's almost as if Scientific Anglers designed these tippet spools just for my DIY tippet dispenser!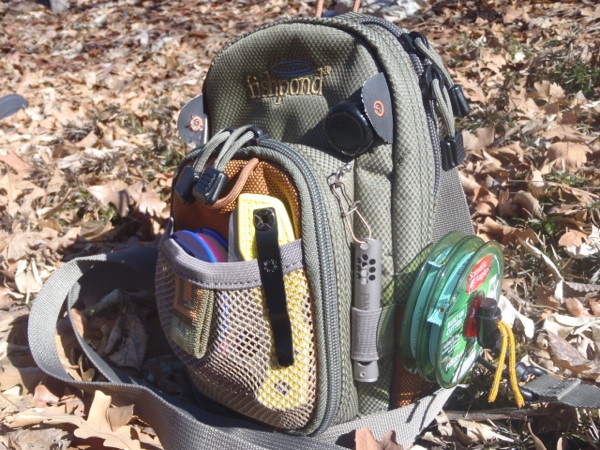 Even if you didn't like this tippet material (can't think of a reason someone wouldn't), you could always load it with your favorite brand and still take advantage of the design features of the spools. My one complaint is that the tippet keepers the spools come with are too tight, which makes it harder to pull the line out. But I've found you can just stretch them out a bit to make them looser.
To learn more and see what other diameters are available, visit the Scientific Anglers Freshwater Tippet page.
Like this article? You might also like these ...