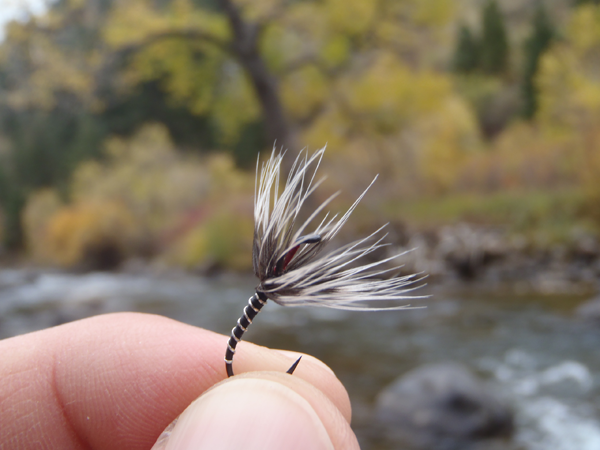 As a beginning fly tier, one concept was thoroughly drilled into my brain by the cronies at the local fly shop: match the hatch. The "goal" of fly tying was to imitate specific species of insects and the more realistic the fly was, the better it was. It made perfect sense. The trout are eating something that is this particular color, is this certain size, and has this many tails. Why wouldn't I want to imitate it if that's what they're taking?
I spent the formative years of my fly tying trying to be true to this principle. I studied some basic aquatic entomology and experimented with all kinds of materials to make flies that were the pinnacle of realism. I counted tails, measured proportions, blended dubbing to get the colors exactly right–I even used pre-fabricated wings, legs, and tails. I measured the quality of my flies by how realistic they were and rejected any that we're "off". And, they worked. And when something works, why would you question it?
For many years, imitation remained my tying philosophy. Then, in 2009, I discovered tenkara. The rods made perfect sense, but the first time I saw a sakasa kebari, I thought, "no way! That is huge and doesn't look like anything." So for the first year, I continued using my tried-and-true imitators with a tenkara rod. But I became increasingly curious about sakasa kebari. Do they really catch fish? I figured if there were anglers in Japan who were catching fish by using only one pattern in one size, there must be something to it. So, I finally decided to give them a try.
Feeling some trepidation, I decided my strategy would be to ease into it. For the first part of the day, I'd fish my confidence patterns. Then, after I had a few fish under my belt, I'd switch to a sakasa kebari. The first few times, I didn't catch anything with the Japanese fly. But I didn't give up. I stuck to my plan and kept trying different presentations until one day, it finally happened–I caught a fish! It was while I was pulsing the fly. While I caught more and bigger fish that day on my standard patterns, that one fish was 100 times more meaningful than all the others combined and I felt an intense sense of accomplishment.
But why? After all, I really had no idea why the fly worked or what I finally did right. Yet that experience was like a gateway drug and from then on out, I found myself making the switch to a sakasa kebari earlier and earlier in the day until, one day, it was the first fly I tied on. My confidence had finally overcome my suspicion.
Since then, I've been successfully using sakasa kebari for 99% of my tenkara fishing and here's one thing I've learned: confidence trumps imitation. I wasn't catching fish with sakasa kebari because in the back of my mind, I didn't really believe they worked. But as I caught more and more fish on them, my confidence level went up. That was the only difference. Same spots. Same fish. Same conditions. The only thing that changed was that I converted from a sakasa kebari agnostic to a sakasa kebari believer.
OK, so, realism works. Impressionism works. Why choose one over the other? This question was recently clarified for me in a Facebook post by Anthony Naples of Casting Around. I realized that I get more of a sense of accomplishment when I catch a fish on a pattern that I imagined in my mind than one that exists in reality. I can tie a fly that looks like what I know the fish are feeding on and the chances are pretty high that they'll take it. But giving them something that isn't a direct imitation is a risk. I have to work harder to convince them to take. I have to "sell" it. And when the deal closes, that's when I feel that I've really achieved something.
For many anglers, matching the hatch is part of the fun. Figuring out what the fish are feeding on and then dialing in the right pattern is the challenge that keeps them coming back to the water. And I get that.  For years, that was my captivation. But I think since getting into tenkara, my motivation has changed. My new, self-imposed challenge is to forsake imitation and try to cajole the fish to take whatever fly I choose rather than what I know they're eating. It makes me feel more like I'm actually the one catching the fish rather than the fly.
That's not to say I think there's anything wrong with matching the hatch. It's just a different challenge. And different challenges appeal to different people at different stages in their lives. Whichever one chooses doesn't bolster or diminish the artistry of their streamcraft. It's just different.
I think of it this way. Some artists paint whatever they want and then try to sell it to the public. Others take commissioned work and paint whatever their client tells them to. Both are still skilled artists. But they gravitate toward different challenges in their work. I just happen to no longer be accepting commissions.