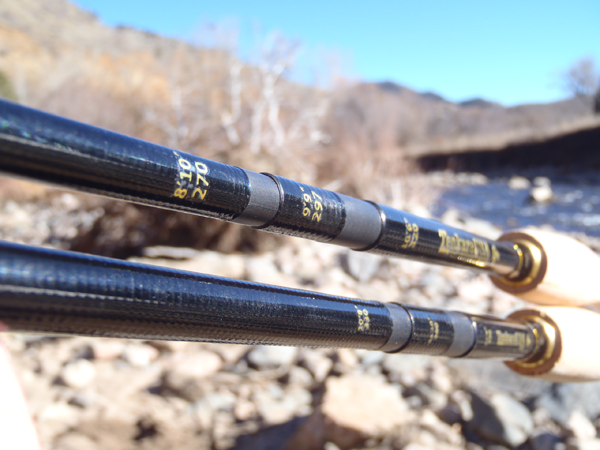 Today, a reader requested that I do a post about my opinion on zoom rods. For those of you who don't know what zoom rods are, they're rods that can be extended to different lengths with sections that lock into position. I'm no expert on zoom rods and I've only tried a few, but as with many topics, not being an expert doesn't stop me from having an opinion.
At a superficial level, it would seem the main advantage of a zoom rod is that by making the rod longer, we can increase our reach and compensate for the inability to shoot line or, conversely, make the rod shorter allowing us to cast in closer quarters or under a tight canopy. I have found this sometimes to be true, but not always.
For example, if the rod zooms out in one foot increments, chances are, zooming it out one foot is not going to make much of a difference in terms of reach. But two or three feet might. Similarly, if you're under a tight canopy, making the rod one foot shorter might not be enough to avoid getting caught in the branches. So the benefits of reach and diminution kind of depend on the design of the rod.
BUT…I think there is another value to zoom rods that is often overlooked: the ability to dial in the action to your own preference. Adjusting a zoom rod to a different length inherently alters the action (sometimes slightly, and sometimes very conspicuously).  Have you ever tried a non-zoom rod and thought it was pretty good, but you wish the tip were just a little softer, or that it had a little more backbone? Zoom rods give you different options by altering how much weight is in the handle vs. off the tip and let you essentially change the action of the rod.
I'll use the Tenkara USA Sato as an example since that's a rod I'm fairly familiar with. This rod can be fished in three lengths: 10'8"/ 11'10"/12'9" 
. For me, the rod casts best in the non-zoomed and middle positions. When it's zoomed out to full length, it doesn't seem to fit my casting style as well. But I've heard other people say the opposite–they like the rod best when zoomed out to the two longer positions. Either way, a zoom rod gives you the ability to kind of customize your casting experience and find what's best for you.
And what you think is "best" might vary from day to day. I remember years ago Shakespeare made a spinning rod with an adjustable action. You could twist a knob on the butt cap that would make the tip of the rod stiffer or softer. It was great because you could calibrate the rod to give more line protection when fishing lighter line, or make it stiffer for more sensitivity. Zoom rods are the tenkara equivalent of that. Sometimes you might find a rod performs better in different positions depending on wind or what weight or length of line you're fishing that day.
While some might consider zoom rods to be "gimmicky", I think they're actually quite versatile and have an important place in the modern anthology of tenkara rod designs. Now if I could just find that magical rod that zooms from five to fifty feet, I'll be all set. 😉
What is your experience with zoom rods?