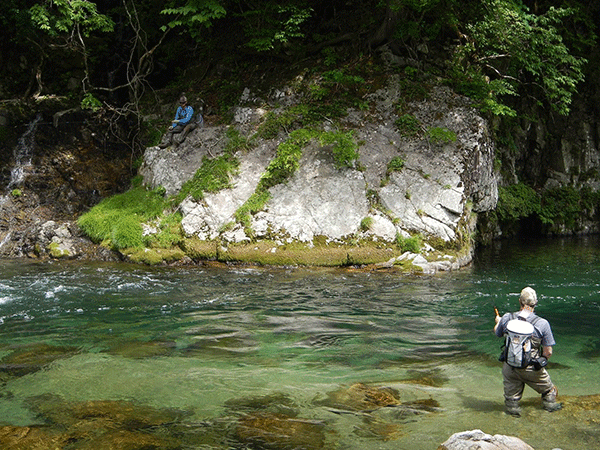 Fresh off the heels of his trip to Japan, John Vetterli of Tenkara Guides gives us a glimpse of what tenkara is like in its native country. I asked John 3 quick questions that highlight some of this differences and similarities between American and Japanese approaches to tenkara fishing.
Jason: You recently returned from a trip to Japan where you fished alongside some of the world's foremost tenkara anglers including Masami Sakakibara, Dr. Hisao Ishigaki, and Eiji Yamakawa.  While some portray tenkara as a rigid regime, others see it as a flexible system. Based on your experiences in the birthplace of tenkara, what is your understanding of its underlying philosophy and how it's practiced today?
John: Don't forget Horimichi Fuji. In America in particular, there are 2 defined camps of "this is tenkara, that is not".
The group I will call Neo Tenkara Traditionalists, is taking a very narrow view of what tenkara really is, how it is practiced in its native country of origin, and what a "Tenkara Master" really is.
Tenkara in Japan is very fluid.  There are people who fish with bead head weighted  flies, dry flies, terrestrials, and kebari.  Level lines, furled taper lines, tapered monofilament lines, quite a few people I met use regular western tapered leaders as a tenkara line. There is no hard-set rule about types of flies, types of lines, rods having some type of grip, etc.  Saw quite a few seiryu rods being used as tenkara rods.  The most common one I saw was the Diawa Rinfu.
The common myth here in the states is that  Japanese tenkara anglers fish only one fly.  There are a small group that do but for the majority of tenkara anglers and teachers, (Sakakibara, Mr. Fuji, Mr. Yoshida, and others), use multiple patterns of kebari.  In Japan, kebari are based on traditional tenkara pattern flies.  All other types of flies are just called flies.
There is a trend among younger Japanese tenkara anglers to use more western style flies and weighted flies.
The thing that makes someone a "Tenkara Master" is that they learn and master the basic skills, push past the current conventional thinking and innovate.  They have developed new methods, gear, and tactics. They add that to the solid set of basic skills and a whole new complete system of tenkara emerges.   These are guys that broke free of conventional thinking and practices and developed something unique.
The 3 teachers we fished with are the guys that brought level lines, furled tapered fluorocarbon lines, zoom rods, and long line casting techniques into being.
Erik and I had the honor of fishing with three guys that fit into that group.  They each have a very unique, distinctive, and individual styles of tenkara.  They have their own philosophy and methodology.  By spending several days with each teacher, it was easy to see that there are not 10 colors of tenkara.  It is more like 10,000 colors.
Each of these teachers were eager to teach their method of casting, fishing, and philosophy and at the same time, they give you the freedom to be yourself.
Masami Sakakibara gave me some really good advice.  "Don't just emulate other tenkara anglers, innovate."
Jason: We had a great phone conversation the other day about your trip and one of the things we talked about was how different species of trout and char preferred different types of water. That was fascinating to me. Can you break it down for us by species (i.e. Amago, Iwana, Ayu)?  I think most of us only read the water generically and don't necessarily pay attention to the specific types of species so this could be helpful. I know I just look at a river and think about where the "fish" will be. But I don't think about where the "rainbows" vs. the "browns" will be. I think in terms of lies, not fish personalities.
John: I learned that the name iwana means "rock fish" iwa is a name for rock.  Amago means "rain fish" ama is the name for rain.  iwana hang out in, around, and under, rocks in the stream.  You catch them by casting to the eddies, slack water, and areas near rock structures.  They tend to like slower currents.
Amago live and hunt in faster currents in the streams.  There are lots of airborne predators in these areas so amago are very skittish and difficult to catch.
Ayu feed on the algae that form on rocks in the water.  They will not take flies.  They are fished by using a smaller live ayu as a bait fish to trigger a very territorial and aggressive response from the ayu in the river.  There is a fine wire treble hook trailing behind the bait fish that the target ayu get snagged on.  We saw more ayu fishermen in Gifu than tenkara anglers.  The rods used for ayu fishing are really long like 7 meters and longer and really expensive.  More than $1,500.
Because catch and release fishing is not the norm in Japan, fishing is downright tough.  The combination of manmade dams jacking up the river systems, high numbers of natural predators, and humans constantly decimating the fish population from fishing, the fish are wary and a real challenge to catch.
We fished rivers that only had native amago, some that were mostly iwana, and some that had both species.  Knowing what species of fish are in the river you are fishing, changes how you will fish.  No reason to cast to rock structures when there are no iwana in the river.
Yamame are a landlocked salmon species that were not in any of the rivers we fished.  From what I understand, these are also very sensitive and skittish fish that can be a challenge to catch.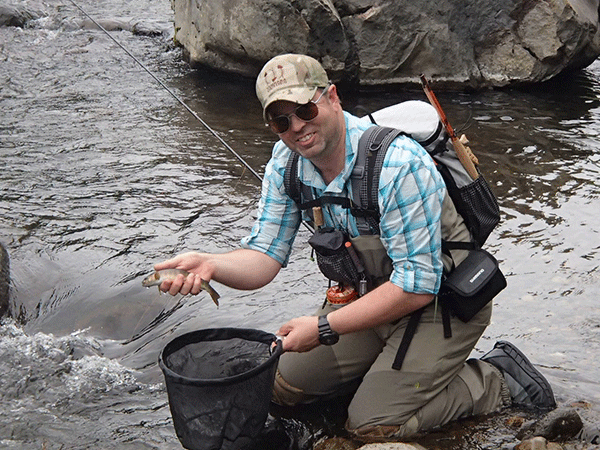 The real keys to catching any of these fish in Japan are:
1.  Stealthy approach.  You can't just go crashing through the water.  Best to move slow and deliberately.
2.  Casting accuracy.  False casting spooks these fish.  You pretty much get one good shot at a casting target.  When you do catch a fish, the hole or area you were just fishing is blown.  Don't waste time trying to catch another fish there.  Move on.
3.  Presentation.  Your kebari or fly needs to hit the water first and have a controlled landing.  Don't pound the water with your flies or let your line smack the water.  Gentle fly presentation worked best for me while fishing there.
4.  Fish any and all possible holding locations in a 360 degree casting area.  Fish upstream, to the sides, and downstream from where you are standing.  I watched Sakakibara-San catch fish doing this day after day.  Many tenkara anglers think that tenkara means only casting/fishing upstream.
5.  Its only fishing.  Don't get you waders all twisted about what tenkara is or is not.  Pull that pickle out of your ass and just have fun.  Erik heard something the other day from a very experienced tenkara angler in Japan that sums this up nicely.  "There is no one true tenkara method, just the gear you choose and who you are that defines tenkara."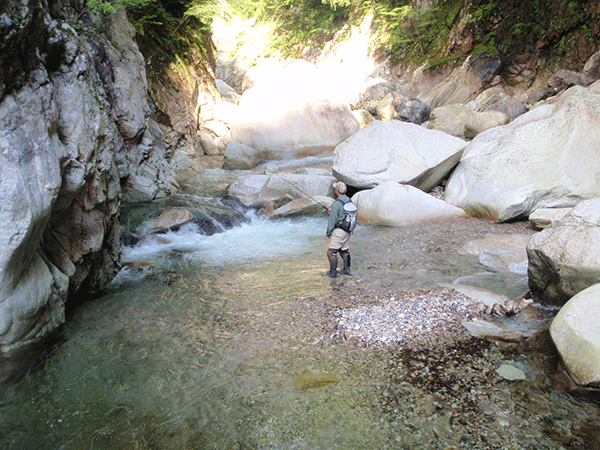 Jason: I'm curious about what Japanese tenkara anglers think about us in the West. Do they think we are missing something? Do they think we get it and are glad it's spreading? Is spreading a bad thing to them? I just want to know what their impression  of tenkara in the West is.
John: We were also very curious about the same question so we asked it a lot.
Exposure to western tenkara anglers is still very small in Japan.  Based on what they have seen and the western tenkara anglers they have met in person, they feel like we are getting the essence or spirit of tenkara and at the same time they know that our culture is different, our waters are different, and we will continue to adapt tenkara to best suit our culture and waters.
Everyone we asked that question to was very supportive, and wanted to learn more about how tenkara has adapted in America.  When we showed them pictures of 15-20 pound carp caught on keiryu rods, they were completely amazed and wanted to know how we figured out how to land such big fish on such lightweight gear.
Tenkara has always been a fringe sport in Japan.  The massive surge of interest in tenkara coming from the US and Europe has created a new interest in tenkara by Japanese anglers.  It would appear that brining tenkara outside of Japan is ensuring that it will grow and thrive even more in its homeland.
I would strongly encourage more American and European tenkara anglers to travel to Japan.  Even though our cultures are like apples and oranges, in the end we are all just fruit.  We have more in common than we are different.  The scenery is beyond spectacular, the people are warm and gracious, the food is amazing, and the fish are small and really hard to catch.  I can't wait to get back.
And did I mention the toilets?  Pure heaven.
Jason: Thanks John. Definitely some interesting observations here. I hope to make it to Japan one day to catch some Amago and Iwana and meet some of the extraordinary tenkara anglers you met there. Looks like the trip of a lifetime!