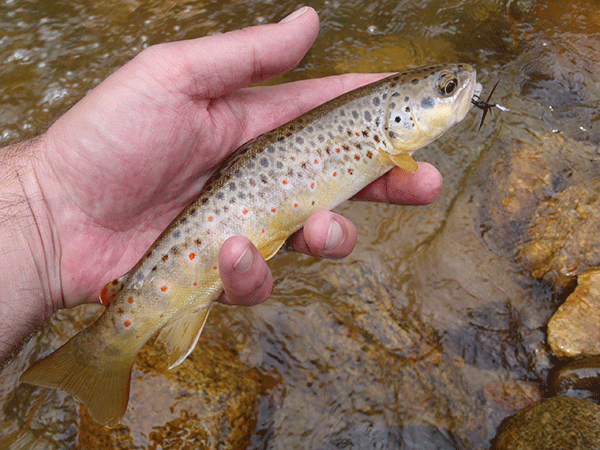 This weekend, my family and I rented a condo in Estes Park that's right on the Fall River. It was really a family trip, not a fishing trip, but I took my tenkara gear anyway. I've been caught off guard too many times without a rod after stumbling on to easy fishing opportunities. So now, I take at least some gear with me wherever I go.
This particular stretch of river by the condo isn't exactly blue-ribbon water. Actually, I'd call it whatever the opposite of that is. It's pretty much dead water with little structure for fish to hold and no real character to speak of. I've fished it several times before with very low expectations and those expectations we're consistently met–not one fish.
Past experience and the fact that the water was high didn't give me high hopes this time either. Add to that that there's only about 30 yards of river on the property to fish which is crowded with clueless bobber fishermen spooking fish left and right, and you can imagine I wasn't very optimistic. But, there was a river in front of me and I had a tenkara rod, so how could I not fish it?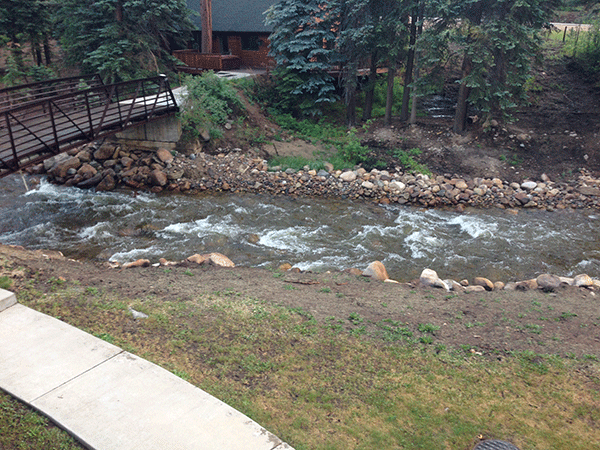 On the first day, I snuck out for about half an hour while my daughter was taking a nap. With the high flows, there were literally only about 5 fishable spots (mostly very narrow and short slots along the banks where the water was slower). I worked these as much as I could with no luck. To say that it wasn't the ideal fishing situation would be an understatement. My typical M.O. is to cover a lot of water and not spend more than 5 minutes or so in a spot before moving on. But with limited viable spots and a very limited stretch to fish, everything was up to the river, not me.
As expected, I didn't catch a thing. But I wasn't too disappointed because it just felt good to be on the water and at least I got some casting practice in (some of those slots were no more than a foot wide and two feet long so you had to be really accurate with fly placement). I returned to the condo, hung up my gear and willingly accepted my predetermined defeat.
The next day, we went for a nice hike up to Bierstadt Lake. Again, I took my tenkara gear but it was very windy and there wasn't even room against the bank to backcast. Another no-go. But it was nice to just be out with the family and take in the scenery.Bierstadt is beautiful, but not the most tenkara friendly lake.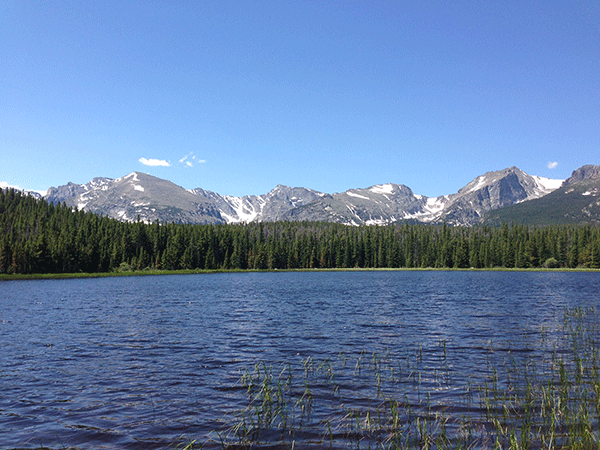 After we got back to the condo, it was nap time again for Emma. For whatever reason, I decided to give the stream another shot, almost as if the memory of the day before had been completely erased–like Sisyphus thinking he'll actually get the rock up the hill this time.
In the back of my mind, I knew I was doomed but I was strangely determined to change my destiny. I told myself that if I could catch a fish (just one fish) under these conditions, it would say more about my skills than any 50+ fish day I've had. After all, it's easy to think you're a good angler when you're catching a fish every other cast (though in reality, it probably says more about the gullibility of the fish than the talent of the angler). So, I challenged myself: catch just one fish from the water you've deemed impossible and you've got some worth as an angler–some stream cred.
I really focused this time and repeated a mantra in my mind that "there's a fish there". Then, it happened … I caught a fish! It was a pretty small brown (see photo above) but that didn't matter. Just feeling the tug of life on the end of the line after such a poverty mentality was incredibly motivating. I think it was probably the most meaningful fish I've caught all season.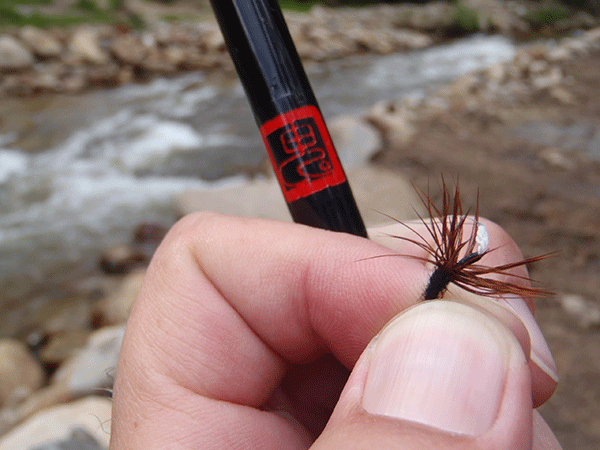 With a renewed sense of confidence, I moved to another spot under a bridge and on the first cast, caught another (even smaller) fish. Success! I felt redeemed and was ready to push myself even further and see how many more I could pull from this "impossible" water.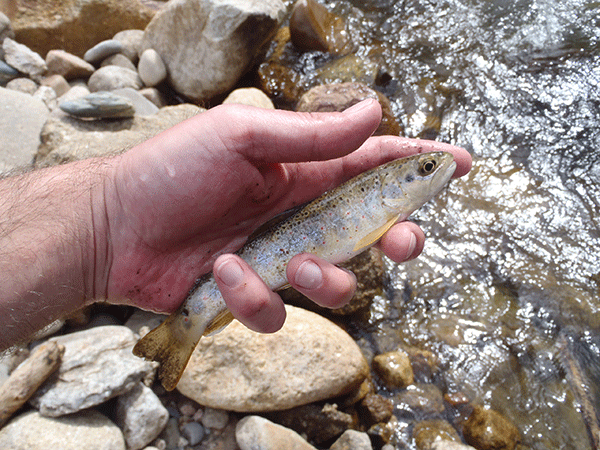 Either fortunately or unfortunately, the typical Rocky Mountain afternoon thunderstorm rolled in quickly and thwarted my plans to become increasingly cockier with every fish I caught. So I called it. Secretly, I wondered if it was nature trying to keep me humble.
So, two fish. While far from a "stellar day" I still think it was a good day because I learned a valuable lesson: perseverance pays. Even if it's in small change.