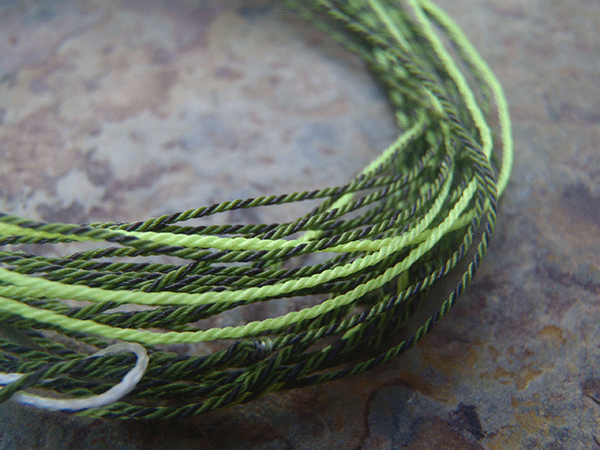 I've recently been testing out a new furled tenkara line design from Moonlit Fly Fishing called the "Katana". Normally, furled lines don't really appear on my radar because many of them are so similar. Sure there are different tapers and materials, but for the most part, empirically, they feel the same to me. But I discovered the Katana is definitely a different animal thanks to a few unique design elements.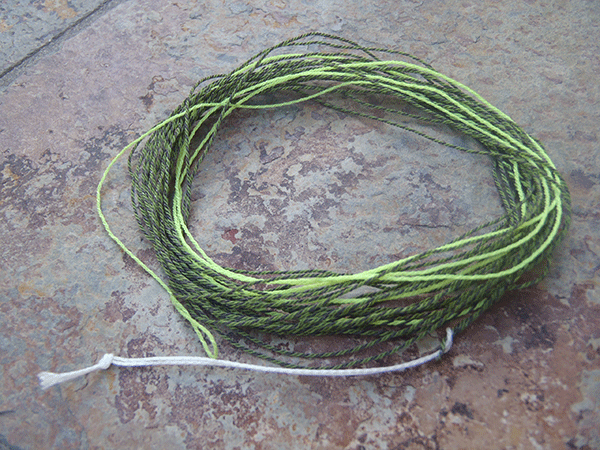 Most furled lines are tapered down from the butt to the tip (i.e. the butt is thicker and the line gets progressively thinner closer to the tip). This generally makes for a good transfer of energy during the cast. But the Katana is a "weight forward" line. There is more mass toward the tip of the line than the butt. This extra mass puts more weight further from the tip of the rod, helping it load better and turnover more easily. In fact, I was surprised by how easy the line was to cast. I was able to load the rod with very minimal movement and I could also punch through the wind with no problem. To preserve delicacy, the line tapers down to a thinner diameter as it approaches the tip.
Another interesting feature is that the Katana is built around a monofilament core. The furl is made with polyester thread (about the equivalent of 8/0 UNI in diameter) but the mono is lighter and stiffer than the thread, giving it better turnover without adding too much weight. According to Brandon Moon of Moonlit, this blending of materials maximizes the overall performance of the line. I'm sure it took quite a bit of experimentation to get the recipe just right.
I should also mention that the Katana is extremely accurate. I pretty much picked out a target visually and it was almost like the line telepathically knew where I wanted to put the fly. I think this characteristic would be welcomed by any tenkara angler, but especially beginners who struggle with accuracy.
At the business end, the tip has a pretty standard shorb loop for a loop-to-loop connection with the tippet.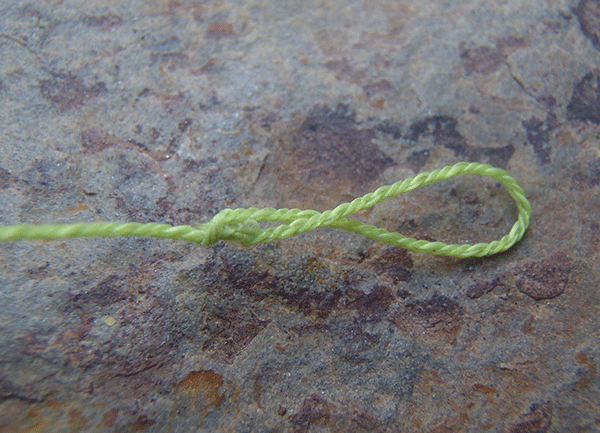 And the butt end features a Dacron loop for a girth hitch connection to the rod.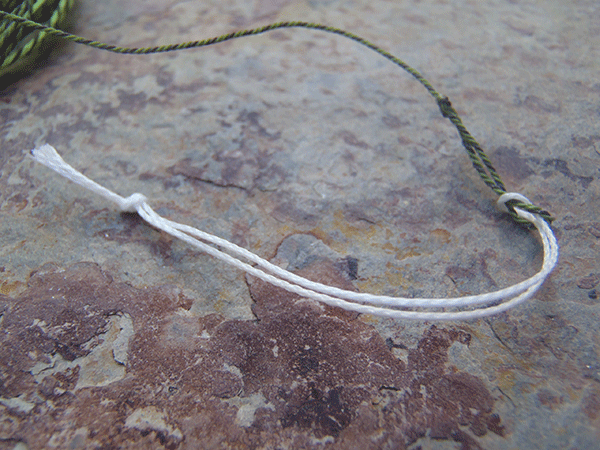 Overall, I'm impressed with the Katana. It's a pleasure to cast, unique in design, and Brandon's consistent quality in furling always amazes me (see the closeup of how tight the furls are in the first pic). It's nice to see a company continuing to innovate and push the limits of design.
The line I tested was 18′ with a mix of green and black strands for the main line and a hi-vis yellow tip section though different lengths and color options will be available on the Moonlit Fly Fishing website.