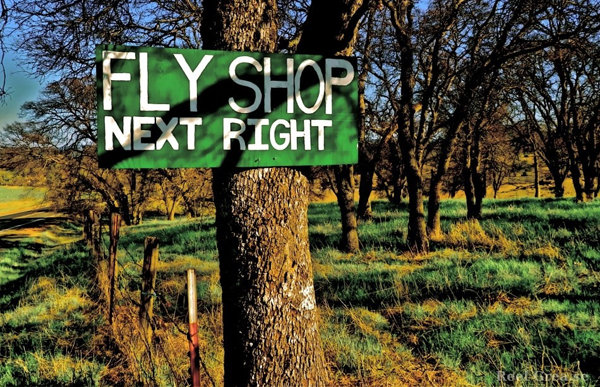 My friend Randy and I worked together in the same fly shop in Western New York for several years and we had kind of a running joke between us. Customers would always make comments like, "I wish I could work in a fly shop. You guys must get to go fishing all the time." The stock answer was, "uh, no we don't. Because we're working in a fly shop all the time." There's a myth out there that people who work in a shop or guide live a life of endless fishing opportunities in glamorous, one-of-a-lifetime destinations that most people only read about in magazines. Having done both, I can tell you this is not true.
Sure, you get to talk about fishing a lot. But more of your day is spent placing orders, processing refunds, taking inventory, and many other things that aren't even remotely related to fishing. It's a business after all.
But after a while, it gets to you–day after day of customers coming in and bragging about what a great day they had on the water while you're stuck restocking hooks and dubbing on the pegboard all day. When your clients get to fish more than you do, it becomes a form of torture. One day, Randy and I had had enough and we decided to plan a real destination trip to the San Juan River in New Mexico. We'd heard bout the big trout lurking in the tailwater and were thirsty for something different than the local waters we'd fished countless times. So, we booked our trip, put in our time off, and started planning.
The first thing you do when heading to unknown waters is get the lowdown on flies from the locals and people who have fished there before. And that's what we did. We called up the famous Abe's Fly Shop, and used our network of fishing buddies to gather as much intel as we could. And the consensus was that if you didn't have San Juan Worms in your box, you weren't going to catch anything. Not knowing any better (and even more so not wanting to not catch anything) I spent several sessions feverishly tying up San Juan Worms and filled a Myran box with a wide assortment of colors and sizes. It might have been overkill, but I didn't want to leave anything to chance since it was rare that we got the chance to take off for a few days to travel. I've always felt more confident knowing I was over prepared than actually being caught underprepared.
We drove down to Farmington and checked into our hotel room. Not sure if it was the lipstick stains on the dirty glasses in the bathroom, or the Black Widow Spider lurking in it's web next to my bed, but the place exuded New Mexico "out-of the way" charm. The place made a Motel 6 feel like a 5-star resort. Nonetheless, we were there to fish. Not pamper ourselves.
That night, we did the obligatory pilgrimage to Abe's Fly Shop. Abe's is a legend in the area and that will be the first question people will ask you after you've told them you just got back from the San Juan. It won't be, "how was the fishing?" It will be, "did you go to Abe's Fly Shop?" It's the fly fishing equivalent of Wall Drug. We got one more earful of how we needed to use San Juan Worms, a little advice on which pools to fish, and I bought a hat as a souvenir before we decided to head back to our luxury suite and turn in.
The next morning, we headed out. The drive to the river was classic NM, with red dirt and the kind of rock formations you only see in a Roadrunner episode. On the way there, we saw a dead coyote on the side of the road with its feet pointing straight up in the air just like in the cartoons (I didn't know that actually happened). I remarked to Randy that we should stop and put roller skates with rockets attached on his feet and put a helmet on his head and write "ACME" on the side. But there was no time for that. We needed to beat the notorious crowds on the San Juan to the best spots. So we kept moving. Still, it would have give every angler behind us that day a good story to tell.
Once we got to the river, I have to admit, I was a little intimidated. It was much larger than the local streams we were used to fishing and and there was a noticeable lack of structure making reading the water more like voodoo than science. BUT, I did notice one thing–fishing rising!
Randy and I were split up and couldn't see or hear each other, but we both ended up tying on dry flies (against all the advice we'd heard). Either he also observed rising fish, or we both simultaneously reverted to our mutual penchant for dries, but after we met up a little while later and compared notes, we found it worked. We both caught a lot of nice fish on Elk Hair Caddis and CDC Blue-winged Olives without ever having to delve into the sordid corners of our fly boxes and pull out a San Juan Worm. Hmm …
We spent the full two days fishing only dries and catching lots of fish while wading past other anglers clumsily slinging San Juan Worms, split shot, and strike indicators while catching little or nothing. Part of me regretted spending all that wasted time tying Worms when dries proved to be more effective, but a bigger part of me didn't care since we were killing it. Still, there was a nagging voice in the background wondering why we were so successful after defying conventional local wisdom and just going with our instinct on unfamiliar waters.
After years to contemplate this and a little more experience under my belt, I think there are a few reasons you should take any advice about new waters with a grain of salt–especially from locals. Here are a few reasons …
1. Fly shop guys don't always know what they're talking about. It's not necessarily a lack of knowledge or experience–it's more a matter of empirical evidence. At the beginning of this article, I pointed out how difficult it is to get out when you work in a fly shop. Many shops have a chalk board where they list what's currently working on local rivers. Some of that is based on "scientific" hatch schedules but a lot of it is based on customer feedback. And both can be very unreliable. Because they can't get out every day, they are forced to rely on a mismatch of the most "up-to-date" information from what entomology says should be happening combined with what anglers fresh off the stream are saying "is" actually happening. The disconnect happens when climate, flows, and other environmental factors through the hatch schedule off. And since most fly anglers aren't professional entomologists, there's a football-field-sized margin of error for misidentifying species and making all kinds of incorrect assumptions. In other words, just because a fly pattern is chalked up as the "hot" fly right now, don't take it as gospel.
2. Locals may not want to give up their favorites. I'll admit it. Many times when out-of-towers came into the shop and asked about the best places to fish and the best flies to use, I wouldn't say I was exactly 100% honest. With crowds exploding and fish dwindling, there's a passionate (and I think righteous) drive to protect your local watersheds. That's not to say I gave them bad advice. I always told them about "good" spots and flies (just maybe not the "best"). I know other fly shop guys and guides do it because I know it's been done to me too. It's just a fact of life.
3. The local recommendations have the fish rolling their eyes. Thinking back to that San Juan trip, part of me wonders if we were so successful because everyone else was throwing San Juan Worms and we weren't. Let's admit it–on high-pressure streams, after a fish is caught and released a few times on the same pattern, they get wise. "The last 2 times I ate something that looked like that, I got pulled out of the water where I couldn't breathe, some monster held me up to a bright flash of light, dropped me on rocks twice, removed my protective slime, and almost killed me. I think I'll have the midge this time." We know that fish become wary of standard patterns after they see them a million times so if the locals recommend the same patterns over and over again to countless tourists coming through, and the fish are traumatized by them over and over again, what do you think your chances are?
4. "Confidence flies" always outfish local favorites. My first few times out bonefishing in Mexico, I had tied up a bunch of shrimp patters (mostly Crazy Charlies) in different shades, colors, and sizes. Since I was by no means a bonefish expert, I basically opened up my box and let the guide tell me what to tie on. I had caught a few bones on previous trips on certain patterns that I felt confident tossing, but form time to time, they chose totally different ones. After casting to a few pods and having the fly completely ignored, I decided to switch to the patterns that I had caught fish on before. And that made all the difference. I don't know if the actual color or design made a difference, or whether it was just some psychology in fishing them better because I had confidence, but I believe if you believe you will catch a fish on a certain pattern, you will. I've also experienced this with trout, bass, salmon, and steelhead flies. Belief = & confidence = better presentation & better presentation = more fish.
——-
By the way, I still have that old box of unused San Juan Worms sitting in my office. The once clear plastic is now yellowed with age yet the flies themselves still remain untouched as if they were soaked in Botox. I'll probably never use them, but I suppose I cling to the collection as a physical reminder of the point of this article: When it comes to fishing new water, try these T's as takeaways:
1.  Tap the locals (but don't take it as dogma)
2.  Tie your confidence patterns (and bring them with you no matter what the locals say)
3.  Trust your instinct (no one knows how you fish better than you do)