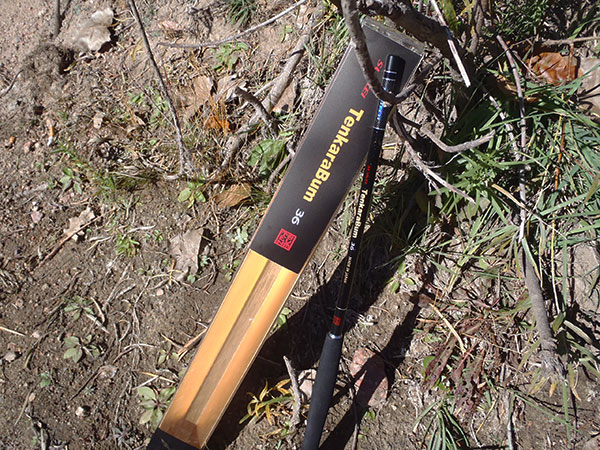 When I first heard that Chris Stewart of Tenkara Bum teamed up with Japanese rod maker Suntech to design a new rod, I was really excited. Chris has been fishing tenkara longer than pretty much any American angler I know and through his vast store inventory over the years, has gained an intimate knowledge of a wide variety of tenkara rod models and actions. In fact, he's probably cast more fixed-line rods than anyone in the U.S. Combine that with Suntech's reputation for high-quality rods and I predicted their joint creation would be a winner before I even got it in my hands. And now that I do have it in my hands, I can tell you that it is.
First, a few tech specs from the Tenkara Bum website:
Length extended: 11'11"
Length collapsed: 21.5″
Weight without tip plug: 2.2 oz
Number of sections: 8
Tip diameter:  0.65mm
Recommended tippet: 5x-4x
The Tenkara Bum 36 was designed with a specific goal in mind: to produce a rod that meets the demands of American anglers who like to fish weighted flies (as opposed to just traditional unweighted sakasa kebari). Tenkara rods are notoriously "soft" compared to their Western counterparts which can make it difficult to get a good hookset when fishing nymphs in deeper water. Rods that are more full flex tend to allow for too much slack in the line to make the set before the fish jettisons the fly. To solve that, Chris designed the 36 with a stiffer mid section. So while the tip doesn't really aid in hooking the fish, once you pull back on the rod, you're quickly into the sterner mid section giving you the leverage you need to make the connection.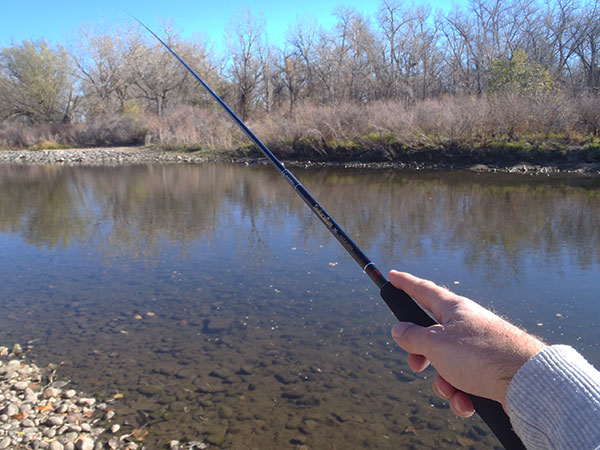 But I wouldn't pigeonhole this rod as merely a nymphing rod. In fact, I'd consider it a good all purpose rod. I typically don't fish weighted nymphs with tenkara (the one exception being the Killer Bug) and while it can handle nymphs well, I found it to perform equally as well with unweighted sakasa kebari.
I typically fish either #2.5 or #3 fluorocarbon level lines and this rod throws them perfectly. You can really feel the tip load and then the stiffer mid section backing it up to accelerate the line speed making it easy to toss tight loops even in the wind. I've fished a lot of tenkara rods and one thing I've learned is that, some, you have to "figure out". There's a courtship of adjusting your casting stroke to the haptic feedback of the action of a particular rod. But not with this rod. Making accurate casts with good line speed is intuitive right out of the box–no pandering required.
In terms of hardware, the Tenkara Bum 36 does not disappoint. The handle is a very rigid EVA foam that is contoured allowing you to grip the rod in a variety of positions to fit your comfort zone.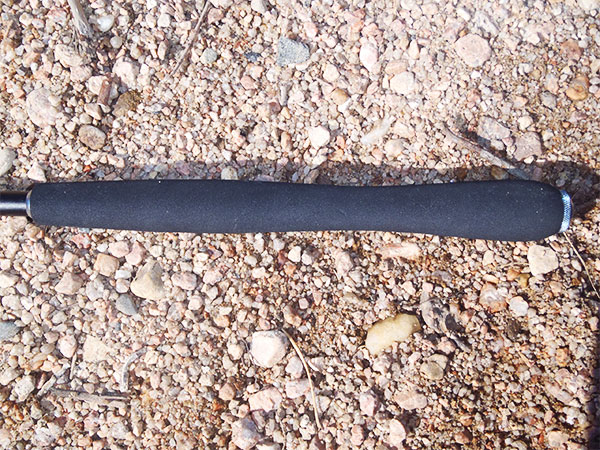 Personally, I prefer to grip this rod with my index finger on the blank right above the winding check. Everyone has their preference and different hand sizes so YMMV.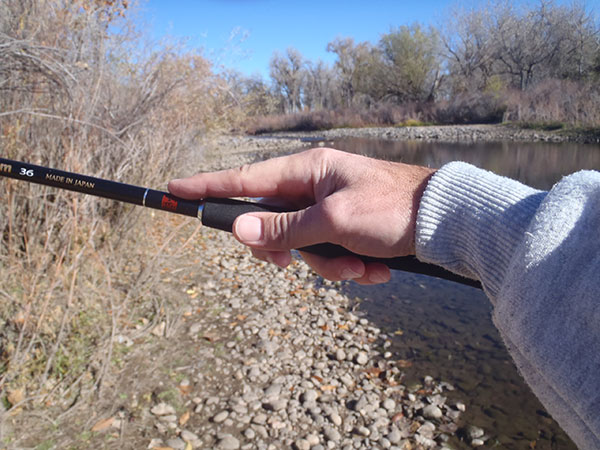 There's also a bulge near the end cap to grasp the rod at the very bottom of the grip. I didn't find this as comfortable, mostly because I feel the length of the flared out foam is too short. To grip the rod this way, I would prefer it to be about an inch or so longer to take up more real estate in the palm. Again, this will vary according to personal preference.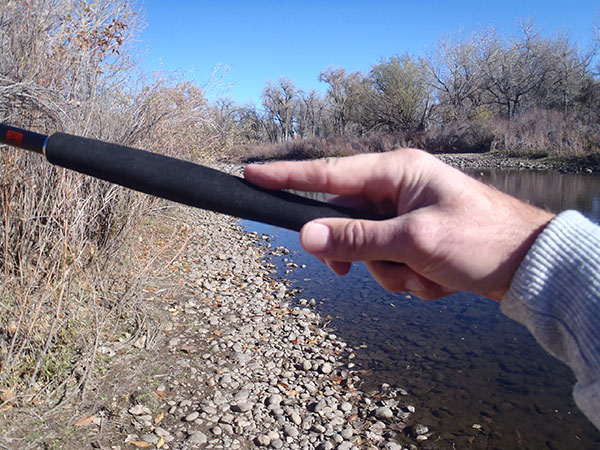 The tip of the 36 is outfitted with a metal swivel which is meant to reduce line twist. I've only tried out a couple of rods that have had swivel tips and I guess I've never really seen evidence of what problem they're supposed to solve. I never get line twist when casting–only when winding my line back on the spool. And the swivel tips don't seem to solve that. So while I consider it to be an unnecessary feature, I can't say it's a negative one. One thing to note is that the rod plug has slits to let you keep a level line attached to the lilian when you insert the plug. A small feature, but a nice one.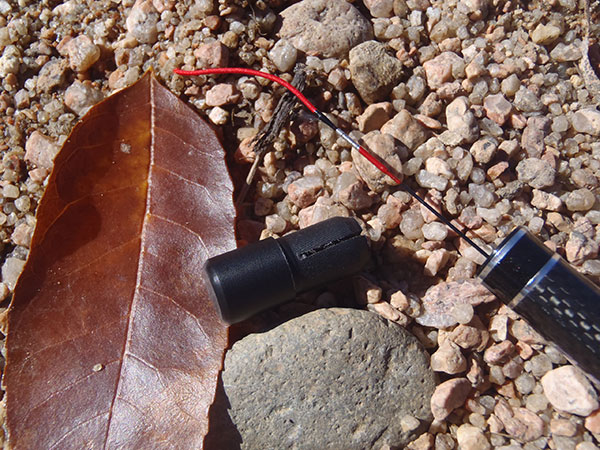 Another nice small detail is that the metal end cap has a rubber cushion to reduce the annoying "clankity clank" sound of the blank sections bouncing up and down against the cap when collapsed in transport. I often hike into my fishing destinations with my tenkara rods in my sling pack and that clatter really starts to grate on you after a while. I don't have any evidence of this, but I also suspect that after time, the reverberations could also cause damage to the blank by creating micro fissures in the graphite so it's nice to see that such padding is seemingly becoming a standard feature in tenkara rods today.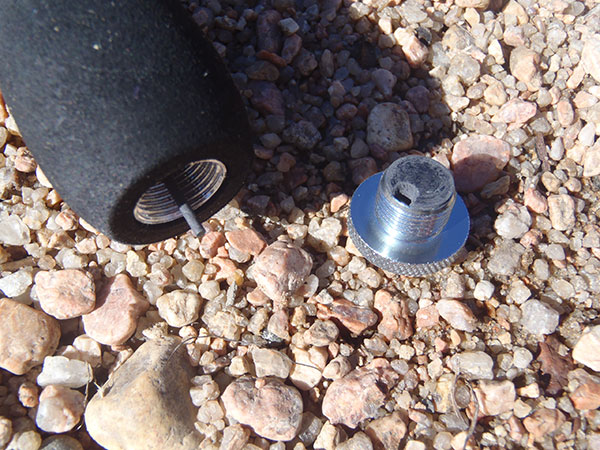 Aesthetically, the Tenkara Bum 36 is beautiful. It's got a nice "glittery" finish in the butt section with charming graphics and nice finishing touches like a seamless silver winding check. Before even casting the 36, you can tell it's a premium rod just by looking at it.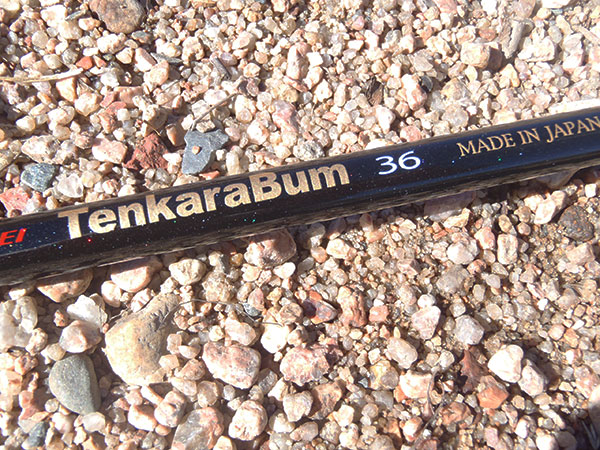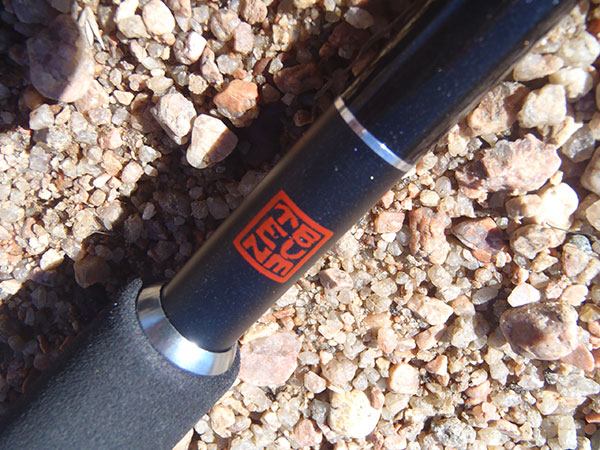 Like most Japanese tenkara rods, the 36 doesn't come with a rod tube (I've always found them unnecessary anyway) but it does come with a rod sock, some Suntech stickers, and an owner's manual. But if you want to read the manual, you'd better brush up on your Kanji.
While this rod was designed to be able to fish weighted nymphs well (which it does), I'd leave you with the following takeaway: that's not all it can do. It's very versatile, gorgeously finished, and a pleasure to cast. Of course, I wouldn't expect anything less from someone who is a bonafide tenkara "bum". To get more info or to buy one, visit the Suntech Tenkara Bum 36 page.