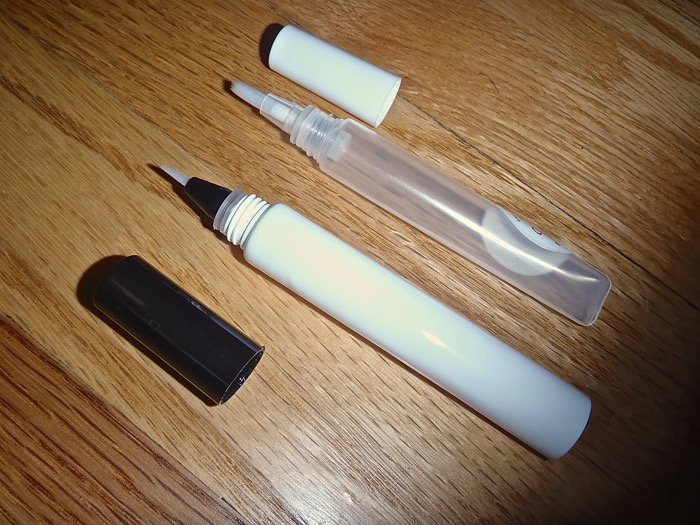 Even though in the last few years I've almost exclusively fished subsurface flies like sakasa kebari since adopting tenkara for trout, during the course of my overall fly fishing career, I've probably used gallons of fly floatant on dry flies; mostly paste such as Loon's Aquel. And while it's effective, I've never been happy with the application process. The nozzle on most floatant bottles is pretty crude and clumsy, forcing you to have to work the paste in with your fingers if you want to get full coverage on the hackle, dubbing, wing, etc. And it's not only messy (leaving stubborn residue on your fingertips), but often inefficient because it's easy to over-apply (especially on hot days when the paste becomes less viscous). This is not only a waste of money, but can actually have the opposite intended effect of sinking the fly instead of making it float by weighing it down.
I was recently thinking about a better way to apply floatant and the first thing that came to mind was a soft-haired brush (like the camel-hair ones that come with nail polish) that would allow you to evenly and efficiently apply the paste to the entire anatomy of a dry fly without crushing the hackle or wings, over-applying clumps, or leaving your fingers feel like they're coated with WD-40.
My first approach was to see what was available locally. So I hit Home Depot and my local Safeway to see if they had anything that I might be able to turn into a DIY brush applicator. In the photo below, you'll see three of my first experiments. And after that, you'll see why they failed from left to right …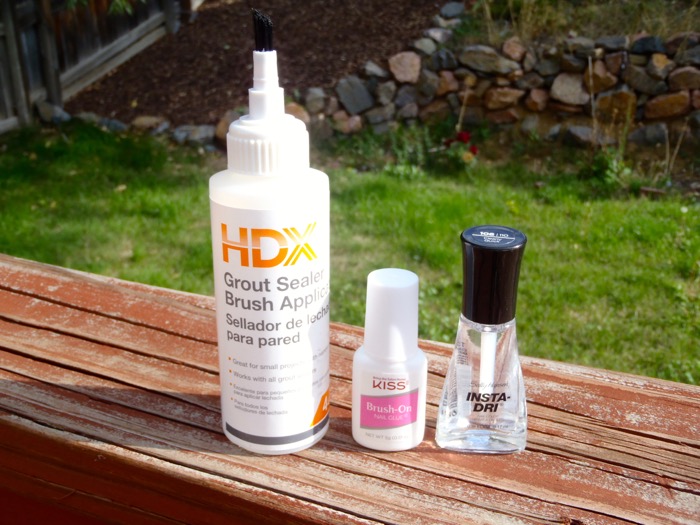 HDX Grout Dispenser. I got this bottle at home Depot but the bristles were way too thick and stiff–thus defeating the purpose of applying the floatant evenly and without crushing hackles. Plus, with an 8 oz. capacity, it was just WAY too big. No one would want to carry that in their vest, chest pack, or sling pack.
KISS Nail glue. Perfect size, but hard to clean out and refill and you would have to hold the open bottle in-hand while applying, making it precarious to spill (especially if you're wading mid-stream). It would just require too much superfluous dexterity to use effectively.
Insta-Dri nail glue. Good size, but same problems as #2, plus it's a glass bottle, is much heavier, and could break if you dropped it on a rock.
What I wanted was the convenience of a squeeze bottle like most commercial floatants come in combined with the superior coverage of a soft-bristled brush tip. I Googled the heck out of it and could not find one manufacturer in the fly fishing industry that made one. So, I got creative.
I eventually found a bottle manufacturer named East Hill Industries that makes pretty much exactly what I was looking for. It's a refillable squeeze-tube with a brush tip applicator that comes in a variety of sizes. I asked for a free sample of the 1.5 oz. capacity since that seems to be the industry standard amount for most fly floatant manufacturers and is much more compact that anything I was able to find locally. The box arrived on my doorstep within a couple of days and I think I'm on to something.
First of all, the bottles are easy to fill. Take the nozzle off and the male end of the floatant bottle will easily fit in–no funnel required. Just squeeze until it's full and you're good to go.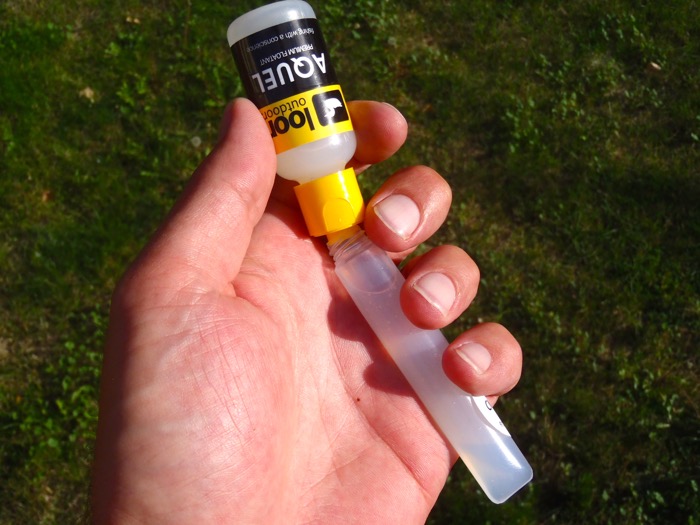 One note: I think these bottles are meant for makeup application and are spring activated. The pressure required to activate the spring would be too much to apply to a dry fly without damaging its profile (which defeats the purpose) so I recommend using a bodkin to poke a hole in the base of the nozzle in order to let the paste flow freely …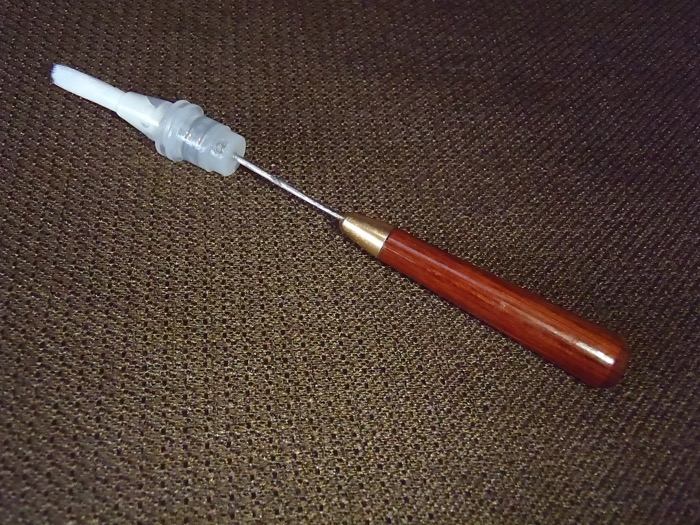 Second of all, the bristles (while synthetic rather than than camel hair ones that usually come with nail polish) are still very pliable and offer much more thorough coverage than some of the other brush-tipped bottles I've played around with and make it easy to really work into the fly's materials without causing trauma to the wings or hackle; saving you the extra step of "fluffing it up" after application.
Thirdly, they apparently come in two bristle tip sizes–one for bigger flies and one for smaller flies. That's a nice option: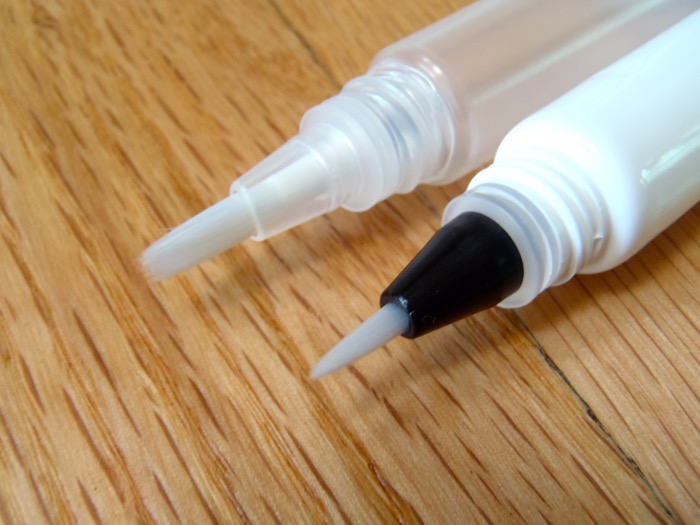 Once you fill the bottle, applying the floatant and really working it into the fly is really easy. Just squeeze the tube so that some paste oozes into the bristles and lightly paint it on the wings and hackle, making sure you also poke it into the body material. No mess, no fuss, no waste, and better coverage.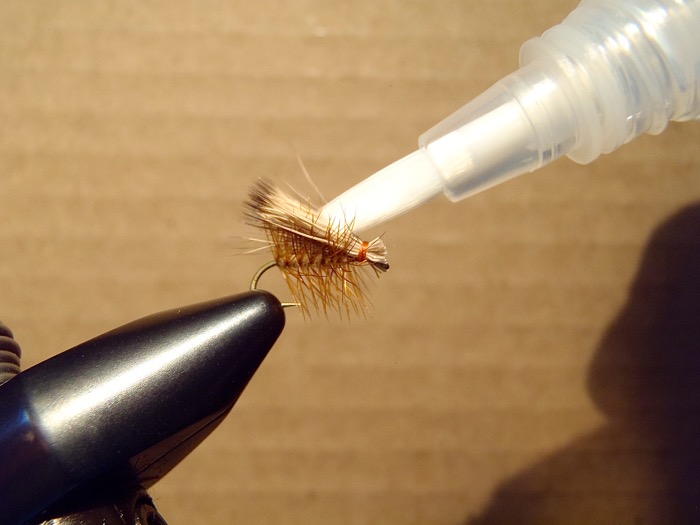 I only took the photo above in my vise because I don't have three hands to hold a fly, floatant bottle, and focus a camera at the same time. But on the stream, it's just as easy to use as any commercially available floatant today.
While I feel a little unethical posting this because I got a free sample from a wholesaler I have no intention of buying 1,000 units from, it was (I think) a successful experiment and I hope it will raise awareness to floatant manufacturers that there is a better dispensing option than the status quo nozzle that would be easy to manufacture. Oh, and one more thing … while these bottles come with a cap, if a floatant manufacturer did conspire with a bottle manufacturer to produce this design, I would recommend adding a cap retainer just so there's one less thing to hold in your hand while you're greasing up your favorite floating fly.
What do you think?