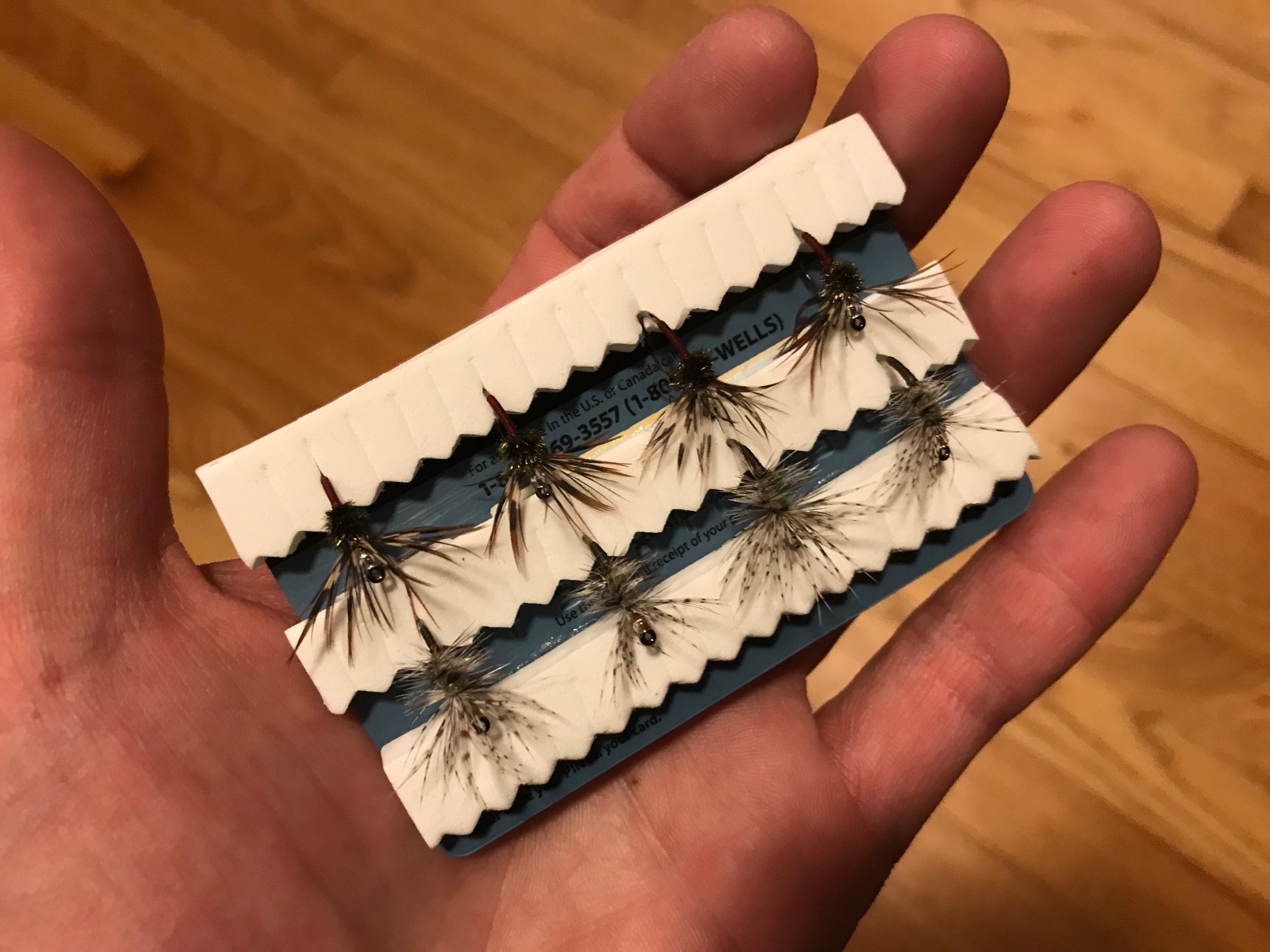 Whether you need to swap out a waterlogged dry fly for a fresh one or are just switching patterns altogether, it's never a good idea to put a wet fly back in your box. To avoid rusting the other flies in your fly box and to allow them to dry faster, it's best to allow them to air out in the open. For this reason, a fly drying patch makes sense. There are a lot of commercially available ones–some cheap and some expensive. But I seem to have a habit of losing them, plus, I like to have several on hand since I use different packs according to different situations. So, I decided to start making my own.
This design is not completely my idea. I saw some examples online of people making DIY fly boxes this way and thought I could apply it to making patches and it seems to work well so I thought I'd share. Of course, like any DIY project, you could tweak it a million different ways, but here is what I came up with.
What You'll Need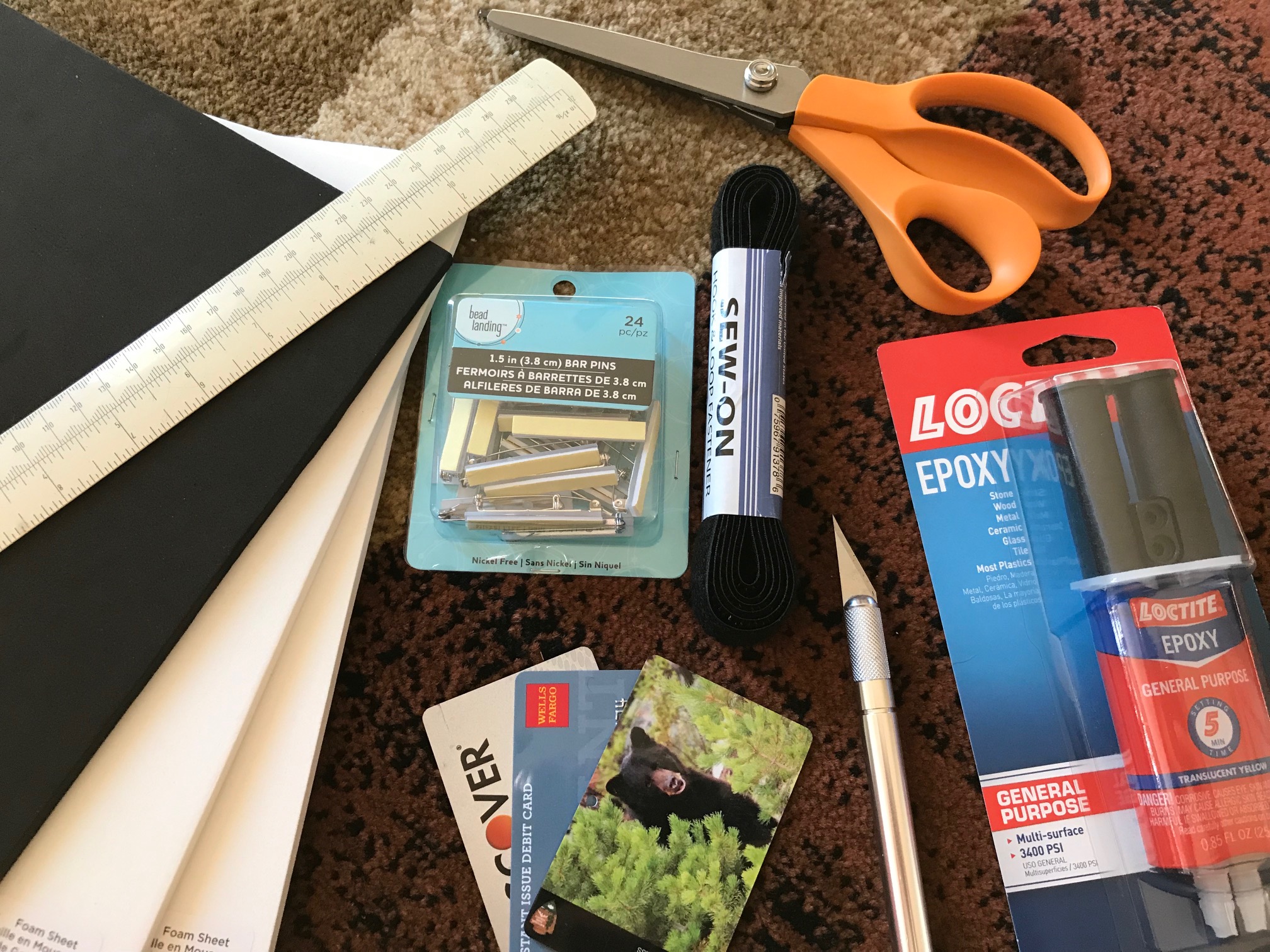 1/4″ Craft foam (color of your choice)
Some old credit cards, club cards, or other rigid plastic cut to size
X-Acto knife
Ruler or straight edge
1.5″ bar pins and/or Velcro
Pinking shears
Adhesive such as 5-minute epoxy, 3M #77, Aquaseal, or Loctite Vinyl Fabric & Plastic (for Velcro only)
Some of these materials and tools are optional or can be substituted. I'll explain as we go.
Step 1
You'll need to get some craft foam from your local arts and crafts store. Make sure you get the 1/4″ and not the 1/8″ foam that is popular for fly tying (it's too thin). Depending on how your local store stocks it, you can get it in a variety of colors (but mine only carries black and white).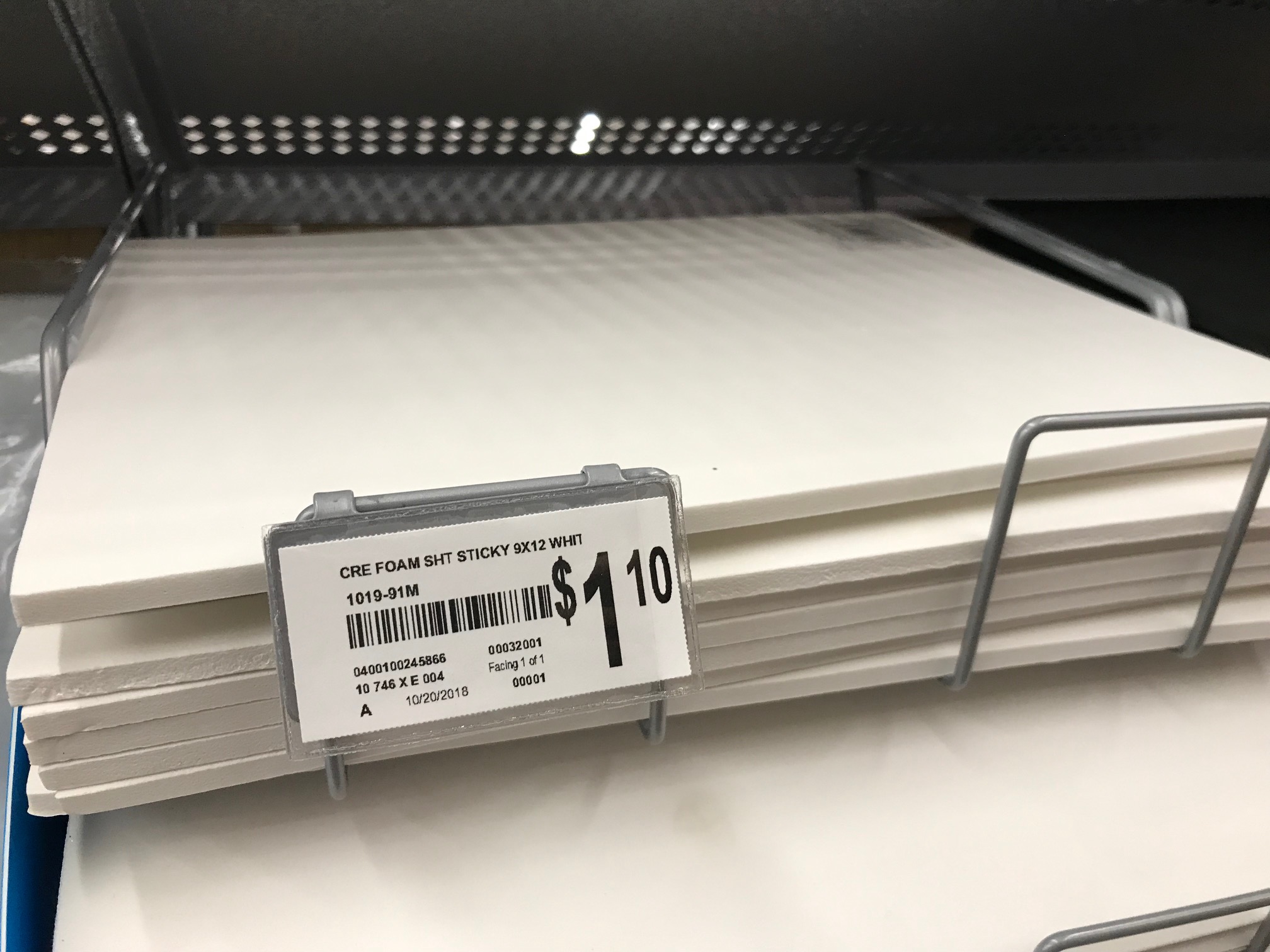 You'll also need pinking shears. These are specializes scissors that cut in a zig-zag pattern and are used for cutting fabric so the edges don't fray (I didn't know what they were either). You can skip these if you don't want to spend the money (they're about $20) and just use regular scissors, but they do make a nice V-shaped edge that makes it easier to slide the hook bends into (like C & F Designs fly boxes).
Take the pinking shears and cut several strips (the width is up to you). I don't measure them, I just kind of eyeball it but somewhere around 1/2″ is good.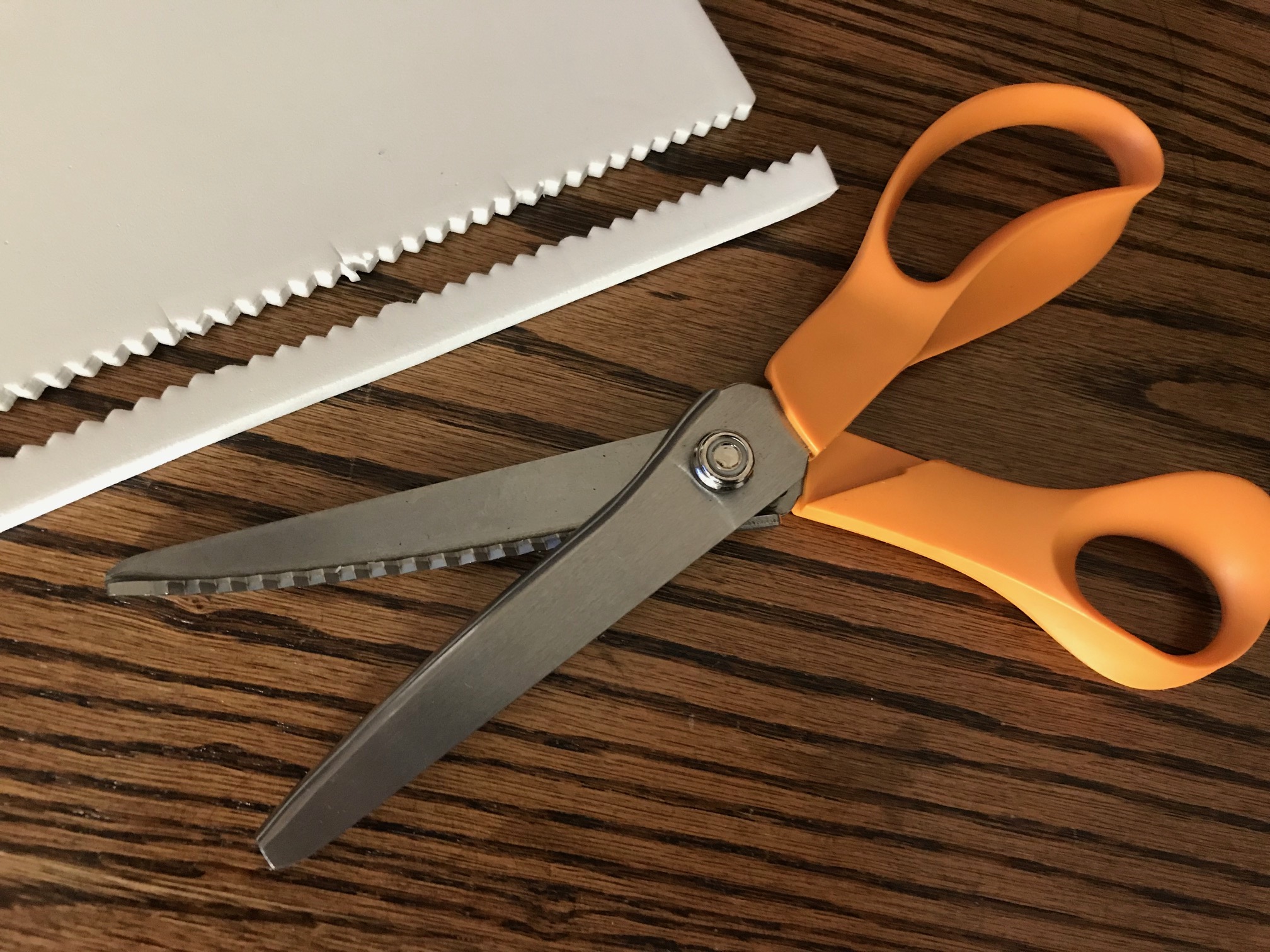 Step 2
Next, take your backing (old credit card or other rigid material cut to size) and cut the foam strips so they measure edge to edge.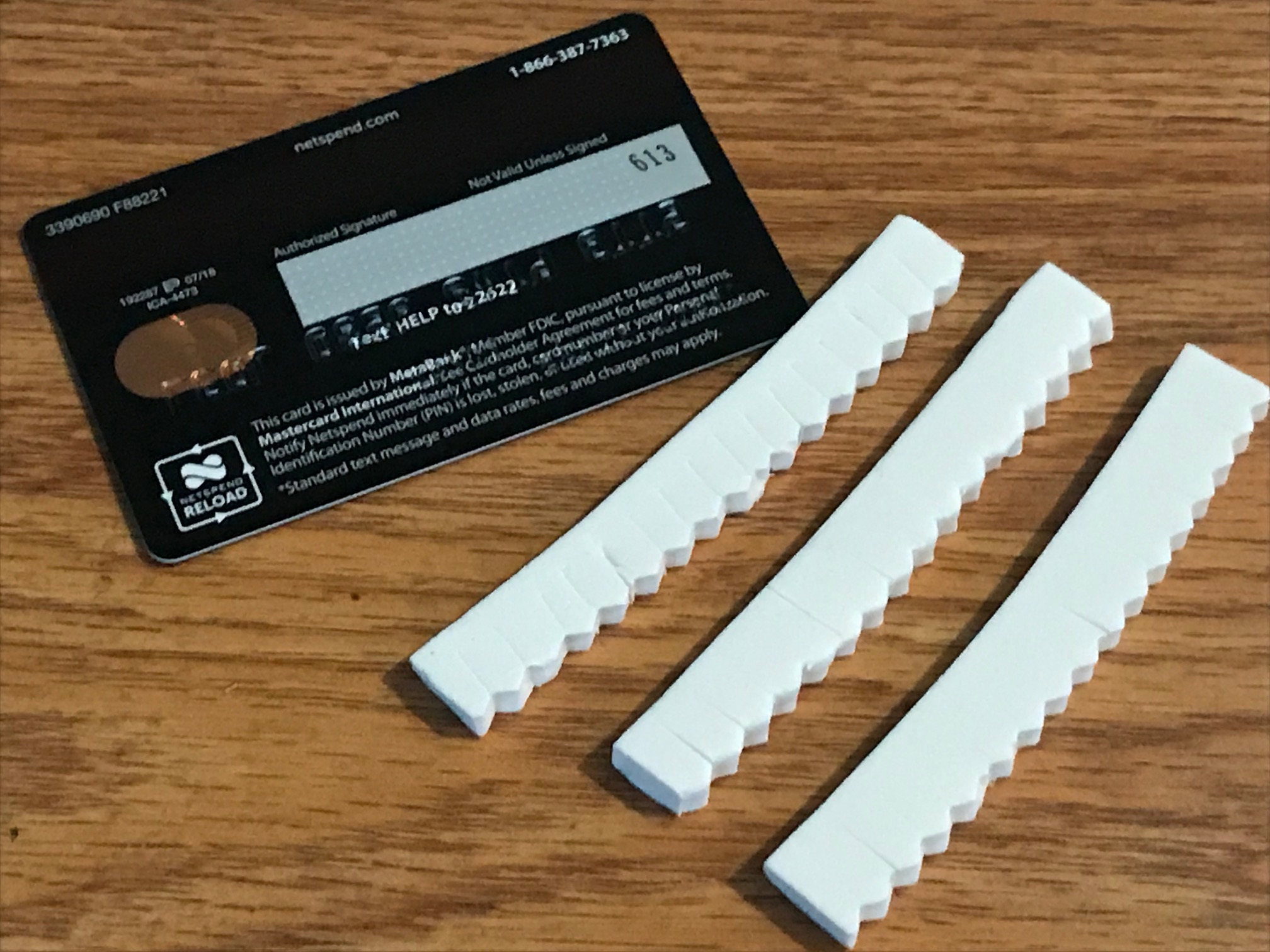 Step 3
With your X-Acto knife, cut slits in the valleys created by the pinking shears. Cut almost to the edge but not all the way.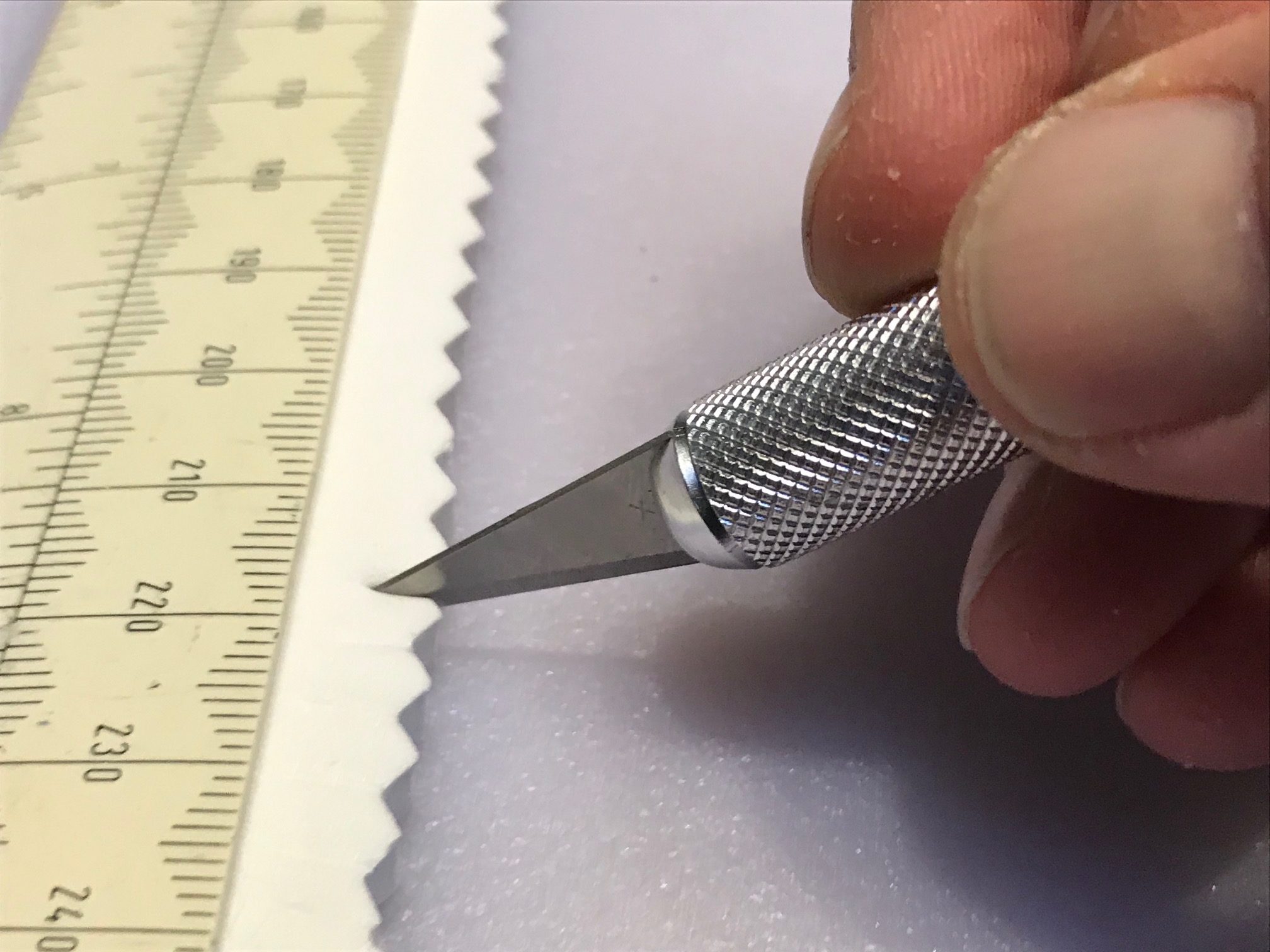 Step 4
Now, it's time to glue the foam strips to the backing. You can use many different adhesives. Epoxy works well. But you could also use any adhesive that sticks to foam. I used 3M #77 spray adhesive. The number of strips you add depends on the size of the backing you're using. For something the size of a credit card, I use 3, but of course, you can use more or fewer depending on what you're using for backing.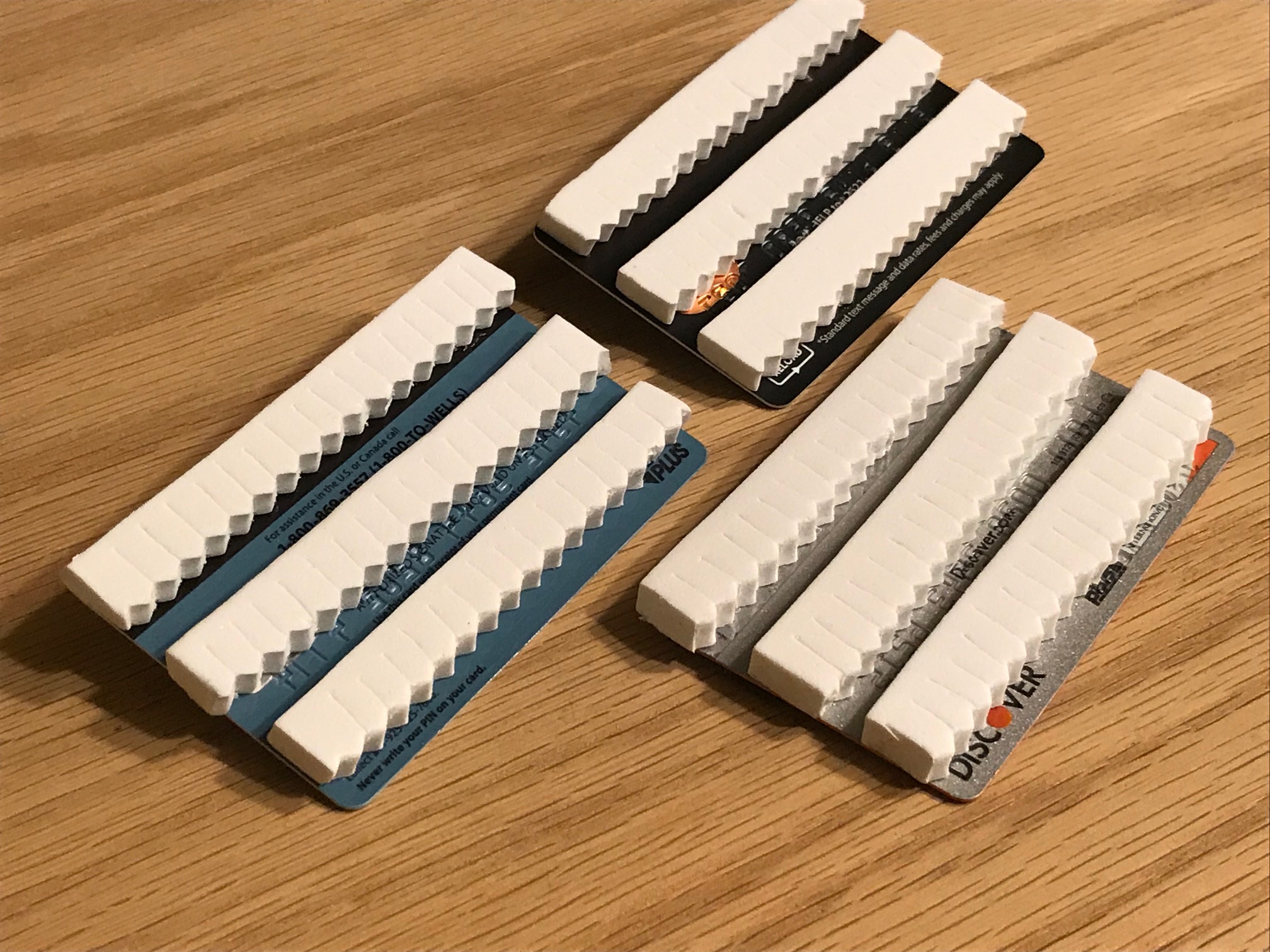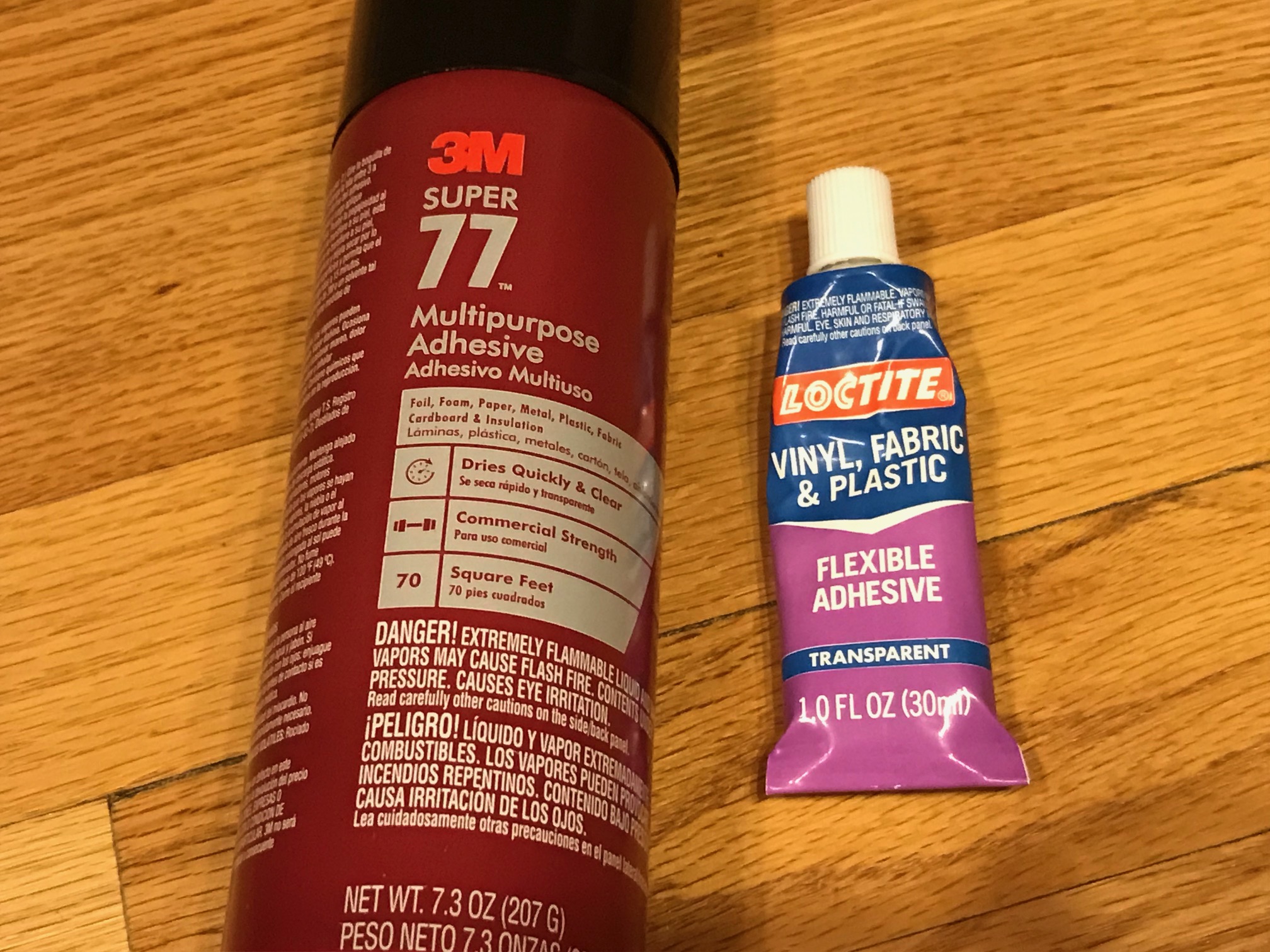 Step 5
Now, all you need to do is to decide how you want to attach your patch to your gear. Two good options are a safety pin or Velcro.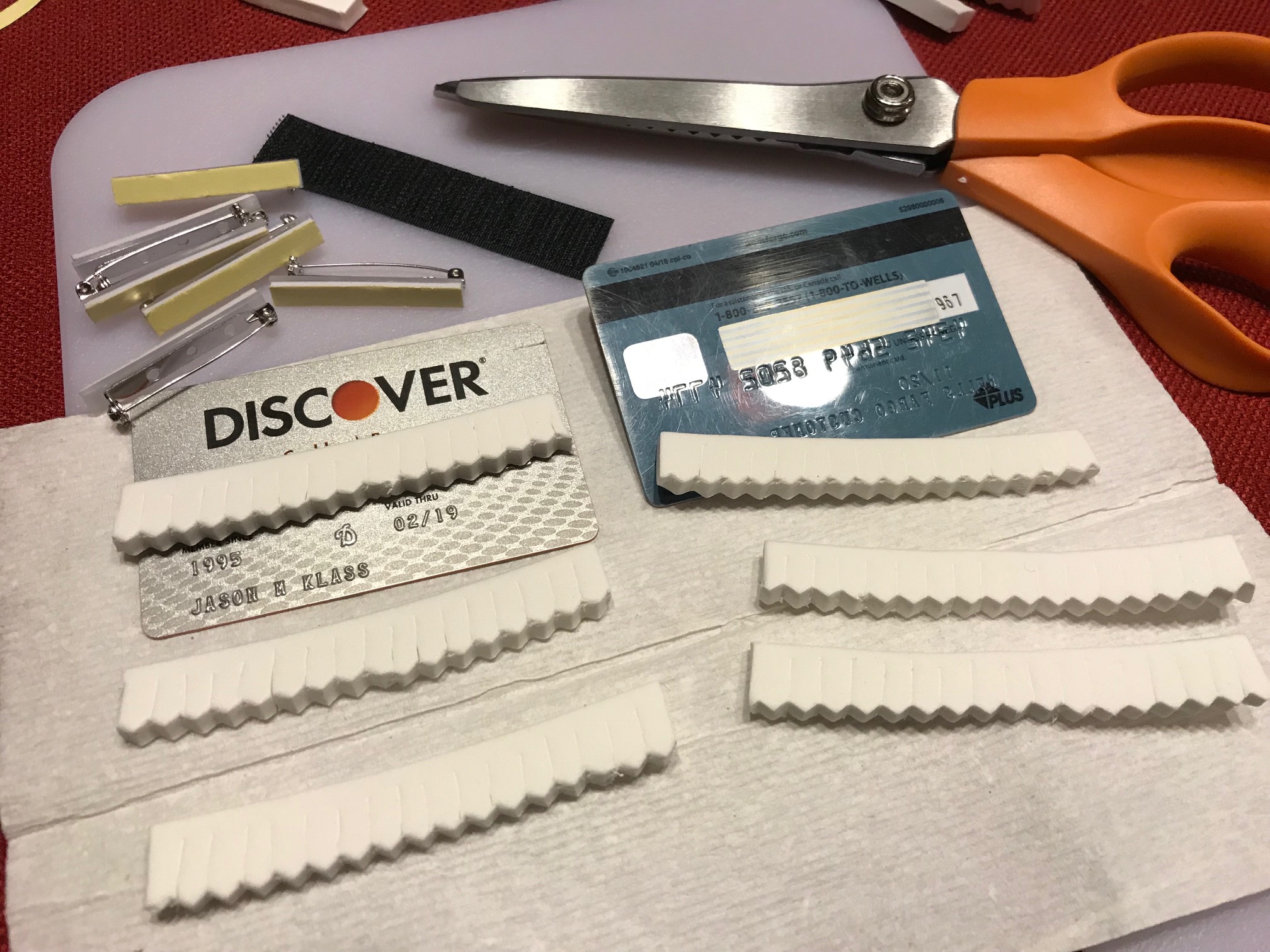 I prefer a safety-pin style attachment as it seems to be the most secure. For the ones pictured, I used "bar pins" (basically, safety pins with a flat strip on the bottom. The ones I got are self-adhesive and are really easy to attach. If you don't want to spend the money on bar pins (they're about $3 for a pack of 24), you could just use a regular safety pin secured with epoxy, but it will be a little trickier to install (you'll have to hold or prop it perpendicular to the backing until it dries).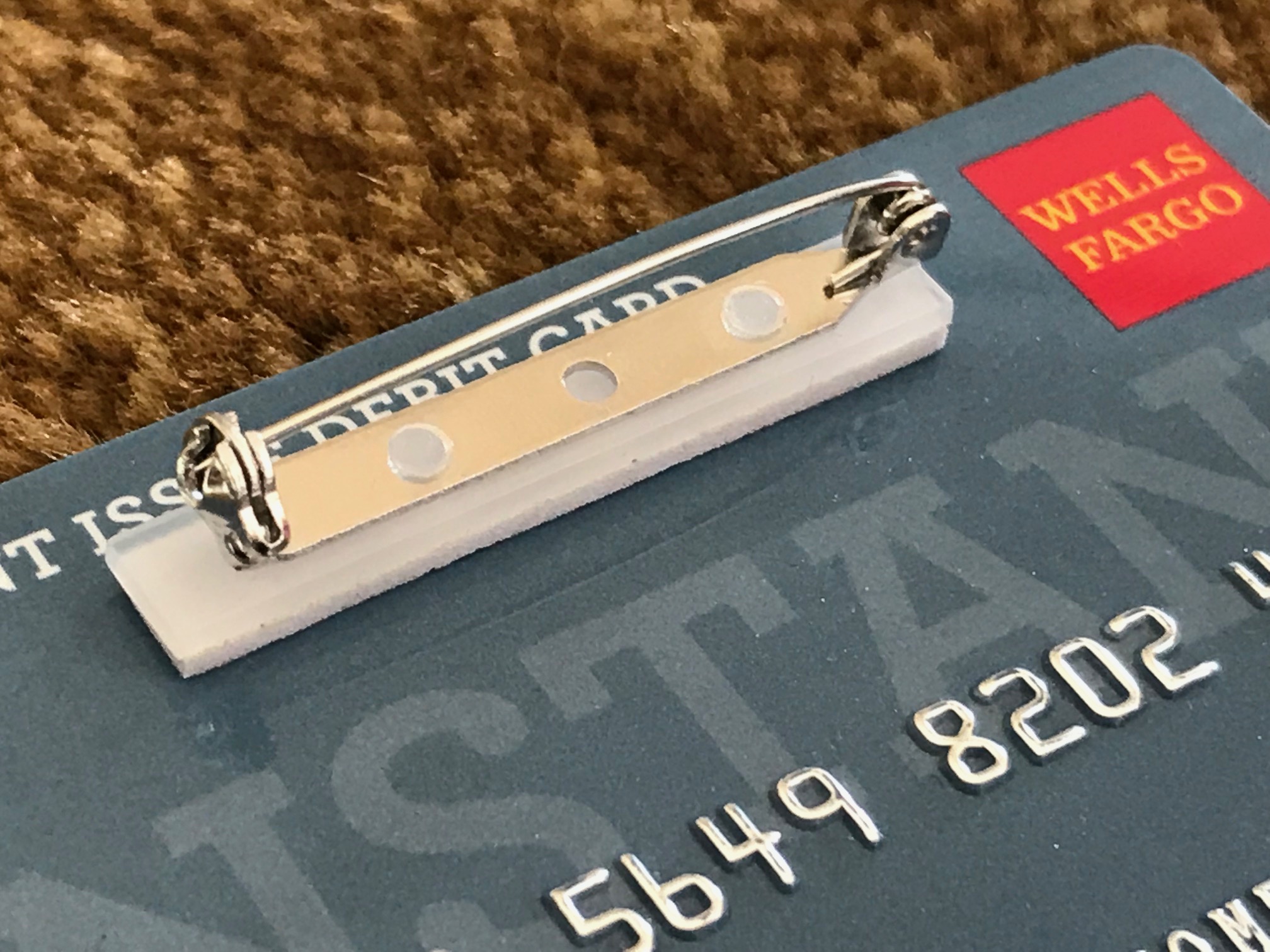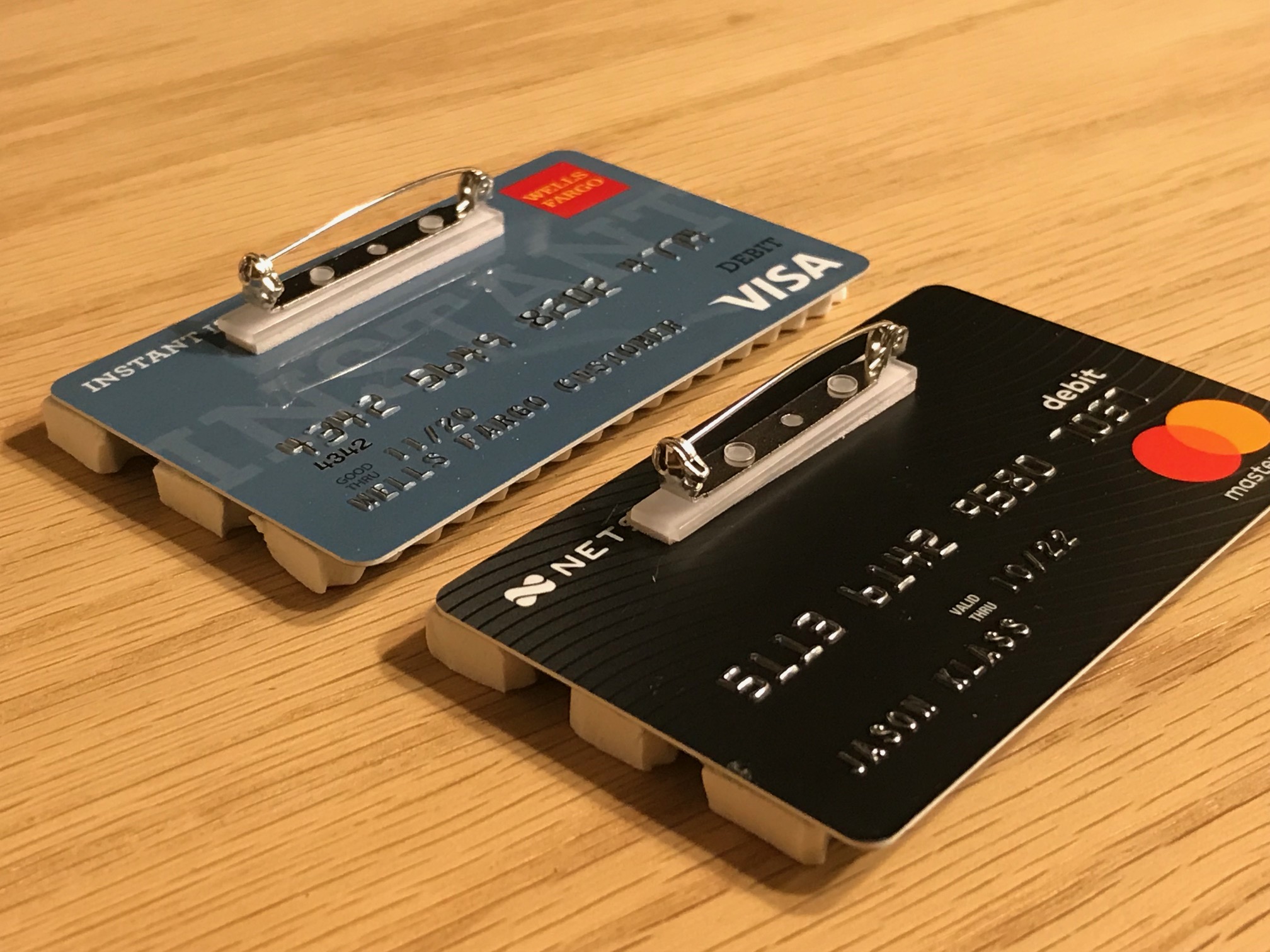 You're done! Now, you can easily back the hook bend of your flies in between the grooves and into the slots of your new patch to hold them securely without smashing the hackles.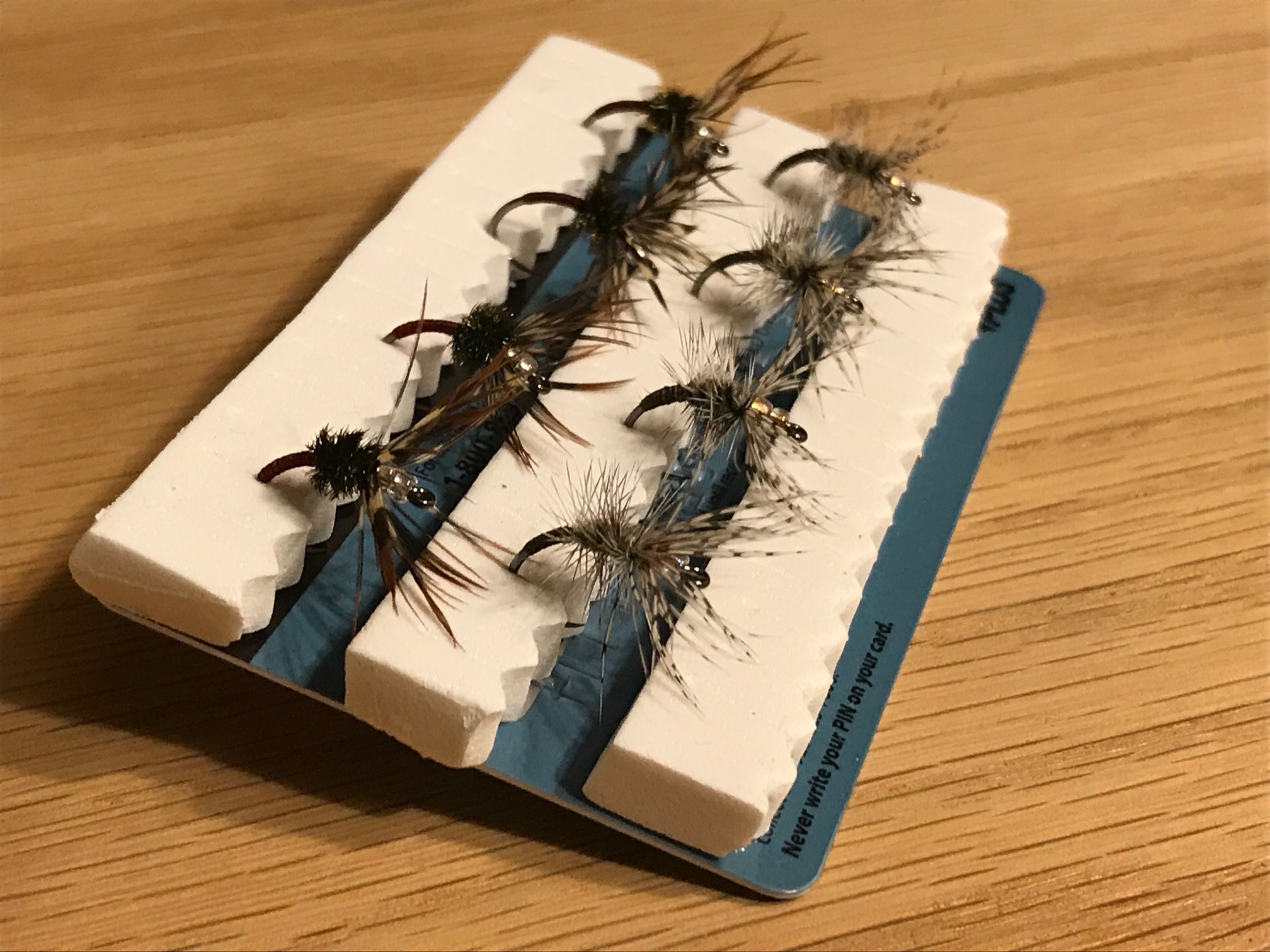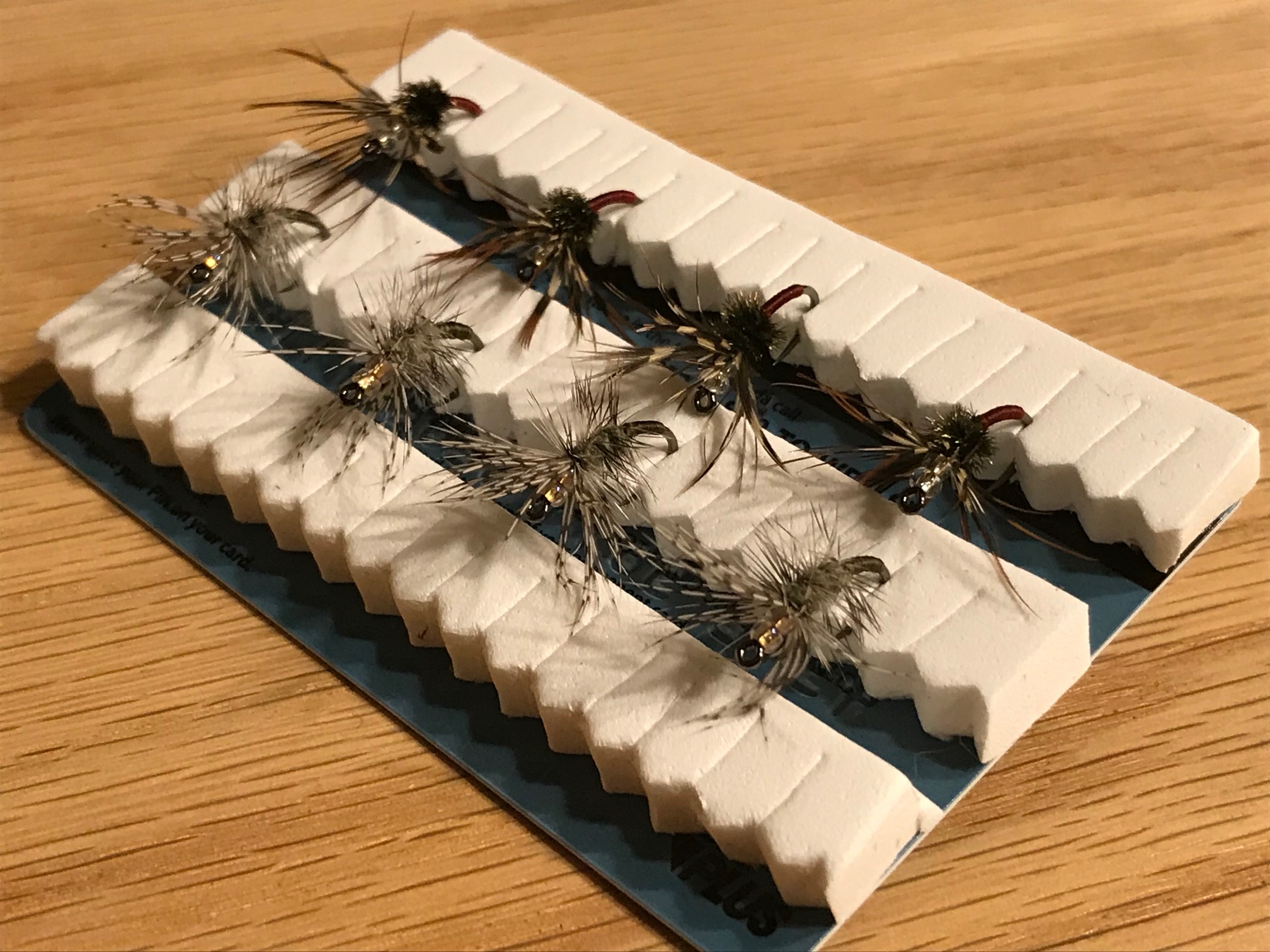 Here's one I've attached to the outside of my FishPond san Juan Chest Pack …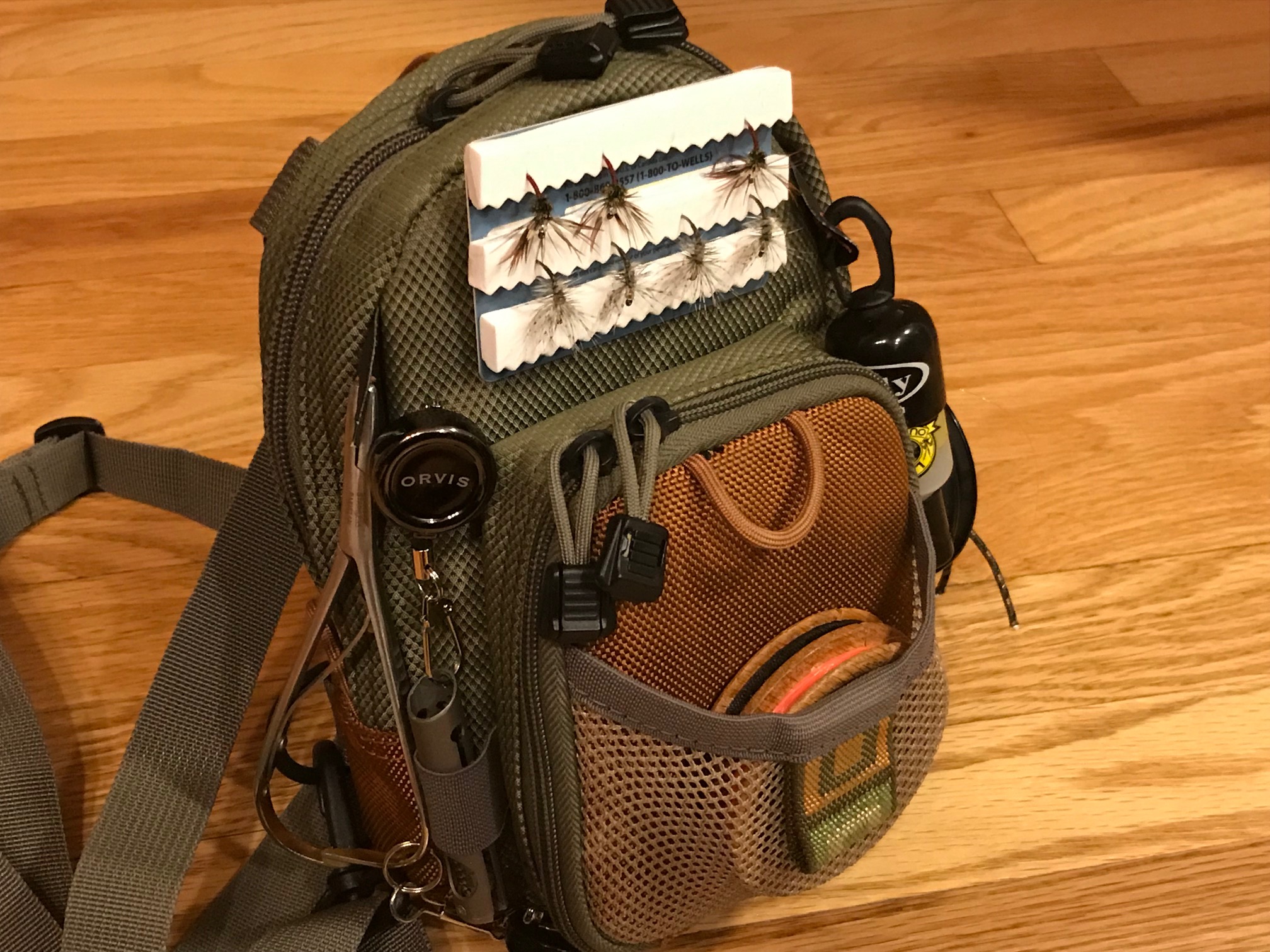 Many packs today come with Velcro either on the inside or the outside to attach fly patches (or other gear). If you want to attach Velcro to your backing, I'd recommend Loctite Vinyl, Fabric & Plastic adhesive (see above) and make sure you attach the hook Velcro to your backing (most Velcro that comes on such packs is the loop side).
The inside pocket of my San Juan Pack comes with a foam insert attached with Velcro, but it's much larger than I need and takes up room in the pocket that I'd rather use for stowing an extra spool of tippet or line. Switching it out for one of my DIY patches saves about 1/3 of the space. Since it's inside the pocket, I don't use it for drying, but for throwing in a few last-minute or experimental flies I want to bring with me but don't necessarily want to commit to my fly box.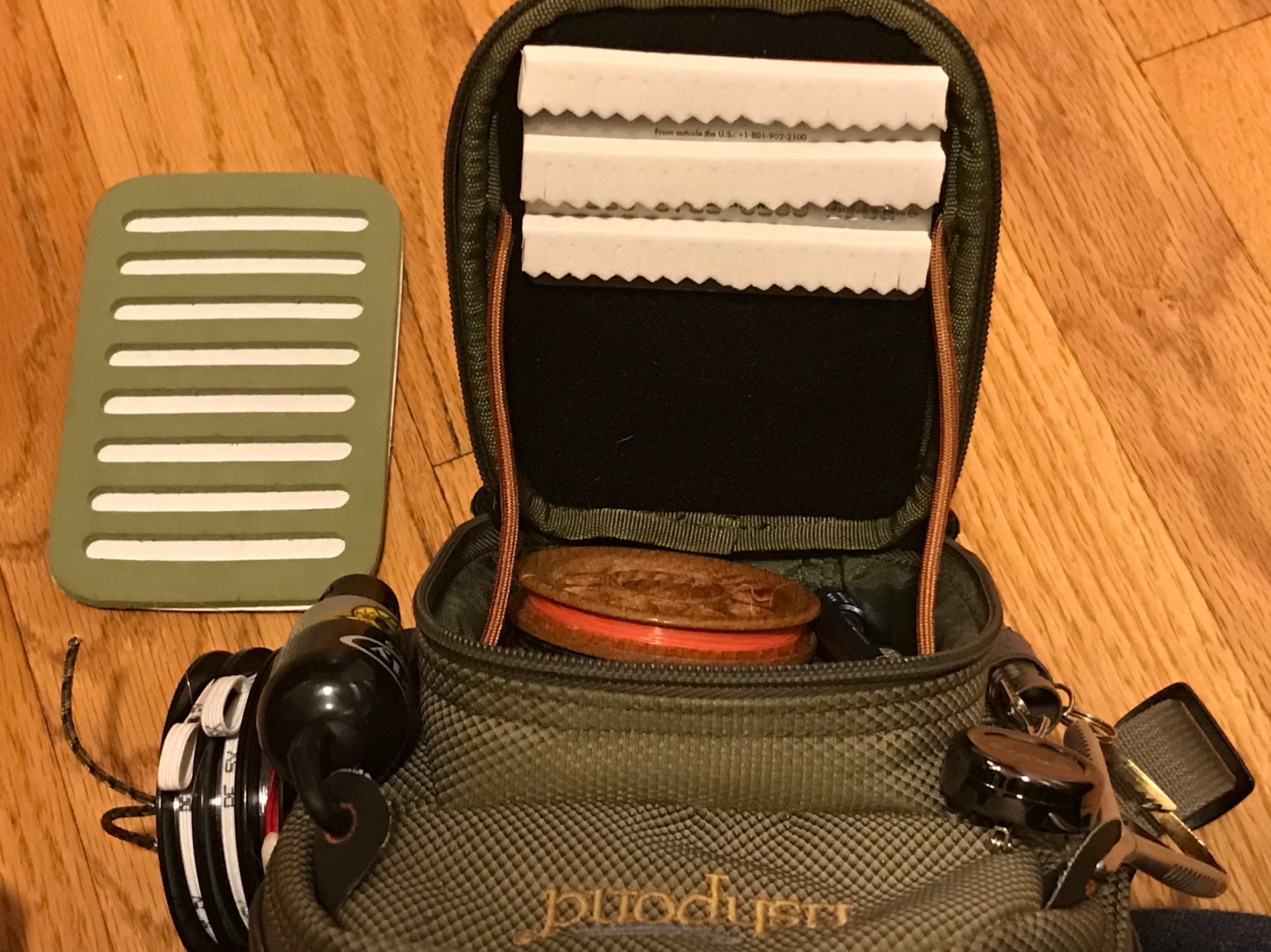 If you have to buy all the tools and materials from scratch to make one of these patches, you're not going to save any money. It would be more cost effective to just buy a commercially available one. BUT, if you want to make multiple patches, for example, one for your pack, one for your gear bag, one for your hat, etc., or plan on giving some to your friends as small gifts, then it's well worth it. The most expensive part is the pinking shears. And if you happen to have a friend that sews, you can probably just borrow some from them (they might even have some Velcro and bar pins for you too). And when you consider that you can apply the same technique to make your own fly boxes out of virtually any container, then a pair of pinking shears might be a good investment.
I hope you found this quick tutorial interesting or useful and that is sparks your imagination for your own designs. If you decide to give it a go and put your own unique spin on it, please post pictures in the comments section below so others can see!
P.S. Before you say anything, none of these credit card numbers are valid, so there's no threat of identity theft.