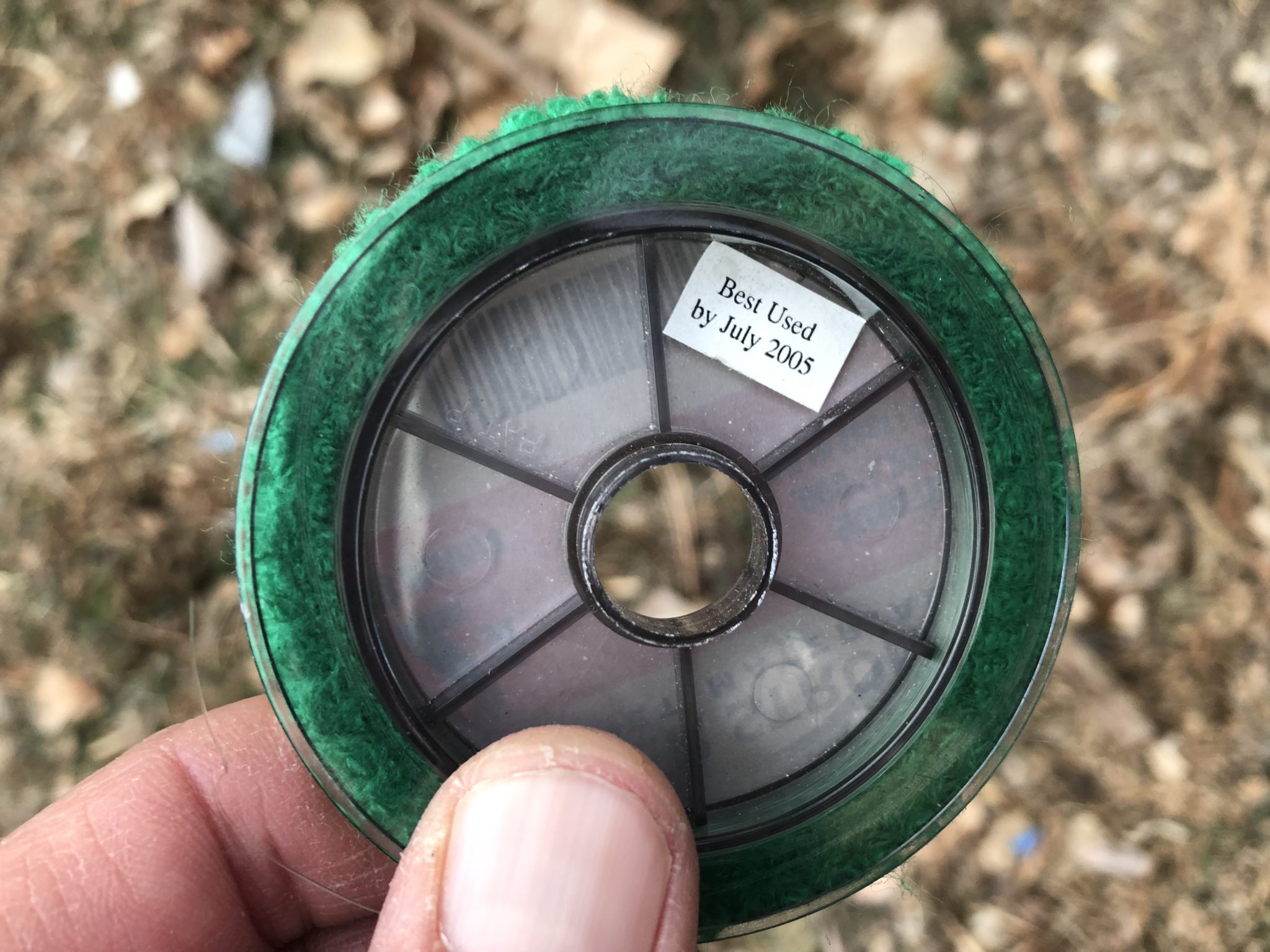 A guy came into the shop the other day and was filling his basket with handfuls of tippet material. We got to talking and he told me he replaces all of his tippet every year with "fresh" tippet. It was his ritual. I know the old argument–heat, UV exposure, and water absorption all degrade tippet material, lowering its breaking strength over time. Well, as these types of conversations usually do, it got me to thinking …
Back home in my tippet drawer, I found a spool of 2X that was 14 years old. For years, I've been using it for bass and saltwater fishing and can't remember it ever breaking. Orvis used to put expiration dates on all of their tippet spools–a practice most manufacturers never really followed or did but abandoned long ago. Digging a little deeper, I found that most of my stock of trout tippet was at least 2 years old–and I have still been using it. I've never even given a thought to the whole "stale" tippet theory, so I did a little unscientific research and here's a brief summary of what I found:
Nylon monofilament takes an average of 600 years to completely biodegrade. It can weaken with prolonged exposure to water, UV light, and temperature. But the temperature must exceed 125° F to have an affect. That might sound high, but to put it into perspective, the trunk of a car on a hot day can easily exceed that. Fluorocarbon is more resilient and is not affected as much by UV and water absorption as nylon.
So my empirical evidence plus what I read leads me to believe we need not be overly concerned with tippet expiration:
Most of us will probably use up all the tippet on a spool (or lose it) long before it ever really "expires".
Most of us store it in a dark, cool place away from direct sunlight and heat anyway like our packs, vests, gear bags, etc. So unless you're leaving your spools on the dashboard of your car on a hot day regularly, you're probably OK.
Application matters. Most of my fishing is in small streams for 8″ – 12″ trout. If I'm using 5X with a test of 4.5 lbs., even if the tippet degraded by a full pound, it wouldn't really matter. Now, if I were taking a once-in-a-lifetime bonefish to the Bahamas, I definitely wouldn't chance it. I'd stock up on multiple spools of new fluorocarbon before I packed up.
So for most of my fishing, I don't concern myself with tippet expiration. But I wonder about the guys who do. Have they actually had experiences where they lost fish because of old tippet? Or is it just an ego thing–a form of self-aggrandizing humble bragging where they like to imply that they catch so many big fish that they have to obsess over such details because their equipment has to be up-to-par with their superhuman fishing abilities? And, even if they were breaking tippet, who's to say that it wasn't because of abrasion or a poorly tied knot rather than degradation?
Part of me also wonders how much of the whole tippet-expiration phenomenon is marketing–a form of recurring revenue for the manufacturers they've conditioned us to sustain. I buy razor these blades that have a blue "indicator strip" on them. When the strip turns white, that means it's time to replace the blade. Now of course, in the instructions, they tell you to "rinse the blade frequently", which subsequently happens to wash the blue off the strip faster, thus prompting you to replace the blade sooner. But I've been using one of the blades which turned completely white long ago and it still works perfectly. Lots of other articles have been written about how the expiration dates on food are purposely overcautious–really meant to get you to just buy more of their product than to ensure your safety from food-borne illness. It wouldn't surprise me if the same strategy were being employed by fishing line companies.
So, I decided not to toss that spool of 2X after all. I mean, it's still got 586 years of life left in it!
Do you replace your "stale" tippet?
If so, how often? And is it because you have direct evidence that it really matters or is it just precautionary?