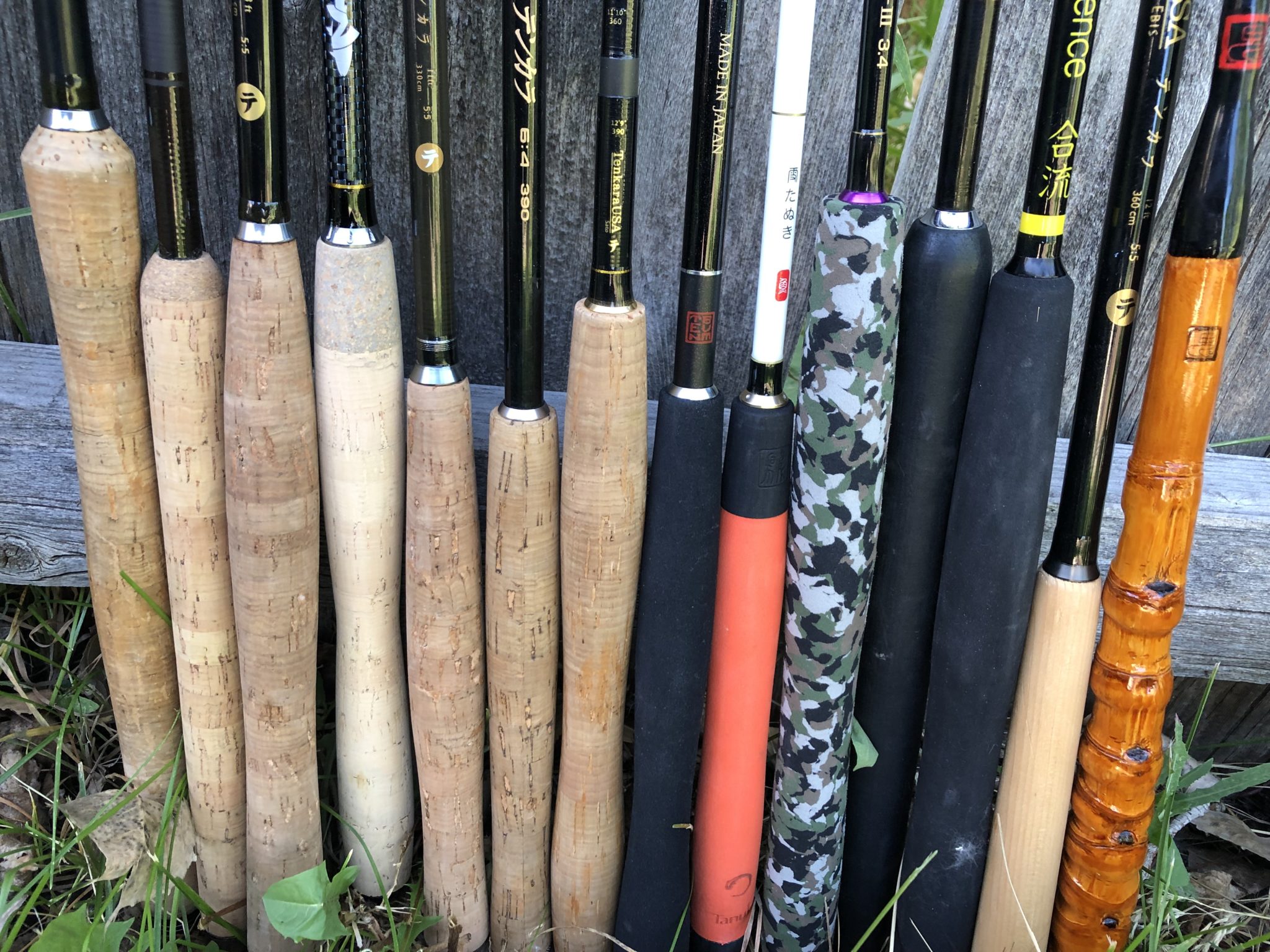 I remember back in maybe 2011 or 2012, there was a quite lengthy debate online regarding tenkara rod handles. It started when people began using fixed-line rods such as Keiryu and Seiryu rods for tenkara. Many of those rods didn't have what would be considered a "grip" (the handle of the rod was just the flared butt end of the blank with no covering such as cork). At the time, some suggested that one of the characteristics that defines a "true tenkara rod" (other than being designed specifically to cast a line rather than weight) was having a cork grip. It would make sense that this decree would sit comfortably with fly anglers–cork grips are ingrained in the very notion of what a fly rod is supposed to be. After all, a cork grip is probably part of what we picture when we think of a fly rod. It'd been ingrained. Some remained committed to cork, while others didn't care and continued to fish their "non-tenkara" rods–even touting the lack of grip as an advantage. Then later, another discussion arose when rods that were designed to be used specifically for tenkara but had foam handles started becoming more prominent. Some rejected foam outright, others tolerated it. And still others actually preferred it. At any rate, today there seems to be much more of a general tolerance for rod grip materials other than cork within the western tenkara community. Below are my thoughts on the differences between the most common as well as some remarks on more eccentric materials.
Cork
Coming from a fly fishing background of over three decades, I've been indoctrinated into the cult of cork. Every western fly rod I've ever owned has been cork and whenever I kicked the tires on a new rod, one of the scrutinies I'd subject it to was always the quality of the cork. Was it well sanded? No gaps between the rings? Minimal filler? In fact, back in my fly fishing heyday circles, any fly rod that had a foam grip was automatically dismissed as "cheap" and not worth taking seriously. For several reasons, cork had been the preferred material for well over a hundred years, but like any material, it also has its downsides.
Pros
Classic look/aesthetically appealing. You won't find a foam-handled rod in a Norman Rockwell painting. Fly fishing is a sport of history and tradition, and for most (myself included), cork embodies and reflects that with its warm, rustic look.
Temperature neutral. Cork doesn't get cold when fishing in low temps. This might not sound like a valid advantage, but anyone who has spent a day on the river in January with wet, frozen hands knows that it helps to not be holding a popsicle.
Good grip under all conditions. Whether it's wet or dry, cork always gives you a solid, non-slip grip.
Lightweight. Cork is so common that I think people forget how incredibly light it is. So when trying to keep overall rod weight down, cork is a natural choice.
Cons
Gets dirty. In time, cork will darken as it collects dirt, sweat, and fish slime. Some use cork sealer to protect it, but I consider this a travesty. If you must, you can clean your grips with warm water and dish soap, but I prefer to leave the patina as a badge of honor–a testament to my adventures on the water. Plus, in my experience, sealer eventually flakes off and actually ends up making the cork look worse.
Filler falls out. Even good quality cork has imperfections and these are usually filled in with "filler". Over time, this can fall out, leaving your grip pock marked like the surface of the moon. Luckily, it's easy to repair simply by adding more cork filler. You can even make your own DIY repair with a wine cork and some glue.
Dents/gouges easily. While generally pretty durable, cork is relative soft and can dent or develop gashes if abused. But to me that's more a sign of a careless angler than a criticism of the material itself.
Can be expensive. Good cork isn't cheap (compared to other materials) and can significantly drive up the price of the rod. The cork tree is also prone to diseases which can create shortages that drive the price up even further. For this reason, several tenkara rod manufacturers have decided to favor foam grips in their designs.
Can dull strike detection. I wasn't sure if I should list this as a true con, but since cork is an insulator, it's worth mentioning that it does slightly dampen the transmission of a strike between the blank and your hand. But it's minimal and I don't think I've lost many takes over it through the years. Anything between you and the naked graphite will do this but how much of an adverse affect does it really have? I don't know.
Foam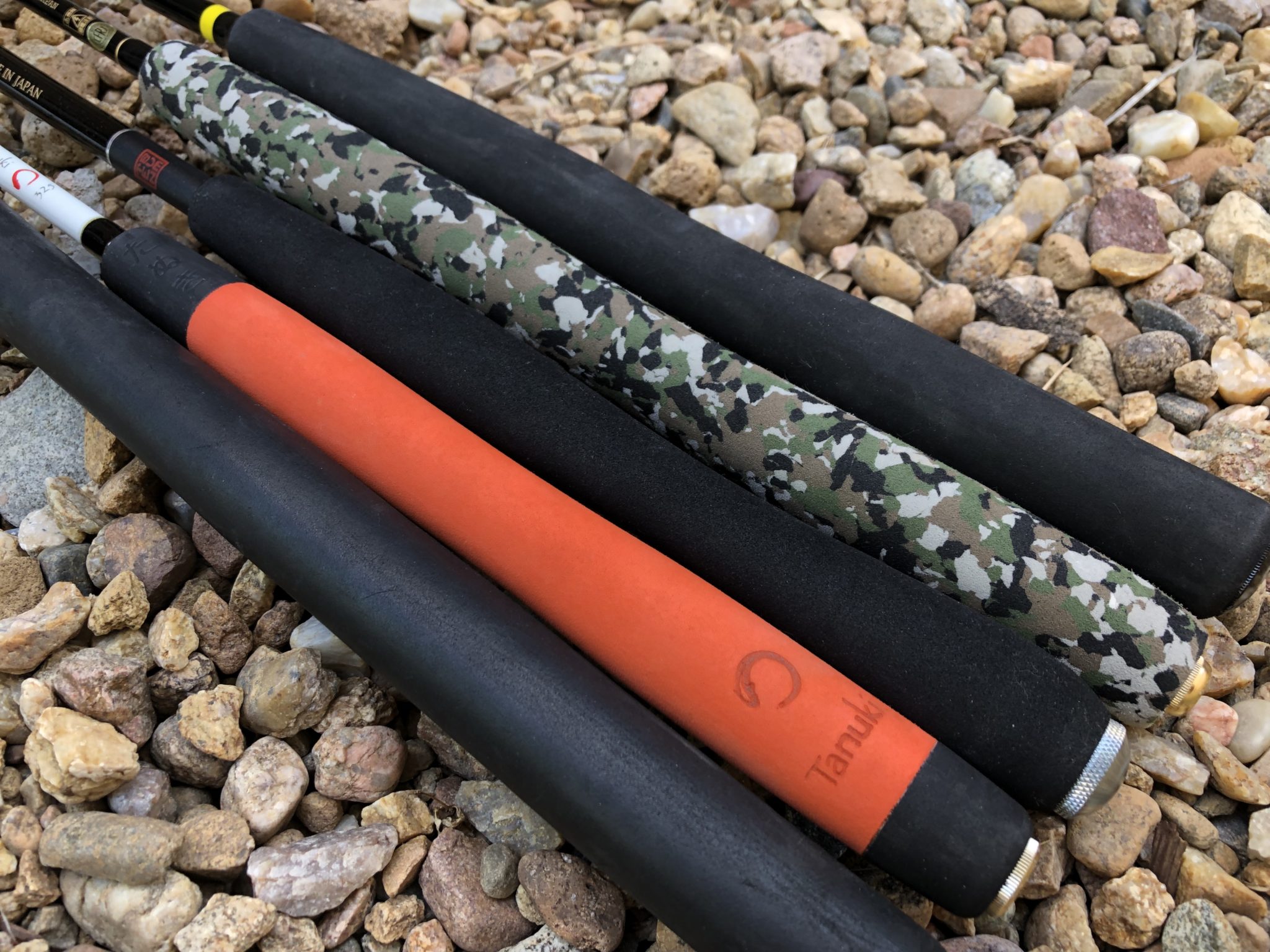 Even though Japanese rod companies such as Shimano and Daiwa had been using foam grips for a long time, early on, American rod companies like Tenkara USA were strictly using cork. But today, many cottage industry American companies are increasingly turning to foam, including Three Rivers Tenkara, Discover Tenkara, Tenkara Bum, and Tenkara Tanuki. Even Tenkara USA now offers a rod with a foam grip. I believe this shift came when the western tenkara community took a hint from Japan and eventually relented its initial disdain for foam. Whatever the reason, foam is now part of the western tenkara rod landscape, for better or for worse.
Pros
Gripability. Like cork, foam provides superior purchase whether wet or dry.
Temperature neutral. Again, like cork, foam stays warm in the hand even when the mercury drops.
Lightweight. Good quality foam is as light (or lighter) than cork.
Inexpensive. Unlike cork, it isn't susceptible to price increases or limited availability due to shortages.
Manufacturing versatility. Foam is easy to sculpt to any contour and to make in a variety of colors. Sidenote: Luong, did you know there are other colors besides orange?
Good hygiene. If you hate "dirty" cork grips, you might prefer foam. It never really collects grime the way cork does and is easy to clean. I've had foam grips covered in mud and algae that looked like new again after a quick wash.
Cons
Aesthetics. There are some, who will just never warm up to the look of foam. In a sport steeped in tradition, some will just never accept the synthetic look of foam and will always prefer the organic look and feel of cork. I'd include myself in the latter category. I will always prefer the look and feel of cork.
Long-term durability. You might think that since foam is a manmade material, it will automatically be more durable than a natural material. But I have much evidence to the contrary. While I haven't had any of my foam-handled tenkara rods long enough to prove it, I have had many foam grips on my saltwater (not fly fishing) rods severely degrade over time. Any material that is elastic has a much shorter lifespan than one might think. I don't understand the chemical process, but the foam eventually "drys out" and becomes crumbly. In contrast, I have fly rods with cork grips that are over 20 years old that still look perfect. Time will tell, but I predict that years from now, many of us who own foam-handled tenkara rods will be disappointed to find our grips have not aged well.
Strike detection dampening. As I said above, any material surrounding the blank can act as an insulator and reduce strike detection. Luckily, most of the foam grips I've seen are high-density EVA which trasmits strikes well enough–at least as well as cork.
Wood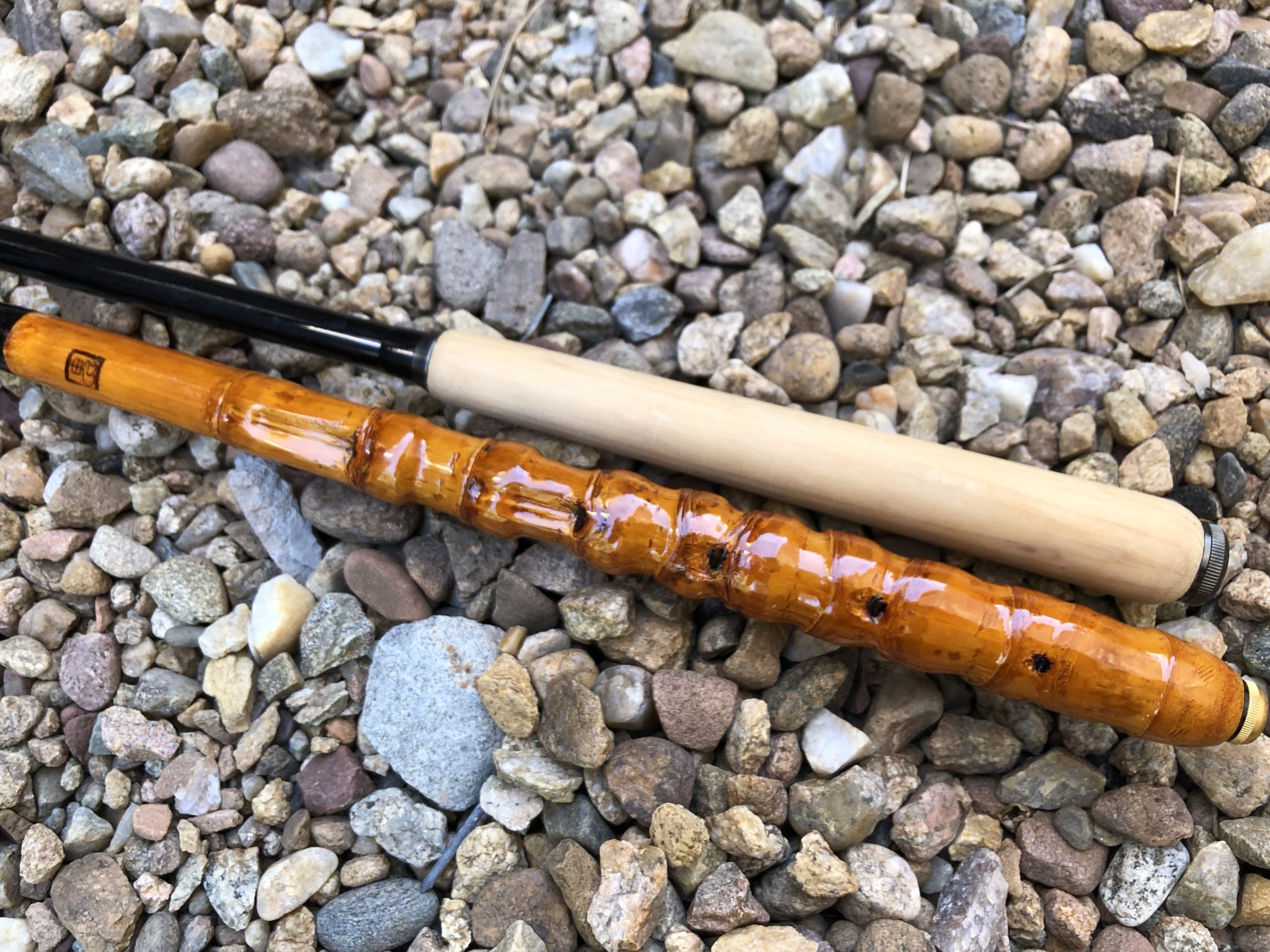 While wood was a common material for rod handles pre-nineteenth century, it's rare today. Some Japanese companies like Sakura make them and years ago, Tenkara USA made their now discontinued Ebisu (pictured top above) which had somewhat of a cult following. Now, very few makers are offering wood-handled rods. One of my favorites is the Oni Type I with a bamboo handle (pictured bottom above). While bamboo technically isn't wood, I put it in this category because it has the same feel and shares many of the same properties of wood. Whereas some people are ambivalent between cork and foam, wood might force people to take a firmer stance because of its more radical pros and cons so it certainly isn't for everyone …
Pros
Aesthetics. Everyone I show my Oni rod to immediately falls in love with the handle. They inspect it as meticulously as if they were admiring a fine and rare work of art. And it is art. It was hand carved by Masami Sakakibara himself. And like some conspiracy straight out of "National Treasure", it hides some secrets within its carvings. Aside from that, it is a rich, warm caramel color that overflows with a rustic homage to tradition. Aesthetically, wood is hands down the most gorgeous of all rod grip materials in my opinion and many others'.
Durability. This could easily go under cons as well, but I think it's more of a pro. On the plus side, wood will pretty much outlast you. Harder woods especially. And if they're lacquered, they might get a little superficially dinged up over the years, but they won't decompose the way foam will. Softer woods (like the bare pine handle on the Ebisu pictured above) are prone to dents though and a little care needs to be taken with them. So really, durability depends on the kind of wood used and whether it's coated or not.
Superior strike detection. Wood transmits strike detection the best since it's more similar in density to the graphite blank itself. So if sensitivity is high on your priority list, you'll probably appreciate how directly wood translates exactly what's going on at the end of your line.
Cons
Grip. If the wood is bare like the Ebisu, grip is about as good as cork. But most wooden handles I've seen are lacquered and when wet, can be somewhat slippery. It helps though if it has notches, contours, and/or rings like the Oni rod above.
Expense. The material itself can be expensive (such as rare hardwoods) but also, the effort of handcrafting contours into the handle (such as the Oni) can really drive up the price of a rod. Fine art comes with a price tag and there's a reason why we don't see wood handled rods being mass-manufactured.
Weight. This might be the deal breaker for many. Depending on the species, wood can be significantly heavier than cork or foam. While this doesn't affect tip weight, it does affect overall weight in the hand and swing weight. I happen to have the Oni Type I in both the foam-handled and bamboo-handled versions and there is a big difference in feel. The action is the same, but the difference in swing weight almost makes it feel like a completely different rod. This will come down to a personal preference and which trade offs one is willing to accept.
Other Materials
While the three above are the most common materials for tenkara rod handles, they're not the only ones. There are some fringe materials being used by innovative companies like Riverworks Rod Company that are employing more esoteric synthetic materials (similar to Winn Grips) in their rods. And many DIYers have been experimenting with all manner of unconventional materials for grips: wrapped rattan, wrapped jute cord, cork wrap, and more. My friend Dennis is also doing some creative custom-turned wood grips in his workshop. I've often thought of experimenting with conventional rubberized rod wrap over my existing handles so I could customize the contours of the grips, but haven't gotten around to it yet. While I'm fairly happy with most of the handles on my rods, every design can be improved somehow. And who knows? Someday, a new "magic" material might be discovered that will be the holy grail of grips with all of the pros and none of the cons.
No Handle?
Photo courtesy of Anthony Naples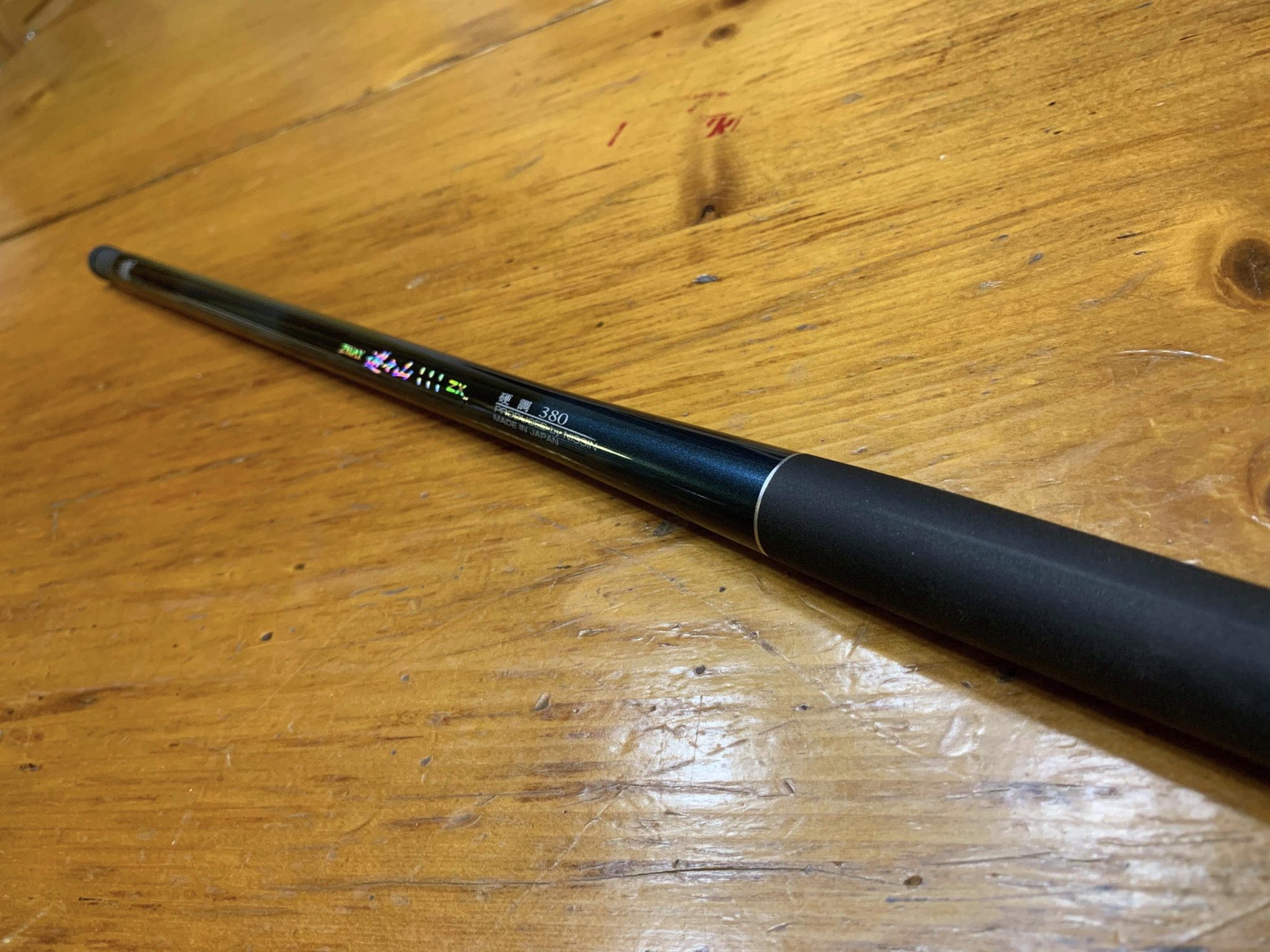 Early on, I mentioned that debate about using gripless fixed-line rods for tenkara. For some, this is still polarizing. I have to admit that the only gripless rod I've fished is the Daiwa Soyokaze and to be honest, I liked it more than I thought I would. Putting its soulless, utilitarian aesthetic aside, the ergonomics of the handle were actually quite good: very comfortable, sensitive, and surprisingly non-slip. Still, I remain faithful to cork.
Does it really matter?
We spend a lot of time discussing rod action, but the grip is our most direct and intimate connection to the rod so I believe it's worth thinking about and I wish manufacturers would offer rods with a choice of grip material to match individual preference. In fact, some already do like DRAGONtail Tenkara. As the tenkara market grows and catches up to the choice-based demand already ubiquitous in so many other industries, I hope to see this trend spread. While right now it might be somewhat of a headache for makers in terms of design and inventory, technology always makes such things easier. And ultimately, it will be to the benefit of us, the tenkara anglers.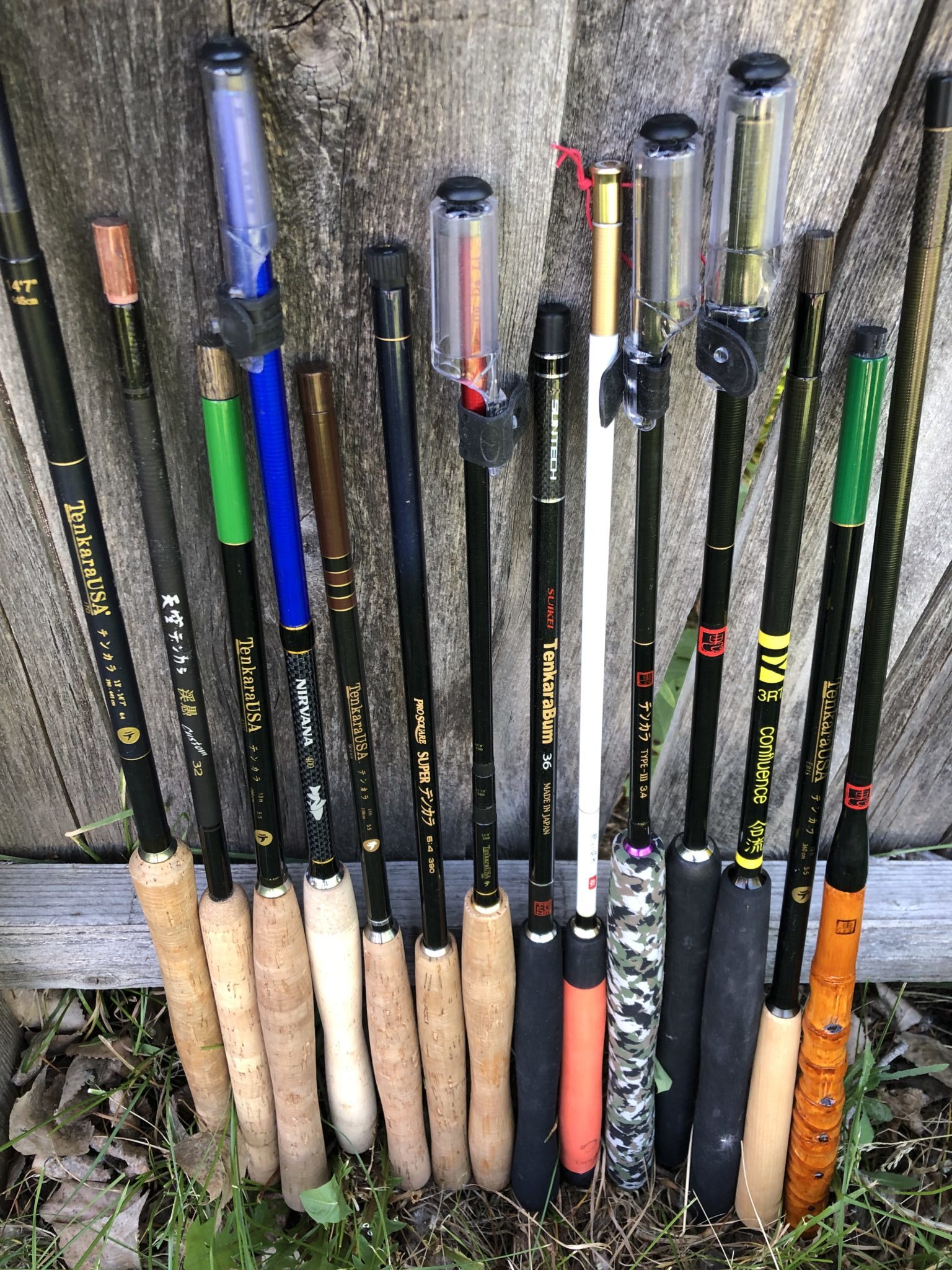 Which grip are YOU? Cork? Foam? Wood? Other?