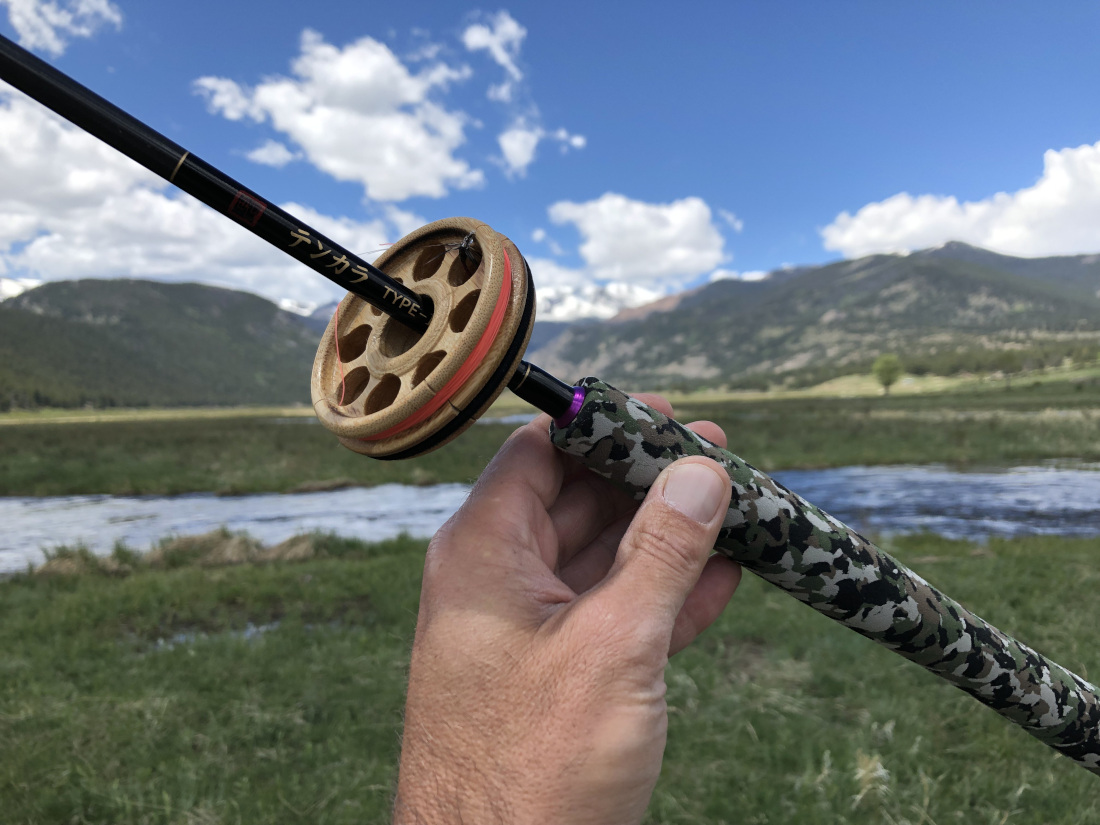 If you follow this blog or my tenkara Facebook page, you've probably seen pictures of me holding one of four rods in my trip reports: The Oni Type I, the Tenkara USA Ito, the Oni Type III, and more recently, the Tanuki Snow 325. That's because these are my four favorites–each with its own unique personality that suits the whimsy of my casting style on a particular day or whose characteristics meet the demands of the conditions I face. I've mentioned many of them frequently but after a great day on the water today with my Type III, felt remiss that I'd never given it a proper write-up. So I thought it was time to give it a little bit of the spotlight as (despite its critical acclaim) it seems to have fallen off the radar a bit when rod discussions come up in social media.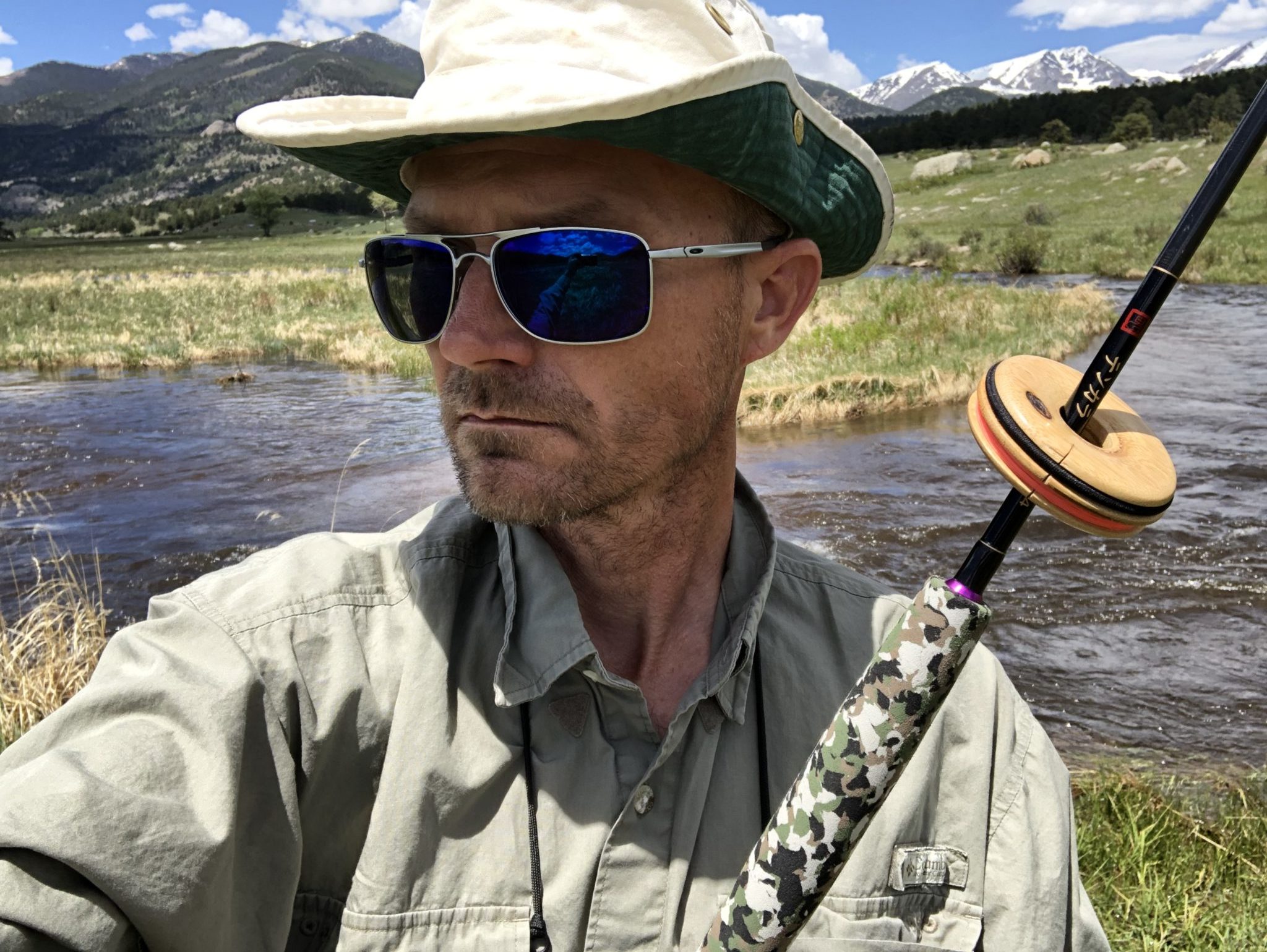 Specs
Designer: Masami Sakakibara (AKA "Tenkara no Oni")
Length: 3.4 m (11.15 ft.)
Closed Length: 60.5 cm (23.6 in.)
Weight: 60g (2.12 oz.)
Segments: 7
Handle Length: 30 cm (11.8 in.)
Action: 5:5
Action
I've said it before and I'll say it again. I don't think rod action can ever be accurately described–only felt. You can use all the adjectives and scientific-sounding indices you want, but they will never really tell you how a rod feels. The only way to know is to cast it yourself. So if you are already familiar with the Oni Type I, then imagine a shorter, lighter version and that's pretty much how the Type III feels. Like the Type I, it's remarkably light in the hand (not tip heavy at all) and despite it being given a 5:5 rating, I would call it "crisp" (i.e., "fast recovery). For this reason, it's one of my favorite rods to use for dry flies. But for the most part, I use it with my standard #12 sakasa kebari.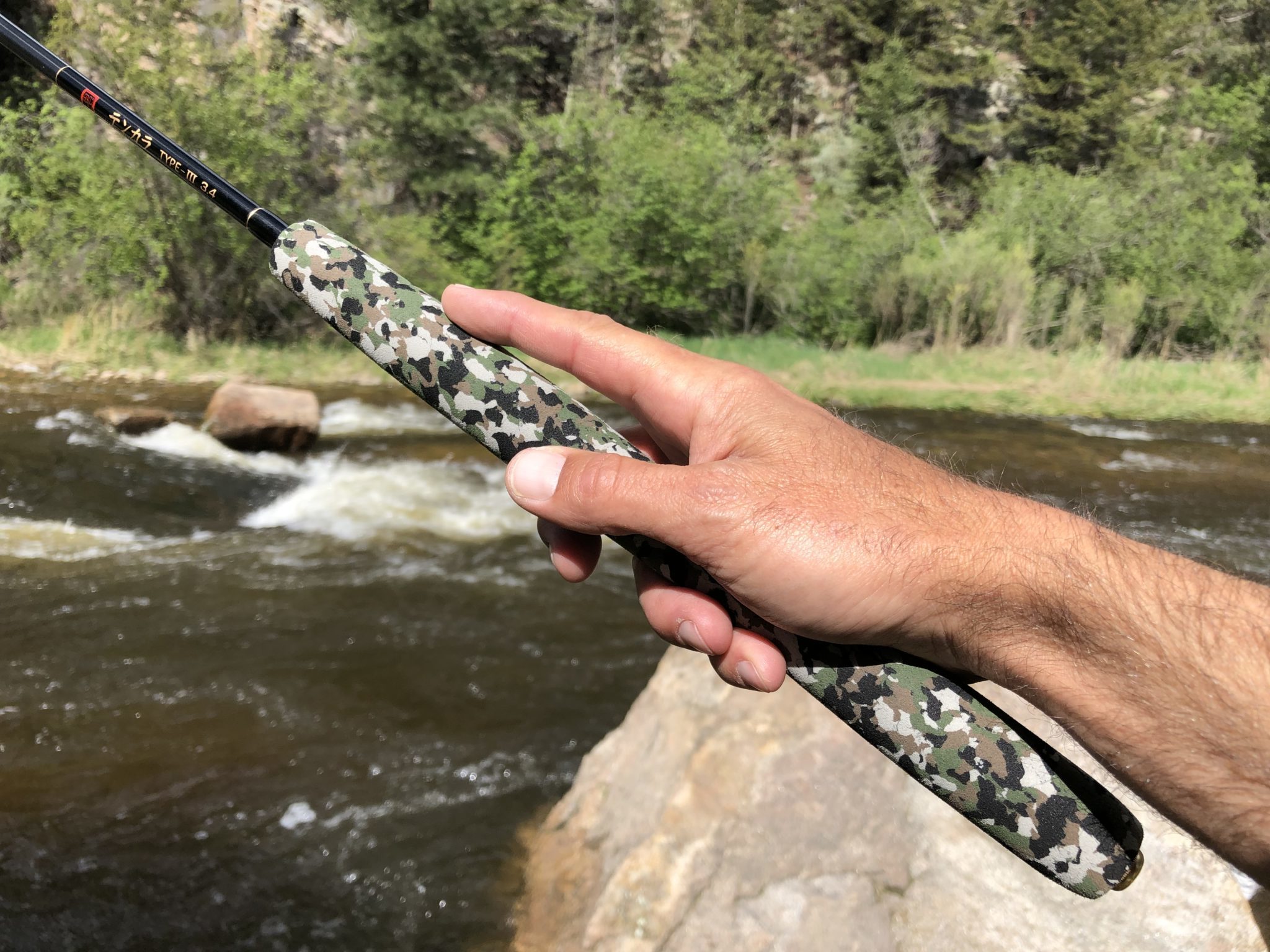 At nearly two feet shorter than the Type I, the Type III is touted as a small fish/small stream rod. While it certainly does fit that bill, I often find myself fishing it on larger water, where I could easily get away with a much longer rod, just because I like its personality so much. I was fishing some pretty heavy runoff water with it today when logic would have told me I should have chosen a longer, more robust rod. But the Type III performed perfectly and I felt no need to switch to the Type I laying in my trunk. I would hate to see it pigeonholed as merely a small stream rod or only for where there is overhanging brush, because it's much more versatile than just that and I would feel confident recommending it as a good all-around rod for anyone who likes to fish UL tackle in a variety of conditions. I can cast it accurately and with little effort. It's sensitive enough to transmit strikes well, but with enough bend to add extra tippet protection. And I can fish it all day without any strain whatsoever on my arm or elbow. The Type III checks so many boxes for me, I'd consider my arsenal incomplete without it.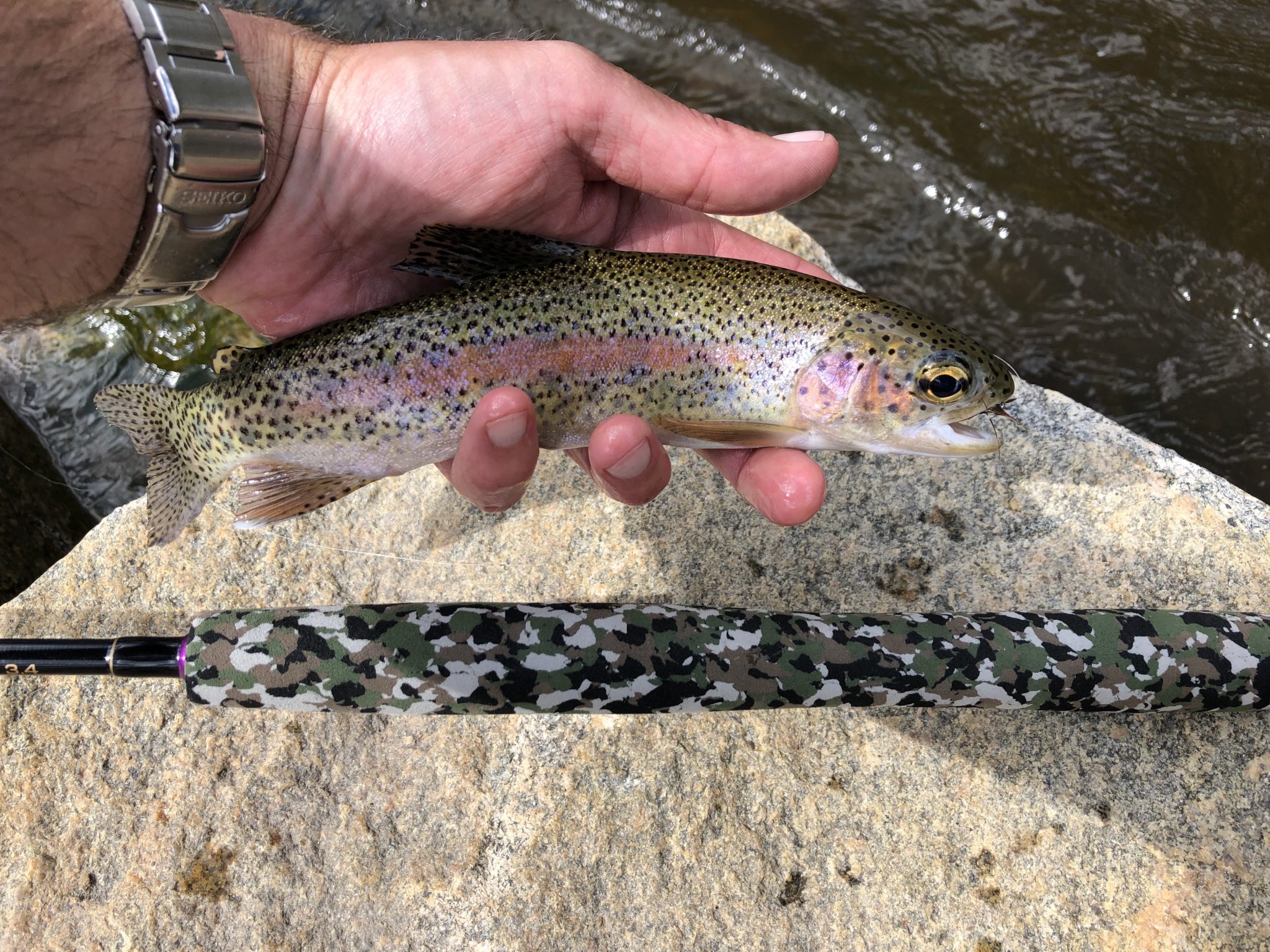 All in all, while this is a serious rod, it's also a fun rod. With it's full-flex action, it's easy to cast, but will do exactly what you ask it to do. And (maybe more importantly), it's an absolute delight to play even small fish on.
Aesthetics & Hardware
The first thing that stands out on the Type III is the camouflaged EVA foam handle. It's instantly recognizable on the water. I once asked Oni why he used foam instead of cork on his rods. He replied that cork was too expensive and foam was more durable. I then asked him why he chose the camo color for the TYpe III. He just said, "for fun". While I'm not exactly a big fan of foam handles, increasingly, my favorite rods seem to be using foam and I'll admit that the diameter and contour are comfortable in my hand.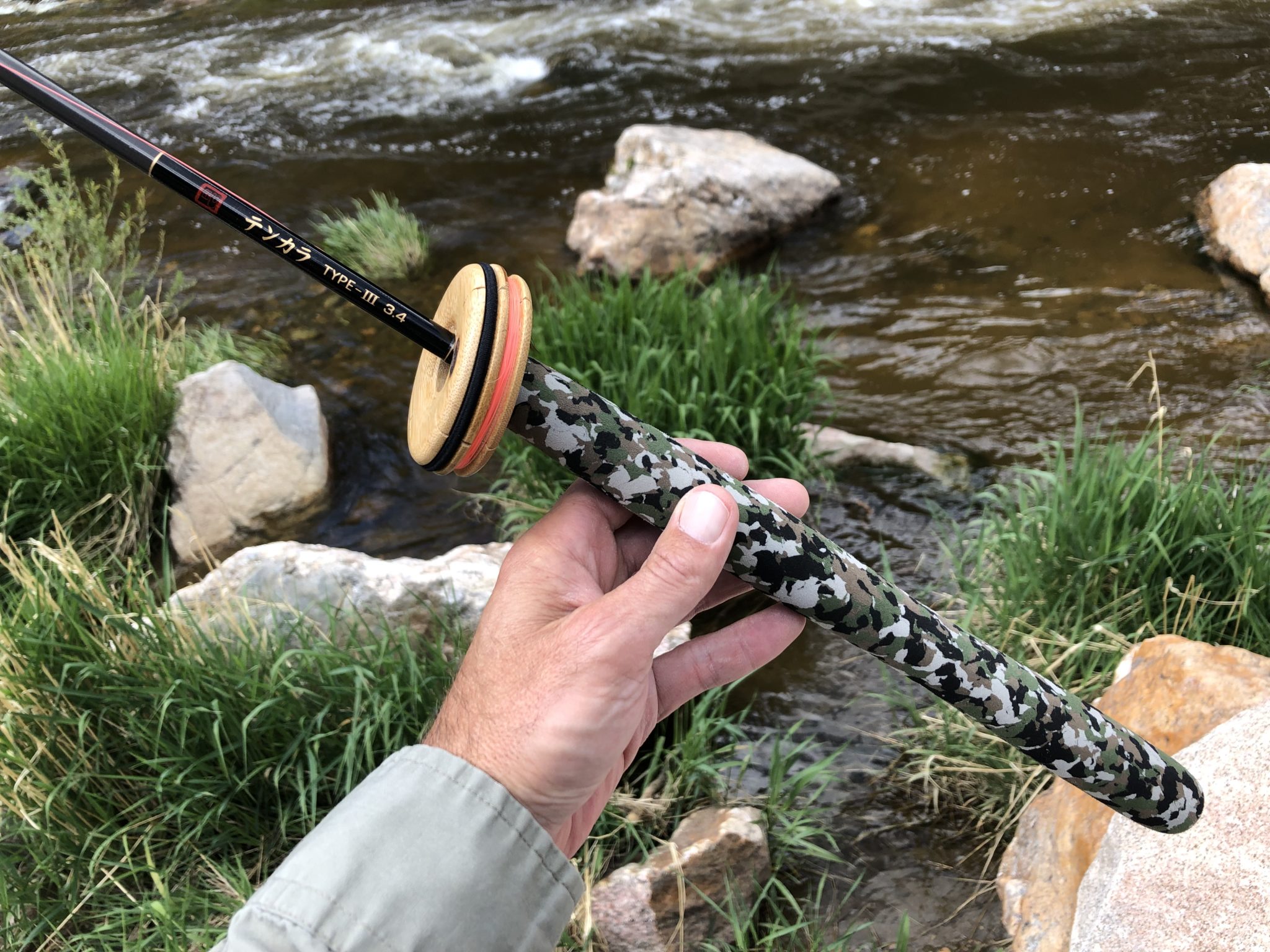 Beyond the glitz of the camo handle, the rest of the rod is fairly bland, with a black, unsanded blank and simple graphics denoting the rod's specs and the Oni mark. It's plain, but with a subtle dignity. One oddity though is the purple winding check. I'm not sure why he chose purple. Maybe that was "for fun" too.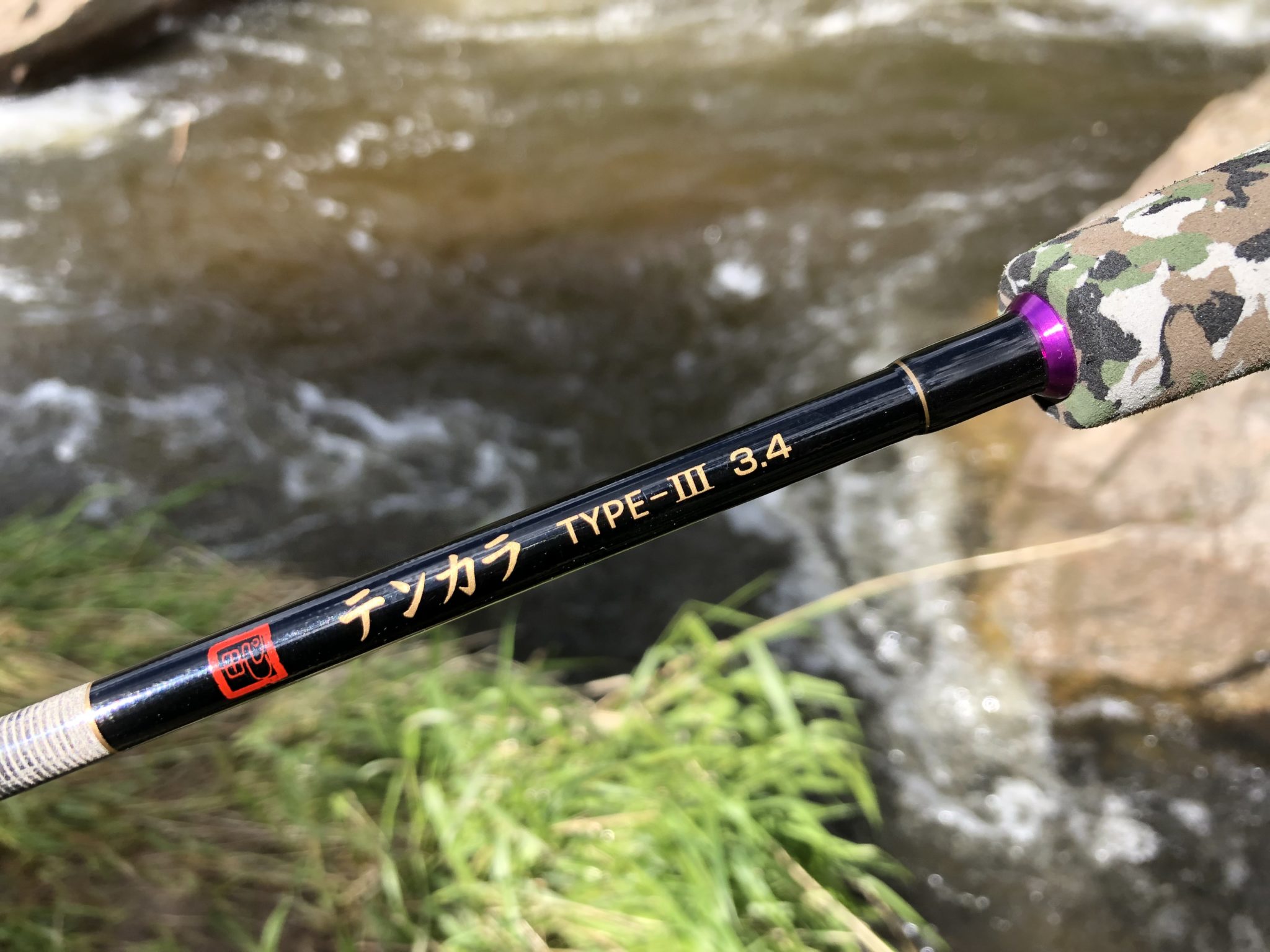 The lilian is pretty standard as is the plastic rod plug, which is tight-fitting. Still, I use universal caps on all of my tenkara rods now.
Some have complained that the end cap is too small and is hard to grasp. I'd agree with that. Whereas most end caps are similar to the diameter of the end of the grip, this one is much smaller and slightly recessed, making it hard to get your thumb and finger on to twist. It is knurled and there is also a coin slot, but making the end cap slightly larger and more ergonomic is probably the only thing I'd change about the Type III.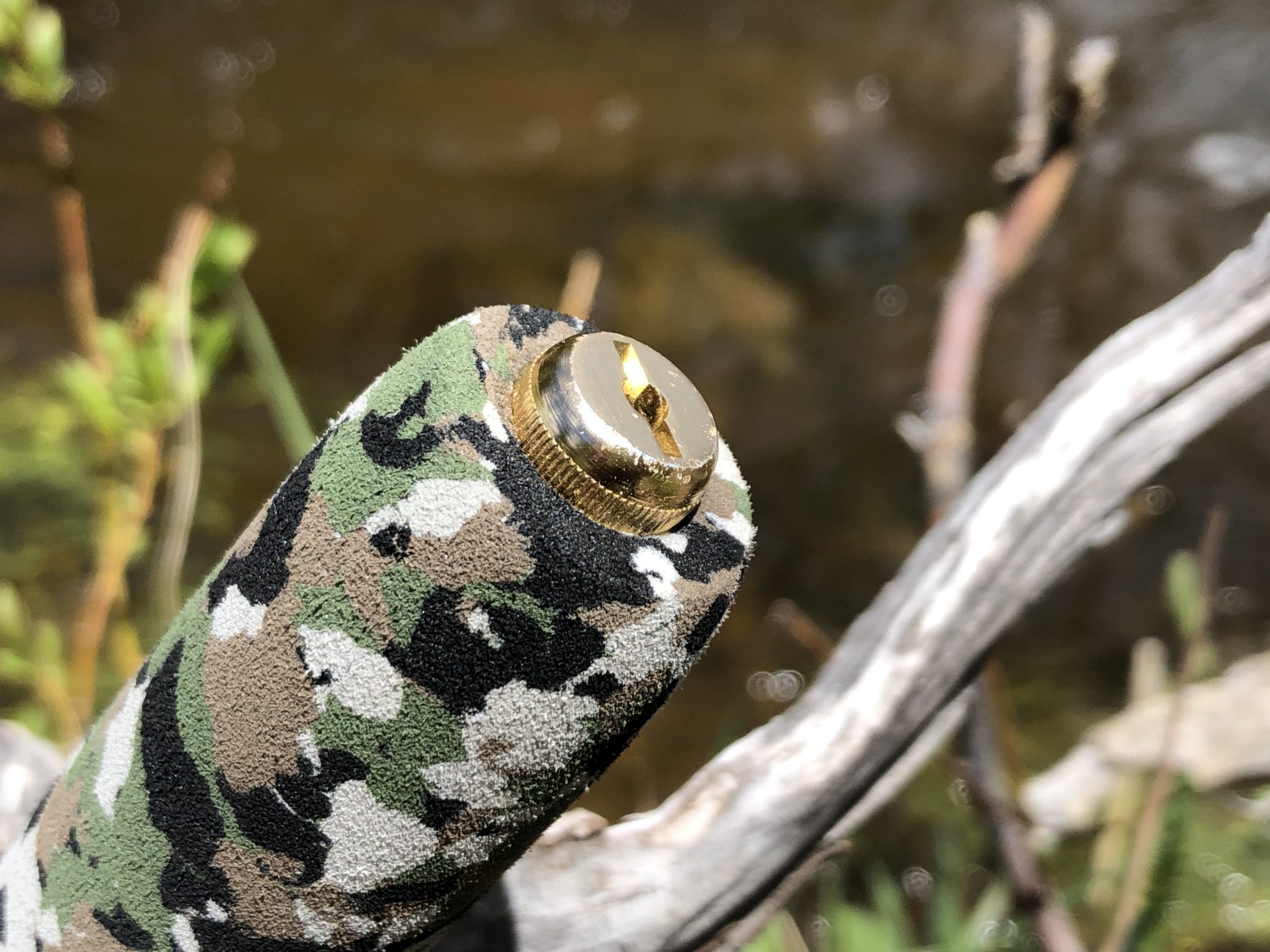 The inside of the cap has a rubber cushion to reduce noise and damage to the segments while in transport. This used to be a noteworthy feature on tenkara rods but has now become almost ubiquitous in the industry.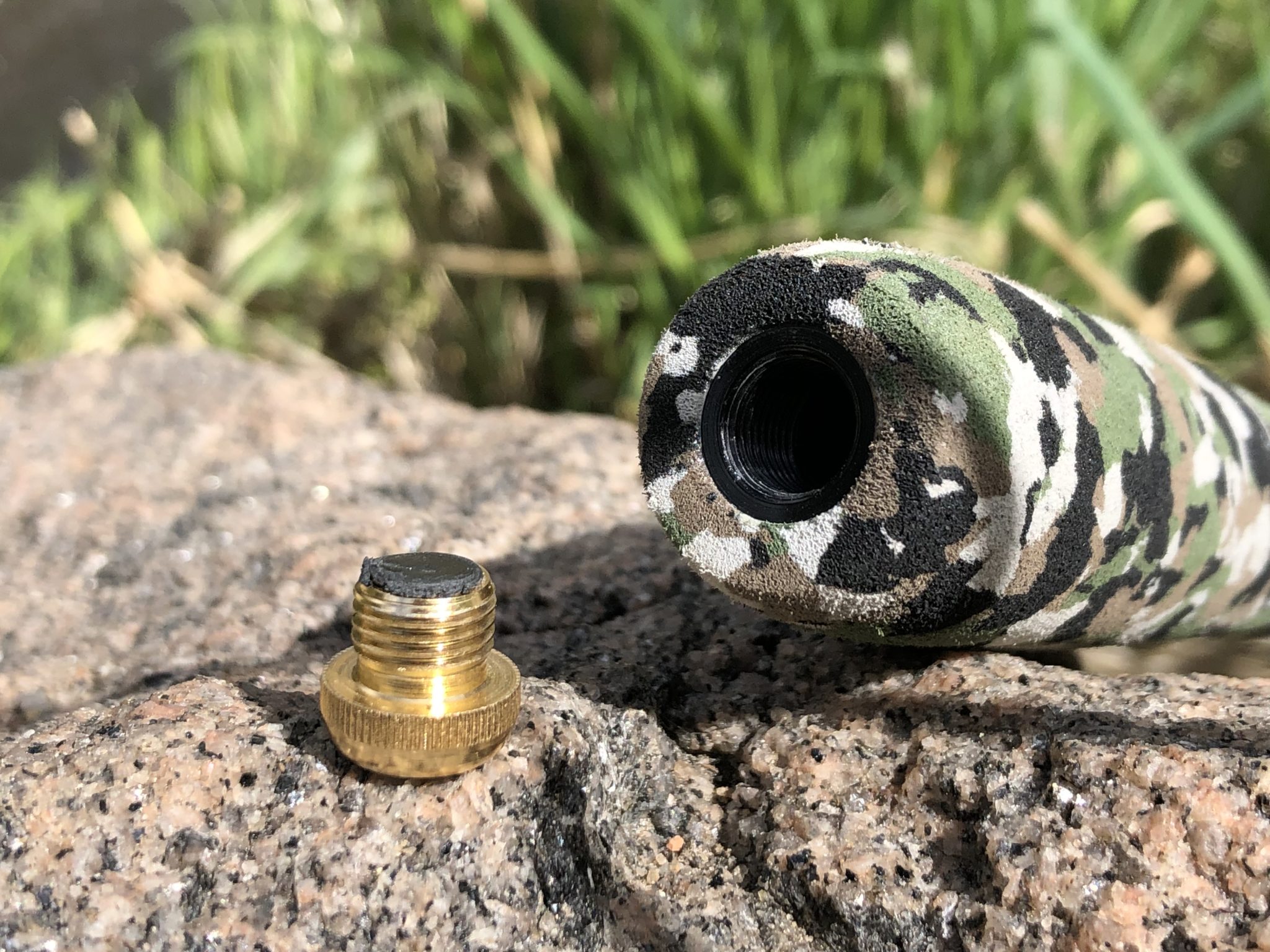 Best lines for the Oni Type III
Oni is known for being a master caster with light fluorocarbon lines and when I first started fishing his rods, I was using #2.5 lines, thinking that would be the best match since that's what they were designed for. However, since then, I've come to favor #3 and #3.5 lines–not because they're easier to cast–but because they're easier (for me) to see. And while the Type III will certainly cast a lighter line, I find myself these days mostly fishing it with a #3.5 Orange line from Tenkara USA.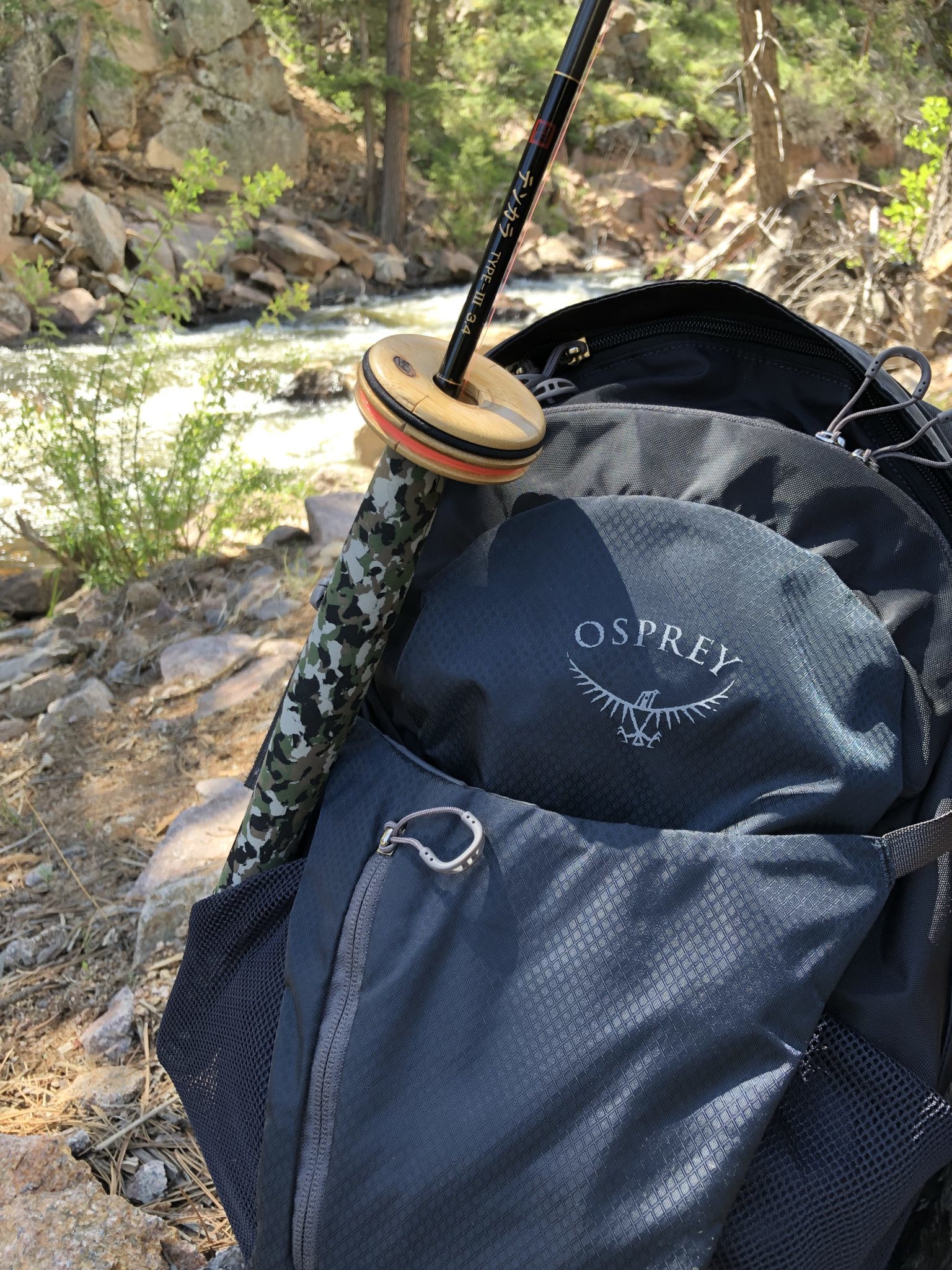 I've also fished it with tapered nylon line and while I like the feel and turnover, the nylon just seems to have too much memory for me and I prefer to be able to adjust the length of my lines so level just makes more sense.
The one line I do not like with the Type III is furled line. I can't describe it, but it somehow seems to betray the elegance of the rod's action. Maybe it's because they're too heavy? At any rate, level lines seem to compliment it the best, so that's what I'll stick with.
As for length, the majority of my fishing is done with a 13′ line. You can go longer, but if you do, I'd recommend using a lighter #2.5 line to compensate for the added mass. This rod was not designed to throw extremely long lines the way the Type I was. And of course, in tight quarters, it will handle shorter lines with ease due to the 5:5 flex. So if you are fishing the rhododendron-choked eastern streams, feel free to go much shorter than the rod length.
Where to get them
Back in 2014, I was the first person to import Oni rods to the U.S. and was the exclusive dealer. They've always been available directly from Tenkara no Oni's website, but for a while now, they've been more accessible to the U.S. market from Team Oni USA. Probably no one in the U.S. has a closer relationship with Oni himself nor a more intimate knowledge of his rods than they do and not only will they be able to answer any questions you might have about any Oni rod model, but they have outstanding customer service. I know firsthand. When I broke my Oni rod on my last trip to the San Juan river, I emailed them and the replacement tip was literally on my doorstep before I got home from the trip!
My Oni Type III has been on many adventures with me and will go on many more. Oni says this rod was designed for beginners, but I think any experienced tenkara angler will immediately appreciate its cadence and will consider it a solid addition to their quiver. Mine's already packed, waiting for the next adventure …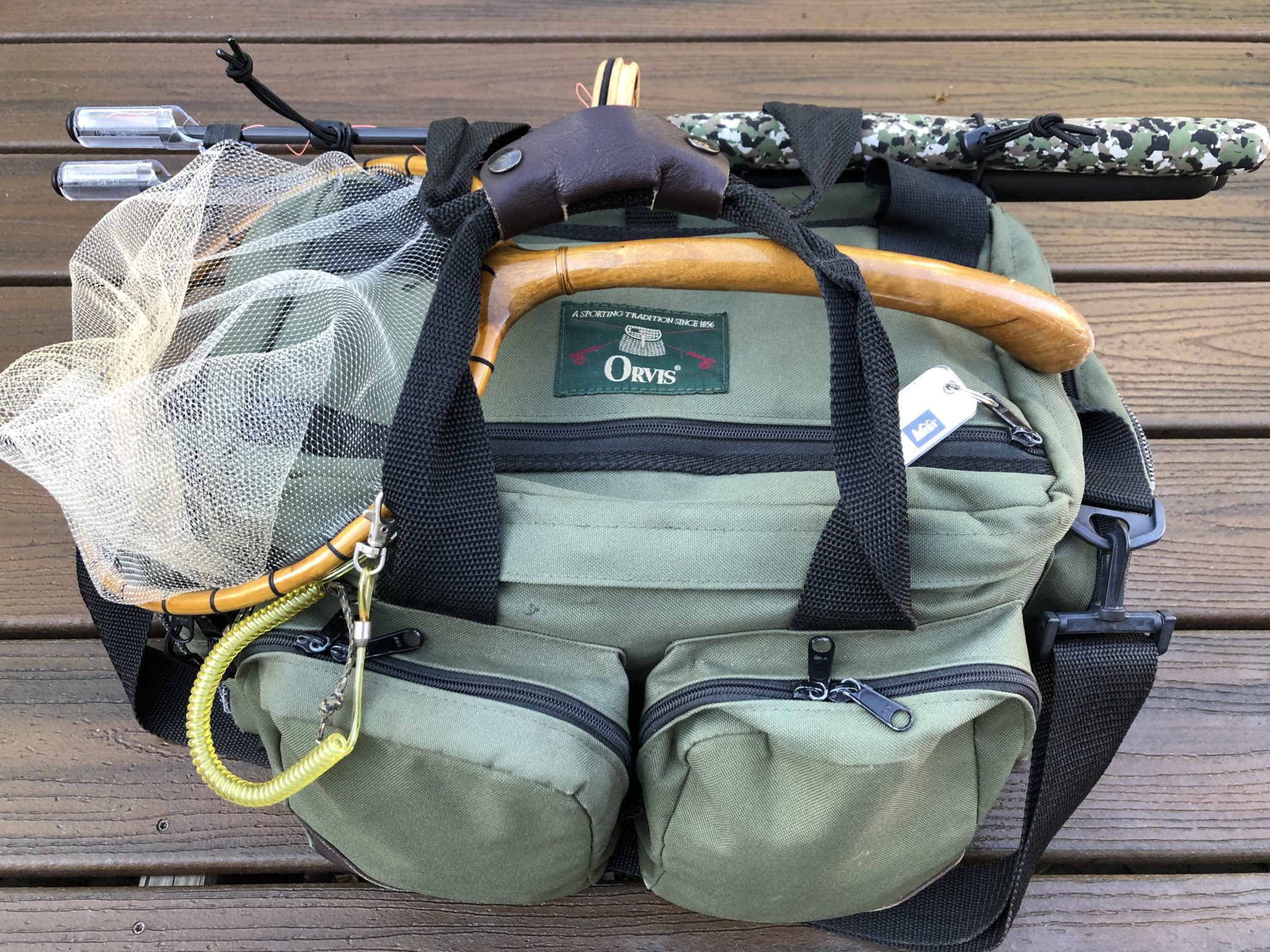 Also, be sure to read what Tom Davis of Teton Tenkara has to say about the Oni Type III.