Years ago, my friend told me a story about how he used to save all of his beat up flies in an old coffee can. Anything that lost its tails, had unravelled thread, or got chewed up beyond recognition went in there. He had a master plan. One day, when the can was finally full, he doused the insides with gasoline and torched it. The idea (which I thought was brilliant at the time) was to burn off all the materials en masse, leaving him with a pile of clean, new hooks ready to be tied on. And so he did. I'm sure as he tied fly after fly, he probably felt some sense of satisfaction that he was saving a lot of money by recycling so many hooks so easily. Maybe even a little proud that he came up with such a clever idea. Until he hooked the first fish with one of them.
It immediately (and quizzically) broke off. Retrieving the fly and inspecting it, he found that the hook had snapped at the bend! It wasn't a large fish or anything. But the heat from the fire had apparently made the steel of the hook lose its temper and become brittle. Later, he discovered that all the flies he had tied on the recycled hooks suffered the same fate and were essentially useless. Sometimes, spectacular ideas breed spectacular failures.
I typically don't recycle hooks–not because I'm lazy or wasteful, but because I rarely get the opportunity. I tend to lose a fly on a snag before it ever has a chance to unravel or be mauled to death by trout. The one exception would be saltwater hooks, which are considerably more expensive than trout hooks. In that case, even if a fly has been ripped apart by a ferocious barracuda, the hook is usually in perfect shape and it makes no sense to just throw it away. So, it's worth it to shave off whatever bucktail or Superhair is left with an X-ACTO knife and reuse the hook.
But the other day, I had one of my Glass Bead Takayama Sakasa Kebari get torn apart after about a dozen fish and threw it in my pack to dispose of later. When I got home and looked at the mangled remains, it occurred to me that not only was the hook in perfect condition, but both glass beads were still in tact. I love my double glass bead kebari, but one of the most tedious parts of tying them is getting the beads on. They're small, hard to grasp, easy to drop, and sometimes difficult to thread through the hook. Not only that, but since glass beads are never drilled consistently, some will fit over the bend and some won't. So sometimes it's more of an ordeal than I'd like it to be to rummage through the package and find the ones that will fit. I thought that since the hook was good and the beads were already correctly sized and threaded, it made more sense to just shave off the tangle of material and retie the fly. And the time it took me to shave it clean was less than what it would have been to take a new hook, find the correct-sized beads, and thread them on.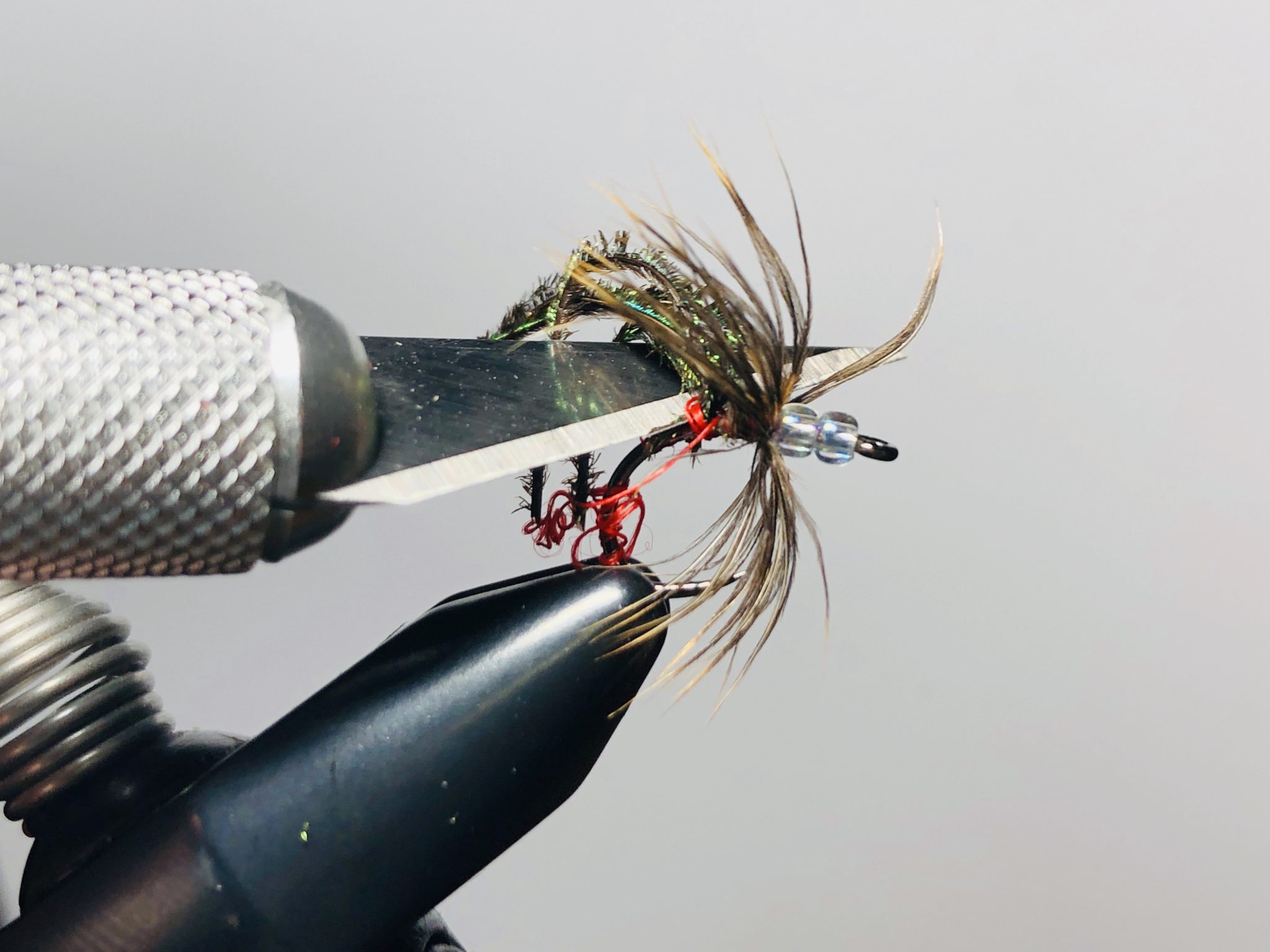 Since I tie a lot of the same patterns over and over, I think it makes sense moving forward to start doing this. It's not going to save me a ton of money. Like I said, it's rare that a casualty makes it back from the battlefield. And even though the hooks and glass beads I use aren't particularly costly, they are the most expensive part of any of the materials in any of my flies. And if you're using, for example, tungsten beads, I think there could be a pretty significant cost savings. But for me, it's more about saving the time associated with threading the beads–eliminating an arduous step from a fly I'm going to tie anyway that has already been done.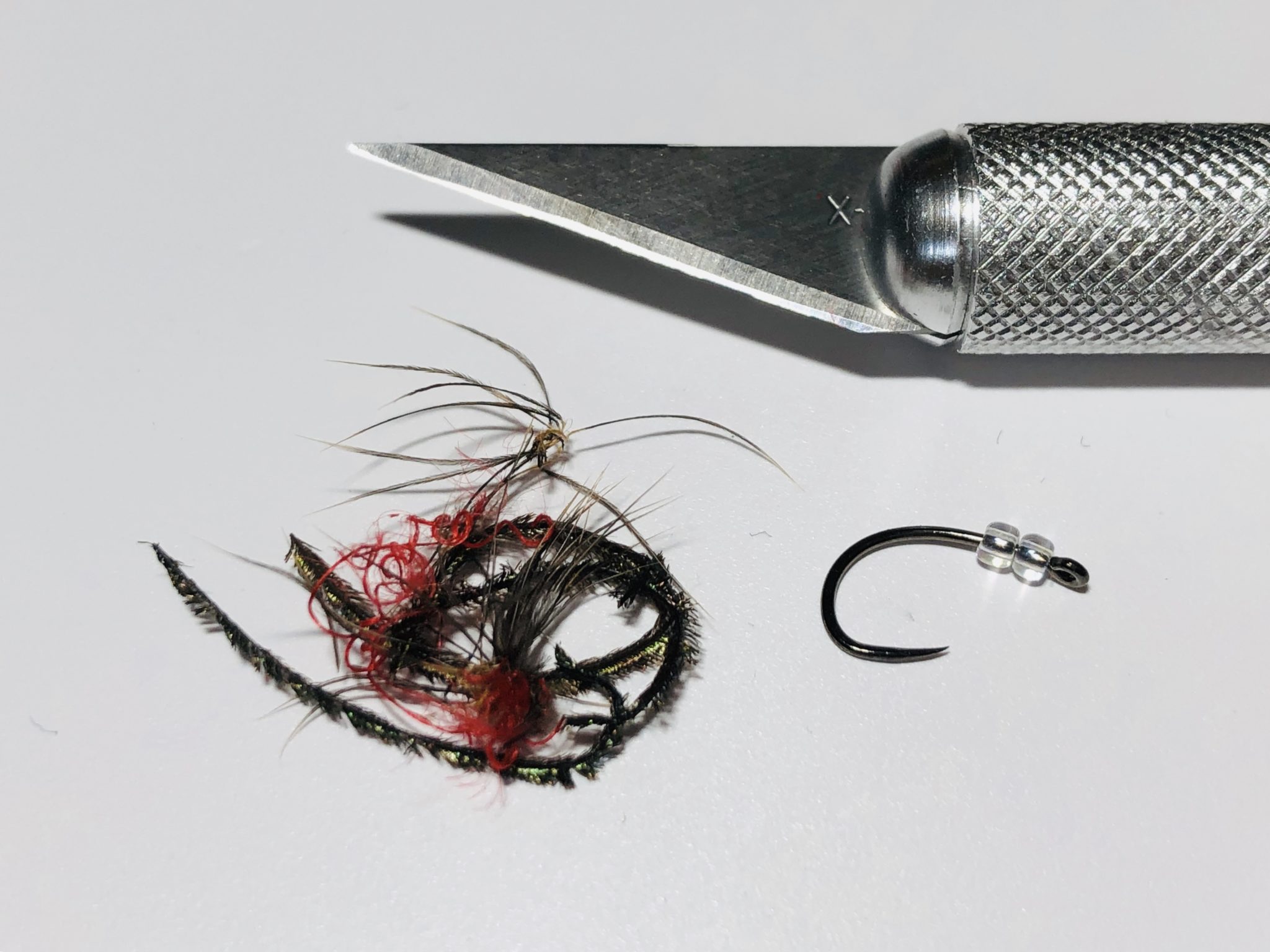 On a less practical level and more philosophical one, I like the fact that this practice is a rejection of the disposable culture in which we live. Somehow, it just seems more mindful and in keeping with the ideals that draw so many to tenkara in the first place. We know that early tenkara fishers made use of whatever they had at their immediate disposal and were thrifty by necessity. It's not a stretch to think that they too recycled their hooks.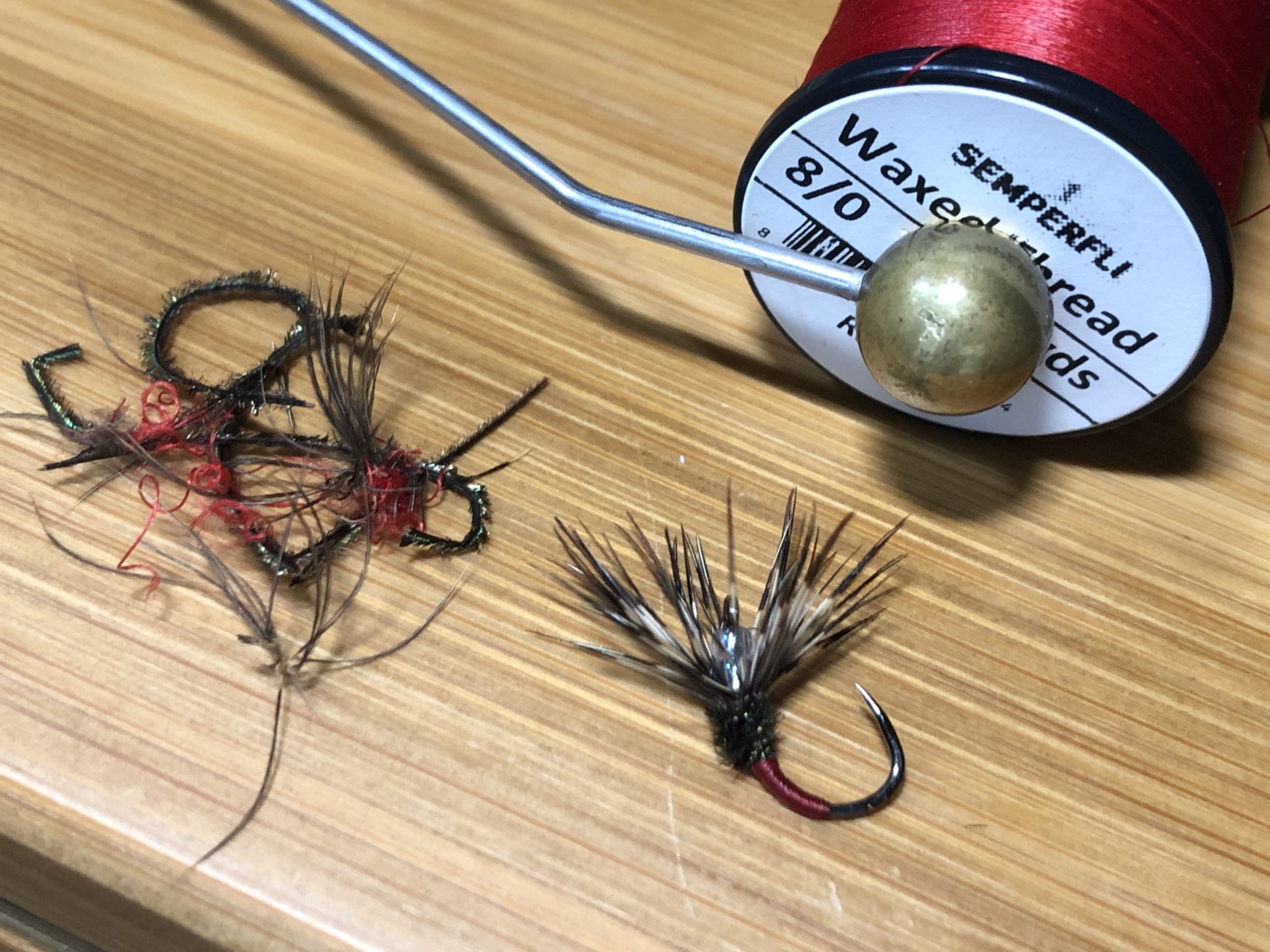 So while 99% percent of my flies will probably end up in log jams, rock clusters, or tree branches, those that survive will be resurrected. And who knows, maybe their karma will even bring me some luck in their next incarnations.
Do you recycle your fly tying hooks?