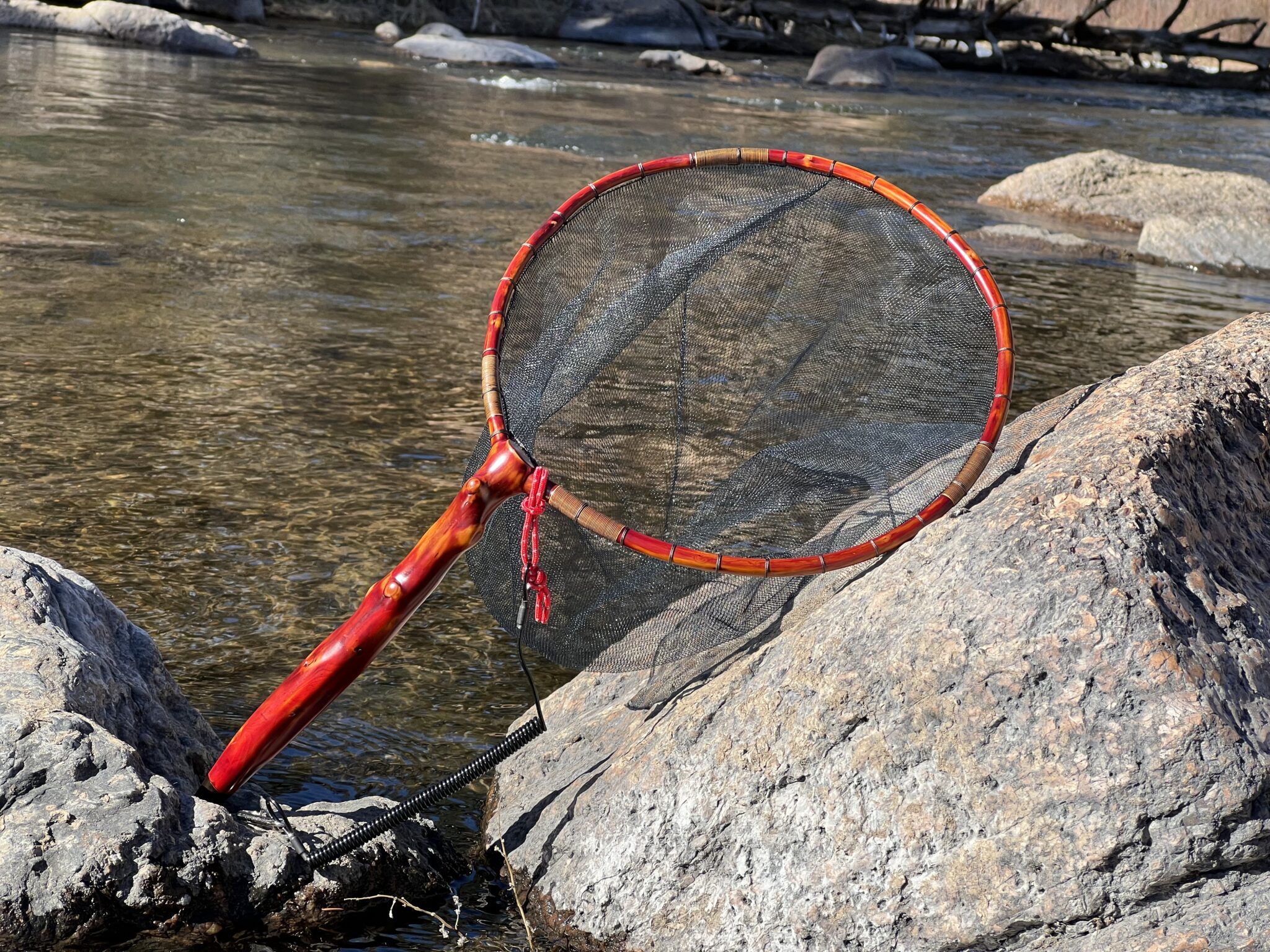 My first "tenkara net" was the one Daniel Galhadro (founder of Tenkara USA) gave me back in 2011. It was the original Tenkara USA tamo and for a while, was one of only a handful of authentic Japanese style nets available (at least as far as we knew).
It was the perfect size for the small stream trout I stalk and I fell in love with the ergonomics of the angled hoop.
Plus, its dimensions made it easy to tuck into my wader belt against my back and carry at the ready, while out of the way. I became accustomed to carrying my net this way and any other method just didn't feel right.
After serving me faithfully for over a decade, I eventually lost it to theft after not taking my own advice. I suddenly felt naked without my beloved tamo. There were many other tamo out there by this time, but my old one had a sentimental value, being given to me my my good friend and mentor in my early tenkara career.
I vowed to get another tamo someday but I wasn't seeing any I liked and had no inclination to make my own. So, in the interim, I used my titanium and carbon ultralight backpacking net made by my friend Thom Darrah.
Thom gave me one years ago and I primarily used it for backpacking because it was unbelievably light and completely flat, so it was easy to pack in a backpack.
But it wasn't the same. My cadence missed the angled hoop–my phantom muscle memory told me so. Plus, this one (while highly innovative) is decidedly high-tech looking. And you might have guessed that my aesthetics are decidedly not "high-tech".
I prefer my tackle to look more like a prop in a Norman Rockwell painting than something that fell out of a UFO.
One day, while chatting with Masami-san, I happend to ask him if he had any new tamo coming into his shop. As luck would have it, he told me he in fact did have a few on the way: Mankyu tamo!
After about a week or so, he sent me pictures of four different nets from which to choose. I debated and flip flopped for a while before settling on "#3". It was as if choosing a child from an adoption agency catalog.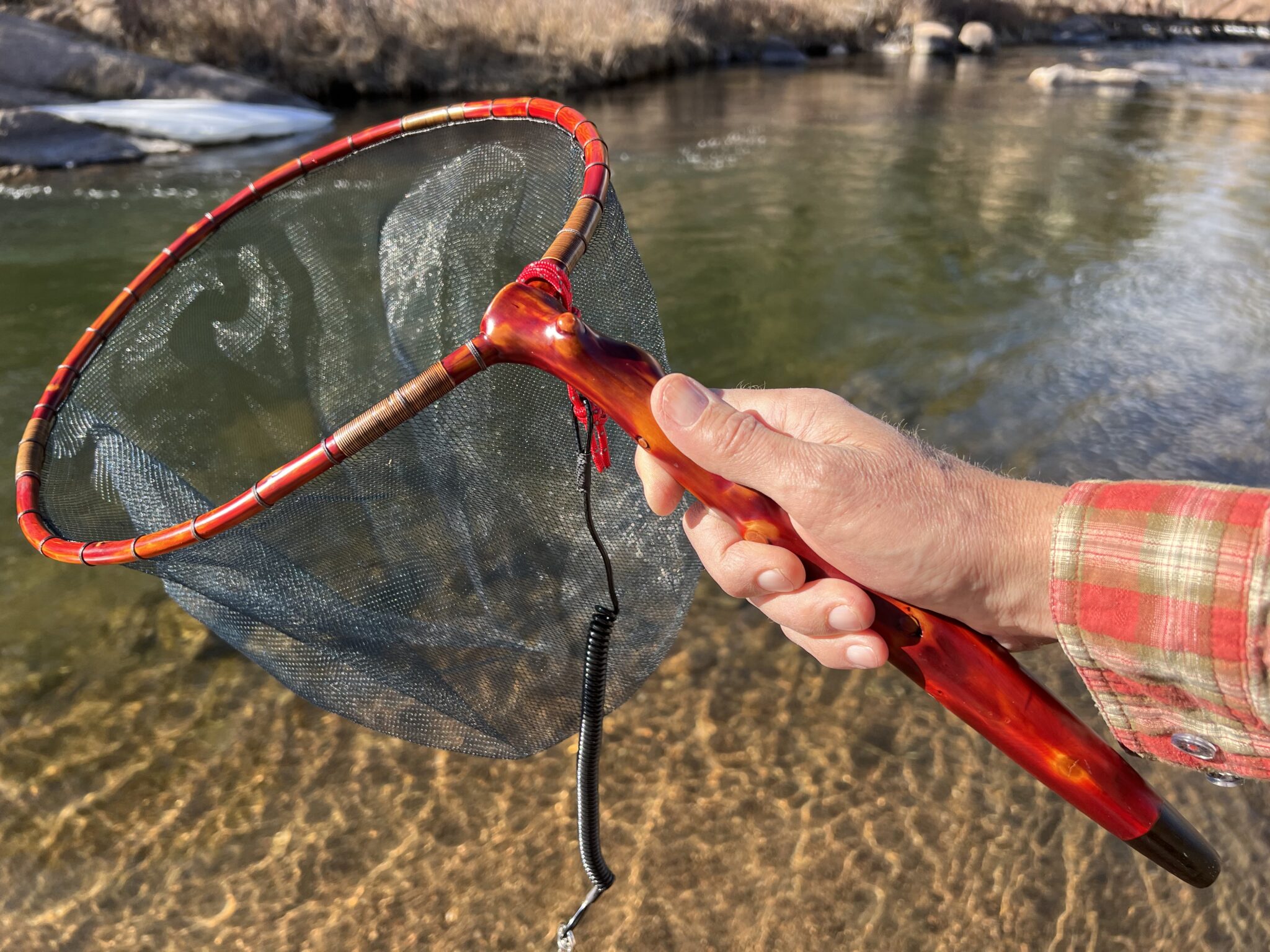 Once it arrived and was finally in my hand, I was speechless. I'm fond of all kinds of tackle for sure, but in general, I tend to not think of a net as a particularly sexy piece of gear. Yet here it was … the most stunning blend of craftsmanship and artistry I had ever seen … in a net!
Handmade from Japanese fir (mimi), it's stained a gorgeous, deep, brownish-red. The finish is smooth matte (but not slick), providing a warm, comfortable tactile sensation against the skin.
With a diameter of 30cm, it's significantly larger than my previous tamo and (to me), the Goldilocks size for my trout fishing here in Colorado.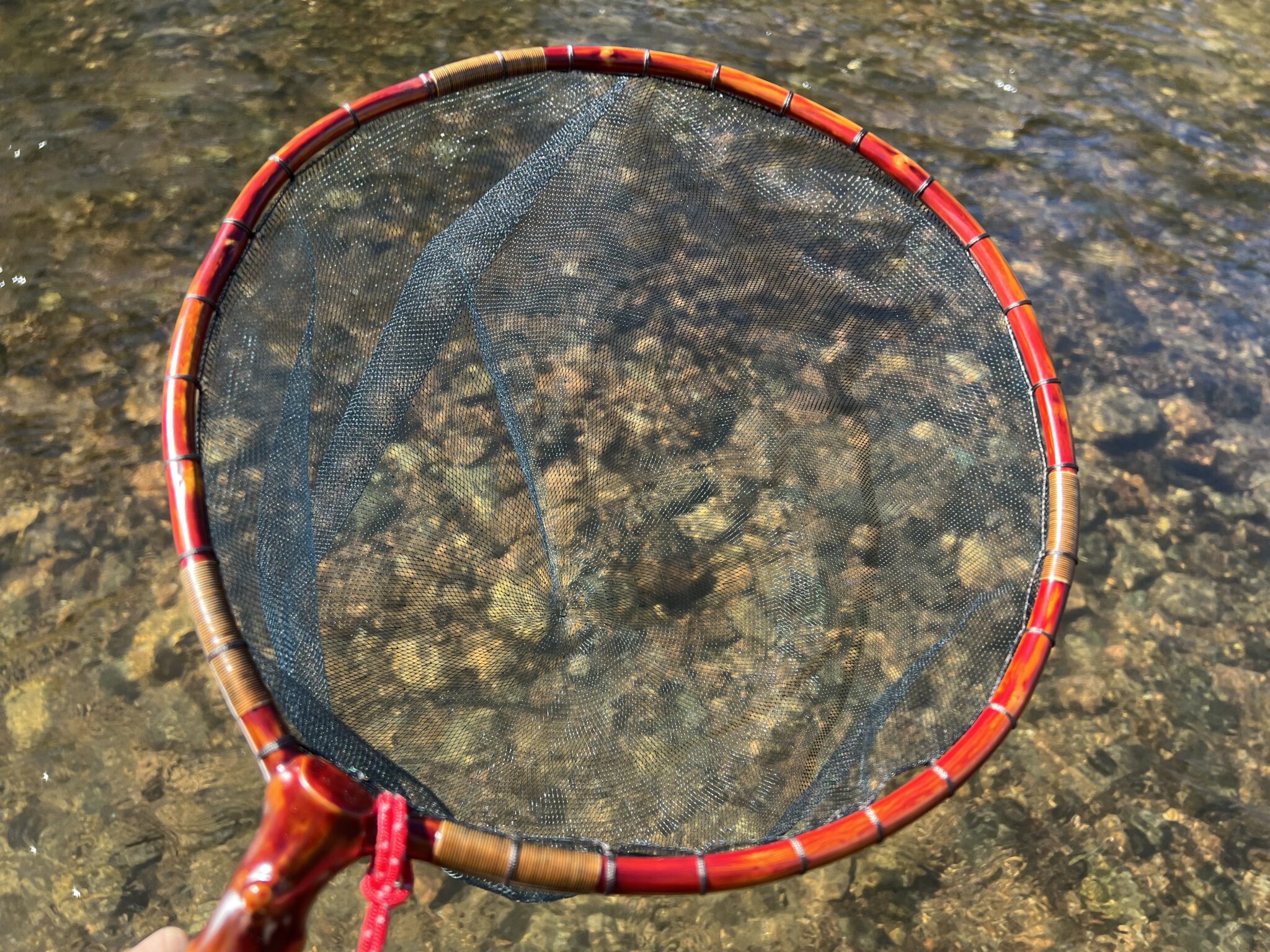 The angle of the hoop is a perfect 30º–the same as my old Tenkara USA tamo). After a few "test draws", it seemed as my old streamside companion had returned.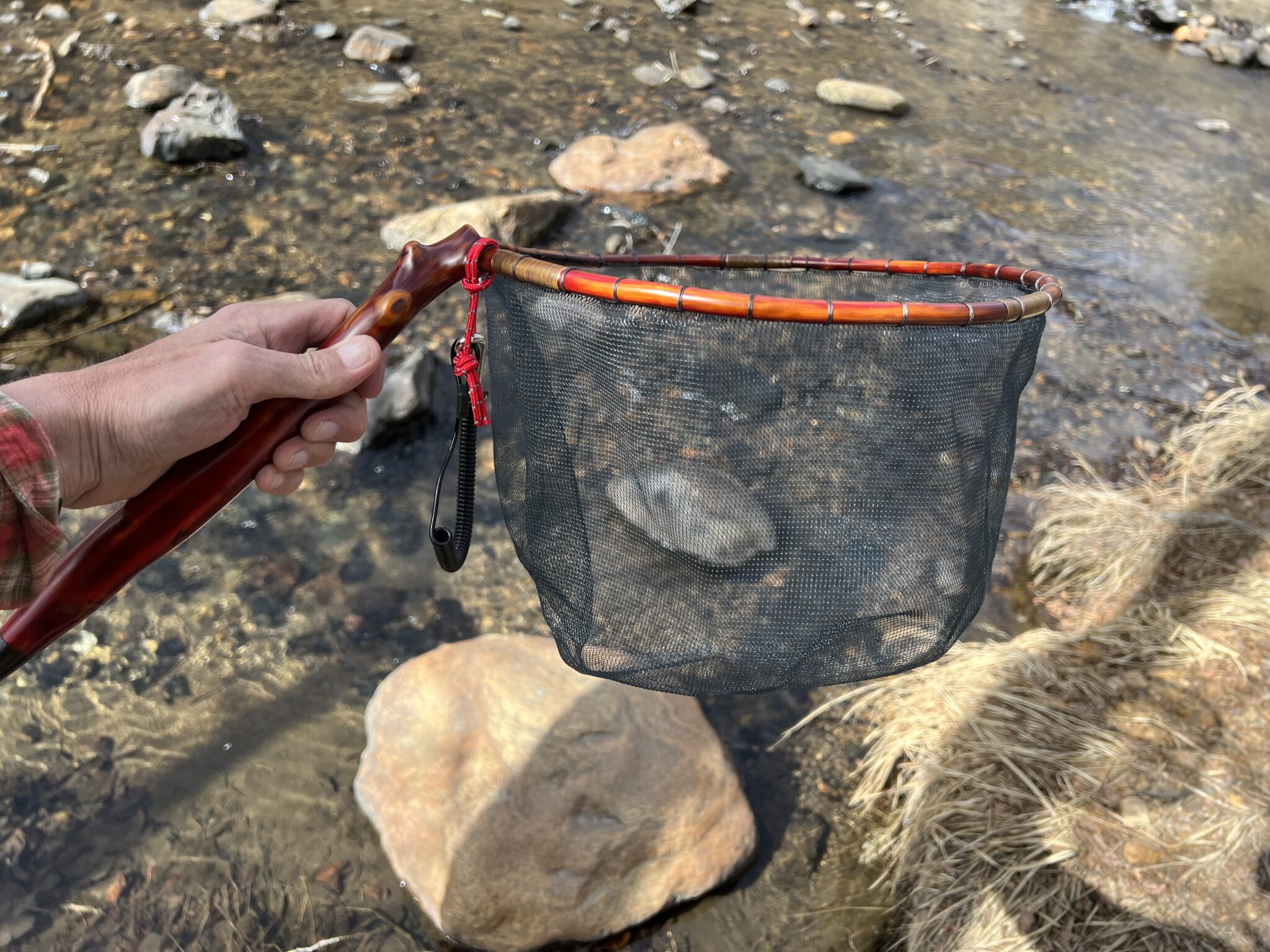 While mostly spartan, there are a couple of nice finishing touches such as rattan wraps around the hoop …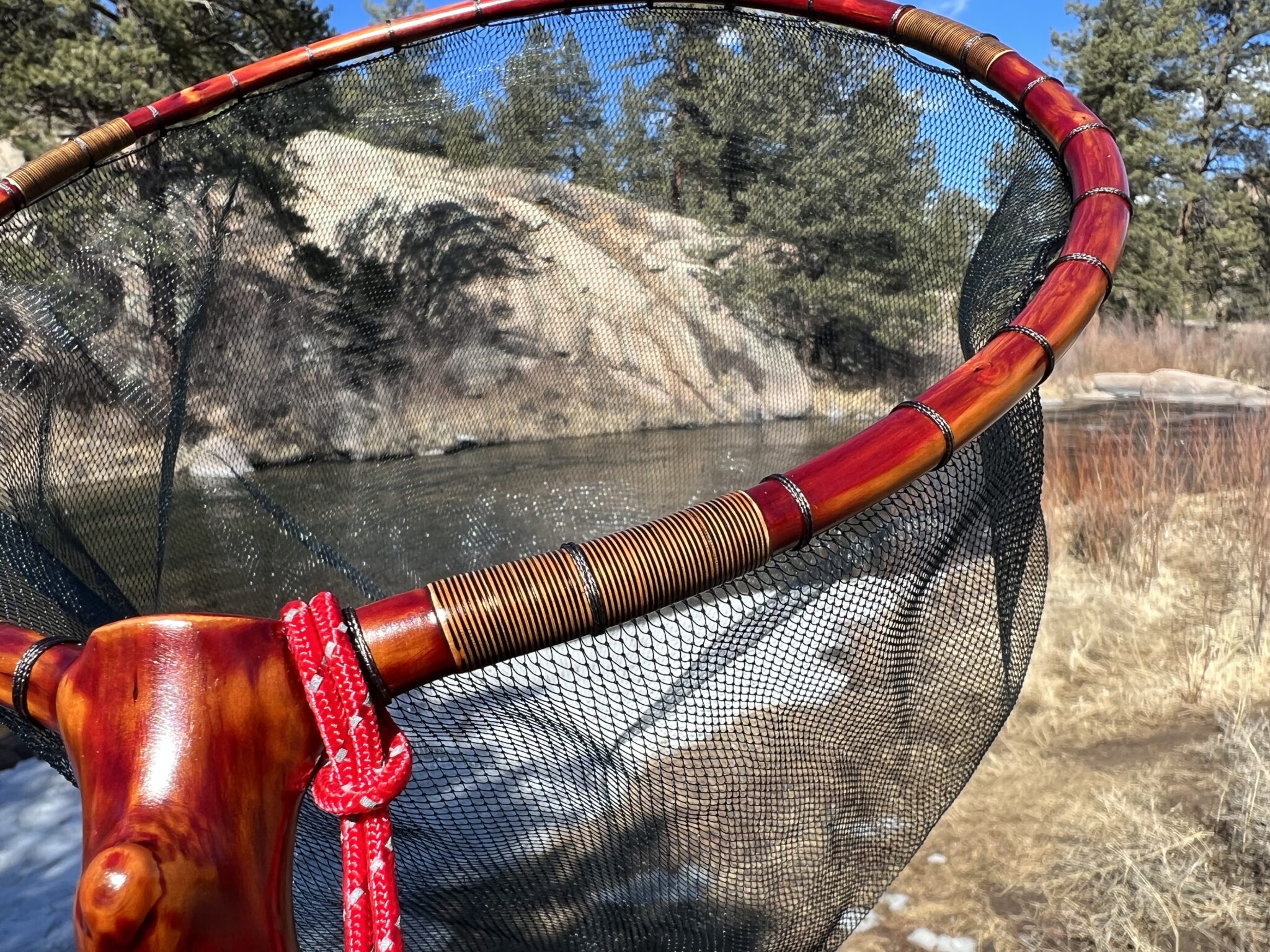 … and the maker's mark in Kanji on the underside of the junction at the handle.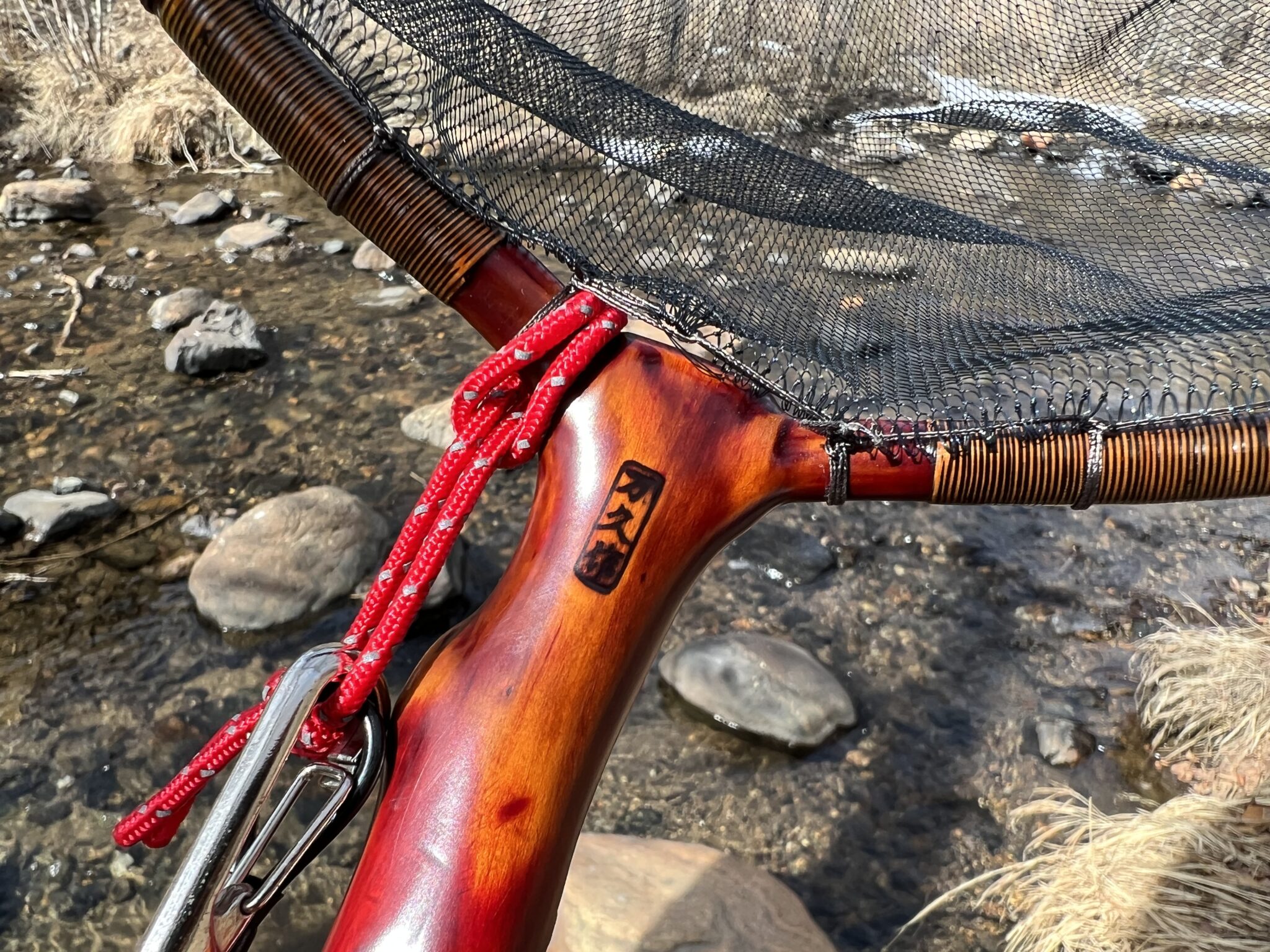 The natural knots of the wood provide strategic resting points for your fingers that seem to conform perfectly to my specific hand.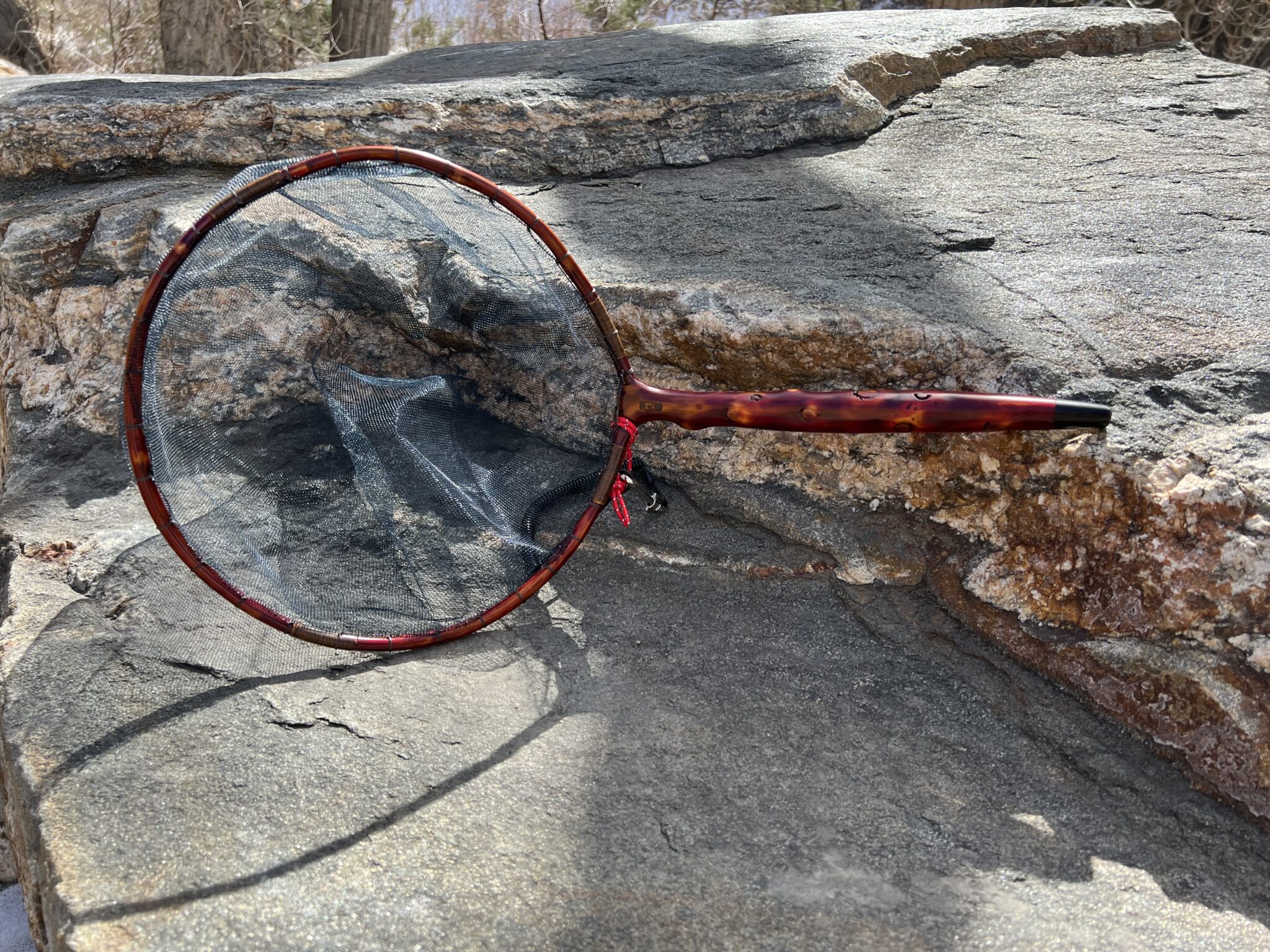 The holding the net feels like a handshake with a close friend.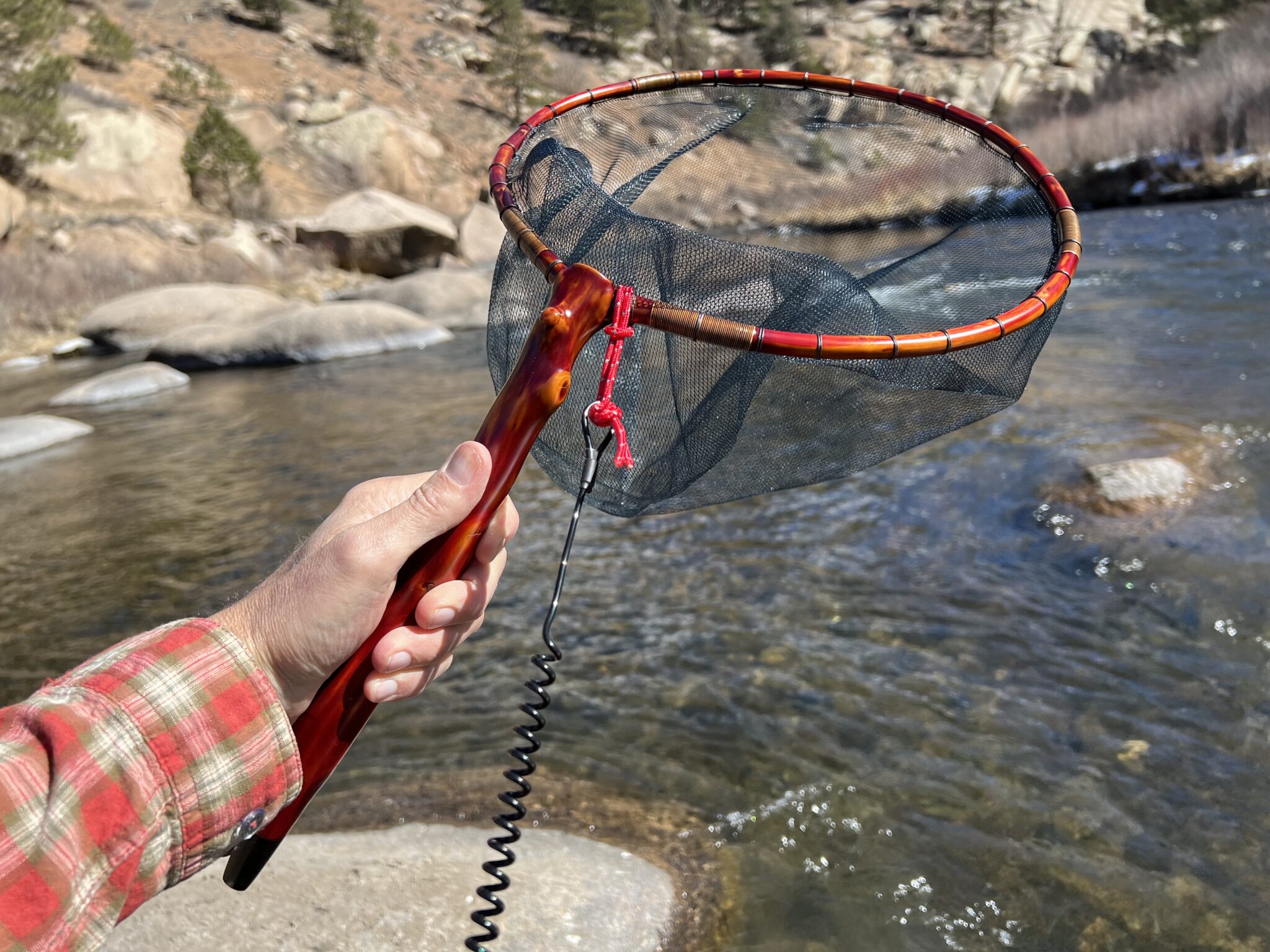 It's hard to imagine that somehow, an agent of nature completely oblivious to my existence just happened to have naturally spawned something if it were intentionally moulded to my left hand. And, even more incredible when you consider that the maker happened to be in the right place at the right time, had the eye to discover this particular branch, and recognized its potential!
My net is truly unique–the only one of its kind in the world. If I believed in such things, I might even say that, "the net chose me."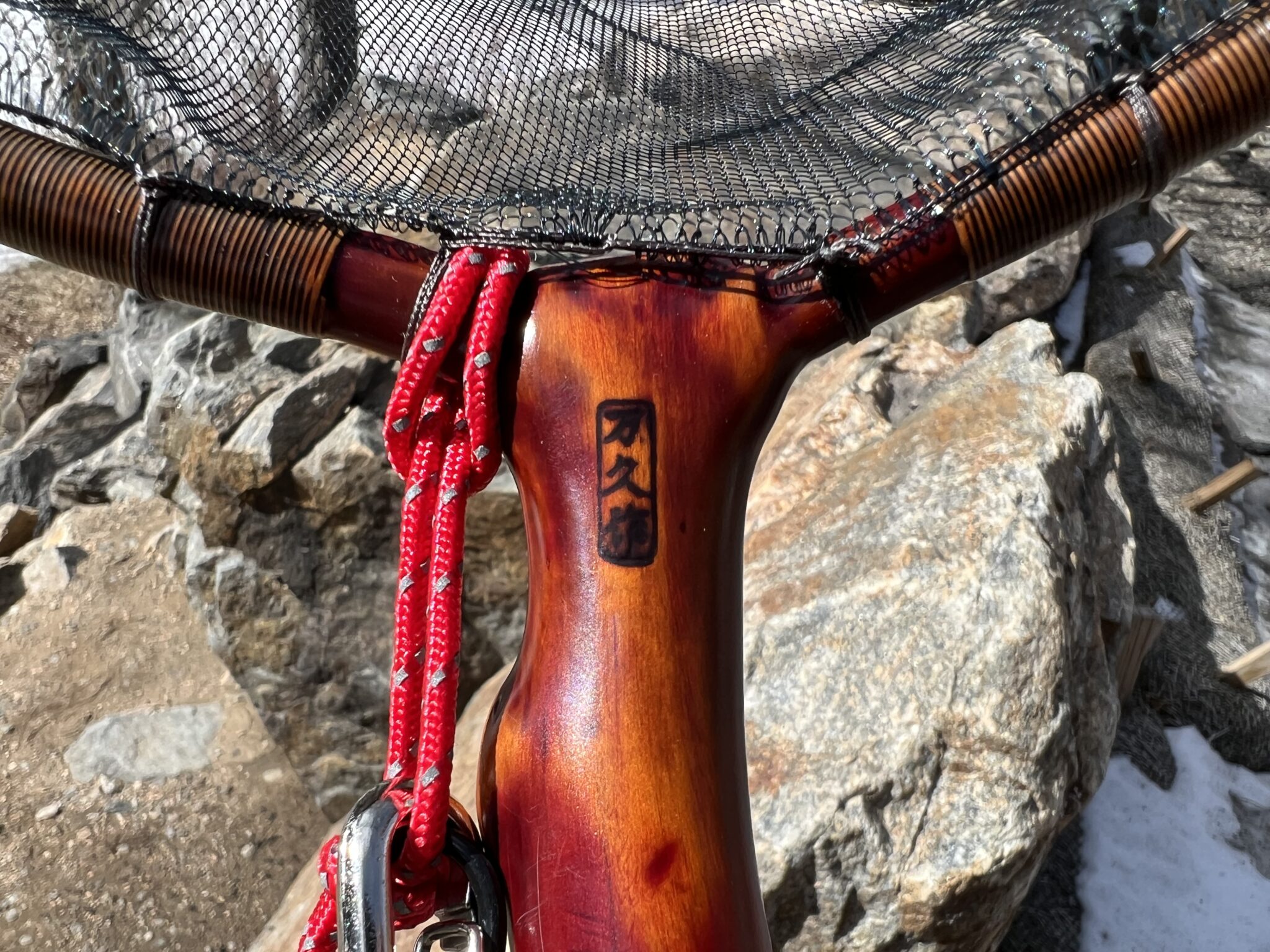 To protect my new heirloom-to-be, I added a net leash. I cannibalized an old Shimano one, removing the split ring so the metal wouldn't scratch the wood. I used a loop-to-loop connection with 4mm bright-red paracord that is easy to spot if lost and is reflective for night rescues.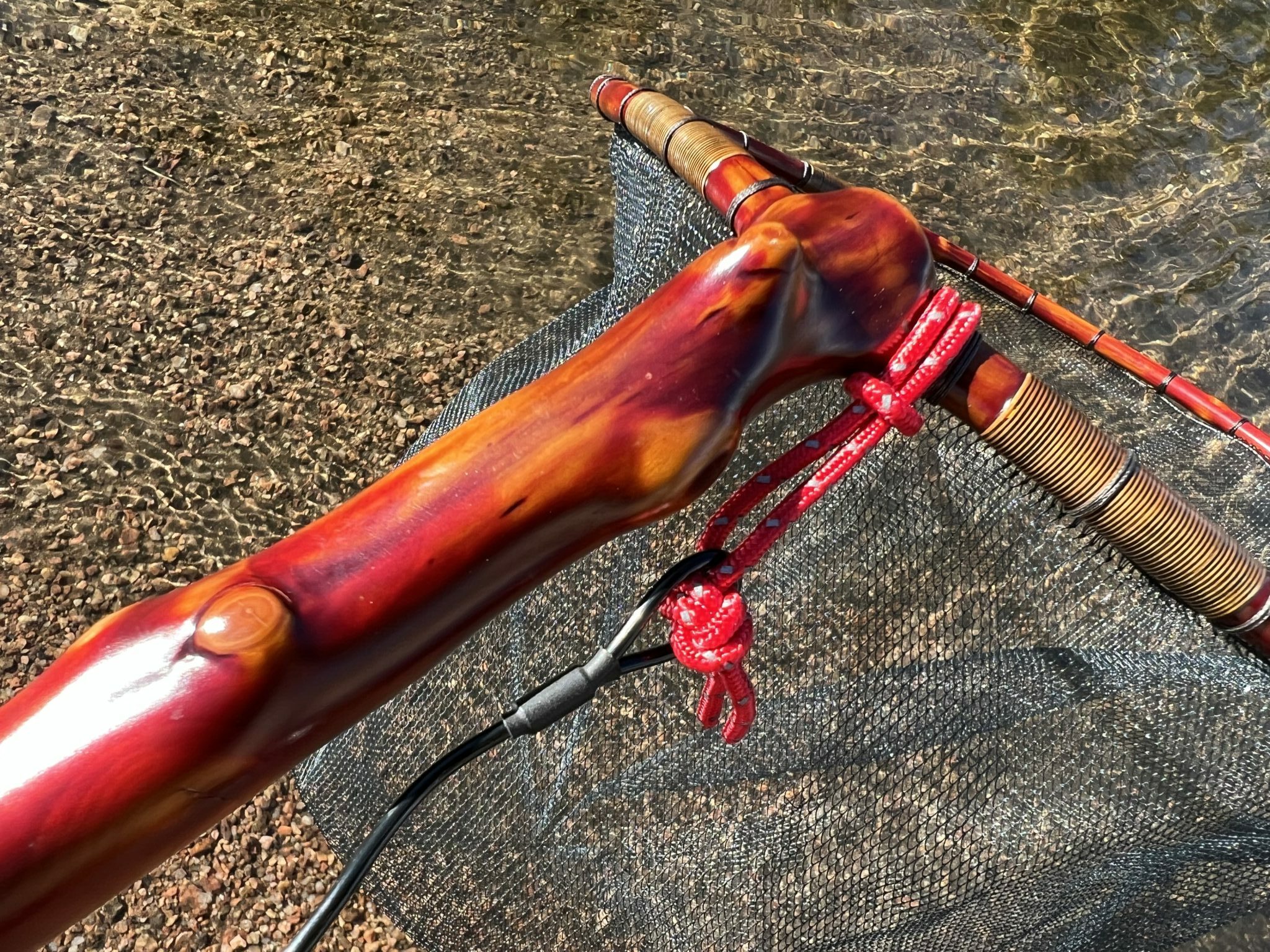 A brand new net holds the promise of great catches to come and tales to tell–an empty, yet apt companion to be filled with new adventures.
I'm utterly thrilled with my new net. It may have cost a pretty Yen, but it was well worth it. I've come to believe that a traditional, wooden tamo is a sort of signature of the tenkara angler–of their style, their ethos. And I now feel that I've gotten mine back. 🙂
Tell us about your
favorite "adventure catcher"