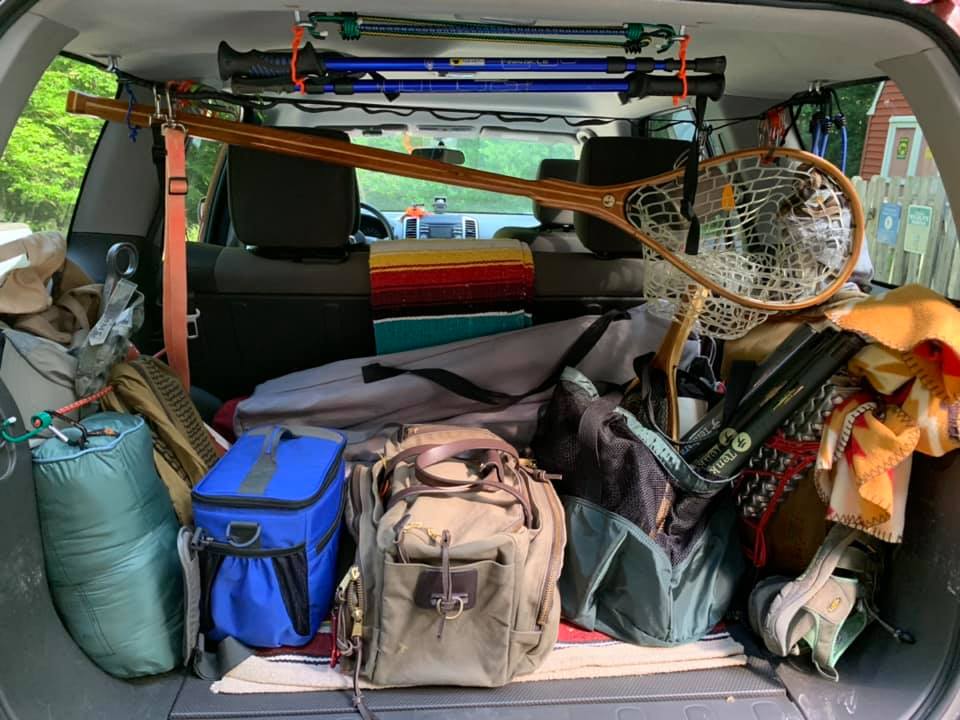 At least once or twice a week, I get a customer in the shop who is there to replace gear that was stolen out of their car while they were fishing. Last week, I had two people in one day. One of them not only lost over $2,000 in rods and reels, but something that was priceless and irreplaceable: a prized box of flies tied by his recently deceased father. Every time I listen to their stories, my heart goes out to them. But I'm also reminded that (in most cases) they were preventable.
I suppose it's easy to fall into the trap. I've done it myself. We lull ourselves into a false sense of security thinking that somehow the outdoors is exempt from the depravity of modern civilization and that the camaraderie among fellow fishers makes us somehow immune from it. But unfortunately, as our lakes and streams become more and more crowded, so does the likelihood of the dark side of human nature sneaking its way into the innocence of nature. It's an unfortunate zeitgeist, and one that we shouldn't ignore or think that "only happens to other people". That's exactly what every one of my victims-of-the week thought.
So, I thought I'd just write out a few reminders of how to protect your gear to bring it back to the forefront of our minds …
Simple tips to prevent Fishing Gear Theft
Bring only what you need. Don't store your entire rod and reel collection in your trunk. I've seen people who drive around with $5,000 worth of gear in their cars at all times. They might as well hang a sign on their window that says, "Free Retirement Fund Inside". Bring only what you need and will carry with you on the water. Maybe leave one spare rod in the trunk, but don't bring the entire fly shop with you "just in case". How often do you really end up using that extra stuff anyway?
Make the bait invisible. If you absolutely must leave gear in your car, at least cover it up with a blanket, hide it under the seats, or find some other way to keep it out of sight. Some SUVs have a built-in cover that rolls out to conceal the trunk's contents. Covering up the eye candy is a good line of first defense.
ALWAYS lock you doors. Even if you're fishing within sight of your car, lock up. Given that most fly fishing gear is expensive and compact, it only takes a few seconds to snatch hundreds of dollars worth–less time than it will take you to climb up out of the ravine to come to your gear's rescue. About 50% of the people I talk to who have had their gear stolen admitted they didn't lock their doors! Most thieves look for the easiest grabs possible. Don't make it easy for them. It only takes a split-second press of a button on a key fob to thwart an easy score.
Stop advertising. We all love our Simms and Sage stickers, but you might as well give potential thieves the GPS coordinates to the best booty. I'm not suggesting that you run out to the car right now and start scraping all the fishing stickers off your windows that you've collected over they years, but just be aware that they will make you a target. If your car has more fishing stickers plastered all over it than a Nascar has sponsor logos, at least follow tips 1-3 above.
What about car alarms?
When's the last time you heard a car alarm go off in the distance, instantly dropped whatever you were doing, and heroically ran to it to save the day? Exactly. Car alarms are pretty much useless to deter theft. Passersby are conditioned to ignore them these days. One time, a car alarm went off in a parking lot and I didn't even bat an eye. It might as well have been birds chirping. Later, I found out it was my own car. And thieves know this phenomenon. Even if the alarm goes off, by the time anyone does anything about it, the thief will probably already have your stuff listed on eBay. Bottom line: don't rely on your car alarm to protect your gear.
A better deterrent might be to place any gear you want to leave in your vehicle inside a large cardboard box and add a bright orange warning label that reads: "CAUTION! Live Venomous Snakes". Leave one of the flaps slightly open–about "snake width". 😉
Final Thoughts
Clearly, tip #1 is the best. After all, what isn't there can't be stolen. A good policy is to always assume there are thieves about and ask yourself if you feel comfortable walking away from your car or not. If not, what can you do to make it more inconspicuous? Did you cover up any gear? Did you park with your Orvis stickers facing away from the entrance to the parking lot? Did you lock your doors? And most importantly, is the snake warning label clearly visible through your back window?
Photo courtesy of Al Alborn
How do you protect your fly fishing gear from being stolen?
Please share your tips and tricks in the comments section below.