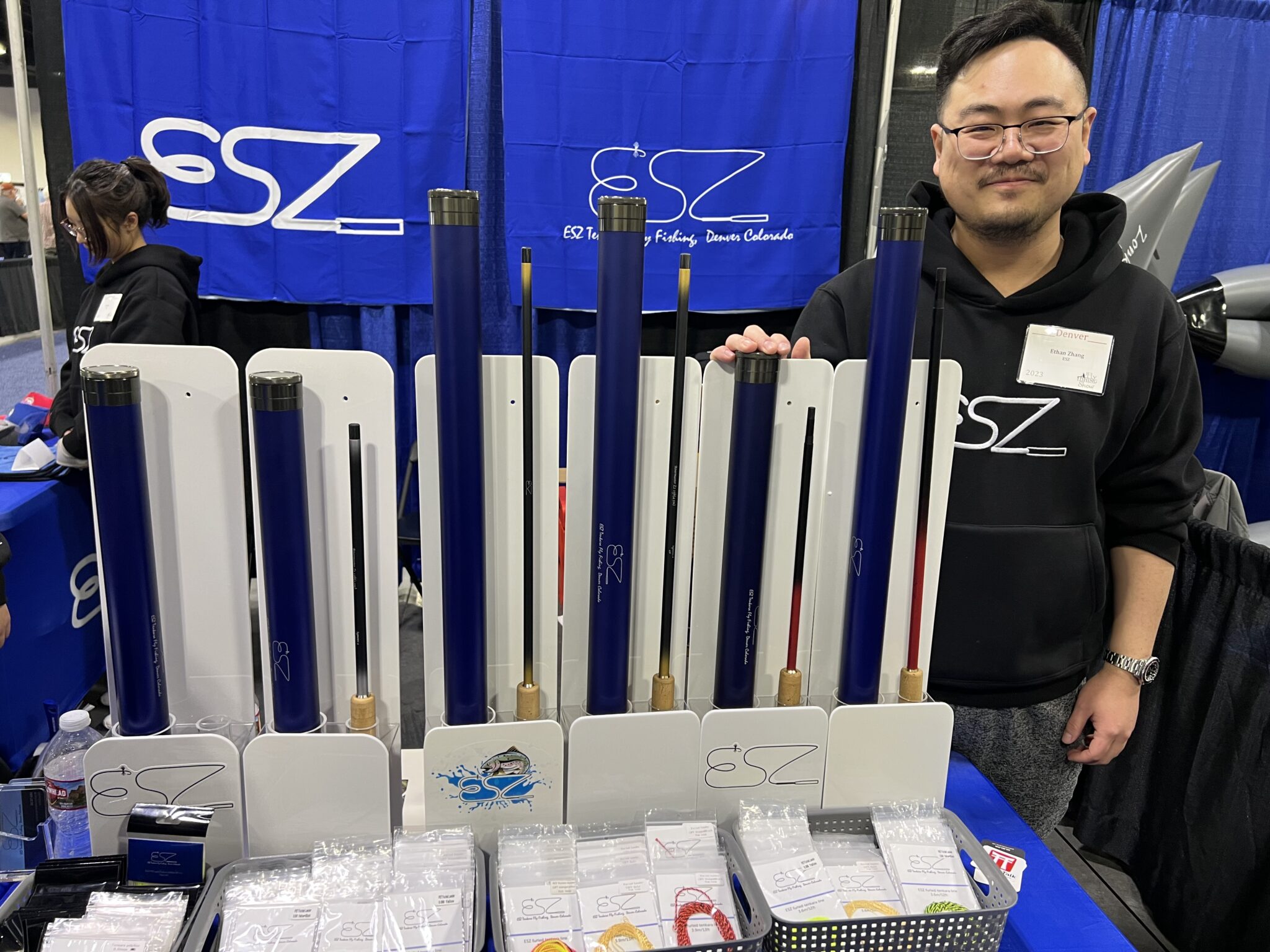 If you read my recap of the 2023 Denver Fly Fishing Show, you may recall that I discovered a company called ESZ. If you've never heard of them, don't worry. Neither had I! Naturally, I had to investigate. I ended up talking quite extensively with the owner Ziye Zhang (who goes by Ethan). It turns out that they literally launched a couple of weeks prior to the show!
The first thing I noticed about Ethan is his enthusiasm. When he talks tenkara, he instantly lights up and it's contagious. You can tell that when he explains the concepts behind his rods, he's talking with the savviness of a designer but with the passion of an avid tenkara angler.
Ethan was kind enough to offer me one of his rods to try out and I chose the Rivermaster Z1 (I've been on a short rod kick lately). I wiggled every rod in their lineup, but I felt drawn to the Z1.
Before leaving the booth, I got to spin their "wheel of fortune" and won a small line spool too!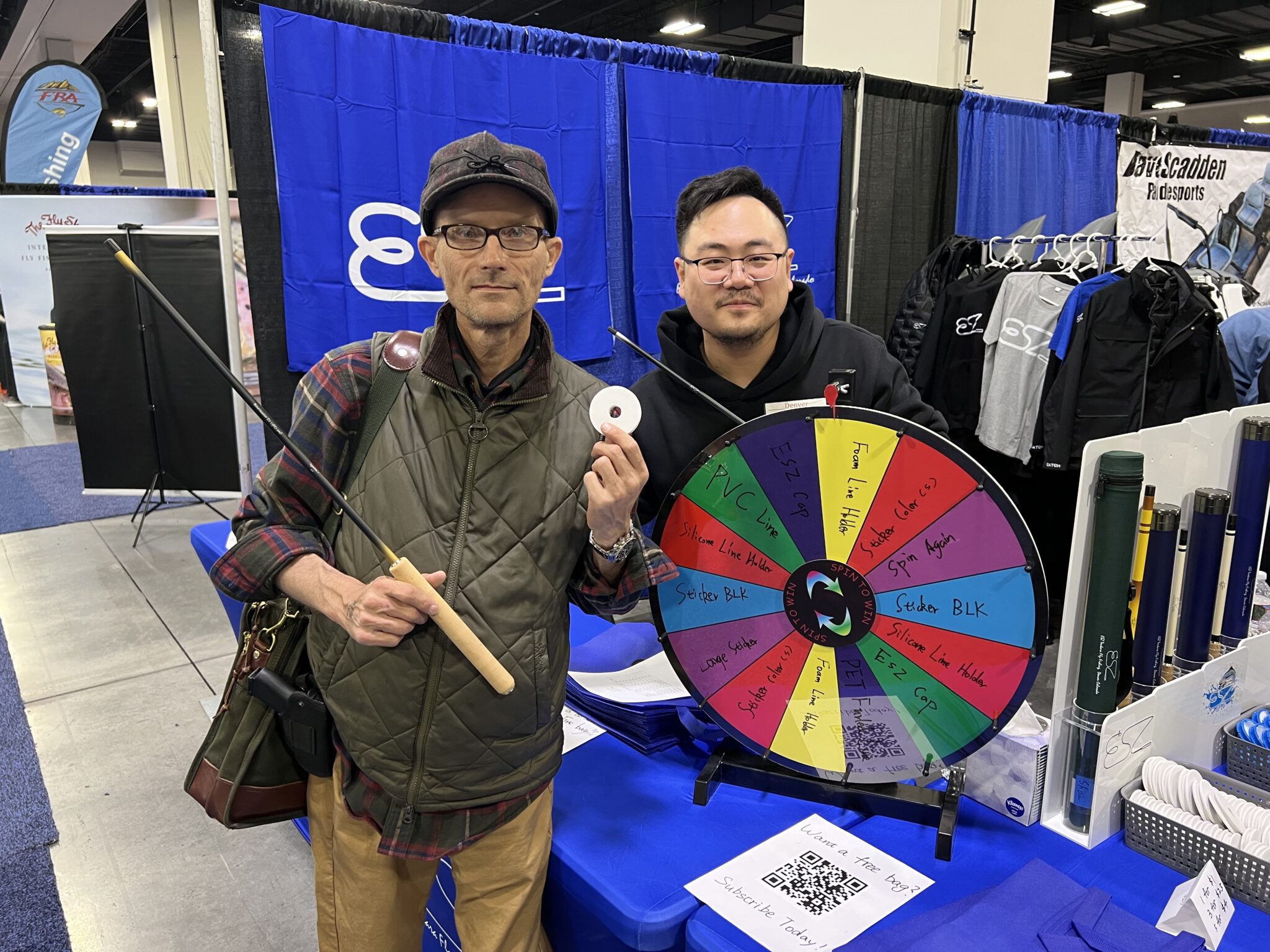 ESZ Rivermaster Z1 Tenkara Rod

Specs
Length: 10′ (3.04m)
Action: 6:4
Weight: 2.5 oz. (70.87g)
Grip Length: 8.66″ (22cm)
Grip Shape: Straight
Closed Length:  21.6″ (55cm)
Zoom? No
Highlights: Crisp action, light in the hand, well balanced, high modulus graphite, and good value. Suitable for both beginners and experienced tenkara anglers. A good choice for smaller streams.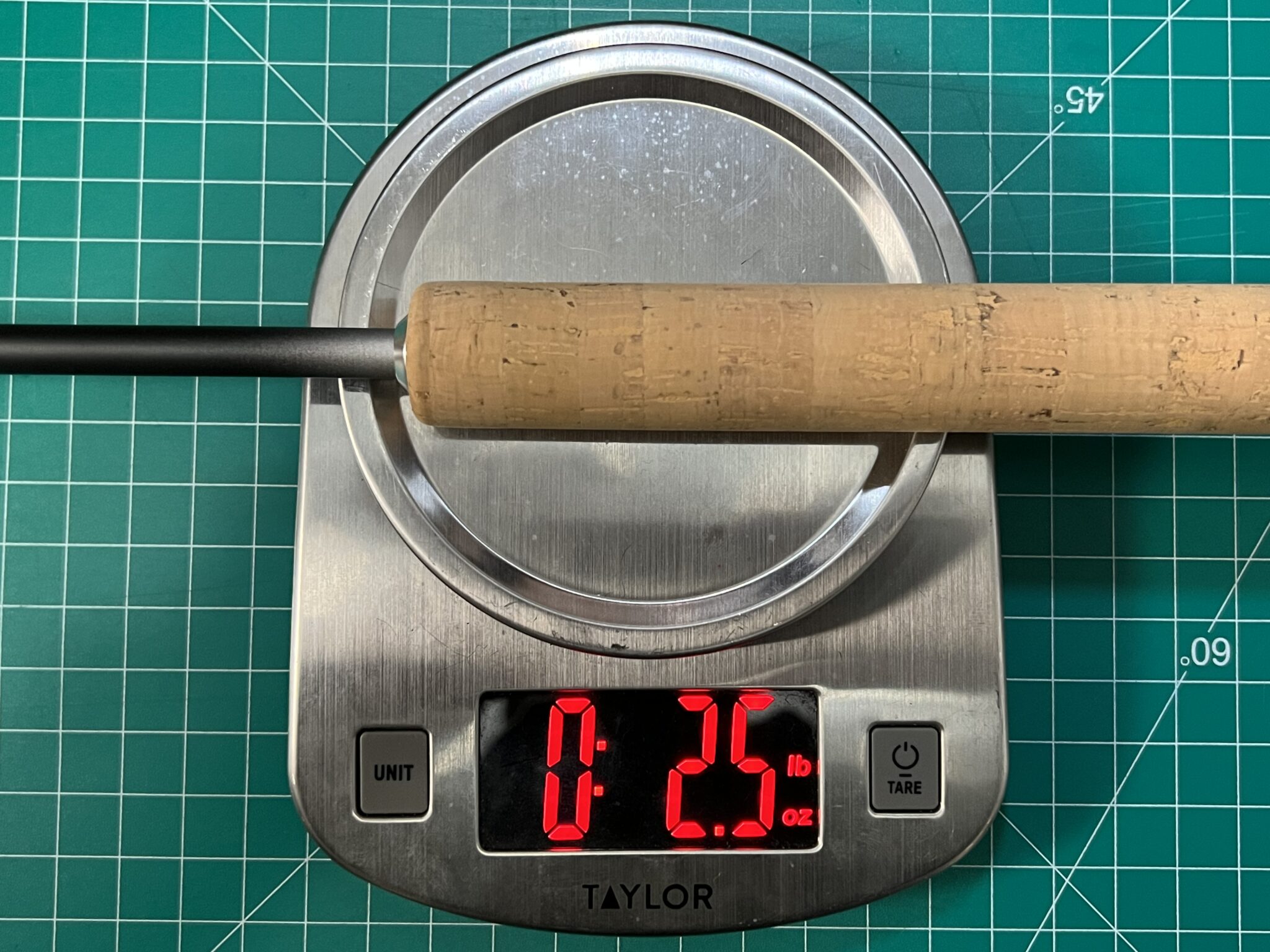 The very first thing I noticed about the rod was how thin the blank was. Often, this is a sign of higher modulus graphite which means lighter weight and stronger blank so I knew right away this wasn't a "me too" rod.
The markings indicate this is a "4:6" action. I challenged Ethan about this saying that it should be "6:4". But he insisted it's "4:6". There's obviously some kind of semantic confusion going on here. At any rate, trust me … it's a 6:4.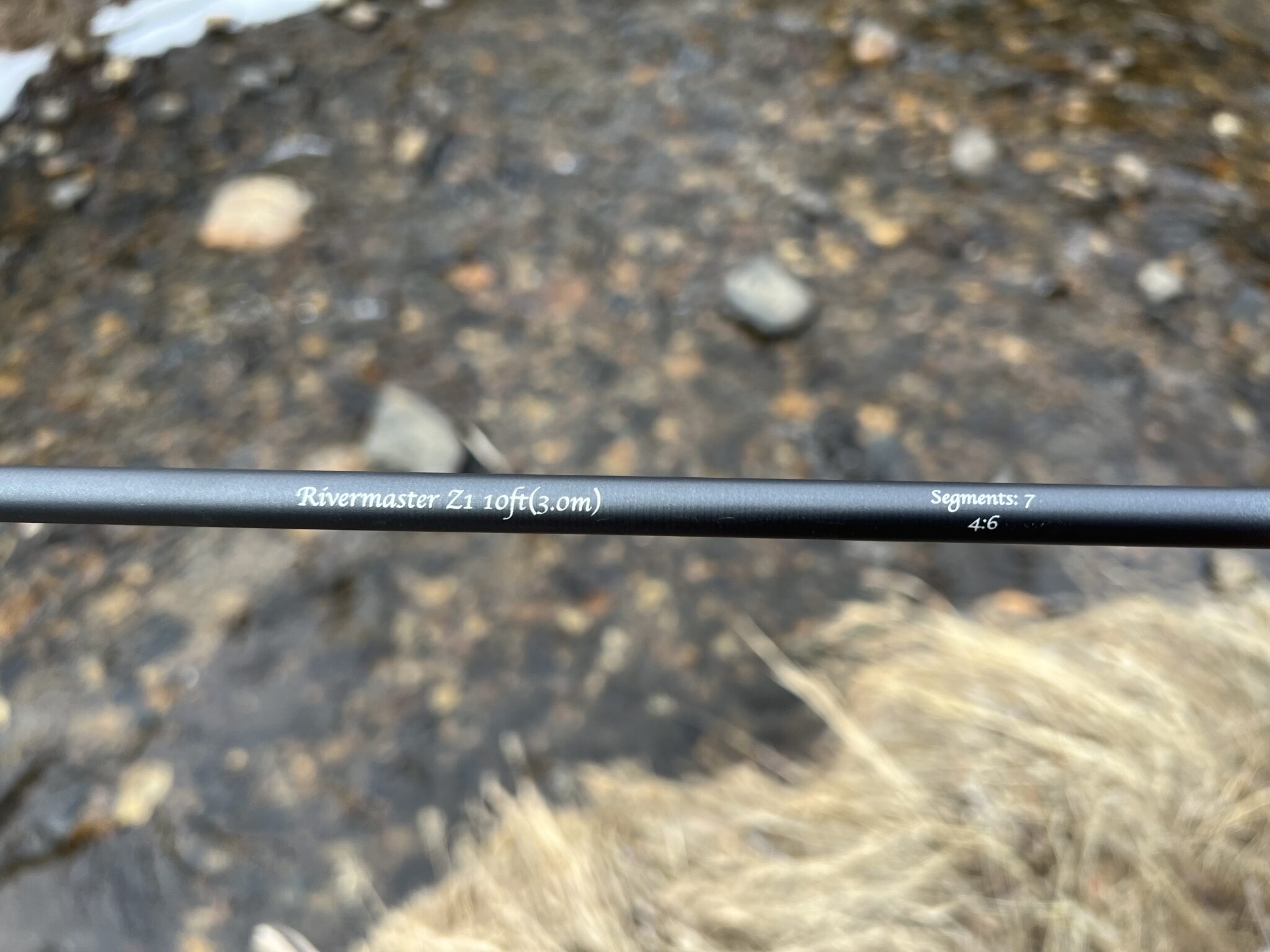 Hardware & Aesthetics
Aesthetically, the Rivermaster is spartan–the blank is a dark grey matte with lighter grey "spraypaint" accents. It has a certain humble beauty to it–very clean and sleek.
All around, the hardware is pretty standard, but well executed. A nice touch is that the end cap holds a spare rod plug similar to the Tenkara USA Sato & Rhodo.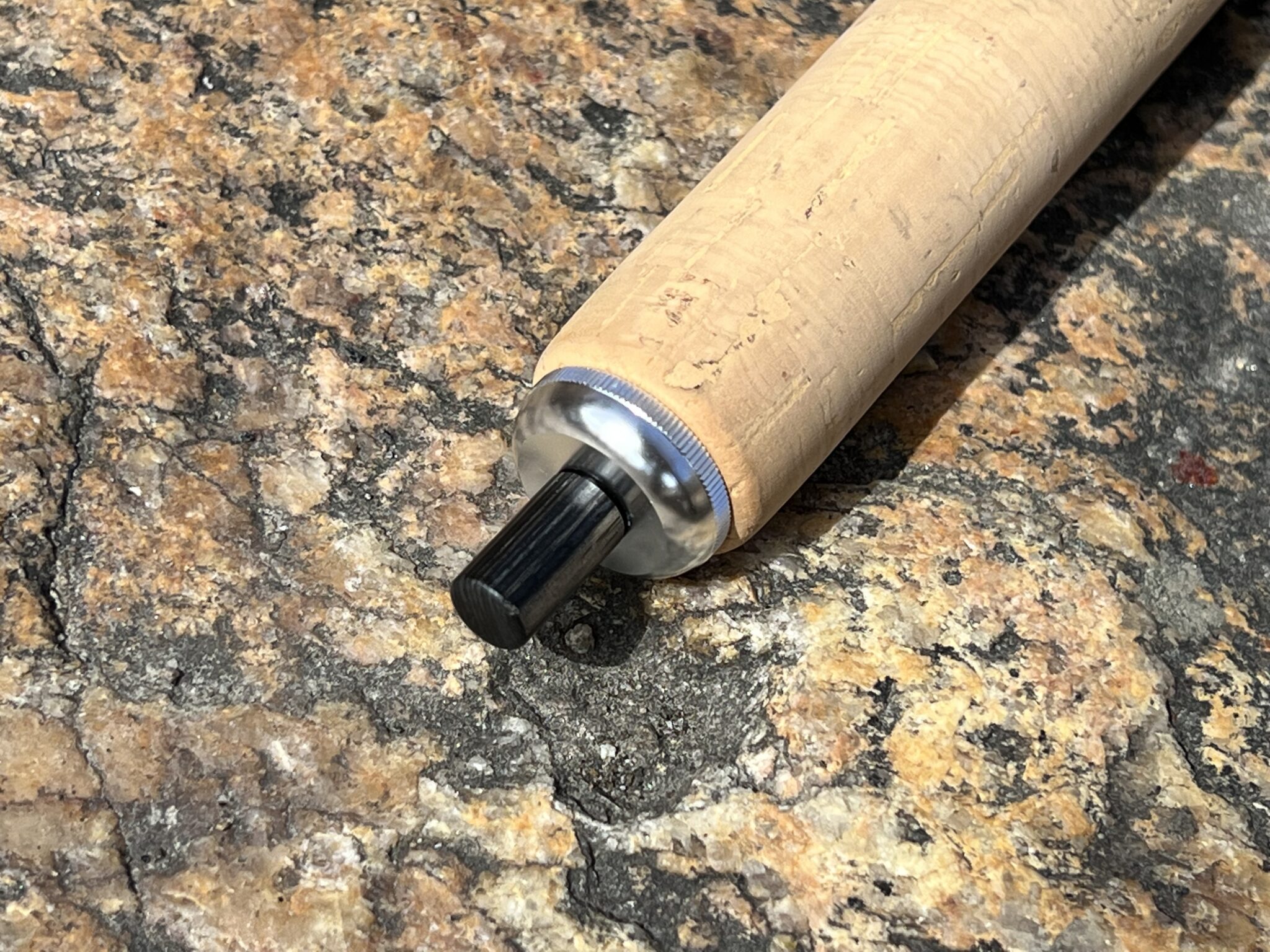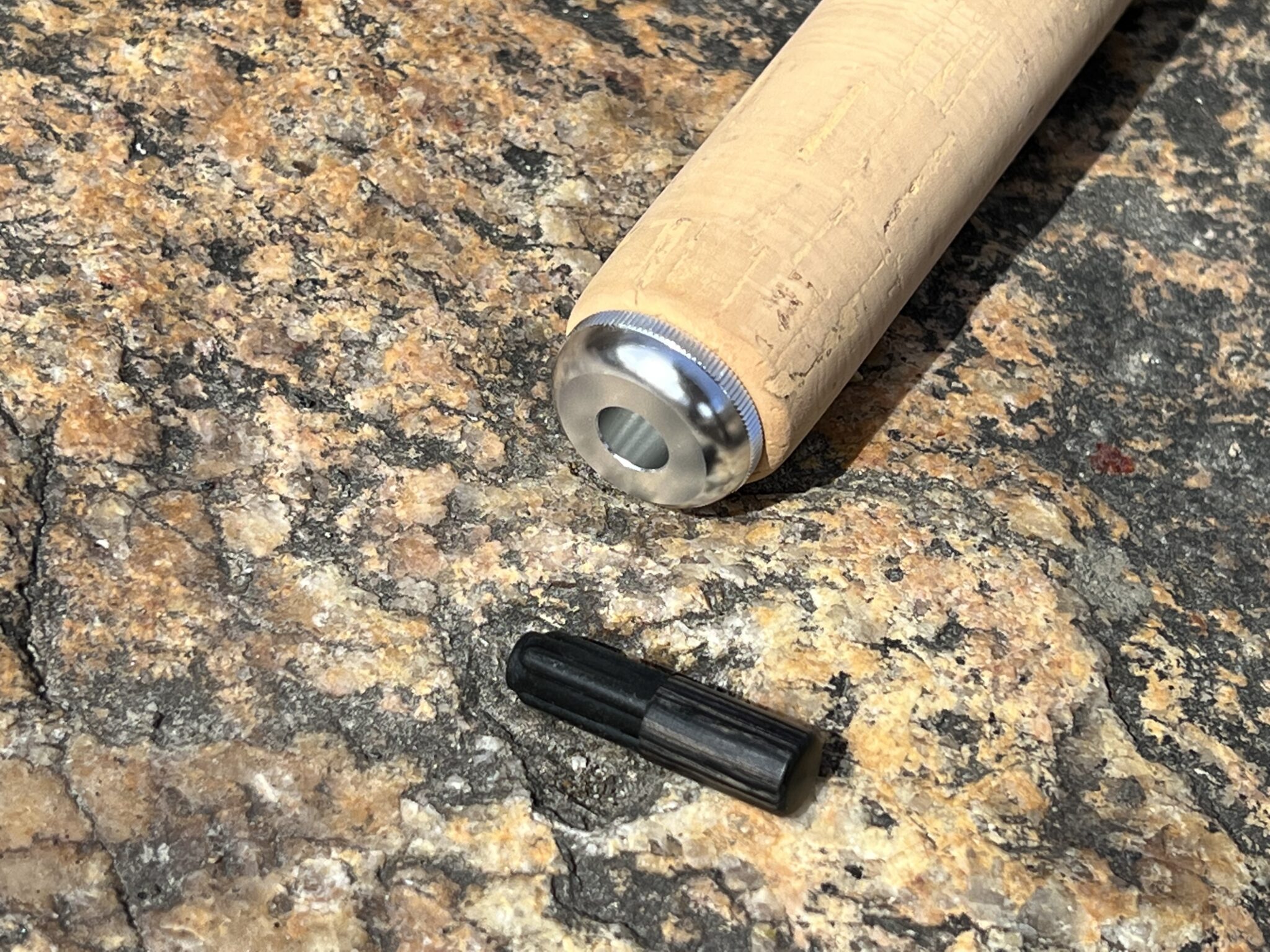 The lilian is attached with a swivel. The old argument for this is that it prevents line twist; however, I've never seen any evidence at all that it actually does (I've certainly never seen it work on any rod I've fished with a swivel).
In fact, I've heard that they can contribute to tip breakage. So if there were one thing I'd change on this rod, it would be to get rid of the swivel tip and just have the lilian connect directly to the rod.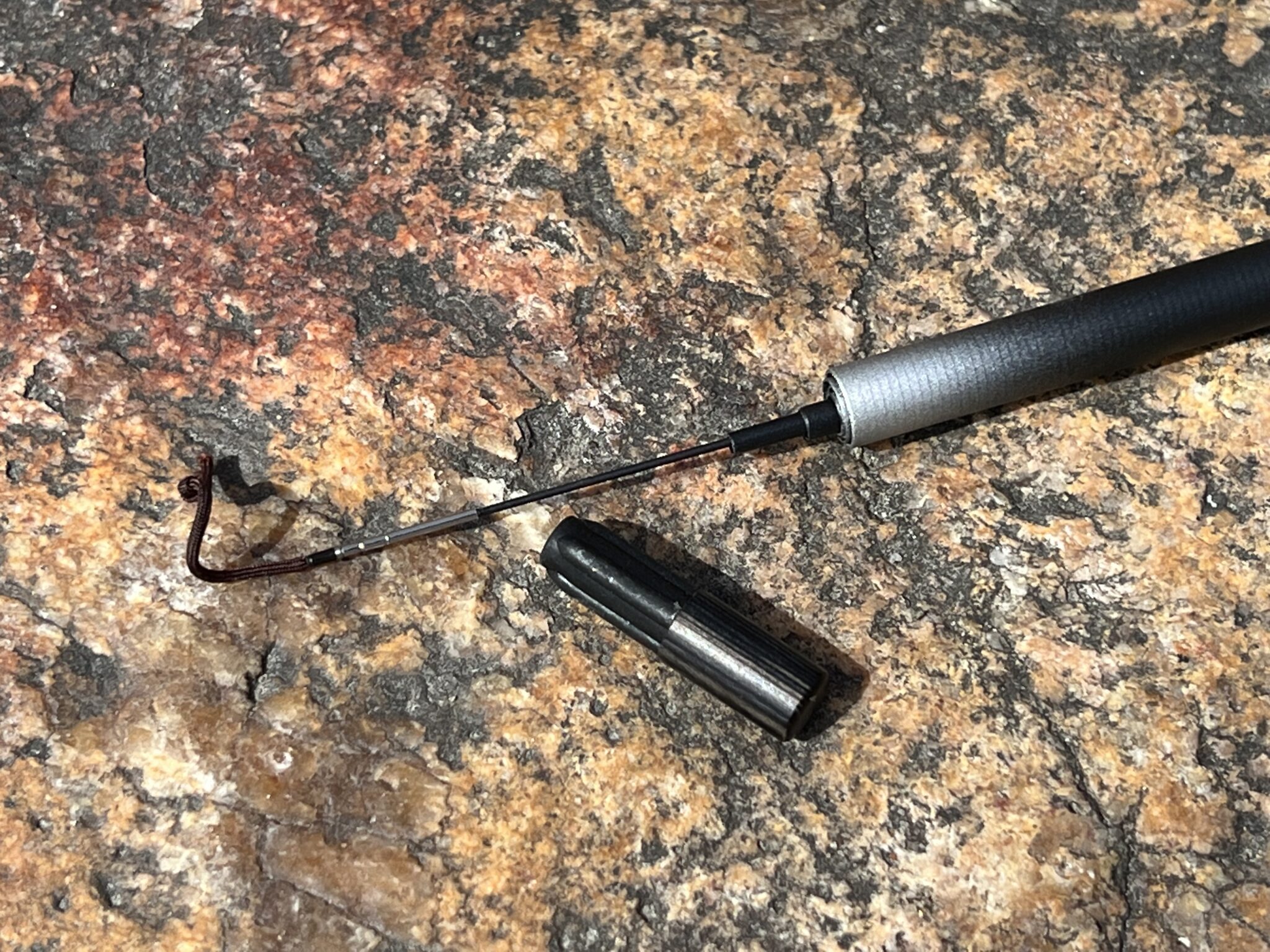 The handle is finished off with a nice aluminum winding check.

It's worth noting that I was impressed with the quality of the grip's cork. It's very smooth with little filler and very tactilely comfortable. It rivals some of my more expensive western fly rods (plus, it's nice to see some cork-handled tenkara rods in a foam-handled world).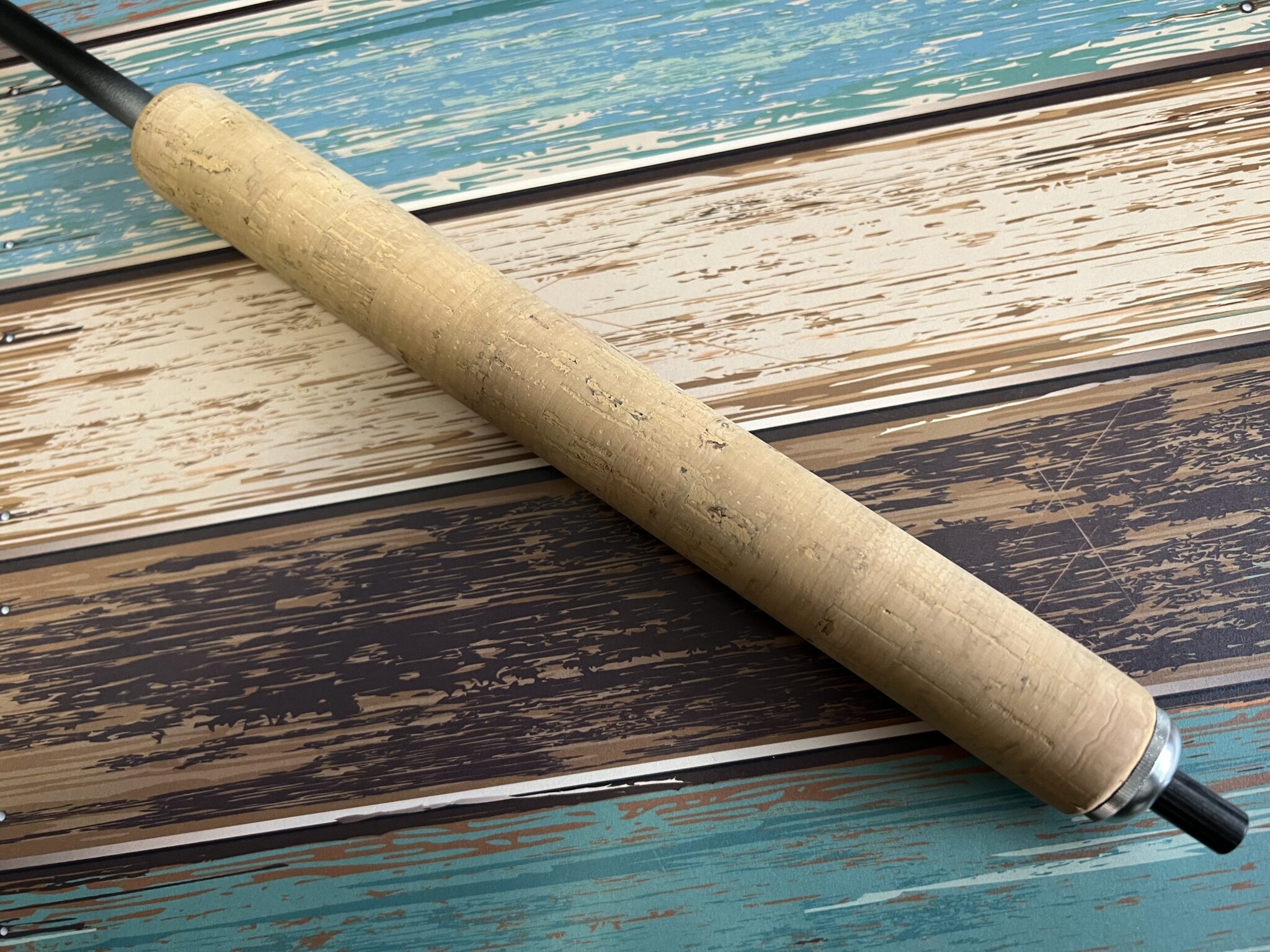 For some, the grip may be smaller than what they're used to. At 8.6″, it's the shortest grip I own (with the exception of my old pine-handled Tenkara USA Ebisu). I have small hands so for me, the length is perfect. It's completely straight with no contours, but it works for this rod. When I fished it, I was completely unconscious of the grip, which is exactly what I look for. If I'm distracted by the handle being uncomfortable, I know I won't fish well.
If you don't like straight grips, you could always customize it to give it some shape. But I actually like the grip and will fish it as is.
Action
Whether you want to call it a "4:6" or a "6:4, I call it "pleasant". The Rivermaster is just a pleasure to cast.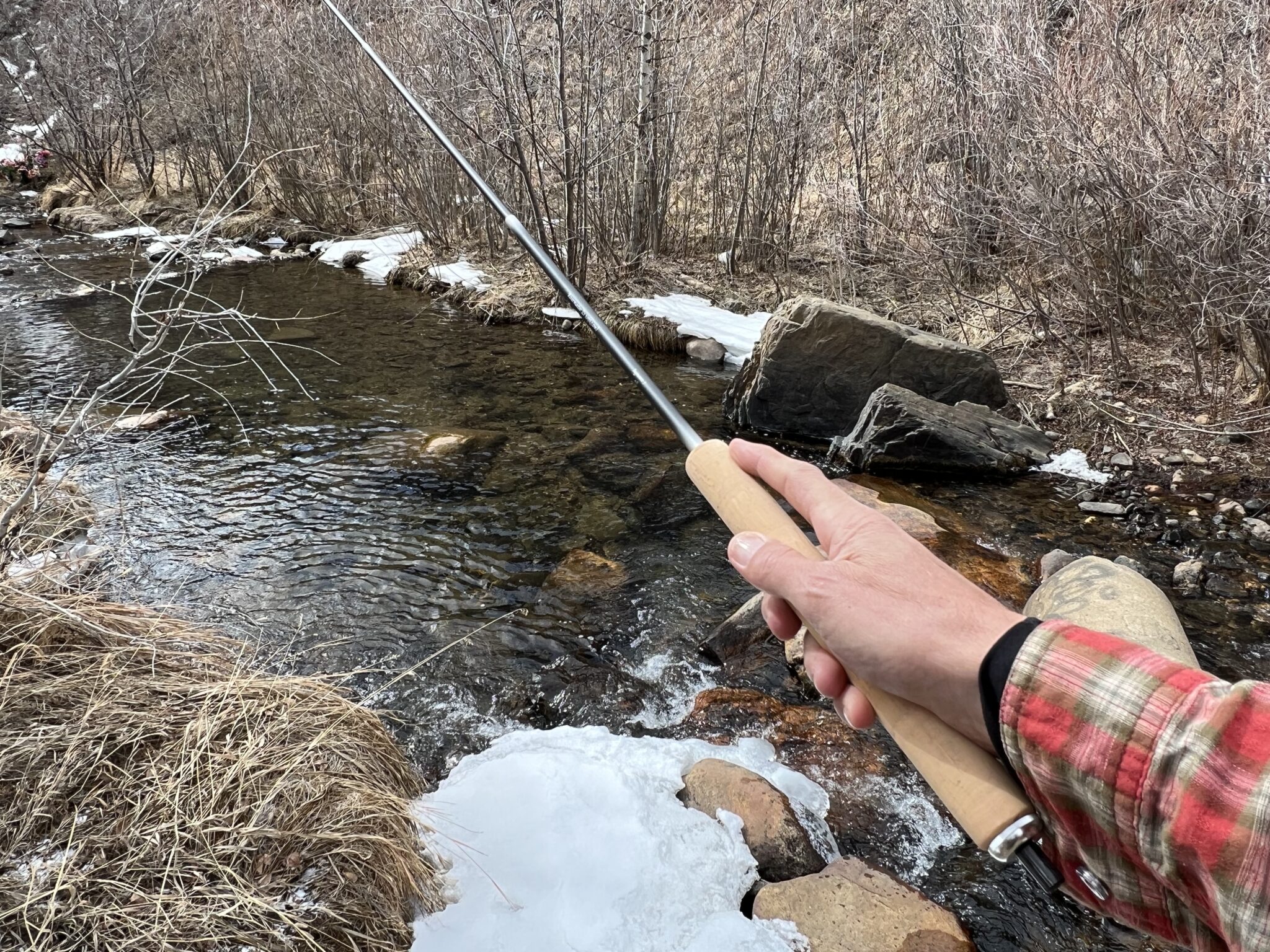 Immediately, you'll notice is how light in the hand it feels (another key characteristic I look for). Tip heaviness is a dealbreaker for me and the Rivermaster is not tip heavy at all. I attribute this (in part) to the higher quality graphite.
It's surprisingly crisp and responsive for a rod at this price point. The tip loads easily and has what I would call a medium-fast recovery. So it's slightly slower than some comparable rods, but because of the backbone, it's still snappy enough to execute bow and arrow casts in tight quarters or make short, quick, surgical casts–exactly what I want in a small stream rod.
Ethan told me that with his rods, he's focusing on beginners, but I would definitely not pigeonhole this as a beginner rod. I think even highly experienced tenkara anglers would agree that these rods are just as capable in the hands of an expert as they are in the hands of a novice. As evidence, read Tom Davis' review of the longer ESZ Rivermaster Z2.
Yes, the tip is a little softer to make the rod easier to cast, but you can really feel the reserve power of the backbone kick in when you push the rod to its limits.
I fished a Tenkara USA #3.5 level line with it and was able to perform all the different casts and presentations I usually do with my other small stream rods. It performed all of them swimmingly. 🙂
I haven't tried it yet, but I suspect this would also be a great rod for fry flies.
I believe part of the reason for the Rivermaster's lightness and balance is something Ethan told me at the show. One of his design principles is to reduce the number of segments in his rods to make them lighter. He has some other unique design tricks to reduce weight and improve accuracy that he's incorporated but they're top secret. Whatever they are, they work!
The first thing you think of when you hold the Rivermaster Z1 in your hand is, "I can't wait to get a fish on this" and that tells me straight off that it's a good rod.
What's Included
The Rivermaster comes with a blue aluminum rod tube and sack with the company's logo.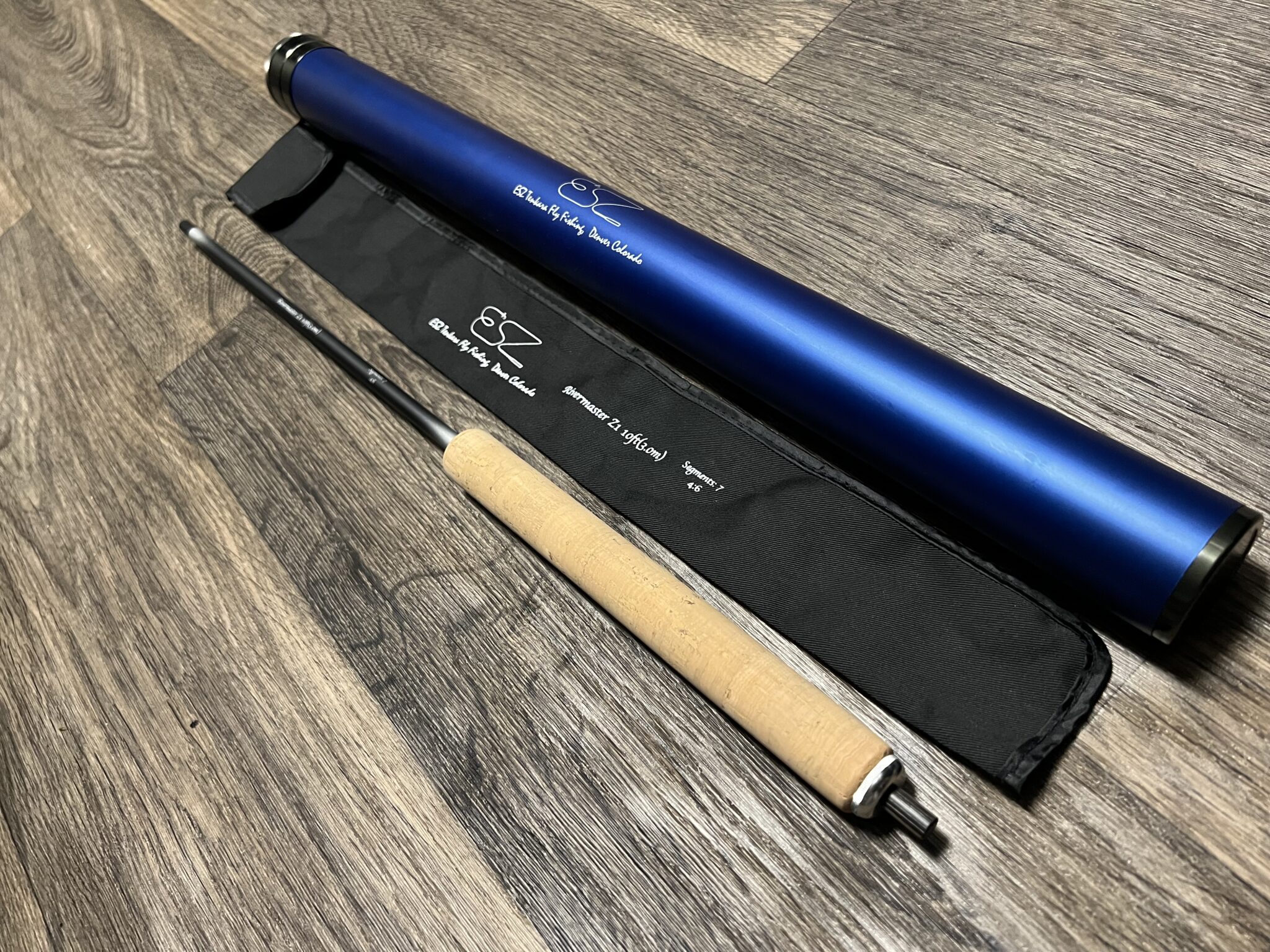 Closing Thoughts
Ethan is a great guy and I believe in what he's doing because it's obvious he does. Coincidentally, he happens to live in my old hometown of Parker, CO so we agreed to fish together sometime and I'm hoping to try out some of his other models on the water (there were a couple others I was eyeing).
It's nice to see someone producing new non-zoom rods in a zoom-rod obsessed tenkaraverse (and, real cork grips to boot). Given the combination of Ethan's technical knowledge, tenkara experience, and unbridled passion for the sport, I'm excited to see what ESZ will have accompliashed by the time I see them at next year's show.
As I predicted in my recap, I think ESZ is a name you'll be hearing more and more of in the near future.
To learn more about the Rivermaster Z1 and ESZ's other models, visit the ESZ website.