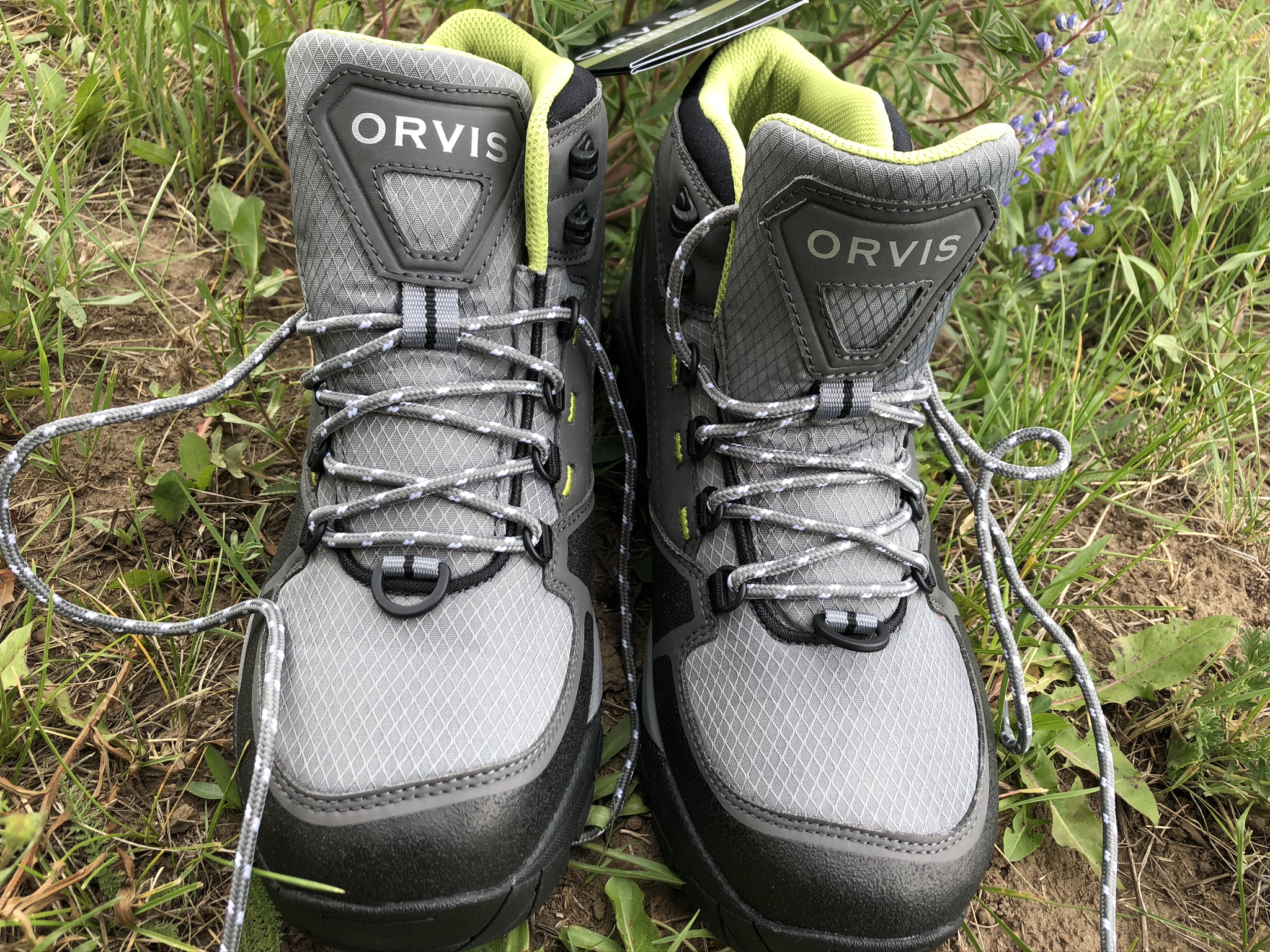 I've been an advocate of felt wading boots for years because I don't believe the whole theory about felt transmitting invasive species and most rubber-soled boots just don't have a good grip in the water. But I recently got a pair of Orvis Ultralight wading boots and think they've made me reconsider. The problem with felt is that it's great in the water, but terrible on land. In places like Cheeseman Canyon where you're climbing up and down steep terrain just to get to the next spot, felt is pretty much useless (and dangerous). Once you get in the water, you're fine. But if you're doing a long hike or some tricky footwork, felt is not your friend. Since my Simms felt boots are about 15 years old and pretty much on their last leg, I decided to give these new Orvis boots a try.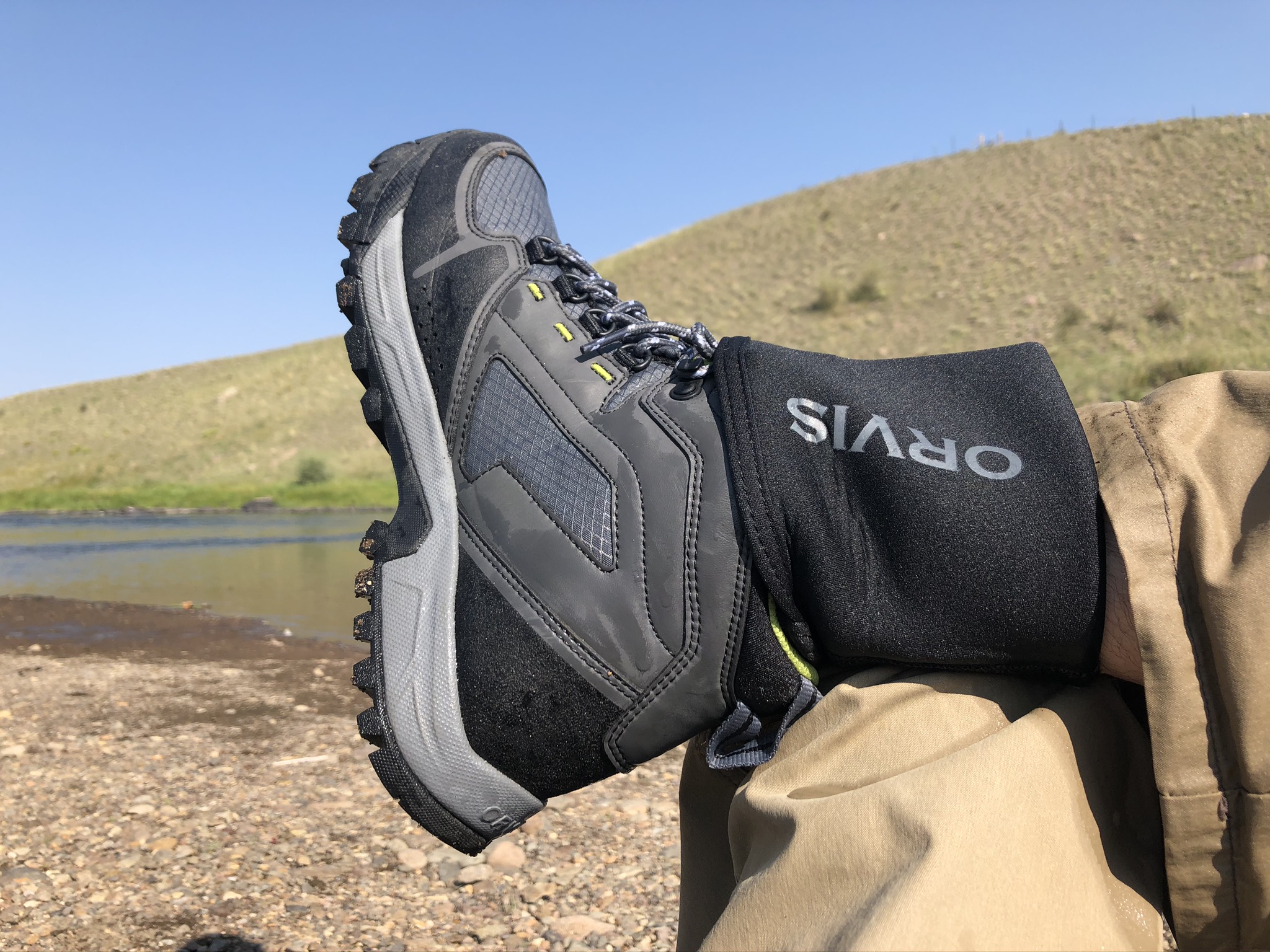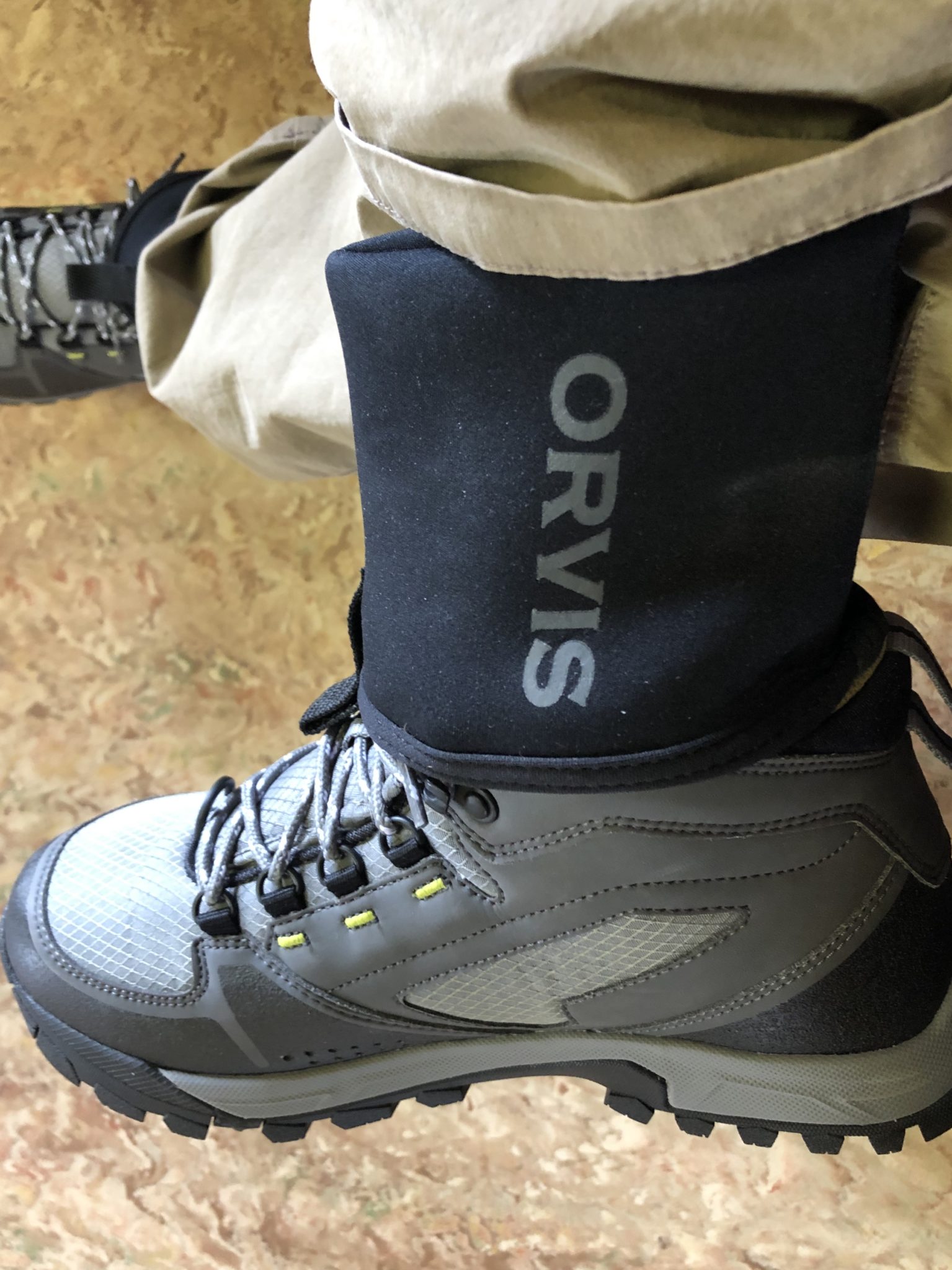 Comfort & Fit
In general, I don't like high-cut boots for hiking or wading. I'd rather have agility rather than "ankle support", so these boots seemed like a choice. I was advised to go a size up and I'm glad I did. They're a little big for wet wading with neoprene socks, but you can just cinch the laces a little tighter to compensate. But it gives you a little more room when wearing waders with thicker socks in cold water or weather. So a size 10 was what I went with (I normally wear a size 9).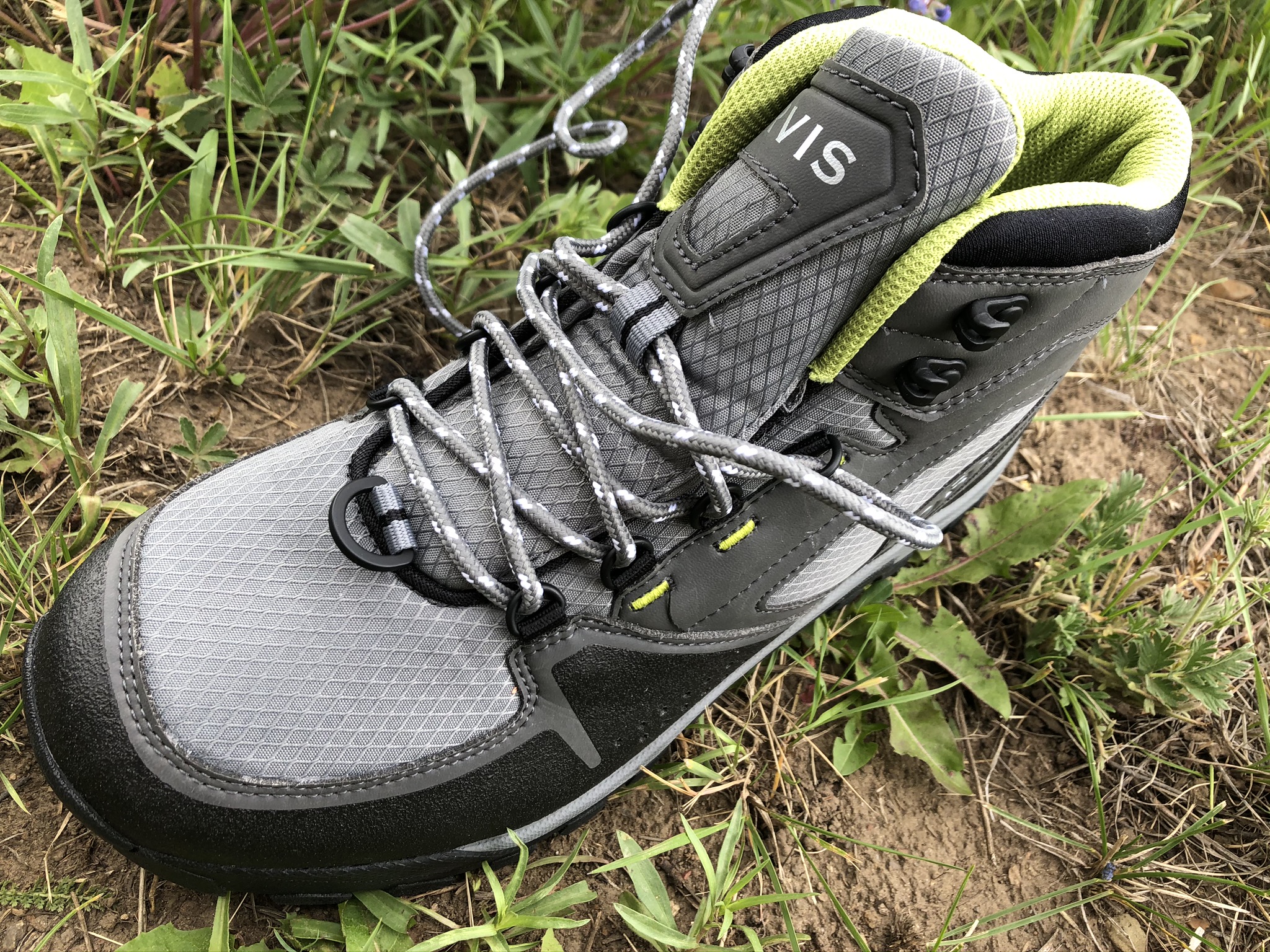 Overall, the comfort level is lightyears beyond my old Simms boots which now feel like clunky ski boots to me. The tongue and inside walls are well padded and the footbed is well cushioned. The toe box flexes easily giving you a more natural feel. It's like wearing your favorite pair of hiking shoes.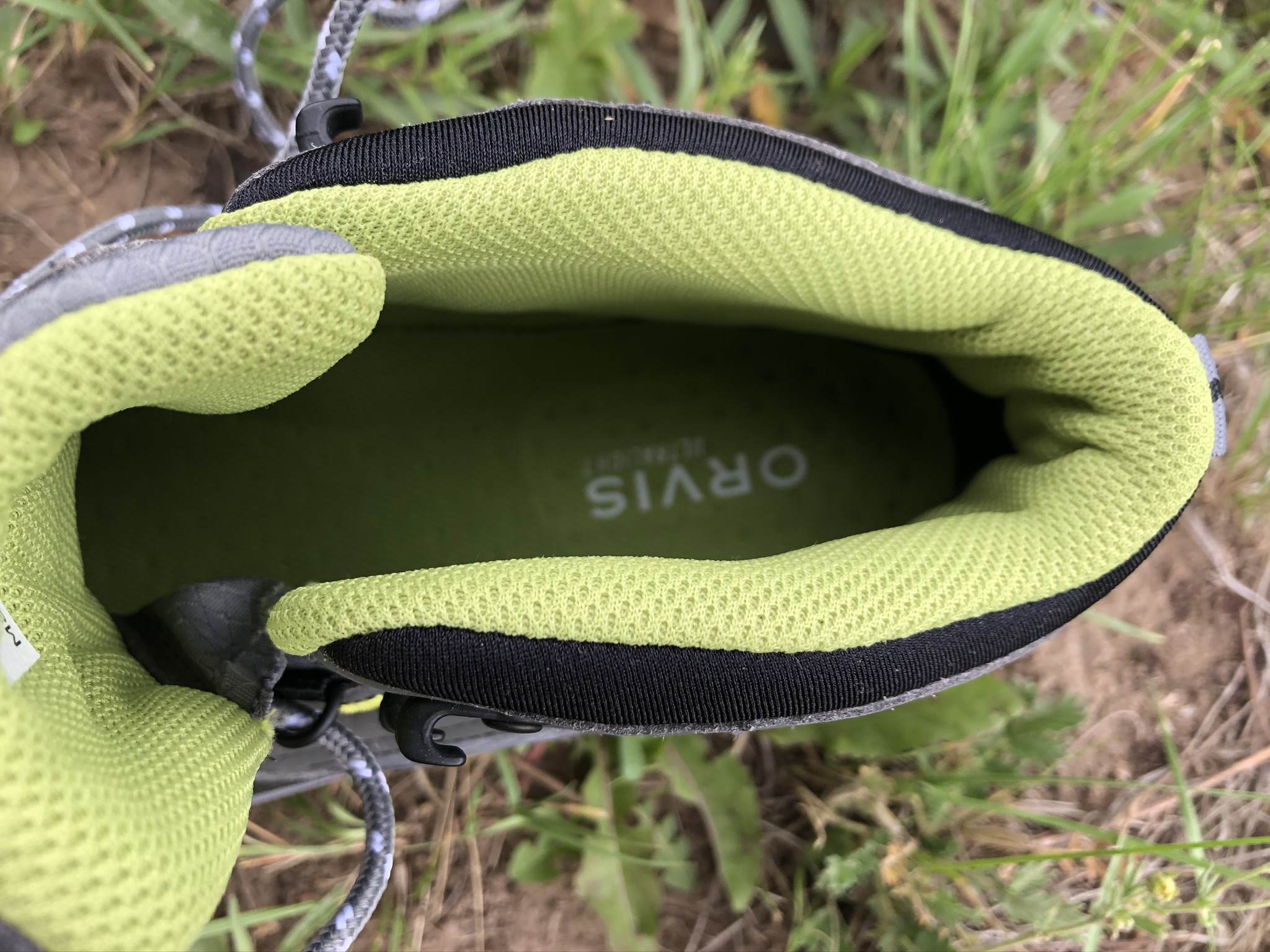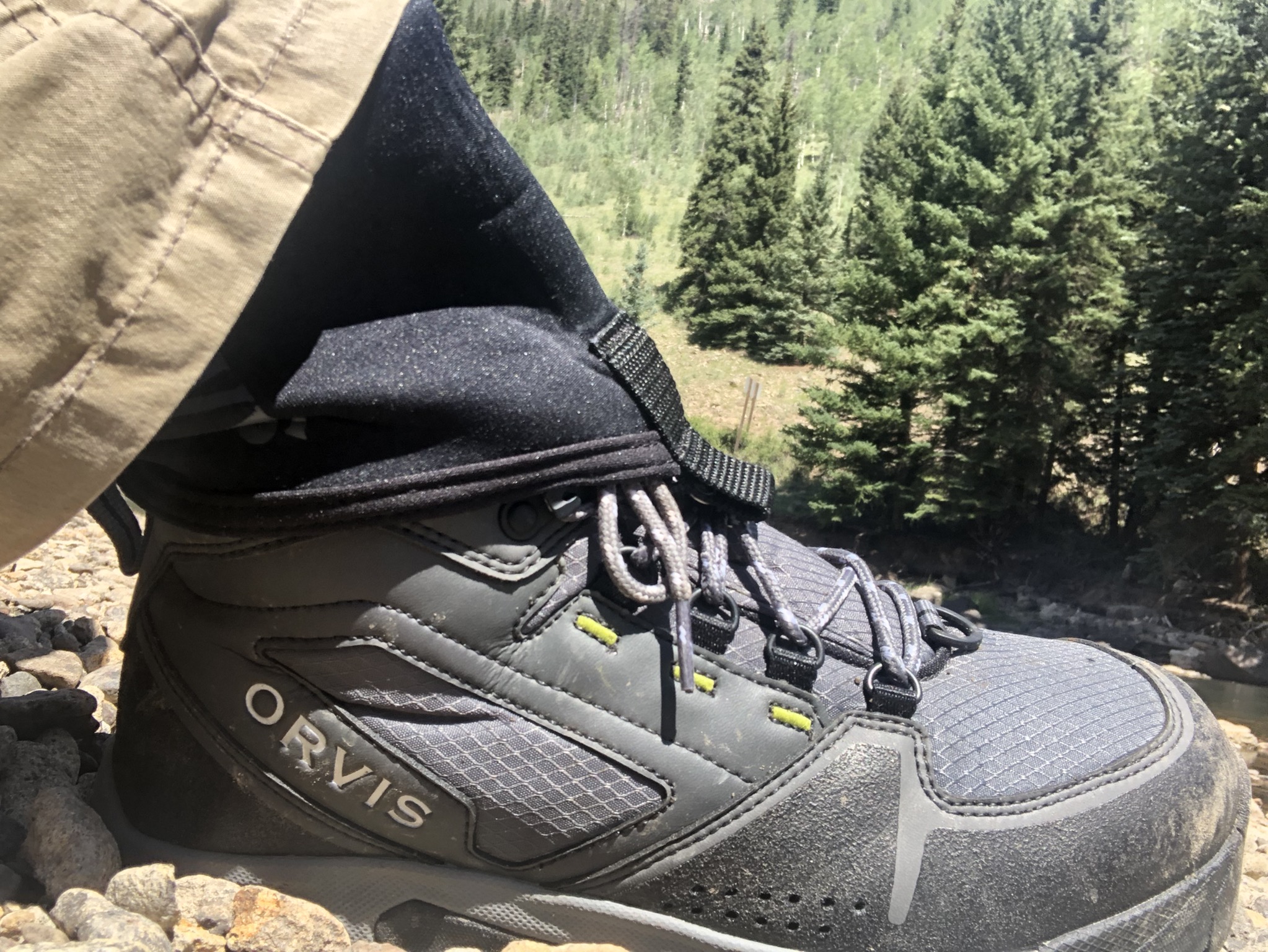 Traction
I bought these boots mostly because I was sick of sliding down ravines in my felt boots but frankly, I was surprised at how well the gripped in the water. They feature a Vibram sole with a special formulation to provide traction when wet and I immediately learned that technology has come a log way since the last time I tried rubber-soled boots. I had full command both on the trail AND in the water and that was refreshing!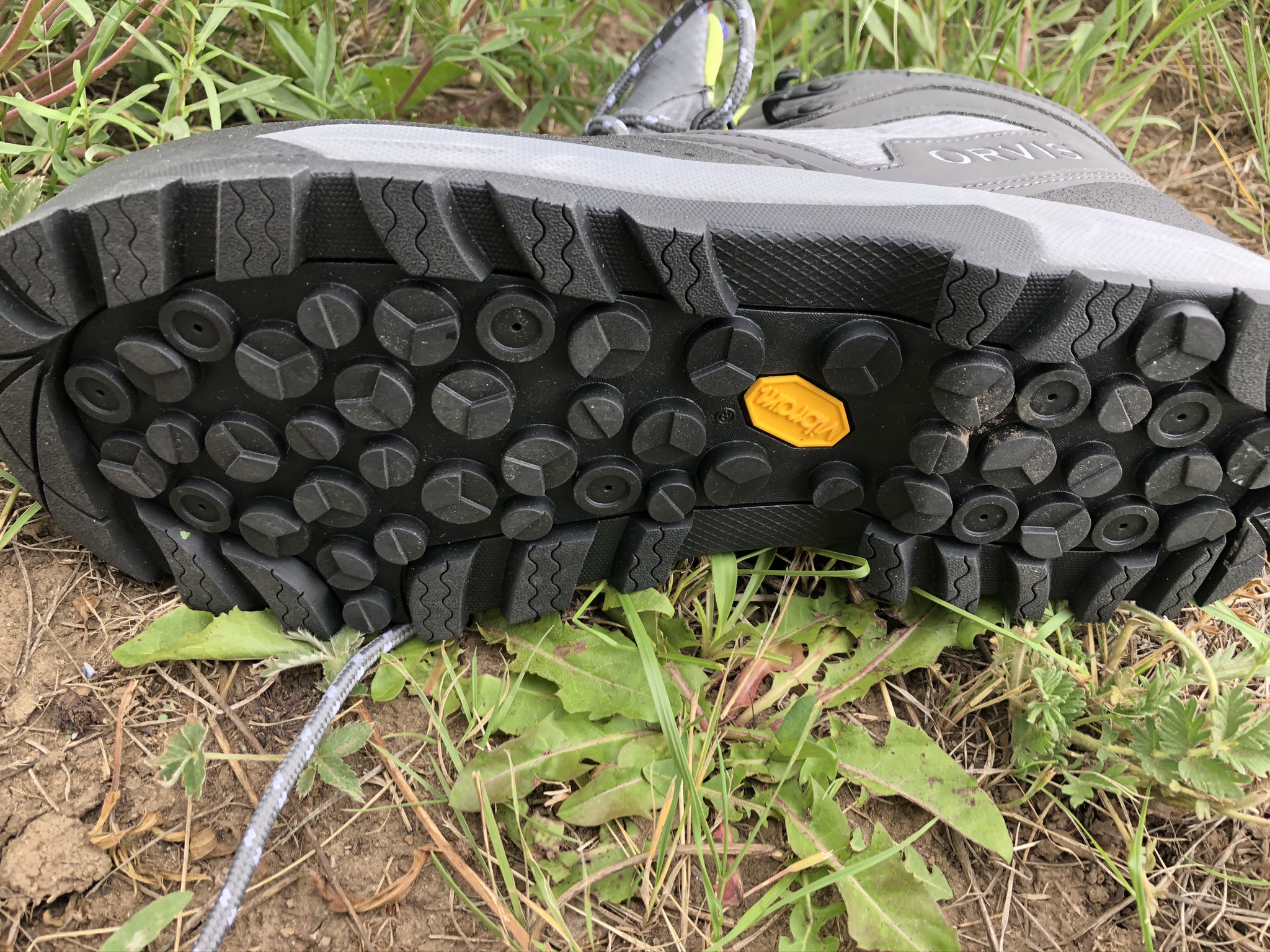 The soles have pre-drilled holes to accommodate screw-in studs but I've never been a fan of studs. To me, they make too much noise in the water and announce your presence. I prefer to be stealthy. But a lot of people like them. Everyone has their preferences. For Me, the Vibram sole is just fine for the substrates of the places I fish.
Accoutrements
The Orvis Ultralight Wading boots have a lot of cool features, including a D-ring to connect your gaiter hook …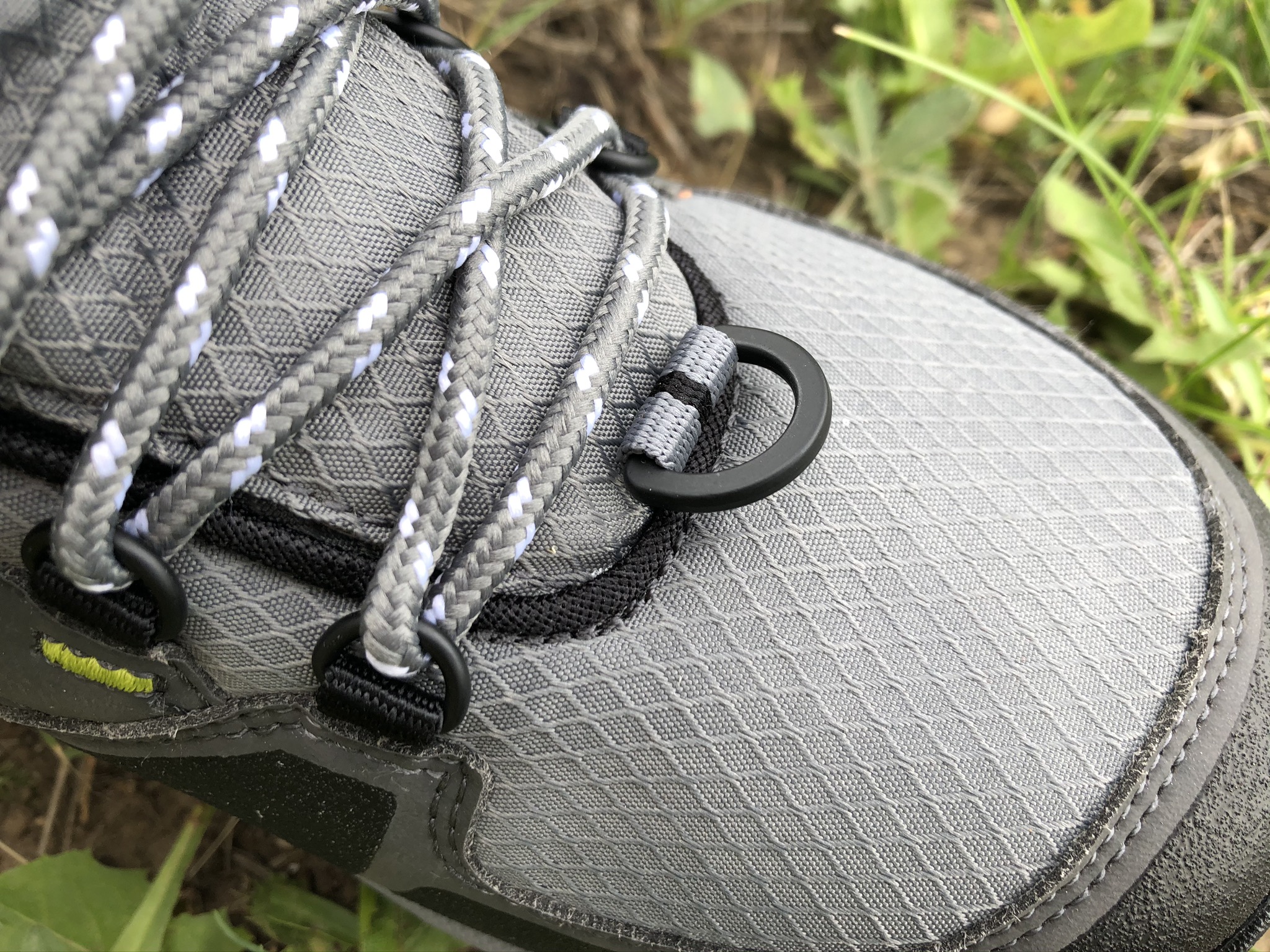 Large lace D-rings (which are much easier to thread than standard eyelets) …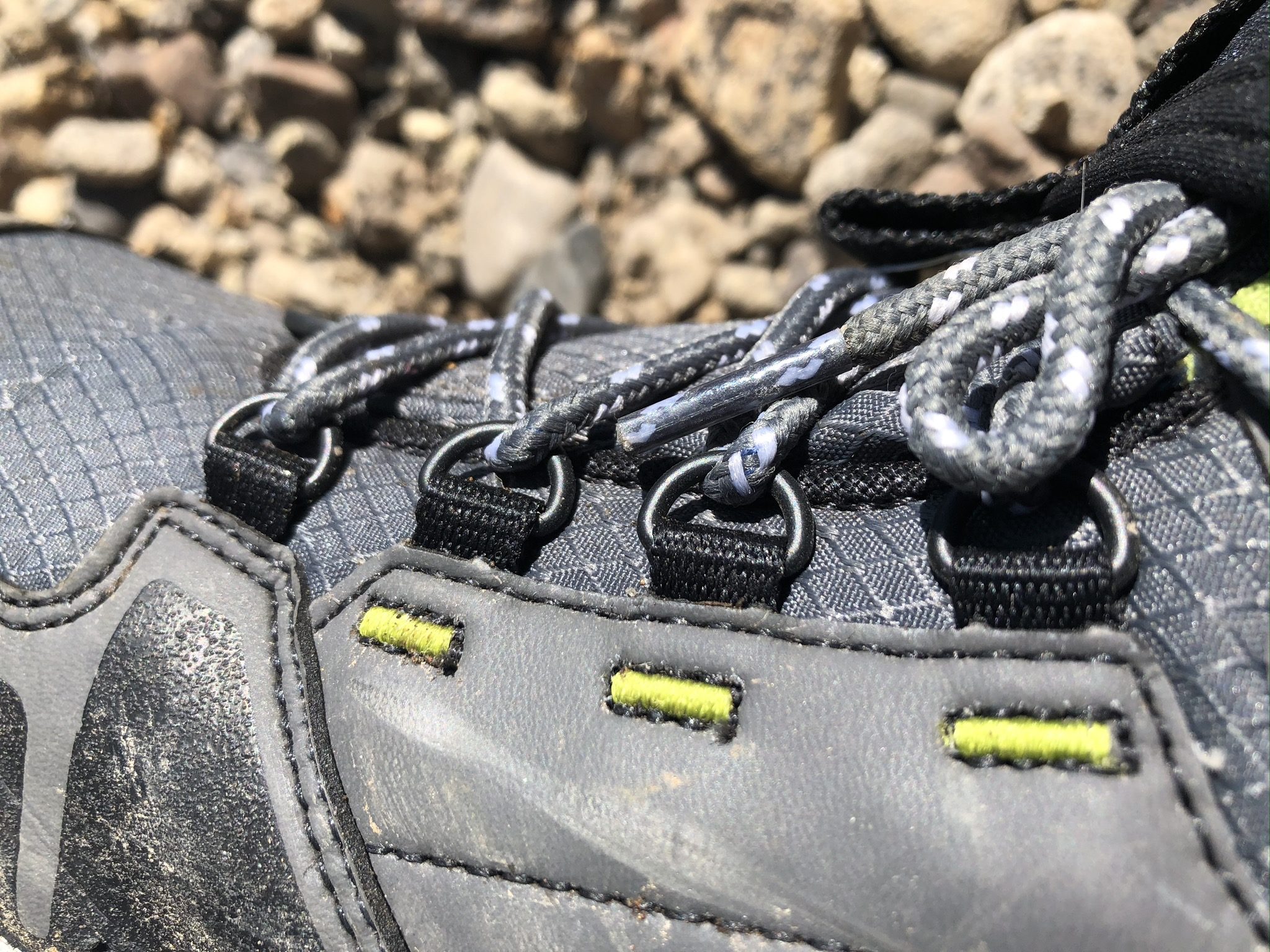 And drain holes to reduce drag once you step back onto the bank …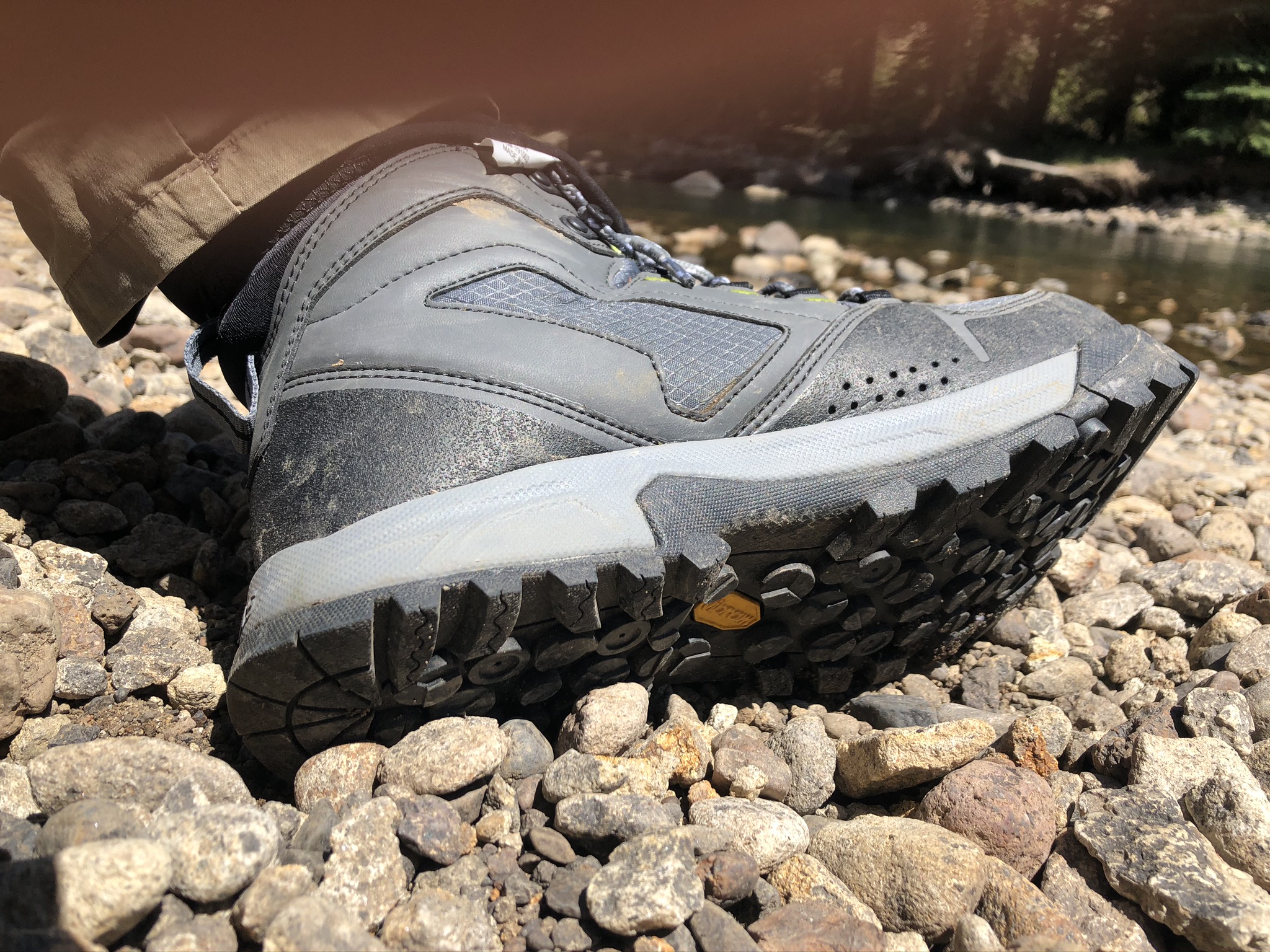 One Complaint
I love everything about these boots. They're just comfortable, light, functional, and affordable. My one complaint is that the top lace hooks are a little defiant. You hook one lace in, then go to hook the other, and the first one slips out. I'm not sure if it's because the hooks aren't deep enough or if it's because of the plastic material. I found this to be frustrating at first but you eventually get used to it.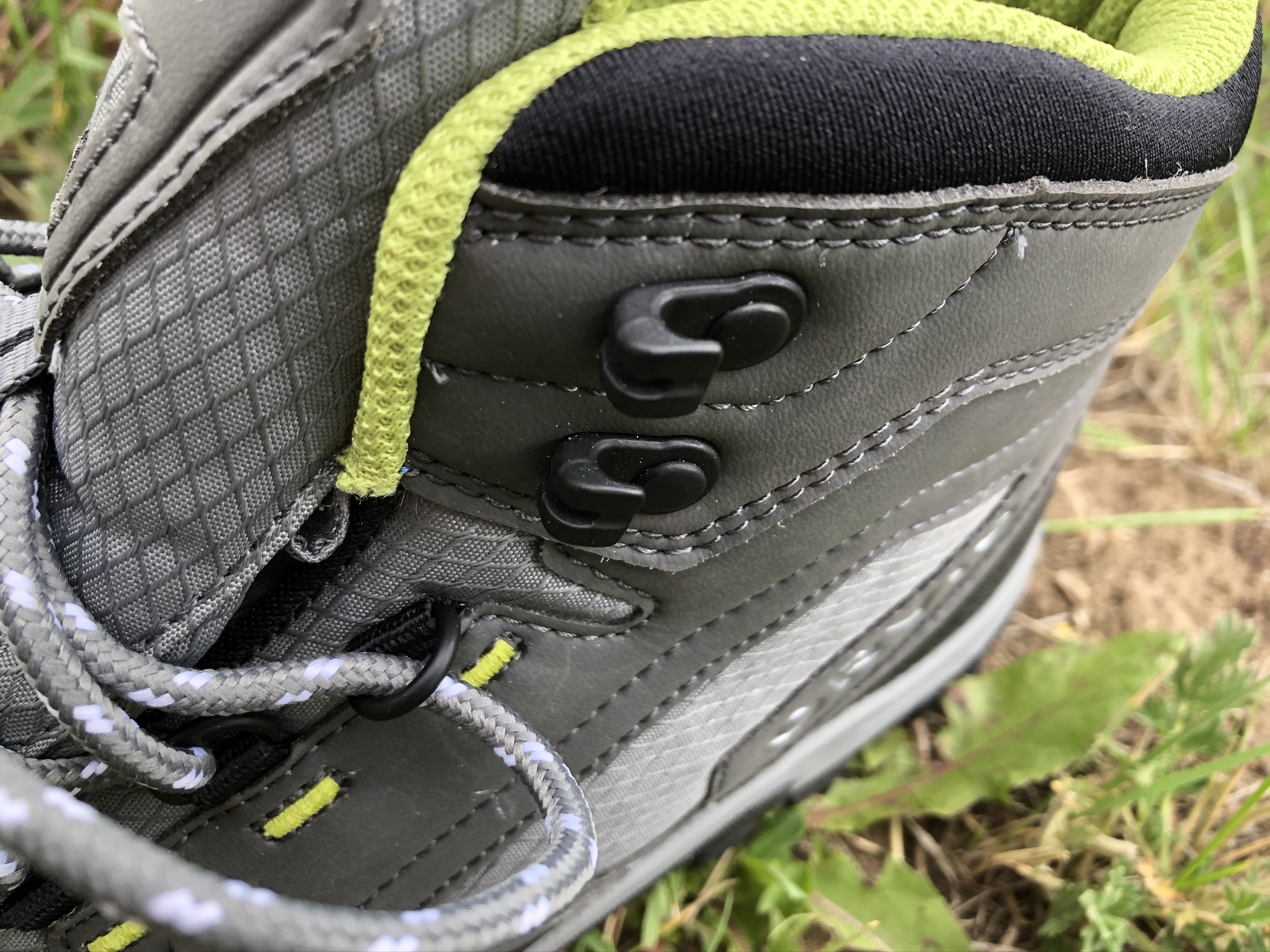 Final thoughts
I'm so glad I bought these boots. No more sliding down scree or slipping on the trail. I could hike for miles in these in total comfort. Looking back, I don't know how I put up with those clunky Simms boots for so many years (nor how in all that time I didn't slip and break my neck). I should have upgraded a long time ago!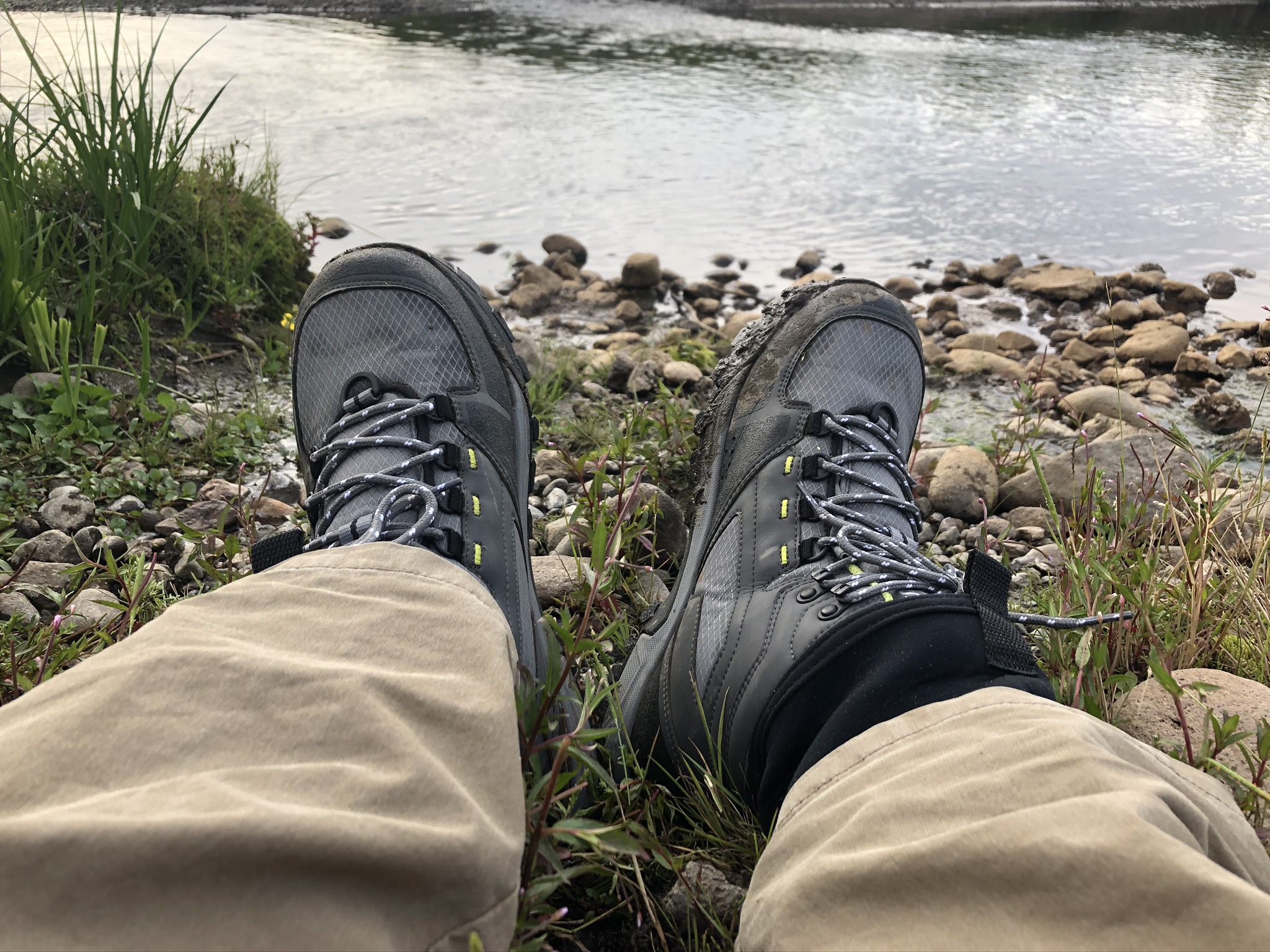 To read reviews, get specs, pricing and sizing, visit the Orvis Ultralight Wading Boot page here.
FULL DISCLOSURE: I work for Orvis and purchased these boots with my employee discount. However, this did not influence my opinion on them. At Orvis, the designers have a motto: "we want to design gear we'd pay full price for" and I definitely would have paid full price for these. Those who know me know that I also own and review a lot of competitors' gear. Good gear is good gear no matter how you obtain it nor the brand. These just happened to be the right choice for me at the right time. But the discount certainly didn't hurt. 😉