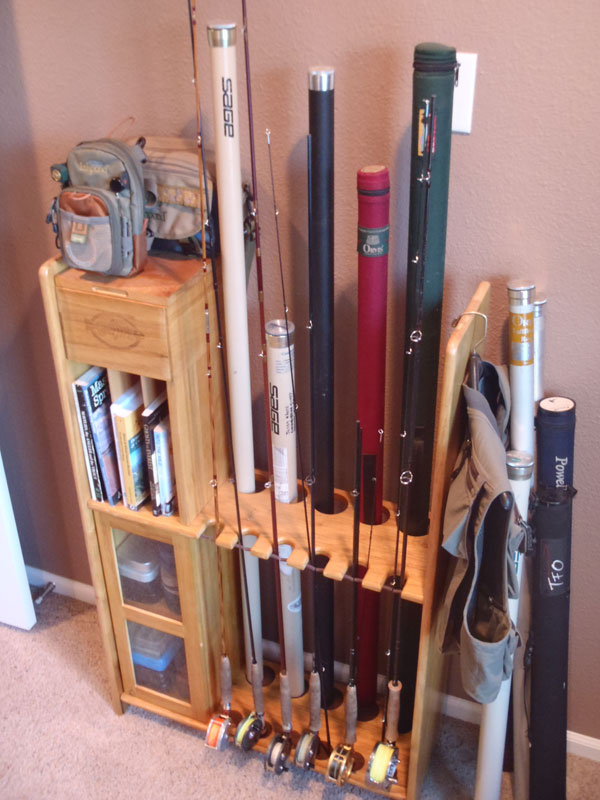 [/caption]
Why is it that some people instantly embrace tenkara while others reject it outright? I have been wondering this for a long time now. I've read dozens of social media posts where people have written downright malicious comments about tenkara and tenkara anglers. The funny thing is, by their own admission, most of these people have never even touched a tenkara rod. Without any empirical evidence, how could someone so strongly denounce an entire genre of fly fishing? After reading a recent blog post, I think the answer finally came to me.
Ten•ka•ra•pho•bi•a (ten car a fo bee ah) noun,  1. A fear of fishing with reel-less fly rods, often based on a misconception that the amount of gear one fishes with is directly proportional to the number of fish one will catch.  Even though John had never tried tenkara fishing, his tenkaraphobia lead him to publicly denounce it in several online fly fishing forums.
The article in question was entitled, "There's no Excuse for Fishing without a Reel" and was posted on the Unaccomplished Angler blog.  While I take the tone of the article to be somewhat tongue in cheek, the author writes something at the end that I think hits the nail on the head about why some people reject tenkara:
"And that is why I am not likely to take up the way of Tenkara anytime soon. If I were to be stripped of all but a rod and line (and my clothes–I'm not giving up those, either), there would be little to blame for my angling unaccomplishments other than lack of skill. With Tenkara, it's just you and a rod and some line waging battle against the fish.  I don't like those kinds of odds."
I think that the marketing of big fly fishing companies has done an extraordinary job of convincing people that they need more gear in order to catch more fish.  If you believe that, then the prospect of fishing with less gear is indeed scary.  But what is even scarier is what the article implies–that with less gear, you have to have more skill to catch fish.  I suggest that people who reject tenkara without ever having tried it or made an attempt to understand it are self-conscious about their own skill level.  They see being stripped of their gadgets and gear as something that might expose their true skill level–which, they fear might not be as good as they think it is.  And with years of advertising telling them that the more gear they use, the better an angler they will be, who could blame them?
I believe that to be true for individuals.  But there's another side to tenkaraphobia that is spreading across the fly fishing industry. Fly shops and gear companies fear tenkara because they see it as a threat to their business.  If someone comes along and starts telling people you don't need to spend $1,000 on a rod and reel setup plus $500 in accessories to catch fish, that is scary.  If I'm in the industry, why shouldn't I fear something that makes my products irrelevant?
The great irony in all of this is that if I were a beginning fly fisher today, I'd be a hell of a lot more scared of learning to mend line, double haul, tie a nail knot, and shoot line that I would be of tenkara fishing where all of those skills are unnecessary.  Tenkara lets you focus on the best part of fishing:  fishing.  And, without the long learning curve.  Which is why I think beginners are more open to tenkara than seasoned anglers.  They don't have the preconceived notions or the years of marketing conditioning built up.  They have beginner's mind and just want to fish–not spend years learning to cast.
So, if tenkaraphobia is based on a lack of confidence in one's own skill level, what does that say about those who do embrace tenkara?  It would be easy to simply flip the definition around and say that it means tenkara anglers have more skill and aren't afraid to rely on it (rather than gear).  But I don't think that's quite it.  I think it just means that tenkara anglers are more open to being honest with themselves about their true abilities and willingness to work on them.
Fly fishing in general is often seen as an "arrogant" sport.  Having worked in the industry for several years, I can certainly see why that perception exists. But people in the tenkara community seem different.  I think tenkara attracts a certain type of person. The tenkara anglers I've met are humble, curious, and aren't afraid of challenging themselves.
I may not be the most skilled fly angler in the world, but I'm not afraid to admit it either.  I know that this simple style of fly fishing will continue to challenge me and improve my skills.  All of you who have taken up tenkara may not best the most skilled anglers either–but you are brave.  You weren't afraid to go against the norm, to challenge yourselves, and to rely on your own skills (whatever level they may be).  I'd guess that the fact that you choose to fish tenkara probably says more about what kind of person you are than what kind of angler you are.  And, from the people I've met so far, I have to say that that is the type of community I'm proud to be part of.
 What was your initial reaction to tenkara?
Like this article? You might also like these ...