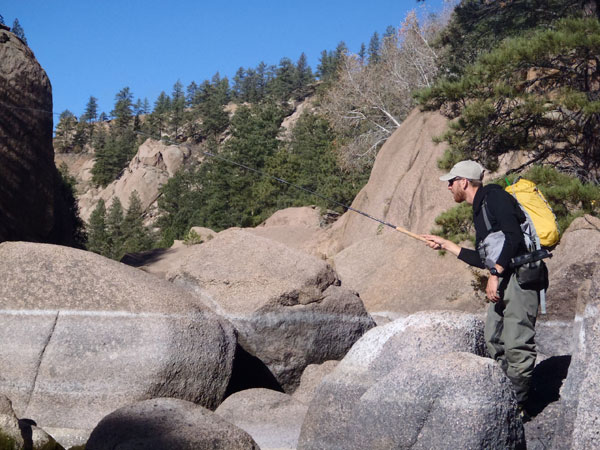 I've seen this question come up in social media again and again (with some pretty heated debates).  I'm not sure why people seem to focus so heavily on labeling tenkara as "fly fishing" or not.  After all, we don't obsess about the many, more incorrect labels and misnomers we use in our in our day-to-day lives.  We say, things like, "get in the car" when it's really a "truck".  We say, "hand me a Kleenex" referring to brands of tissue that aren't actually Kleenex.  We fluently use redundancies like "ATM machine" and "PIN number" without batting an eye. Why the obsession with accurately determining if  "fly fishing" is the correct label to use to describe tenkara?
I think part of it is that people who want to reject tenkara due to tenkaraphobia are desperate for ammunition (and this rejection of classification is low hanging fruit).  But I also think it's part of human nature to falsely believe that labeling something makes us understand it better.
I find this debate particularly ironic since the very people arguing it can't even seem to agree on the correct spelling of the very label they want to apply or deny.  Is it, "flyfishing", "fly-fishing", or "fly fishing".  At any rate, does it really matter?
If you ask me if tenkara is "fly fishing", I would say that it is.  But I don't really care if it is or not.  Because there isn't an "is" or "not". Labels are just convenient ways of referring to things–they're not the ultimate defining nature of them.  Tenkara is tenkara whether you call it "fly fishing", "baseball", or "aardvark" . Tenkara doesn't need to be validated by a label.  It is a great form of aardvark. Besides, can you really even define "fly fishing"?
Picture a car.  Any car–it doesn't matter.  Remove the steering wheel.  Is it still a car?  Most people would probably say it is (it's just a car without a steering wheel).  Now, remove the tires.  Still a car?  Sure.  Next, remove the body.  What about now?  Maybe.  Next, take out the engine.  Then the transmission.  Hmmm…you can see where I'm going with this.  At some point, it will be difficult for you to decide how much has to be stripped away before you declare that it's no longer a "car".  Some people might say it's not a car anymore after the engine is removed while others might contend it's still a car until there's nothing left but the chassis.  And that's the inherent problem with labels.  We like to use them, but when it comes right down to it, we really don't understand how we use them and we could never come to a consensus.  We don't even understand our own rules.  So why preoccupy ourselves with them and try to convince others?  If the "car" still gets you from point A to point B, do you really care what others call it?
Given all confusion, flawed arguments, and red herrings, I find it best to just say tenkara is tenkara and leave it at that.  As Shakespeare wrote, "What's in a name? That which we call a rose by any other name would smell as sweet."  Tenkara is tenkara. And it's a pretty sweet way to fish–whether you call it "fly fishing", "cane pole fishing", or "aardvark".  No label will ever change its efficacy, simplicity, or felicity.  When I'm out on the stream tenkara fishing, all I'm thinking about is what I'm doing and the experience–not what it's called.  I think anyone who really understands tenkara probably feels the same way.
So all labels aside, enjoy your time on the water and forget about the labels.  If you enjoy it, it doesn't need classification.  Label it under "a good day on the water".
Like this article? You might also like these ...