In the last few years, there's been a lof of buzz around fishing blue-colored flies.  A while ago, I tried to incorporate blue into a tenkara pattern I called the Ninja's Victim.  The blue wire body and starling hackle seemed to work well but I'm always looking for new ways to use unique materials in my tenkara flies and wanted to try something a little more exotic.
It occurred to me that jay feathers might make interesting hackle for two reasons:  they're deeply barred which would give nice variegation and…well…they're blue!  So, I gave it a try.
The result was beautiful with a tri-color grizzly effect of blue, black, and white in the fibers.  I can see lots of possibilities for color combinations with the thread body.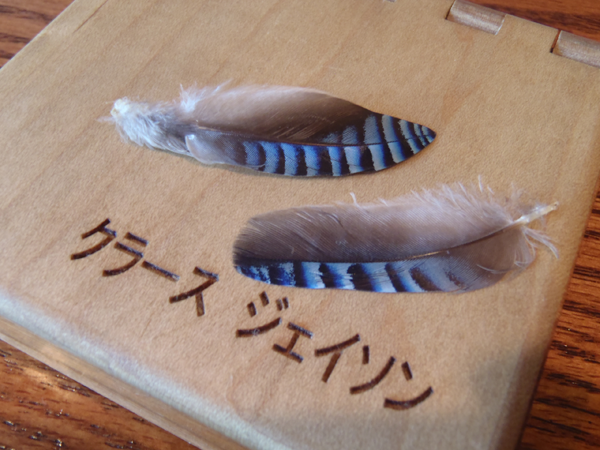 European (or Eurasian) jay feathers aren't really "hackle" per se.  They're wing feathers usually used in larger classic atlantic salmon patterns for accents and collars. One thing to note is that the stems on these feathers have a quick taper and get thick fast. So when tying them in, you have to get as much of the thinner tip of the stem in as you can otherwise the thick butt of the stem could create an unwanted lump in the body of the fly.