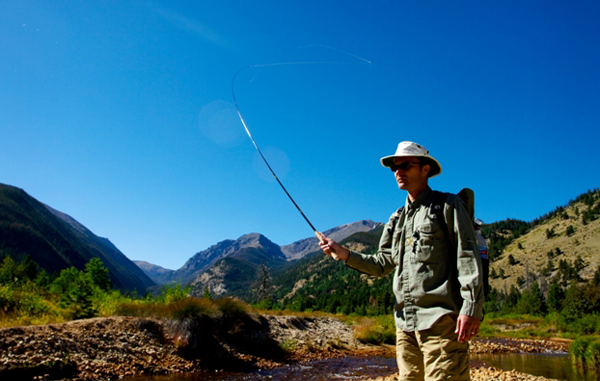 [/caption]
One of the questions people seem to struggle with most is which tenkara rod to choose.  After all, there are a variety of different lengths and actions.  And since (on paper at least) some of them seem very similar, making the decision can be even more confusing. I happen to own the entire Tenkara USA lineup (plus have tried some other brands) and can tell you that it's amazing how different tenkara rods actually feel on the stream even though their specs would lead you to believe they're almost identical. After a lot of experimentation, I can say that they're definitely not.  And not only that, but I'd like to share with you a catharsis I recently had that might make you rethink your philosophy on rod action.
When I first started tenkara, I preferred the stiffer rods.  I suspect many others who come from a western fly fishing background do too since the action is closer to the fast-action conventional rods and wider casting stroke we're familiar with.  But after fishing tenkara over the last couple of years, my preference has changed.  Before I explain why, let me first briefly explain tenkara rod action.  If you're already familiar with tenkara rod action ratings, feel free to skip to the next section.
Tenkara Rod Action 101
In western fly fishing, rod actions are typically described as "fast", "medium", or "slow"–or alternatively, "tip flex", "mid flex", and "full flex" (stiff to soft respectively).  In tenkara, there is a similar system but it uses numbers instead of adjectives.  The numbers tell you how close to the tip a rod flexes when loading on a one-to-ten scale. So, from stiffest to softest the range is:  8:2, 7:3, 6:4, and 5:5.
One might think that a numerical rating system like this is more objective than using adjectives because it shows a more measurable ratio of how much of the rod flexes based on an index. And to some degree, I think that's true.  The tenkara system describes where the rod bends rather than how it feels which seems to be more quantifiable than the western rating.  What some western anglers consider "fast", others might consider "medium".  While I think the tenkara rating system probably is more accurate, the lines can still be blurred between (for example) a 5:5 and 6:4.  Some tenkara rods have even been reclassified after production giving testament to the fact that since they're made and used by humans, it's probably impossible to take the subjectivity out of it completely.  Nonetheless, I think the tenkara rating system is pretty good and the chart above should give you a good guideline of what the different numbers mean.
Soft vs. Stiff
As I said in the beginning of this post, when I started tenkara, I preferred stiffer actions, namely, the 6:4 action of the Tenkara USA Iwana.  I even had a friend of mine who was visiting Japan pick up an insanely stiff Suzumi tenkara rod that I loved at first.  But now, I hate it.  I prefer the softer actions of rods like the Ayu and Ito.  It took me a while, but I think I have finally figured out why. It has to do with my recent push to understand and practice traditional tenkara.
In western fly fishing, the casting stroke uses a very rigid motion.  The idea is to move your arm more than your wrist and keep the tip of the rod in a straight plane, angling down to your target.  And since you're generally casting a longer, heavier line, it's easier to load even a very fast action (stiff) rod.  In short, you do more work than the rod does.  But in traditional tenkara casting, it's the opposite.
In tenkara, you let the rod work for you.  Since the rods are very soft (compared to most western fly rods) they load very easily even with the much lighter tenkara lines.  Only minimal movement is required and you use more wrist than arm.  If you watch this video, you'll see a good example of the typical tenkara cast where the arm is held closer to the body, only moved slightly, and the wrist is snapped more to propel the line forward rather than a broad movement of the arm.
I've found that when I fish a stiffer tenkara rod, I have to cast more like a western angler in order to load the rod.  If I want to cast more like the tenkara masters suggest, then it's much easier with the softer action rods.  And this is the reason I'm now leaning toward the softer rods; however, there's one caveat.
Remember what I said above about some rods looking similar in their specs but being different in the hand?  It's important to keep in mind that a 6:4 isn't always a 6:4.  For example, to me, the Ito feels softer than the Iwana.  Both rods are rated as 6:4 but because of different lengths and tapers, they just feel different.  There's more to consider about how a rod actually casts than just the number rating and like any fly rod, you really need to test cast it to see if you like the action or not.
Wind
A common argument (which I now think is a myth) is that stiffer rods automatically cast better in the wind. While this might be true in western fly fishing, in tenkara, I think it depends more on the line used than the action of the rod.  Traditional furled tenkara lines are tapered and transfer energy well but they're also bulky and wind resistant.  Fluorocarbon level lines are dense (given their diameter) and thin so they cut through the wind better.  If you use a #4 or #5 level line, you should have no problem casting through the wind with even a slower 5:5 rod.  You could use a stiffer rod, but then you'd have to resort to a more conventional, western casting stroke.  I'm not saying that's a bad thing.  It's just a decision you have to make.  I've used softer tenkara rods in windy conditions and they do work if you use the right line.
Landing Big Fish
Another argument people make for stiffer actions is the ability to land big fish.  Like the wind argument, I also now consider this a myth and an import from western fly fishing.  It's true that if you have a stiffer rod, you can put more pressure on large fish and bring them to the net, boat, or hand faster.  But that's also assuming you have strong terminal tackle that can withstand the strain.  In tenkara, you're usually using a fairly light tippet so you probably want to have finesse rather than brute force on your side if you hook a big fish. Softer rods offer more tippet protection.  So while it might seem counter intuitive, I'm suggesting it's easier to land a big fish on a 5:5 than a 7:3 in some cases.
I've landed pretty large steelhead and salmon and on very light tippets using soft fiberglass rods conventional rods so it's not a stretch to say that the softer action tenkara rods are also capable of landing large fish. If you Google it, you'll see that plenty of people have been landing lunkers on 5:5 rods like the Ayu.  Remember, tenkara is more about skill than gear.  If you know what you're doing, you can land a huge fish on a tenkara rod.  And people are!
Making the choice
I'm not about to prescribe one action over another.  All I'm doing is sharing my experience in the hope that it might be useful to you. Like I said, I have a lot of tenkara rods and like them for different reasons. Everyone needs to figure out which action is best for them.  But I suggest that for all the reasons above, you give the softer action rods a try if you haven't already.  Please don't dismiss certain tenkara rods based solely on their specs.  Try casting one or fishing one.  I think you'll be surprised at their versatility and capabilities once you get used to them.  And, (most importantly) you'll find the action that's right for you.
Like this article? You might also like these ...