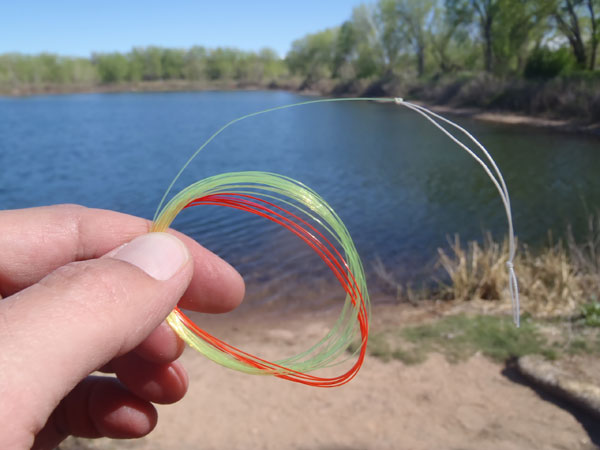 Anyone who has ever dead drifted a fly with a tenkara rod has undoubtedly discovered two things:  1. Sometimes it's hard to detect a strike on a level line.  2. Strike indicators don't cast well with a tenkara rod.  Luckily, for anyone who finds it difficult to see their line, there's a simple way to more easily detect strikes without slinging an awkward, cast spoiling strike indicator.
Even the brightest fluorocarbon tenkara level lines can be difficult to see under certain lighting conditions.  I sometimes switch colors (between orange and yellow) depending on the time of day and amount of glare on the water so I can see the line more easily.  But the last few times I've been out, I've been using an idea that Tom Davis of Teton Tenkara came up with.  He adds 3 ft. of red Amnesia mono to the end of his tenkara level line as a strike indicator.  Since it's just monofilament, it doesn't interrupt the cast the way a typical hard bodied or yarn indicator does.  The red color is so bright, it almost glows and in my testing, I've been able to more easily detect even the most subtle strikes under a range of lighting conditions.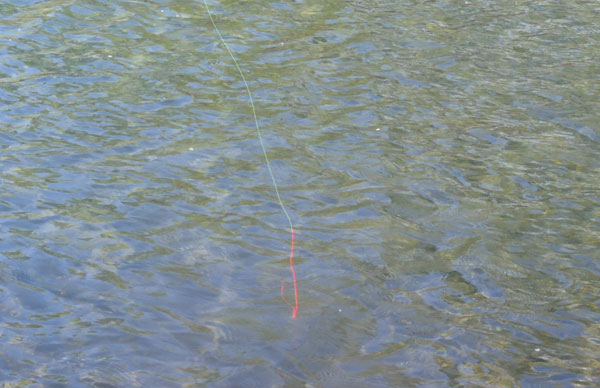 Tom uses 15 lb. Amnesia and while this works well, a recent discussion with Karel from Tenkara on the Fly has got me thinking that I might try a thinner diameter like 10 lb. or 12 lb.  A thinner diameter would more closely match the diameter of the tenkara level line I'm using and (theoretically) should cast better.  But having said that, the 15 lb. casts just fine and the thicker diameter might actually be more visible so the verdict is still out.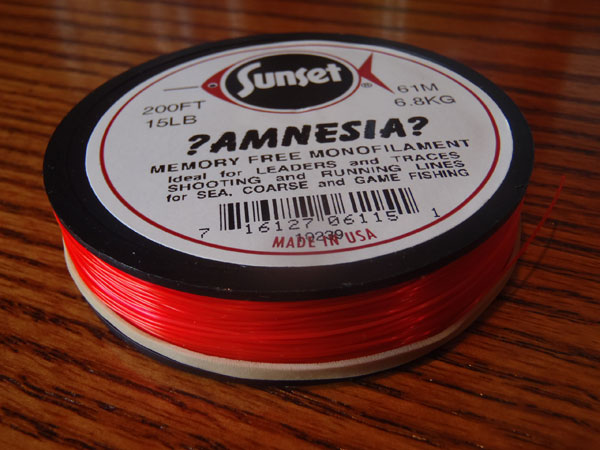 In Karel's testing, he found 3 ft. to be too long.  He says it makes it difficult to determine how much line is actually in the water and believes it would be better to use a shorter length so it's easier to clearly differentiate the very tip of the line.  I haven't tried this yet but think he might have a point so I will be experimenting with shorter lengths (such ans 1.5 ft.).  I also have a European Nymphing Sighter from Tenkara Bum in a thinner diameter that might work better.  More on that later.
I'm sure some will argue that somehow this makes things more complex than they have to be.  But really, it's just tying on a short piece of line which (if you think about it) is no different than tying on a tippet.  I make my lines ahead of time so this solution costs me no extra time on the water.  And for the huge increase in visibility it provides, is well worth it in my opinion.