Today, on my first Father's Day, I hit Clear Creek for a while just a few miles outside of Golden, CO.  I'm not sure why I made that choice.  It's not my favorite type of stream–steep banks that you have to climb to get from spot to spot, vast distances between good pools, highway noise, and extremely fast water (I suppose that's why it's such a popular rafting and kayaking stream).  But despite not being my favorite destination, I managed to pull a few fish out and have a good day on the water.
The fishing was challenging and the gale force winds didn't help.  We're not talking just "hard to cast" winds, we're talking winds that were so strong, it literally put a bend in my rod which made it nearly impossible to make a good presentation or even detect strikes.  Nonetheless, in between gusts, I was able to make a few good casts and land some nice browns.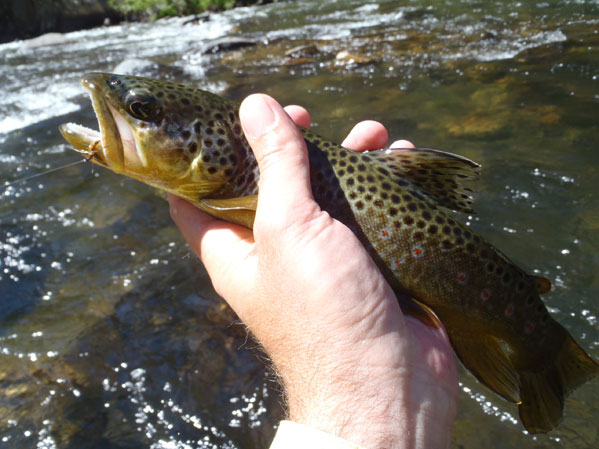 The fly of the day was a loop eye burnt orange & partridge sakasa kebari (the first fly I tied on my new Regal vise).  For the recipe, see my last post.  Here's what it looks like dry: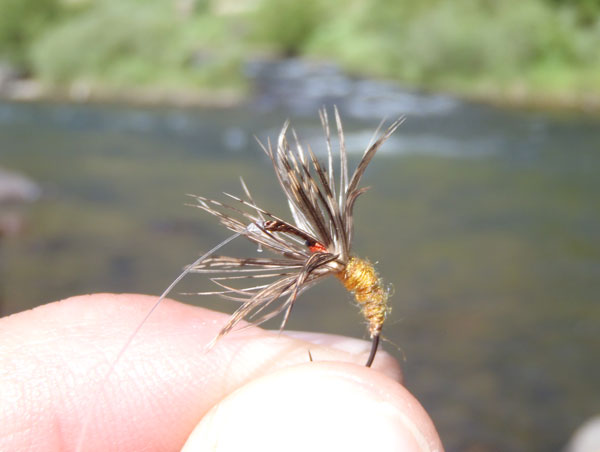 And here's what it looks like wet: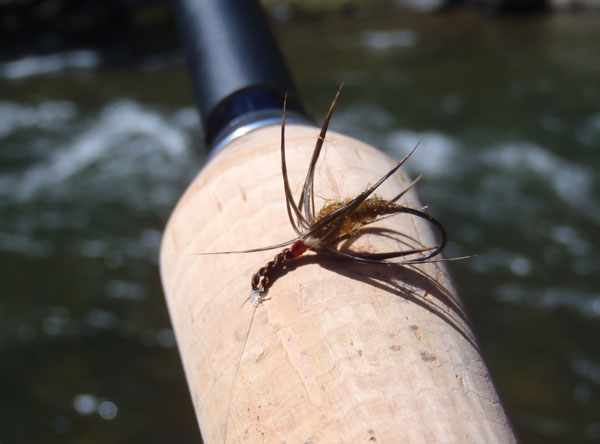 While overall it was a good day, it was not without its folly.  I had my Go Pro camera out for the first time (my Father's Day present) and was excited about getting some good video with it.  I waded up to an idyllic pool, turned the camera on, and started casting optimistically.  On my second cast, a 14″ brown hit my fly and danced on the surface of the water before being brought to my hand in a perfect sequence.  I was excited to see the video but when I got home, I discovered that I had had the Go Pro set to camera mode and not video.  To say I was disappointed would be an understatement.  It was a perfectly executed catch and release.  But you can be sure I'll be reading the owner's manual from cover to cover so this doesn't happen again.
I didn't fish that long but it was nice feel the cold water rush between my legs.  I really wanted to get back early and spend some time with the ones responsible for making me a dad in the first place.  So, to all of you dads out there, I hope you had as great of a Father's Day as I did!
Like this article? You might also like these ...