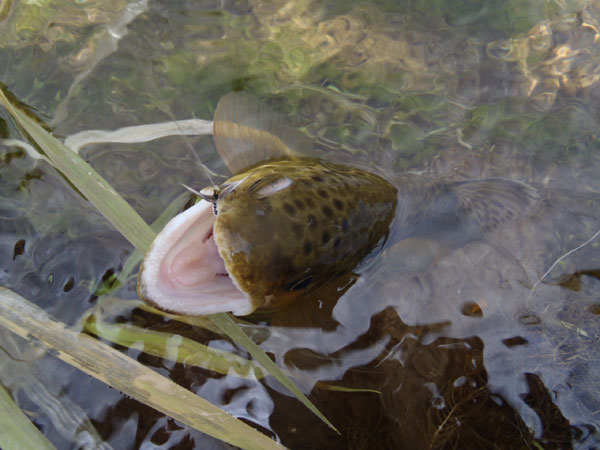 Today, I got an email asking a question I get so often, that I thought it was worthy of a blog post:  "I'm using sakasa kebari and having a hard time telling when a fish takes my fly. How can I tell?"  The question came from an experienced western fly angler that knows how to read water and has no problem seeing the take with western style dry flies, but wants to use more traditional sakasa kebari and is struggling a bit with the transition.  When I switched to tenkara, I had the exact same problem so I can certainly empathize.  Like anything new, you eventually learn what works, what doesn't, and how to translate your skills to a different method.  But especially those without a fly fishing background will hit the same roadblock so I thought it would be helpful to post a few tips on how detect strikes when using the tenkara method.
1.  Keep your line tight.  You should keep the rod tip high and only your tippet and fly in the water so there's little slack.  If you have slack, a fish can grab your fly and spit it out without you even noticing it.  I've witnessed this a hundred times with many new tenkara anglers who keep the rod too low with too much line in the water.  Even if they did notice a strike, by the time they pick up all that line, the fish has probably felt the rigid hook shank and abandoned the fly.  If you keep the line tight, often you will feel the strike before you see it and make a more direct connection before the fish can reject the fly.
2. Watch your fly.  In clear water, you should be able to see your fly and watch the fish take it.  If you can't see your fly but the water is still clear enough to see fish, then you need to keep your eyes focused on where you "think" the fly is and look for a flash or some kind of movement/disturbance in the water.  Even if you don't feel it on the line, if you see a flash or movement where you suspect your fly is, set the hook anyway.  If it wasn't a strike, at worst all you've done is picked up your line for the next cast.  But it might be a fish so it's better to assume that a flash where you think your fly is is a take than wait to actually feel it.
3. Watch the line.  If you can't see your fly or the fish and are blind fishing, then watch the line.  Look for a hard stop or for the line to shoot forward a little.  Again, when you see this, it's better to assume that it's a fish, so go ahead and set the hook.  It might be a snag but you won't know until you lift the rod and see.  In fishing, many times it pays to gamble.
4. Use a strike detector.  I sometimes use a foot or two of bright red Amnesia at the end of my line because it makes it easier to see when a fish hits (especially if it's a subtle take).  Even the brightest fluorocarbon lines can be tricky to see on the water 's surface so it's nice to have a beacon at the end of your line that is really easy to track.
5. Get professional help.  Hire a professional SCUBA diver to watch your fly underwater and signal you when a fish takes your fly via a waterproof, wireless, voice communication system.
OK, so maybe #5 isn't practical unless you're a either a millionaire or once saved Ralph Cutter's life and now he owes you big time, but the others should help.  After a little trial and error, you will improve your hookup ratio and will get better and better at strike detection.  You just have to learn what to look for.  I tend to pulse my fly a lot more than just fishing it in a dead drift and that seems to elicit more aggressive strikes so it's pretty easy to see or feel the take.
What are your tips for knowing when a fish takes your tenkara fly?