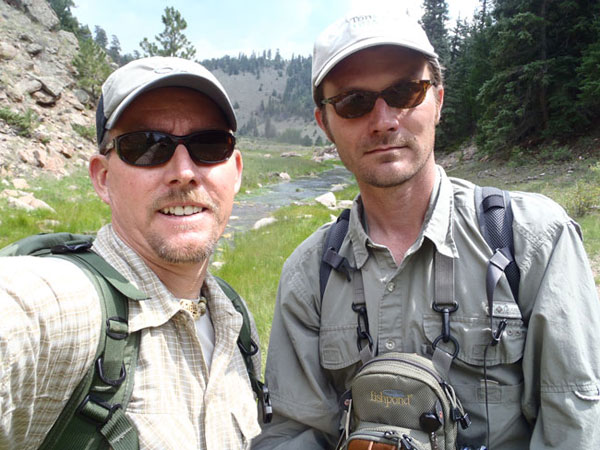 Today, I was lucky to head out to some absolutley gorgeous water with fellow tenkara angler Paul Vertrees.  We saw tons of animals, caught tons of fish, and absorbed more scenery in four hours than many people see in a year.  Here's my trip report…
The Stream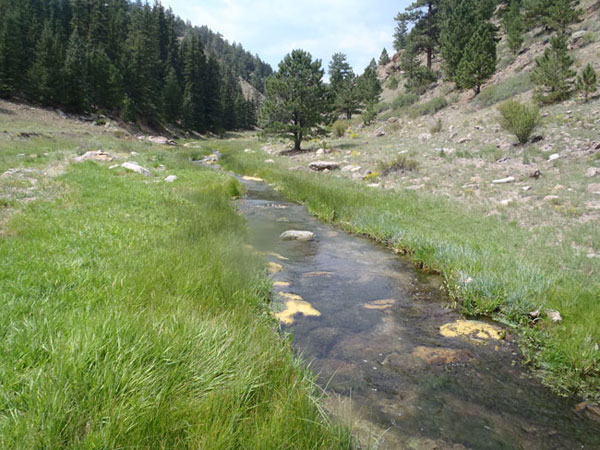 Paul took me to a spring creek outside of Canon City, Colorado.  It's not just off the beaten path.  First, you go off the beaten path, and then you go off that to get there.  The stream is rarely fished.  Only a handful of people know about it and you'd never even suspect there is a trout stream within a hundred miles of the turnoff from the road (even I questioned its existence during our 2-mile hike in through the arid landscape).  But sure enough, there it was–a cold, crystal-clear spring creek with lush aquatic vegetation pulsating in its slow, rhythmic currents.  It reminded me of my local spring creek back east but seemed out of place in such a desert environment.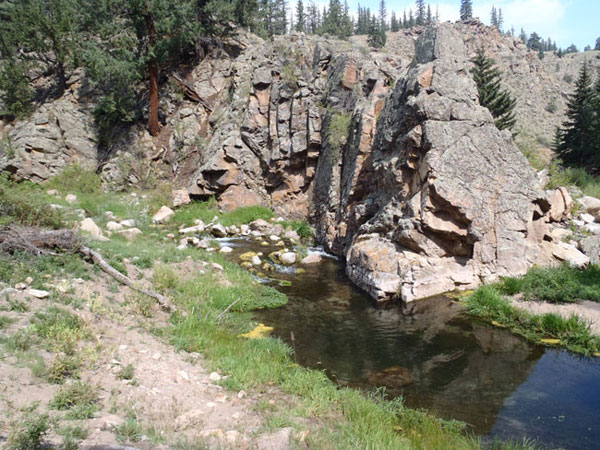 The stream varied from anywhere between 2 ft. to maybe 10 ft. at its widest with a great diversity of infrastructure.  It was nothing short of gorgeous.
The Fish
The only inhabitants of the creek are brown trout and they've got a very healthy, naturally reproducing population.  Almost everywhere you look, there are fish–anywhere from fingerlings to 14-inchers.  We saw some larger 16″ – 18″ fish from high on the trail, but most of the fish I saw or caught were in the 8″ – 12″ range.  And that was fine with me since they were very cooperative (almost suspiciously too enthusiastic to take a fly).  I lost track after a while but estimate that I landed about 30 fish total.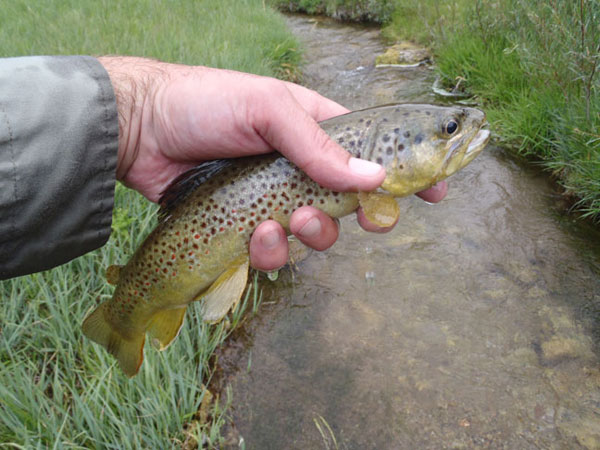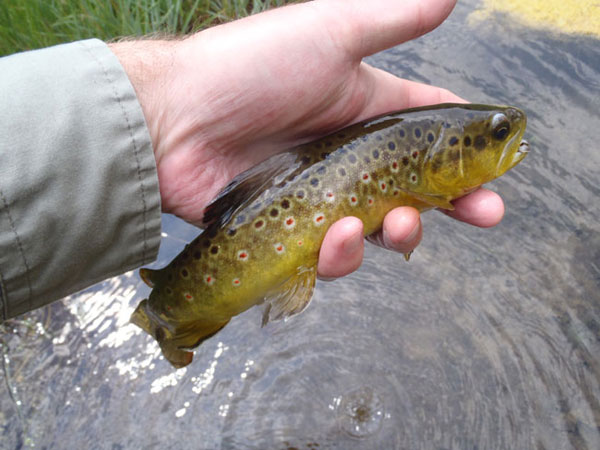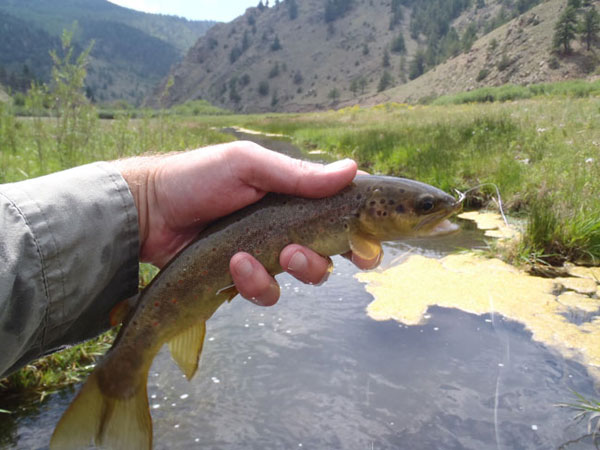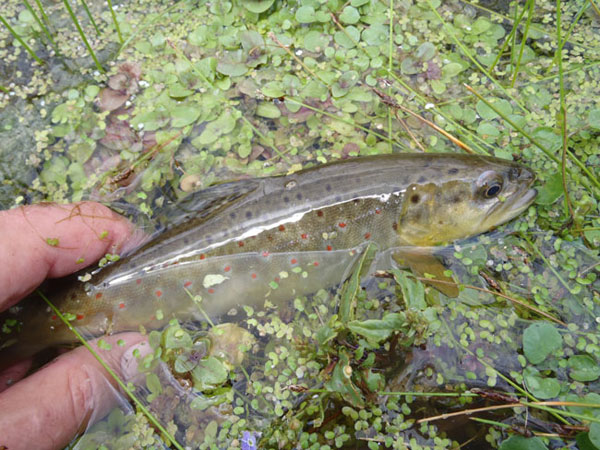 Oh, and I finally got some semi-decent underwater shots.  They're not as good as Kevin Frickie's, but they're the best I've taken so far I think.  I'm slowly learning: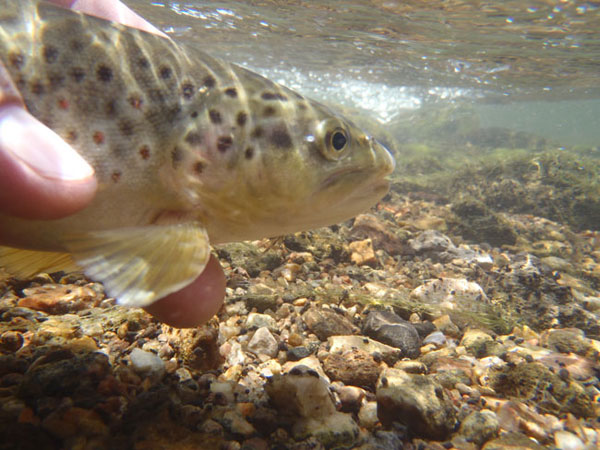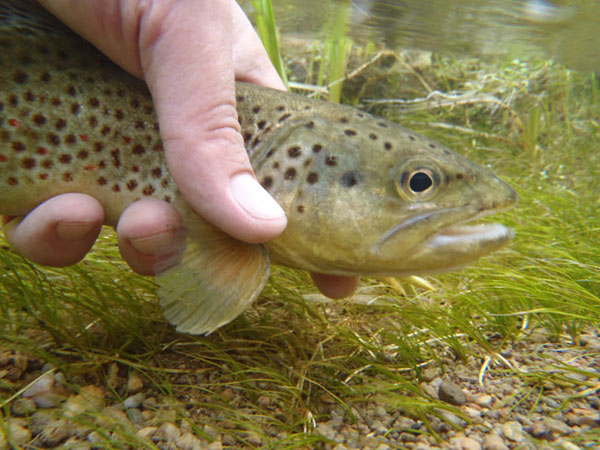 The Gear
I used my Tenkara USA Ito and an 18 ft. Tenkara USA 3.5 level line all day.  I started with a 3 ft. 5X tippet but bumped it up to a 5 ft. tippet to give me a little more delicacy.  That and the ability of the Ito to zoom out to 14′ 7″ gave me a huge advantage in not spooking the trout in the clear, calm water.  While such a big rod and long line might not seem like an obvious choice for a 3-foot wide stream, it actually turned out to be the perfect setup.  Paul fished his 12′ Tenkara USA Iwana.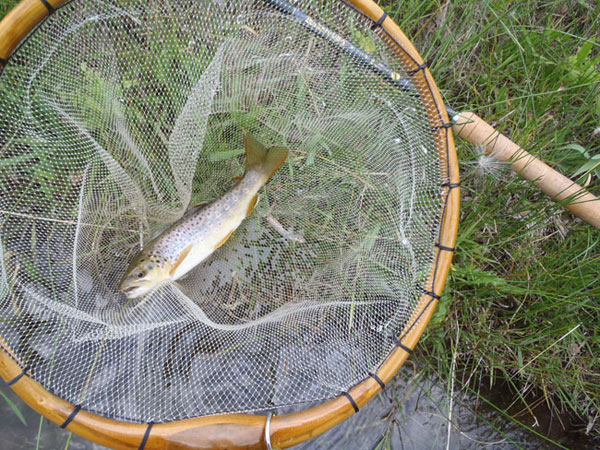 For flies, I started off using my light Kamikaze Kebari.  I caught so many fish on it that it got ripped to pieces.  When that happened, I tied on the dark version of the same fly.  The fish didn't seem to care as long as I didn't spook them.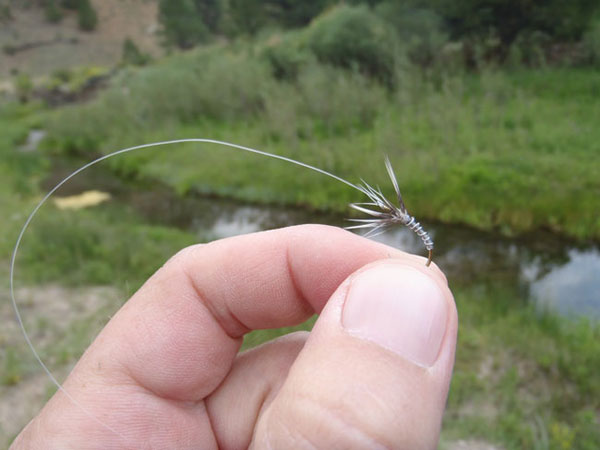 The Animals
As if catching fish after fish amid picture book scenery weren't enough, we also spotted a myriad of animals including a black bear, antelope, several big horn sheep, and coyote (didn't get the camera out fast enough to catch the coyote).  Sorry for the bad iPhone photos.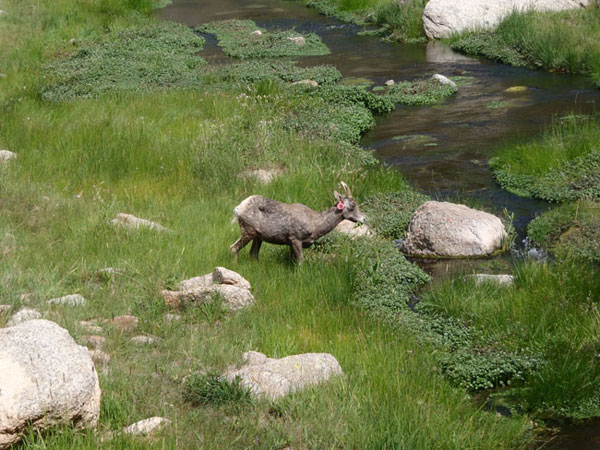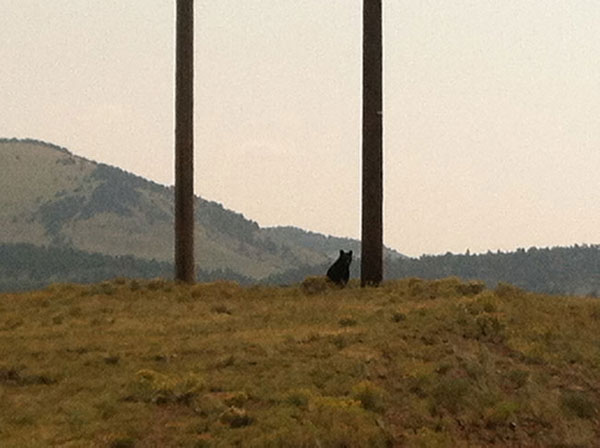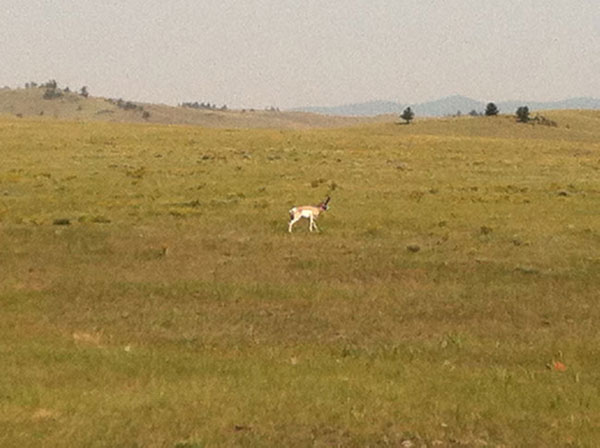 The Man
In case you don't know, Paul Vertrees is the author of the Tenkara Tracks blog.  He was an early adopter of tenkara and is the tenkara guide for Rigs Fly Shop–currently the only shop in Colorado to carry Tenkara USA gear (I'm trying to change that).  And, he's also an unapologetic member of the Tenkara Cult (shhhhhhh).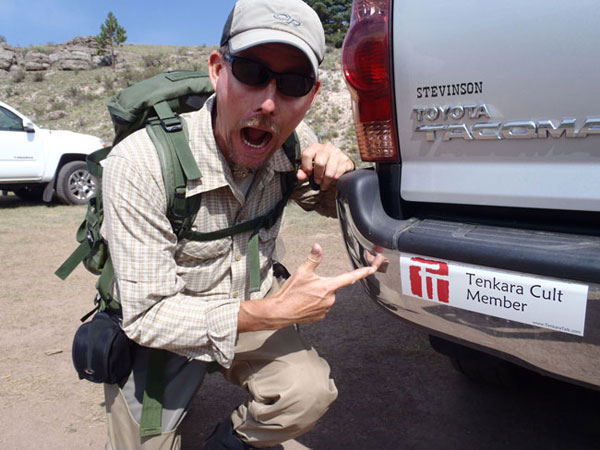 Conclusion
I often say that I try to learn or do something new every time I get out.  This trip was the first time that I've ever fished tenkara on a spring creek and the fact that I was successful using only traditional tenkara techniques was a major victory for me.  And when you add the beautiful scenery, animal sightings, and great company, we'll, it's just icing on the cake.  It was a stellar day all around.  You don't get too many of those in this life so I think I'm going to sit back and savor it for a while…
Like this article? You might also like these ...