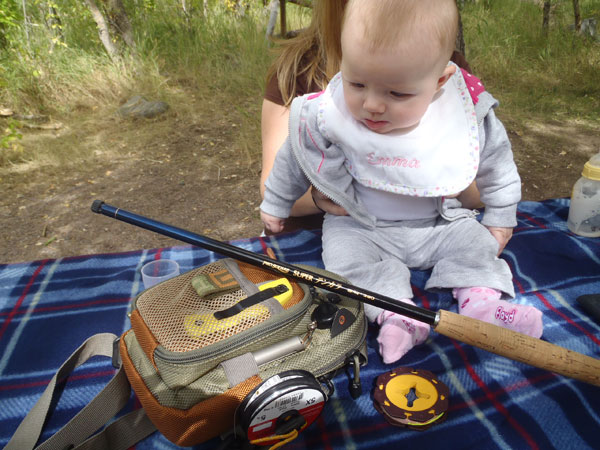 My daughter Emma doesn't know it yet, but she's the world's youngest tenkara angler.  I say this because even though she's only four months old, she embodies the spirit of tenkara.  She takes pleasure in simple things, lives completely in the moment, and basically just takes a beginner's mind approach to every experience.  My wife and I took her for a picnic today on Bear Creek and she was enamored with the fresh mountain air, fall colors, and moving water.  Yep, she's definitely my daughter and I know she will grow up to be a formidable tenkara angler.  But what started out as a simple family picnic with the promise of some casual fishing turned out to be a conservation faux pas…
During the dry summer months, Bear Creek was under a voluntary fishing ban due to low water levels and high temperatures.  So I complied and backed off for a while.  It's been a couple of months since then and we recently got a substantial amount of rain and the flows looked decent so when we were trying to think of what to do this weekend, I suggested heading out to Lair O' the Bear Campground for a combined family picnic/tenkara day.  The parking lot was full and I expected the creek to be crowded by anglers.  It turned out everyone seemed to be just tourons hiking the trails.  No fishers.  Nice!
I started fishing and immediately realized that I had the entire stream to myself.  For anyone that fishes Bear Creek, you know this is an oddity (especially midday on a weekend).  Nonetheless, I took advantage of it, hitting my favorite holes before they got fished and didn't think much of it.  I quickly discovered that the fishing was tough because there were already a lot of kids and dogs splashing around in the water putting down the fish.  Yet I was still baffled why I was the only person fishing. Then, I figured it out…
I caught this: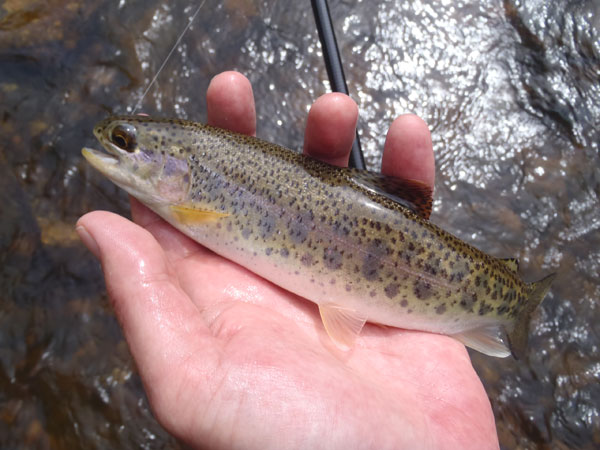 Before I saw this: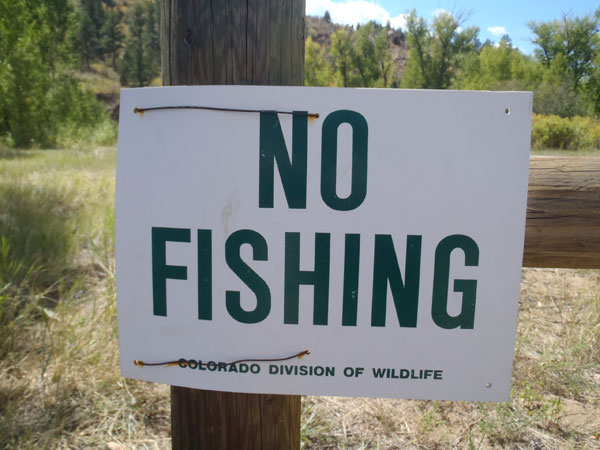 Actually, you CAN fish.  This is just the DOW's feeble attempt at a scare tactic.  If you go to the trailhead, there's a very inconspicuous notice posted saying that the fishing ban is purely voluntary.  Still, they could have displayed this sign more prominently (or both).  Had I known the ban was still in effect, I never would have fished.  Oops.
While not a hardcore fishing day, I had fun with my wife and daughter at the picnic table.  Autumn is truly around the corner and I'm looking forward to fall fishing. Emma still needs to work on her traditional tenkara grip but I think she's getting better.  I'll give her another couple of months: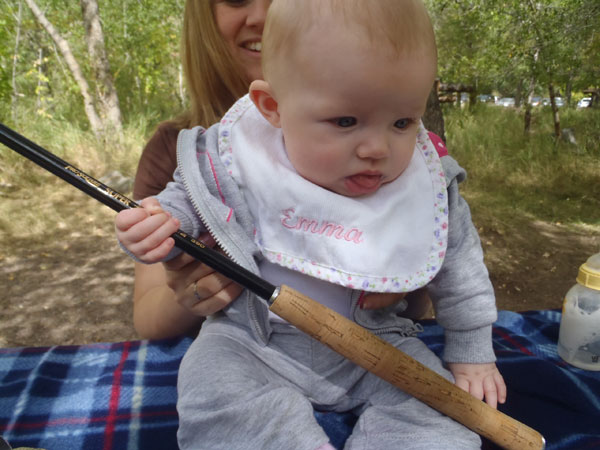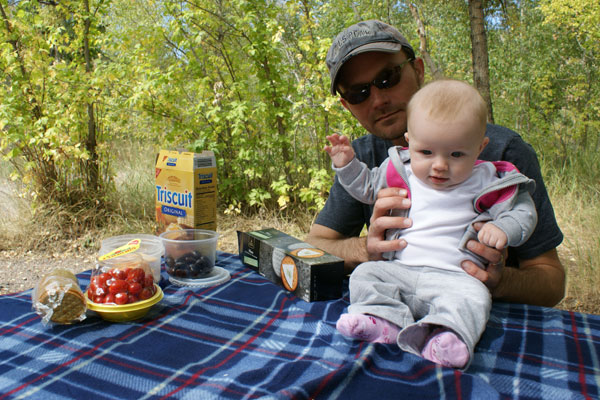 Aside from a nice spread of cheese, crackers, cherry tomatoes, and olives, I also got to field test a pretty interesting new furled line from John Veterlli of Tenkara Guides.  Blog post to follow and I think you'll like what I have to report.  Stay tuned…
Like this article? You might also like these ...