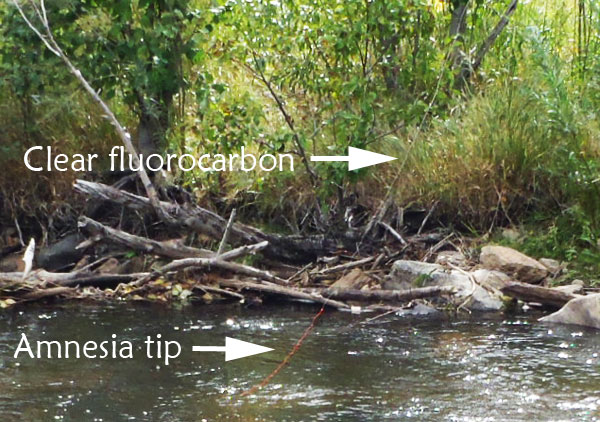 Over the weekend, I got a chance to field test a prototype line made by John Veterlli of Tenkara Guides.  It's a hybrid line based off of a formula invented by master Japanese tenkara angler Eiji Yamakawa (a.k.a. "Eddie" on the Tenkara USA Forums).  While I've pretty much been fishing tenkara level lines exclusively over the last couple of years, this line made me reconsider tapered, furled lines…
Yamakawa's Tenkara Line
I happen to have a 20 ft. furled line Yamakawa-san sent me some time ago.  Shamefully, I haven't fished it yet, but I will now that my interest in furled lines is piqued and I've dabbled in it myself.  Yamakawa's formula goes like this and is made of clear fluorocarbon: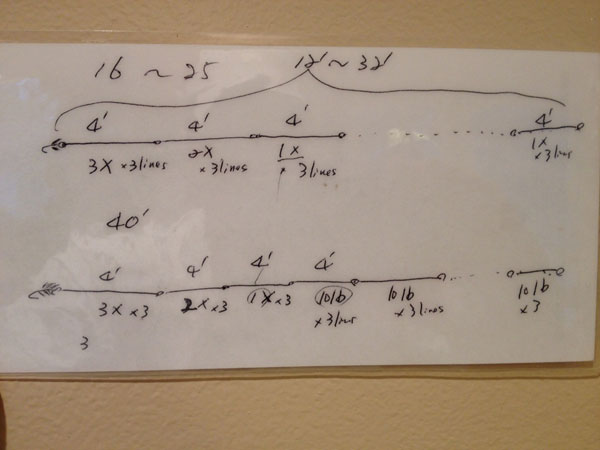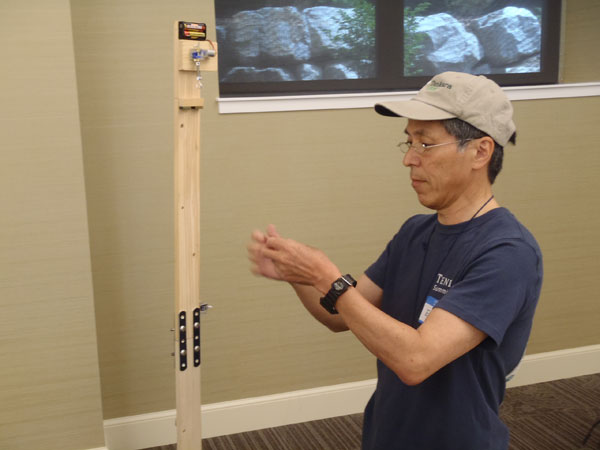 John's Tenkara Line
John adapted Yamakawa's formula and added a strand of Amnesia to the last section for higher visibility.  The formula for a 16 ft. line (at least for the prototype I have) is this from butt to tip:
2 sections of 1X fluorocarbon made up of 3 strands
1 section of 2X fluorocarbon made up of 3 strands
1 section of 2 strands of 3X fluorocarbon and 1 strand of 6lb red Amnesia
So how does it cast?  Beautifully!  I forgot how much of a joy a tapered, furled line is to cast.  It's not "whippy" like a level line.  It's very elegant and smooth–more like a tapered western double-taper fly line.  The difference is conspicuous.  Still, any furled tenkara line made out of anything other than a material with no stretch (like Kevlar) will turn into a bird's nest after being pulled out of a snag.  But if you can live with that, these are good lines.  Until Kevlar came along, we all had been living with it and no one seemed to complain about it too much so maybe it's a non-issue if you like the way the line casts.
Some other features of John's line include a 20 lb. dacron loop to make a girth hitch connection to the lilian and a tippet ring.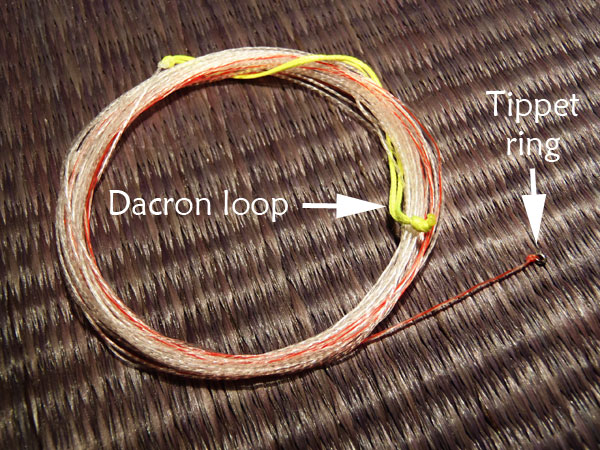 The Bottom Line
Soon, both Yamakawa's line and John's variation will be available on the Tenkara Guides website.  Yamakawa's original formula will be available under the name "Sensei", while John's modified line will be called "Senpai".  Personally, I like the Senpai line prototype a lot.  John says he's still "dialing it in" so I'm not sure what the final product will be but if the prototype is any indicator, I think there will be a new line on the market that is attractive to both tenkara newbies and experts alike.
Like this article? You might also like these ...