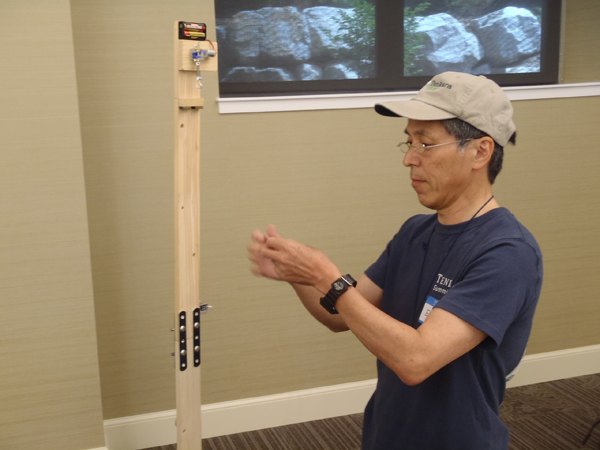 Anyone who frequently visits the Tenkara USA forums has probably seen posts by someone named "Eddie".  What some may not know is that "Eddie" is actually Eiji Yamakawa, an expert tenkara angler from Japan.  We first came into contact when he helped me get my Nissin Prosquare tenkara rod and we have kept in contact ever since.  But it was my privileged to meet him in person for the first time at the 2012 Tenkara Summit in Utah where we were able to fish together.  Eiji is not only an expert tenkara angler, but a consummate furled line maker and it was fascinating to see him demonstrate his line making machine in person.  Given his passion for tenkara, perhaps it's no coincidence that "Yamakawa" translates to "mountain stream".  Yamakawa-san was gracious enough to do an interview with me and I think you will find some of his answers very interesting.
How did you first get introduced to tenkara?
When I was 35 years old, I decided to take up mountain stream fishing as one of my pursuits. I had some experience of "hae fishing (ハエ釣り)", which is fresh water bait fishing using a pole and a bobber, but I had never experienced trout fishing. So I bought some books on trout fishing to study and found some articles on tenkara. In the articles, tenkara looked very difficult for beginners, so I went for bait fishing for starters. The next year, I bought my first tenkara rod.
What did you like about it?
Its tradition and simplicity attracted me. Tenkara originated in Japan and had a long tradition. It looked very cool to me. The simplicity means not only the simplicity of gear but that of the method. When I was a bait fisher, I could not see what was going on under the water, and it was very frustrating to me. In contrast, with tenkara, you can easily see the fish approaching the fly, taking it, or making a U-turn just before it. I used only dry flies at first, it was accordingly easy to see.
Can you tell us some of the differences between the streams in Japan and in the U.S.?
I have not fished enough number of streams to tell the differences, but there seem to be many streams similar to those in Japan. We fished the Big Cottonwood and the Little Cottonwood, and they were very similar to the streams in Japan although they have much more fish than our streams.
What is you favorite set of gear? Rod, line, etc.
Rod: I like soft rods like 5:5. Soft rods allow you to effortlessly cast a line. In addition, playing a fish with a soft rod is fun even if the fish is small.
Line: I like furled taper lines. Taper lines do not need much force to cast and are very visible. A traditional atmosphere that the furled line has is another reason. I addition, since I furl my own lines, I feel self-satisfaction using my own-made gear.
Fly: I usually use a soft hackle normal (not sakasa) fly, and I do not use a sakasa fly very often. This is because I am not a good tier of sakasa flies, and I do not think there is a big difference in effectiveness between normal hackle flies and sakasa flies as long as the hackle is soft. I think the hackle of the soft hackle normal fly moves enough to entice the fish when action is given. With that said, I am trying to tie and use sakasa flies.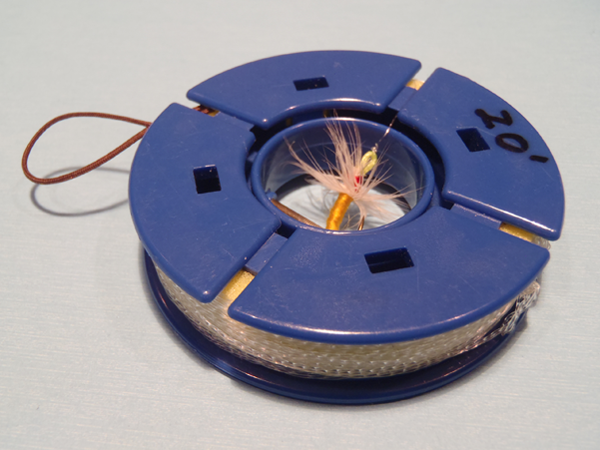 You gave me one of your flies (the one with the yellow body and loop eye). Is that what you use for your "one-fly approach"? And what made you decide on that particular fly? Would you tell us the recipe?
I have  fished with that pattern 90% of the time for several years. But there are no particular reasons to use that pattern. I do not think that fly patterns matter a lot.  Here is the recipe:
Hook: Owner Super Yamame in size #7.5. This hook is a bait fishing hook with a barb, and I press down the barb to make them barbless. I have been using this hook for nearly ten years because its fish-loss rate is very low. That is because the point of the hook is directed to the eye, I think. Other hooks usually have a bite parallel to the shank, and their points are thus not directed to the eyes.
Hackle: White hen hackle. A hen hackle is flexible enough to move when the fly is given action. White is visible to the angler.
Body: Yellow wool yarn, which I bought at a handicraft shop about ten years ago. There is no specific reason for that color.
Eye: A yellow backing line for a fly reel. This is a bit too thick, and the body gets a bit thicker than I hope. I am looking for a good material thinner than this.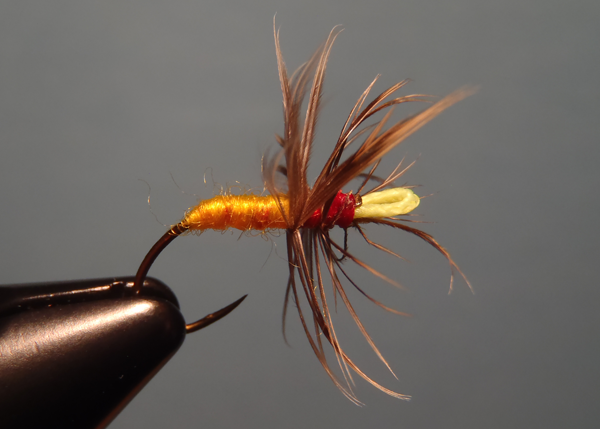 How do you normally fish this fly?
I drift the fly in two different ways, giving action and not giving action. I think the drag free drift without giving any action is the basic technique. You usually do not have to give action to the fly when the fish are active.
You attended the 2012 Tenkara USA Summit. What were some of your favorite moments of the event?
Of course, fishing with other anglers. But mingling with them off the stream was also fun.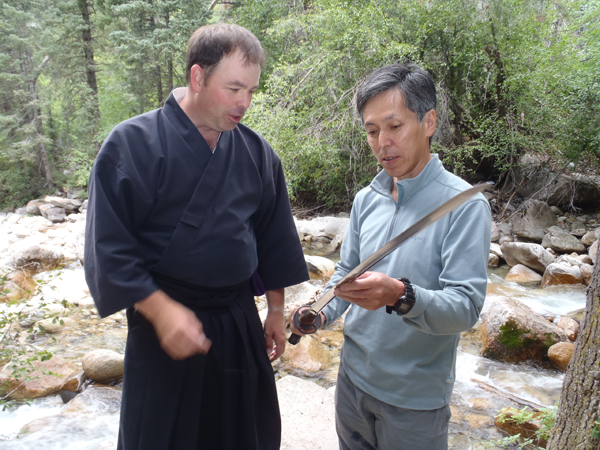 Did you learn anything about tenkara in the U.S. that surprised you?
More anglers than I expected seemed to think that giving action to the fly was a standard technique. As I said before, giving action to the fly is not a must.
Here in the U.S., people are taking a very liberal approach to tenkara. Some people use non-tenkara rods, fish for species other than trout, and use non-traditional rigging such as split shot and strike indicators. In Japan, would this still be considered "tenkara"? And what is your opinion on this phenomenon?
This question was difficult to answer because I have never thought about those issues in a serious manner. With that said, I have been fishing tenkara for 20 years now, almost keeping the traditional method.
As for using non-tenkara rods for tenkara, tenkara anglers use different lines and different techniques, and have different preferences; therefore it is no wonder that some anglers prefer non-tenkara rods. However, I would recommend beginners to choose a tenkara rod and a standard line at first so that they can learn the standard casting technique first.
As for using tenkara for fish other than trout, I do not think there is any problem with it. The other day, I actually used tenkara to fish halfbeak, which are usually fished with bait, although it was not successful. The halfbeak seemed very picky about flies. I think halfbeak tenkara would be interesting if it were effective.
As for using non-traditional gear, I think dry flies are acceptable.  I would recommend beginners to use dry flies. That is because dry flies make it easy to see when the fish takes the fly and where the fish come out from. In fact, dry flies are widely used by Japanese tenkara anglers.
Regarding split shot and strike indicators, I do not want to use them. The traditional tenkara method has been established by our predecessors after a long time of trial and error; thus the current method can be said to be a perfect form in terms of simplicity and effectiveness. Now we have better rods and lighter lines than our predecessors but have not fully mastered their techniques, so I think what we should pursue is the technique.
Off course, I am not entirely opposed to improving the gear or introducing new gear, instead I think it is natural that tenkara will be changed to be suitable to the American streams and fish as our predecessors have been improving their method.  I do not care much about what should be called tenkara. One of my friends used an indicator, and I called it "tenkara using an indicator."

If you could give one piece of advice to a beginning tenkara angler, what would it be?
One of the difficulties in learning tenkara is to learn the right casting technique. I think it is very difficult for beginners to master it only by books and videos. If you use an appropriate rod and line, you will be able to cast well enough to catch a fish and you may think that you have mastered the right casting technique. But actually, you still have a long way to go.  I taught myself tenkara for several years before I had a chance to have Mr. Fuji's lesson, and I thought that my casting technique was not bad. But it was a big misunderstanding. His casting made me realize what real casting was and what I should seek.  From this experience, I strongly recommend beginners learn from experienced tenkara anglers when the occasion permits.
Thanks for your answers Yamakawa-san! I think it's important for tenkara anglers in the U.S. to learn more about how tenkara is practiced in Japan so we understand the tradition.
Like this article? You might also like these ...