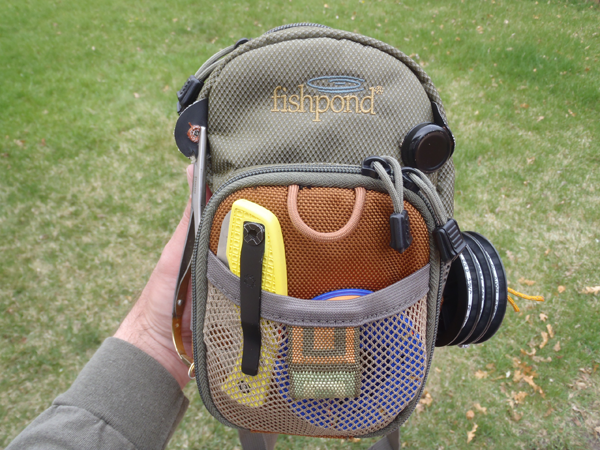 Right out of the box, I loved my Fishpond San Juan chest pack.  I've had it for about 2 years now and during that time, I've discovered a few tricks that make this great pack even better.
1.  Added an External Tippet Dispenser
I wanted a way to be able to pull out tippet material without having to dig through a pocket so I came up with a very simple DIY dispenser (learn how to make your own here).  Now, I'm able to quickly pull off the right length of tippet with one hand and get back to fishing a little sooner. And if you add Shark Tooth line minders to the spools, you can pull off and cut the tippet with one hand.  No nippers required!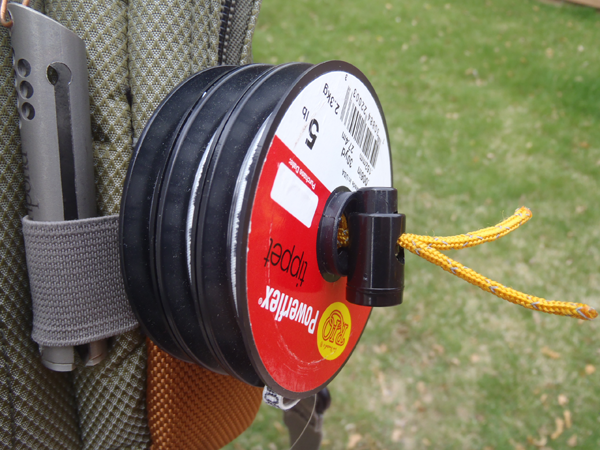 2.  Repositioned the Line Cutter
At first, I had my zinger and line cutter attached to one of the provided accessory tabs.  But I found by moving it down a bit, it easiily slides into an elastic loop below that is intended to hold a floatant bottle.  This prevents it from clanging around (I hate that metallic clanking sound) and disrupting the sounds of nature around me.  The zinger is aimed straight down for the least resistance in the direction of pull and is very easy to slide in and out of the elastic.  It's almost as if it were custom made for my Fishpond clipper.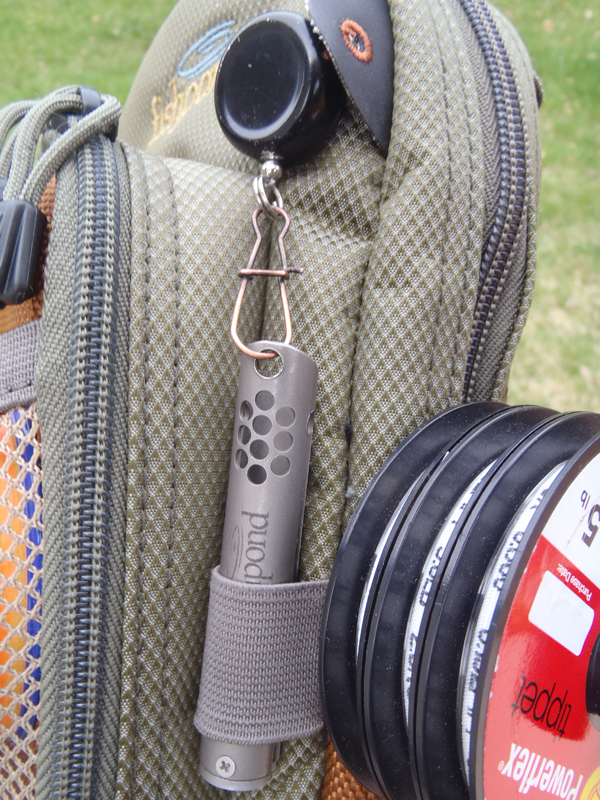 3.  Repositioned the Clamp
If you watch the video I linked to in the first paragraph, you'll notice I originally used forceps which I threaded through a loop on the side of the pack to keep them from swinging around and catching on things. I then simply clamped them to one of the accessory tabs.  I soon realized that it was awkward to get my finger and thumb through the forceps' finger loops and it required too much pressure to unclamp.  So, I switched out the forceps for mitten clamps (much easier to open and close) and instead of threading them through the loop, I attached a zinger to the bottom of the pack.  Now, when I attach the clamp to the accessory tab, there is just enough tension on the mitten clamp to keep it flush to the pack and not flop around.  This makes it much easier to deploy and return the clamps.  The last thing I want to worry about when I've got a fish in my hand is fussing with my hemostats.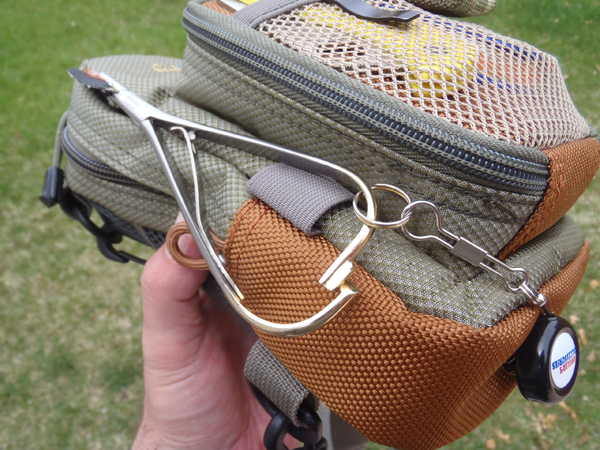 4.  Remove the Foam Insert
The San Juan (and I think every Fishpond chest pack) comes with a slotted foam insert in the front pocket to store flies.  I keep my flies in my fly box so I never really had any interest in using this feature.  Also, contents inside the pocket can smash or dislodge flies in the foam.  Luckily, it's removable.  Surprisingly, this actually gave me noticable extra space for extra line spools or other miscellaneous gear.  And, I've found that I can still stick some flies in the remaining Velcro to dry them off before returning them to my box. I always put them near the very top of the pack so they don't get smashed by the line spools.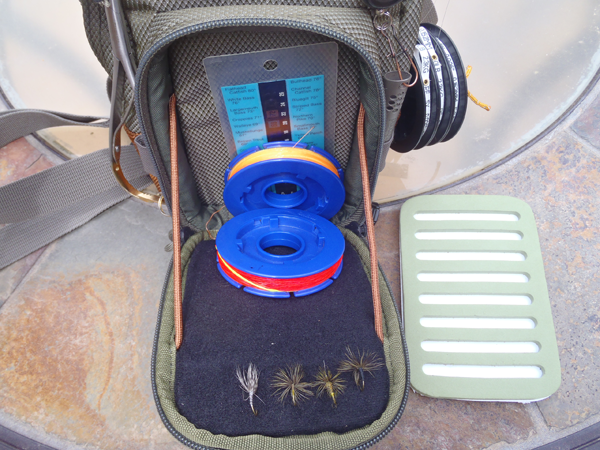 If you have a San Juan chest pack, you might find some of these tips useful.  If not, maybe this post will inspire you to take a closer look at some of the design elements on your pack and see how you could incorporate them into a better on stream system.