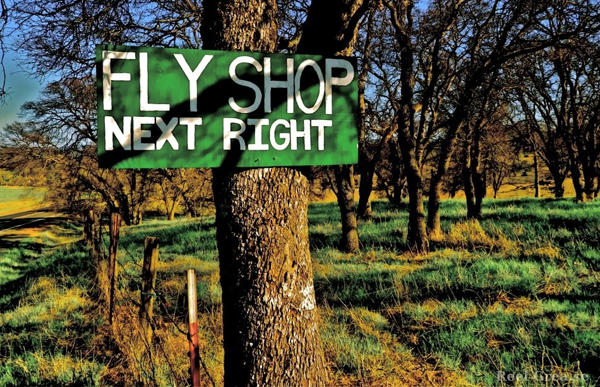 It's not that I don't want to. Believe me, I used to work in a fly shop and understand the value of having a place to gather to talk shop, exchange info on conditions and tell some good old fashioned fish stories. And, I do want to support local businesses. But unfortunately, most of the shops in my area carry a mediocre (at best) inventory. They have a very pedestrian selection of fly tying materials and anything beyond that is considered "specialized" and has to be ordered (if they even can). And if they can order it, it usually has to go in with their scheduled orders which can add days to the shipment. A basic inventory might work for a beginner, but once you get a little more advanced, you can almost be guaranteed they won't have the tools or materials you need and you're better off going online.
To be fair, I should point out that over two decades, I've built up more than a lifetime supply of staple tying materials and gear. I'll probably be handing down my collection of hare's ear dubbing and grizzly hackle to my grandchildren. To make matters worse, now that I almost exclusively fish tenkara, no local shop can even order the eyeless hooks, silk bead cord, or other "specialized" gear I might need. And forget about finding a tenkara line spool or hi-vis fluorocarbon at a brick & mortar. Really about the only things they can offer me at this point are tippet material and thread (along with a condescending look when I mention the word "tenkara").
It's not the shops' fault, mind you. I know the conundrum they face. Specialized gear or materials just don't sell as much as the standards. Stocking esoteric tackle that may or may not sell, then having to pay inventory tax on it just doesn't make sense from a business perspective. And a fly shop is a business after all.
I sympathize with this, but while they're a business, I'm a consumer. And consumers go where they can get what they want. Just as it doesn't make sense for the shop to stock things that won't sell, it doesn't make sense for me as a consumer to go to a shop that doesn't carry what I want. It's a sad conundrum.
Perhaps out of guilt, I sometimes think about trying to get materials through my local shops. But then I realize they won't have what I need, will have to find it in one of their catalogs, order it (with the added delay of their ordering schedule), and then I'll have to drive back to the shop to pick it up. Why would I do that instead of spending 5 minutes online and with a few clicks, have it delivered to my doorstep in three days (and for the time being, without sales tax)?
So while I do have this romanticized notion of "supporting my local fly shop", I can't support them because they don't support me. At the end of the day, I'm a consumer, not an activist. I don't spend money to keep businesses afloat. I spend money to get the things I want. So until something changes, the unfortunate reality is that my first instinct will be to go online when I need to get that purple dyed starling skin or Pearsall's primrose silk thread.
Does your local fly shop support you?