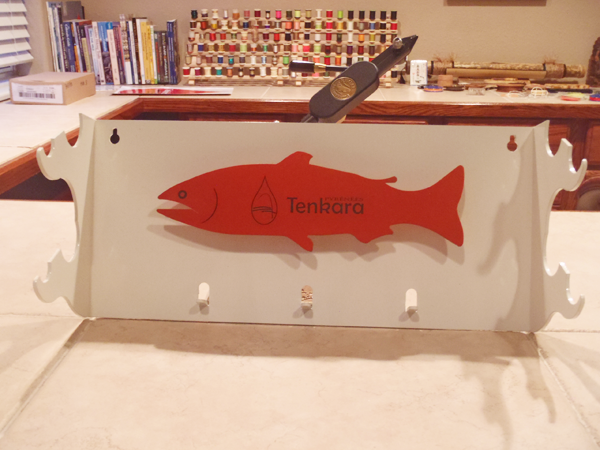 Many anglers have a fishing office (i.e. man cave) where they have their fly tying desk, gear, and where they like to put their tenkara rods on display. Some people have built their own tenkara rod racks, or used an off-the-shelf solution like these pool cue racks to show off their rods. But the innovative French company Tenkara Pyrenees has come out with (as far as I know), the world's first tenkara-specific wall-mounted rod rack.
The rack is metal, and painted white, with a cut out raised trout sporting the company's logo. The trout comes in different colors but the one I got is "Tenkara Talk Red" 😉 . You can see the other color options in the 2014 Tenkara Pyrenees Catalog. It's not only beautiful, but also functional, making it a nice addition to any fishing office.
The rack holds two rod tubes and two tenkara rods and comes with two holes for mounting to the wall (in the photo below, I only show one rod tube and one rod so you can see the spool hooks below).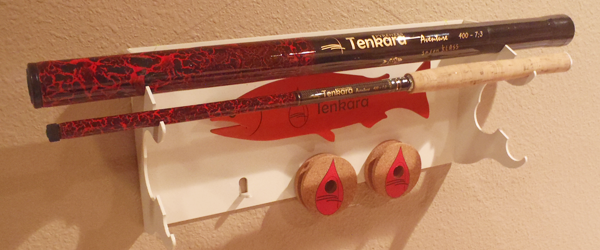 At the bottom, there are three hooks to hold line spools (they will fit any line spools, not just the Tenkara Pyrenees brand).
I'm very excited to see Tenkara Pyrenees creating some really unique and innovative designs. And believe me, there's more coming. I have some other pretty interesting things they've come up with that I'm field testing now and will post about when the results are in. You can stay on top of what their doing by visiting the Tenkara Pyrenees blog.