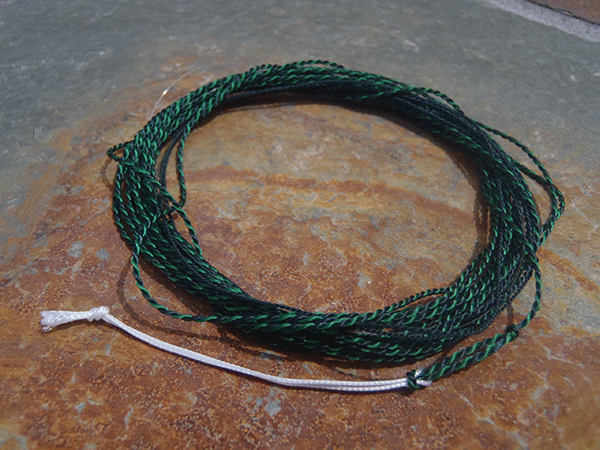 I can't remember who it was, but a long time ago, someone sent me this furled tenkara line. It's made of black and dark green strands of thread. For months, it sat shunned on my desk because my first reaction was, "I'll never be able to see it!" After all, every discussion I've ever seen about tenkara line visibility has always revolved around color, and usually about brighter colors. The takeaway was typically that brighter is better. So who on Earth would use a dark green and black line, right?
Then one day, I was fishing a run that had a lot of glare on it. This is actually pretty common in Colorado. With more annual days of sunshine than Miami, glare is something you get used to on the water. But this glare was particularly bad and I could not see my line to save my life. And since my eyes are blue, they're more sensitive to light, so that only compounded the problem.
In these situations, I sometimes switch to a different colored line. If I was fishing a yellow line and couldn't see it, I might switch to an orange line. Sometimes this helps, but more often than not, it doesn't. And it didn't this time. That's when I realized that switching from a bright line to a bright line of a different color doesn't make sense.
Glare is "white". And what color best contrasts with white? Black! I should be fishing a black line! I immediately remembered this black and green line sitting on my desk. Ha! But, this epiphany was useless to me since I didn't have the line on me–kind of like picturing your cell phone sitting on your nightstand when you've broken down in the middle of nowhere and need to call a tow truck.
I cursed myself for just coming to this realization when it was already too late, and for not having had the foresight to have at least tried the line out before. But, I vowed that the next time I got out, I would have my dark line in my pack, at the ready for when glare showed its ugly, inevitable head.
It worked! It seemed totally counterintuitive to fish a dark line but it was working! I could see the dark silhouette of the line against the bright glare! I couldn't believe what a difference it made and felt like I had just discovered some ancient, mythical treasure. I'm sure I'm not the first person to have thought of this, but it sure felt like it at the time.
I don't like the idea of switching lines throughout the day. But when the glare is severe, I have no problem swapping them out. Luckily, changing line with tenkara is really fast and easy so it doesn't cut into fishing time too much. And whatever time it does take I think is warranted for the improved visibility.
So, the next time you find yourself cursing glare on the water, turn to the dark side. Your eyes will thank you. The fish…probably not so much.