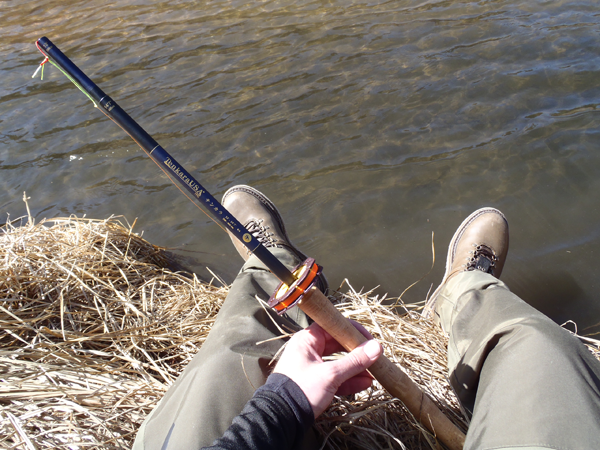 You've probably seen the meme "Tenkara +" going around social media. It's the idea that tenkara compliments other outdoor hobbies such as "tenkara + hiking", "tenkara + mushroom hunting", "tenkara + mountain biking", etc. While the portability of tenkara gear certainly lends itself well to being combined with other activities, it got me to thinking about the concept of "tenkara minus".
I originally got into tenkara because I thought it was perfect for "tenkara + backpacking". But these days, I mostly just fish and don't combine tenkara with other endeavors. So that's given me the opportunity to contemplate tenkara in isolation and think about the things it lets me omit to create a better fishing experience–"tenkara minus".
Since I started fishing tenkara, I've felt a sense of freedom from all the things I don't need and am catching just as many fish. Not more. Just as many. But that's fine with me. If I can retain my catch rate while reducing the amount of overall clutter, I consider that a win.
If I had to put together a "tenkara minus" short list, it would be something like this:
1. Tenkara – False Casting. This is one of my favorite things about tenkara. When I fish with a rod and reel, I feel like there's a lot of drama before my fly ever makes it into the zone (and even more backstage). First, I have to make a bunch of false casts to shoot out the right length of line before I can even make my final presentation. It seems like my line is in the air more than in the water. Then, there are the demanding line-management issues of mending to prevent drag during the drift and dealing with slack line to avoid tangles. But with tenkara, I can make one cast, drop the line, present, then pick it up and present again. It's much more efficient and I feel like my fly is in front of the fish more often than it's in the air.
2. Tenkara – Terminal Tackle. I love the fact that when I fish tenkara, I don't need any terminal tackle other that a fly. No floatant, no split shot, no strike indicators. I just tie on a #12 sakasa kebari and I'm ready to go. No time wasted adjusting weight or the position of the indicator. I can use that time to just focus on fishing.
3. Tenkara – Setup.  I've always hated the traditional fly fishing parking lot setup ritual. Take out your fly rod from the case, put the sections together (making sure the guides are aligned), attach the reel (make sure that's lined up too), thread the line through the guides, connect the leader, tie on the tippet, tie on the fly, etc.  All of this while you can see out of the corner of your eye that the fish are rising. It's torture. Everything seems to be happening in slow motion and all you can think about is getting into the water. But with tenkara, setup is minimal and I can get rigged up in seconds. It takes me longer to get into my waders.
These are just a few things tenkara subtracts from my fishing that makes it better. It might seem counterintuitive since we tend to think of subtraction as a negative thing and addition as a positive thing, but I think a lot of times we erroneously assume we need to add something to our fishing to make it better. I can't remember the exact quote (nor who coined it) but it goes something like this:  an amateur chef is always thinking about what they can add to a recipe to make it better. An experienced chef is always thinking about what they can leave out to make a recipe better.  I suppose tenkara can help us all to become a gourmet rather than a fast-food cook.
What is your tenkara minus?
Like this article? You might also like these ...